Last Updated on January 24, 2023
In this time and age when checking a variety of social media sites is the first thing people do in the morning, it's not a surprise that collage maker apps are ubiquitous. Photo-centered social channels such as Instagram can consume no less than an average of two hours of your day. From #OOTD to #foodgasm, photo collages rule the social media world.
Photo Collage 101
A photo collage is a kind of art made by combining photographs in a single, predominant frame. A collage is a vastly preferred method to put together multiple photos in an artistic manner.
The prevalence of collage makers shouldn't come as a surprise since everyone with a smartphone has access to an instant camera. This means a great opportunity to take more pictures than ever before. Collating these images in a collage is an excellent technique to show your photo collection or several snapshots of your recent adventure on a single page.
Today, making a digital photo collage is more recommended than its manual counterpart. Digital photo collages wipe out the need to print the photos, cut them in different shapes, and paste them onto a board.
With the help of a collage maker software, creating a beautiful collage is easier and faster. This process is popular on Facebook and Instagram, as users can display multiple photos in one frame to make the presentation more appealing and interesting.
Today, there are two primary forms of collage-making: layout and shape-based. 
Online Collage Maker Tools
With heaps of free collage templates and samples online, it is possible to make a collage that fits your desired theme. These online collage makers allow you to use pictures from your PC, social media sites, and even from your personal cloud storage. Most customization features include resizing, spacing, and character and font add-ons.
Online photo collage maker tools also let you effortlessly create impressive looking collages with just three simple steps: upload your photos, select the template you want to use, save or share your collage photos on your PC or social media accounts. To top it all, you may create as many collages as you want in a short while.
Photo collages showcase your images in a delightfully different way which is pleasurable to look at. It also puts together your favorite moments in one frame to give your memories a new point of view.
Start creating your own photo collages with these 10 free and easy-to-use collage makers.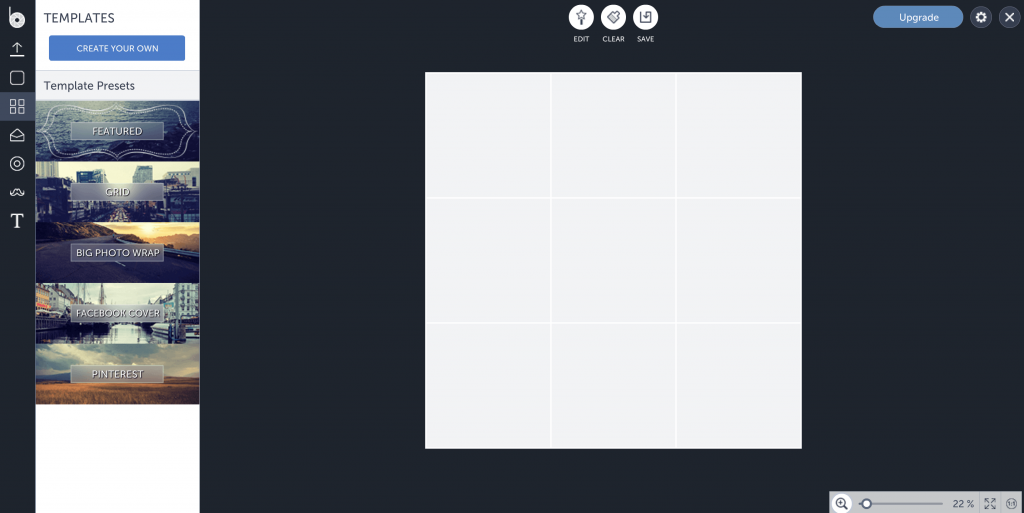 Be funky is an excellent free online collage maker. They have hundreds of design templates and tools right at your fingertips. Just select you pre-made template or start completely from scratch. I use this tool quite often for Fancycrave.com. I use it to create the featured images for my photo packs. Here's what it looks like.
I use the grid one but they have tons of other styles you can choose from. This collage maker is also pretty reliable, it maybe crashed on me like 3-5 times. I highly recommend this tool.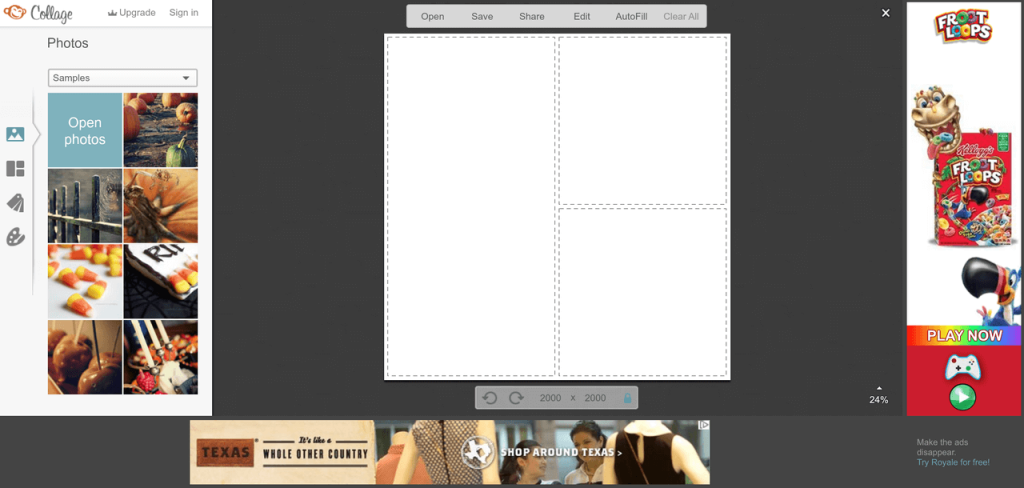 Picmonkey is a beautiful collage application that does exactly what it says. Everything is pretty straight forward. Simply click the "create a collage" button and you're good to go. Once you're inside the dashboard, you can start uploading your own photos and rearrange them.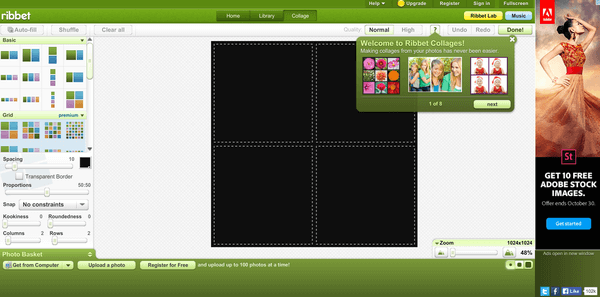 Ribbet has a ton of options, but most of them have to be unlocked by buying a premium yearly account. Ribbet offers 3 premium plans:
Monthly at $4.95
6 month at $19.95
Annual at $29.95
They're targeting more serious users who need to create collages for Facebook, Pinterest, Instagram, Twitter, Tumblr, etc. If you need a reliable tool, Ribbet could be the right choice for you.
I'm not gonna lie, Fotor is designed very well. I love the dashboard. It's easy on the eyes, neatly organized,  and pretty simple to use. As you may already know, user experience is highly important in any application, and the creators of Fotor nailed it. You can also download this application for your phone. It's available on iOS and Android.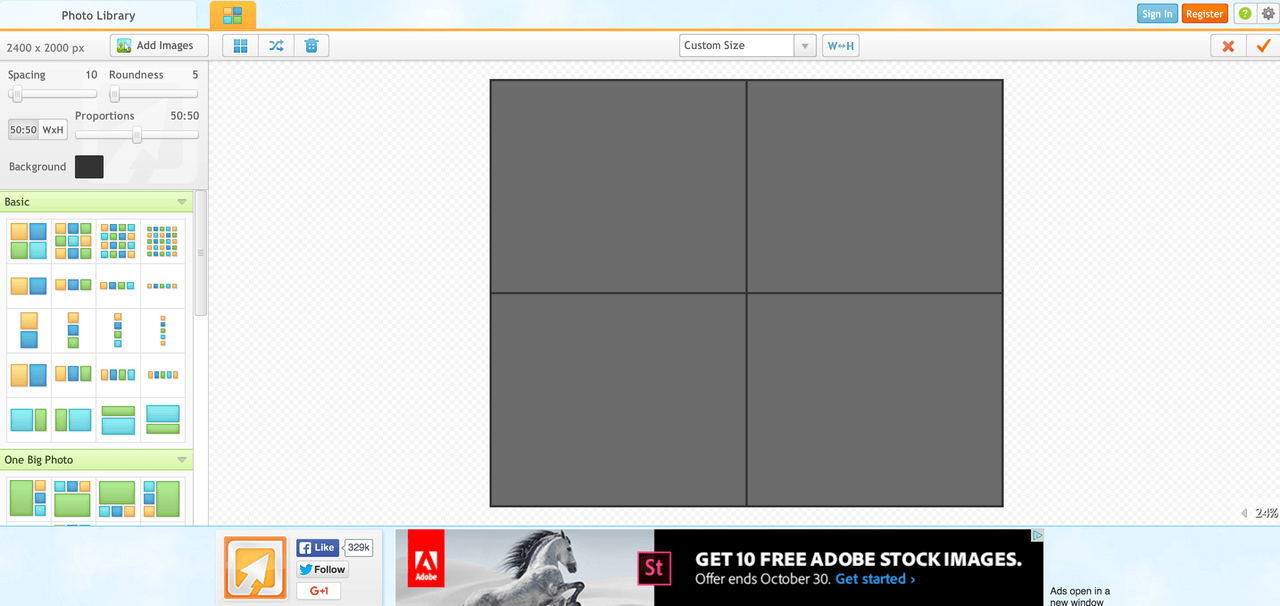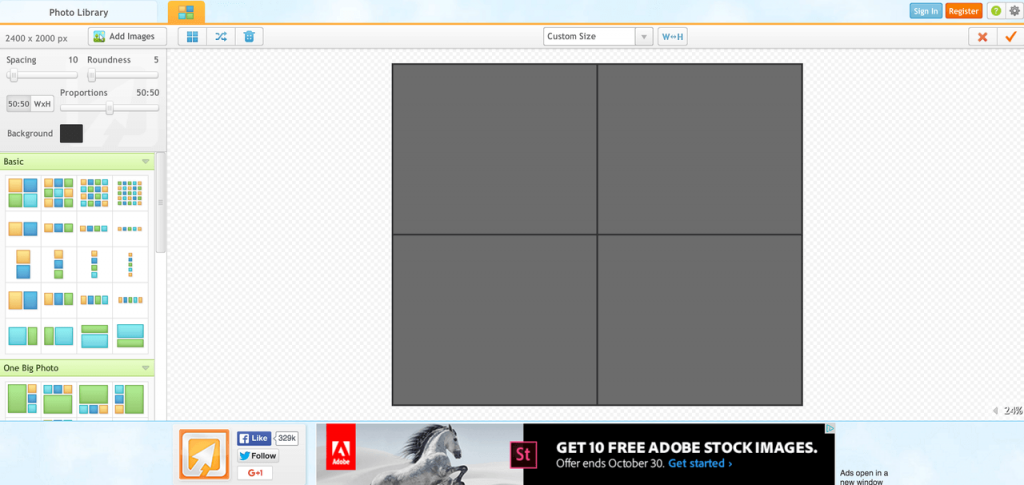 Ipiccy is advertised as an online photo editor, but gives you the ability to create collages too. The layout is smooth and lucid, but it is running on Flash, which might be a deal breaker for some. Other than that, this app is great.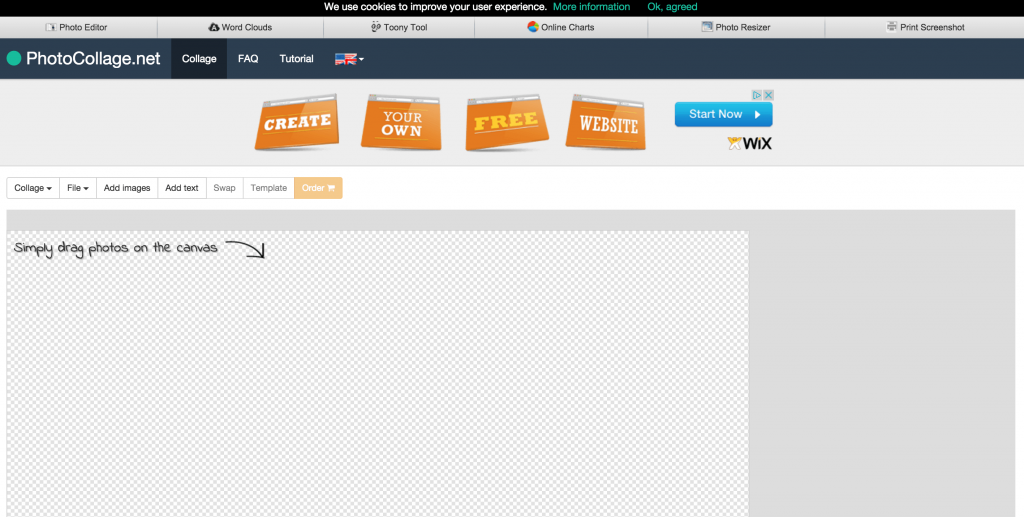 Simply drag your photos on the canvas and start messing around the with rotation or position of your photo. This tools is great for people who need a collage maker that's more hands on. In other words, you creativity isn't limited.
Fotojet is elegant, fast, and completely free. What do I mean by that? Well, they don't make you jump through any hoops. You can select whatever ratio, template, border width, clipart, background, etc. and they don't make you pay a penny. It's a great tool that deserves much more attention than it gets.