Last Updated on January 27, 2023
A whiteboard app is a productivity and team collaboration software that allows all the members of an office to interact seamlessly online, through personal presentations and sharing of files. The software enhances the efficiency of an organization by allowing employees to brainstorm ideas and collaborate at various levels, albeit virtually.
But as you shall find, all online whiteboard apps are not made equal. So, there are a few standard features to look out for before selecting the best software for you.
At the very least, choose a whiteboard app that comes with plenty of collaborative features. Some of those include the ability to offer real-time collaboration where users can freely comment, attach media files, as well as make changes to and even export those files.
A great whiteboard application should also be compatible with numerous devices and operating systems. Lastly, the software should support a maximum number of users.
Now, finding a whiteboard app that comes with all these features can seem like a daunting process. No need to fret, though. In this post, we shall unveil the best whiteboard software for real-time online collaboration worth investing in.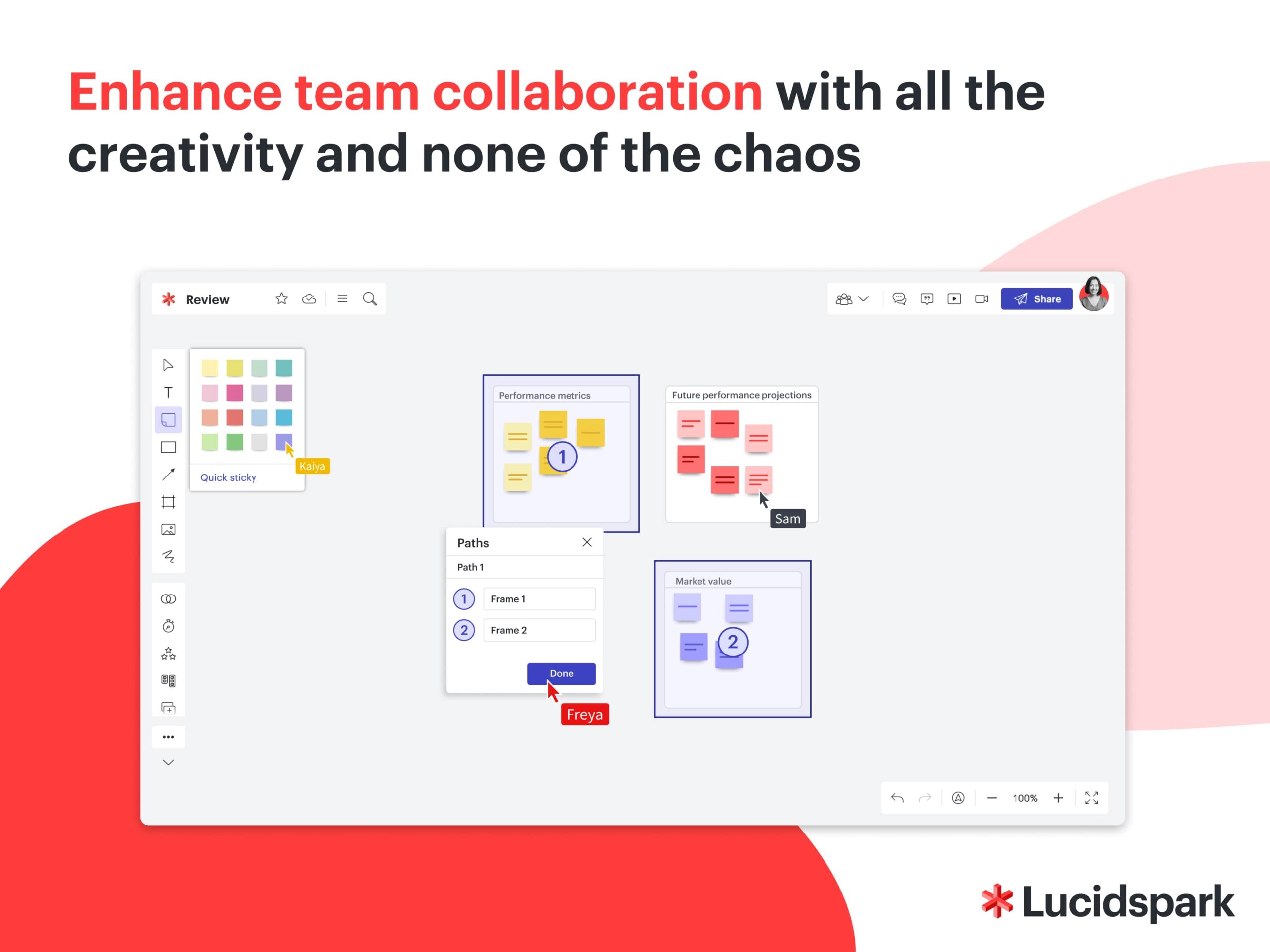 Lucidspark provides real-time collaboration and facilitation features including sticky notes, freeform drawing, comments, tasks, automatic sorting, Breakout Boards, a laser pointer, a timer, and voting. Users can start with a blank canvas and easily add sticky notes and other shapes, or they can start with templates for brainstorming, mind maps, meetings and workshops, strategic analysis, project planning, and Agile development.

Users can quickly embed PDFs, PNGs, and other files onto the canvas, as well as create presentations and frame-by-frame paths to guide collaborators through content. Lucidspark has a simple and customizable UI that can be mastered in a few minutes. Users can access all features from the toolbars, as well as take an onboarding tutorial and view all keyboard shortcuts.

Lucidspark is ideal for individuals and teams looking to collaborate in ways that lead to decision-making and action. It's a flexible application that allows you to brainstorm, plan, and make decisions in a way that's best for your team.

Lucidspark offers integrations for leading apps like Zoom, Slack, Azure DevOps, Microsoft Teams, Jira, Smartsheet, Confluence, and others.

Lucidspark has a free version available for individual users. Paid plans start at $7.95/month with a 7-day free trial.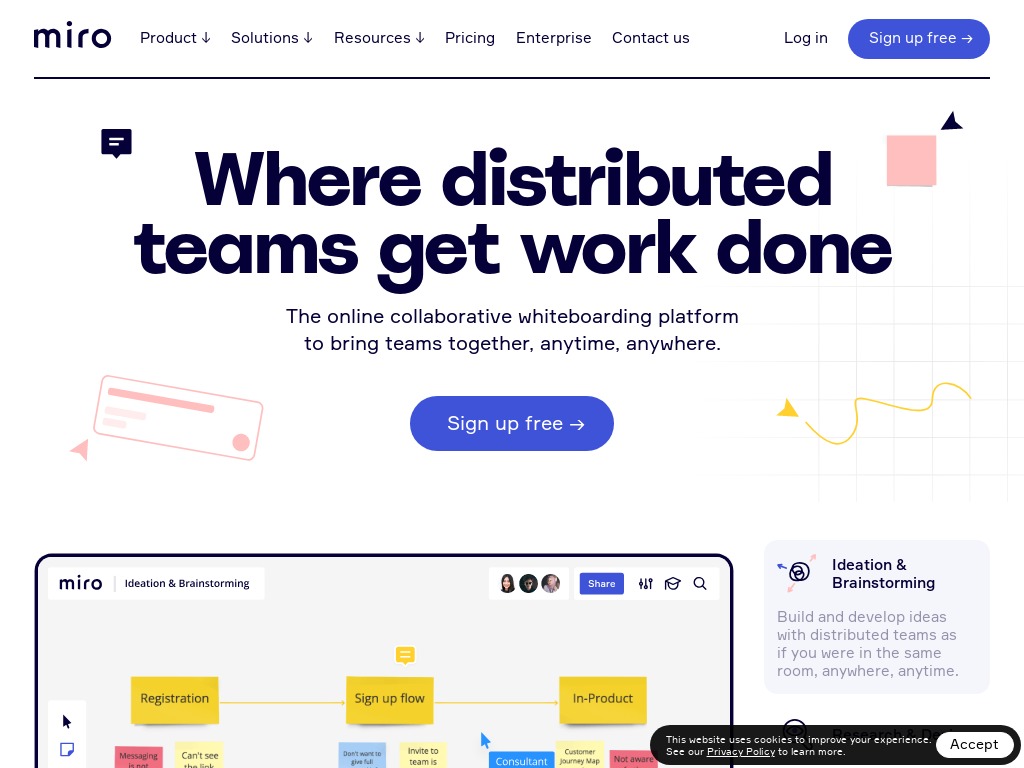 Miro is compatible with any device and also works on the web. The app allows users to choose from various template options, including customer mapping, retrospective, UX design, to mention but a few.
Miro doesn't limit the number of templates you can use, but lets you add as many templates as you want to the board. And if you don't like the idea of templates, you can simply start off with a blank whiteboard.
After selecting your template, you can add text, shapes, sticky notes and many other presentation features, before inviting your collaborators via several means, including email or Slack. Then, you can decide to have your collaborators edit the board or simply grant them view-only access. You also determine which section of the whiteboard is accessible to your collaborators the first time they log in.
The app is available free of charge for three editable boards. However, it has a premium plan that comes with a cocktail of perks, including unlimited boards and an unlimited number of collaborators.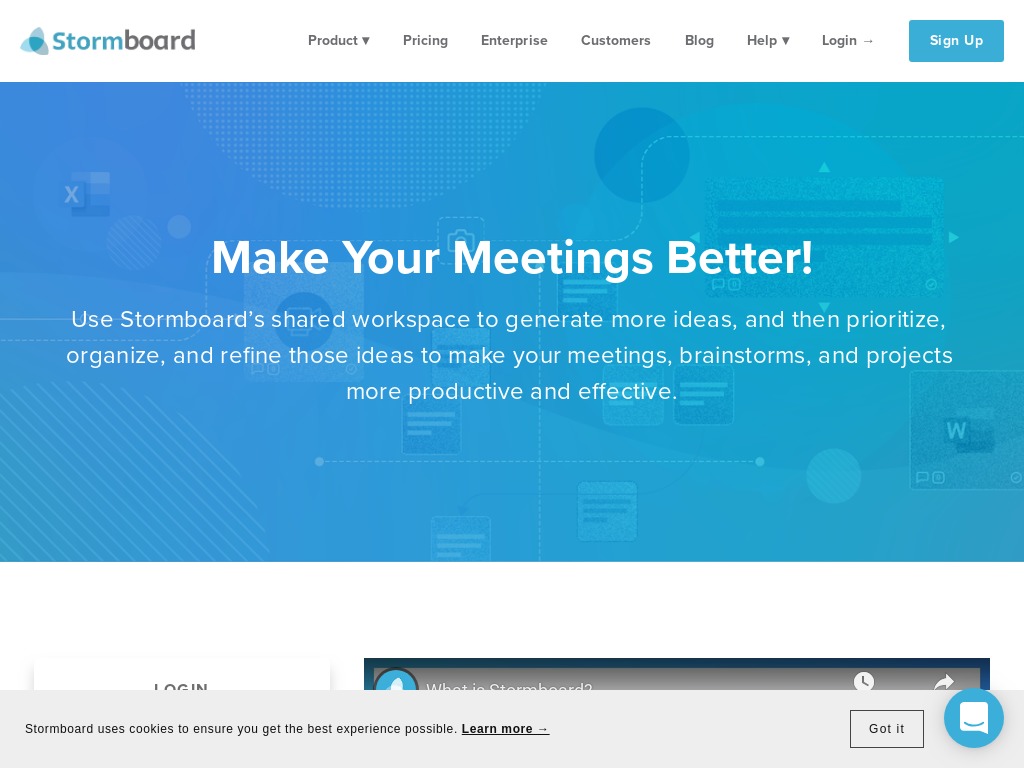 Stormboard can easily be mistaken for a sticky-note-style ideation tool. However, each of those sticky notes comes with its own whiteboard, making the software an excellent recommendation for organizations looking for big-picture collaboration.
When you create a brainstorming board, also known as a Storm, Stormboard makes it possible to begin adding your ideas immediately. After that, you can turn your sticky notes into a whiteboard that's accessible to all your collaborators. You then choose to allow your team members to view or edit the whiteboard in real-time.
If you've used whiteboard apps for quite some time, you probably already understand how challenging it can be to save iterations that can be reviewed and revised on the go. Fortunately, Stormboard takes care of those concerns. Organizing your work is as easy as dragging each whiteboard note across the board using your mouse. That way, collaborators can vote on the boards, engage in text chat discussions and even assign tasks.
Stormboard is only web-based, which may come as a drawback for users looking for compatibility across other operating systems. However, it integrates with Zapier, making it easy to automate your board as well as create new ideas depending on the activities on those other apps.
4.
AWW App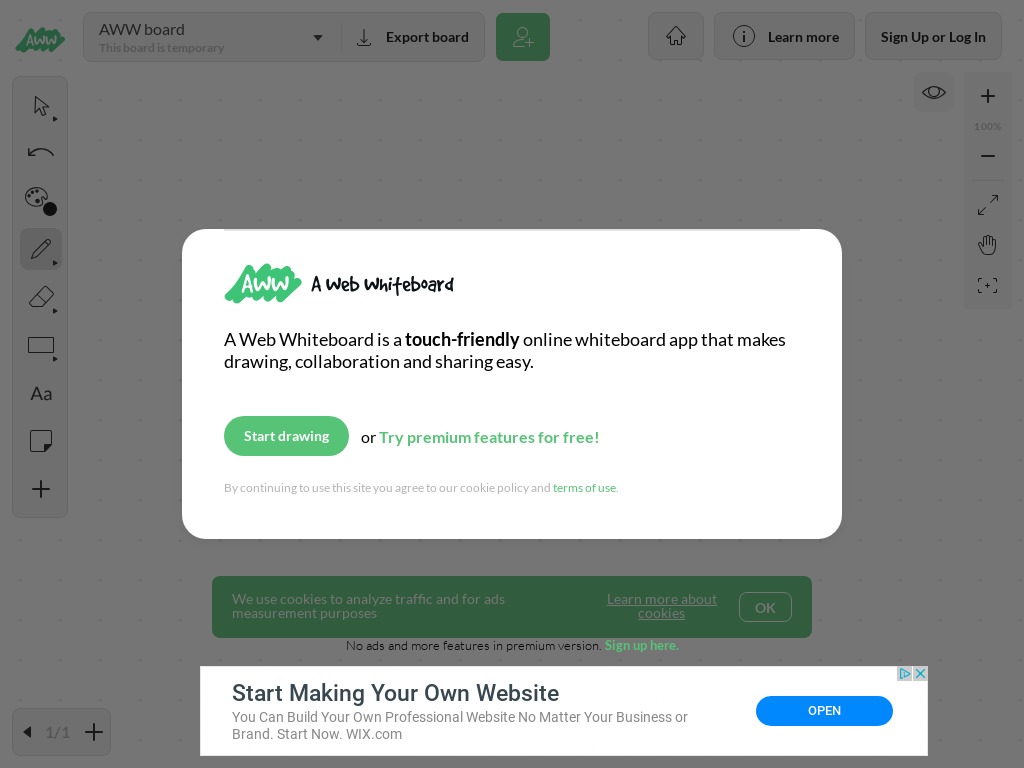 One of the best things about AWW App is its ease of use. The whiteboard app readily works on a web browser, which makes it ideal for on-the-go users. To begin collaborating with your team members, all you have to do is direct your browser to the app.
While the AWW App comes in both freemium and premium plans, there are plenty of features to enjoy just by using the free model. For instance, your participants can draw and add to the board. However, with the free model, you cannot save the board beyond image snapshots.
Like most whiteboards, the AWW App board is available in a white background which features a dot grid that helps with text manipulation.
Another admirable feature of the AWW App is an undo button that lets you revise minor mistakes and a delete button that wipes clean the whole board. Also, there's a swipe eraser that only deletes a specific area on the board.
GoToMeeting comes with three different features that you can use to draw on the board as you share your screen seamlessly with other collaborators.
First is the Pen that you can use to make drawings, sketches, or underline something on the shared screen. There's also the Highlighter that lets you highlight an image, text, or section on the screen that you wish to call attention to. Lastly, the Spotlight is more like a computer cursor or a laser pointer that helps during real-time presentations.
Collectively, these tools work to keep your collaborators' attention drawn to the things that matter.
Besides these three excellent collaboration tools, GoToMeeting also comes with shared screen annotation. These annotations help to further clarify the messages you're trying to share with your team members. The HD screen-sharing and recording functionality add a realistic feel to your virtual meetings.
Honorable Mentions
Whiteboardfox – Share a virtual whiteboard in real-time using any modern web browser.
Ziteboard.com – Ziteboard is a lightweight whiteboard website which works on any device: laptops, tablets, mobile devices – optimized for both iPad's Safari and Google Chrome on laptops.
Draw.chat – This is a free online whiteboard tool that offers free collaborative drawing board solutions for online meetings. Users can draw, chat, or communicate via audio and video conference.
Microsoft Whiteboard – Transform your work into professional-looking charts and shapes on an infinite canvas with an interface designed for pen, touch, and keyboard. This free app is available for Windows 10 and iOS.
IPEVO Annotator – Maximize your creativity and fully utilize the potential of your interactive whiteboard. This free plugin is packed with annotation tools that allow you to draw and annotate freely on images projected onto the screen. You can even further enhance your experience by using screenshot, screen recording, or other useful features that are available.
Final Word
In your search for a suitable whiteboard app, you'll encounter plenty of recommendations. But before choosing a collaboration tool, check on the features it provides.
Ease of use, number of participants supported, and compatibility across multiple platforms are some of the factors that should guide your decision. Better yet, you can consider any of the five whiteboard apps we've reviewed here.