Last Updated on January 20, 2022
If you don't like strict working schedules, public transportation and crowded offices, maybe freelancing is your solution. If you do, in addition, know something about grammar, punctuation, spelling and style, freelance editing and proofreading can be just for you.
Becoming a freelance editor takes some time and effort, though. In most cases, your natural grammar skills and good knowledge from school years won't be enough. You need some additional proof that you are good. If you have a degree in English, it is perfect. If not, you can take some courses offered by Universities or private providers. They give you a certificate at the end of the courses. You can also find great free editing courses online. Some companies that hire freelance editors are fine with any higher education degree as long as you pass their tests. However, if you want to get good money eventually, a degree or a certificate in editing is a must.
The first thing you need to do is to let people know about who you are and what you offer. You can start promoting your services through big social networks such as Facebook or Twitter. You should get creative here and think of some catchy ad for yourself. Creating your own website can be a great idea. If you can do that yourself – perfect! If not, hire a professional to do this for you. You can also advertise your services on different online classifieds; lots of them are free now, so you can get additional exposure without spending money.
The easiest way to become a freelance editor, though, is applying for a job at some online editing/proofreading service. The good thing is that these editing services are in high demand. You need to decide what kind of writing you want to edit. There are options for people, who want to edit books, essays, short stories, academic works, etc. Many companies offer all kinds of editing services, so you can edit different papers and thus not be bored by the same kind of work every day. Here are some companies that offer editing jobs.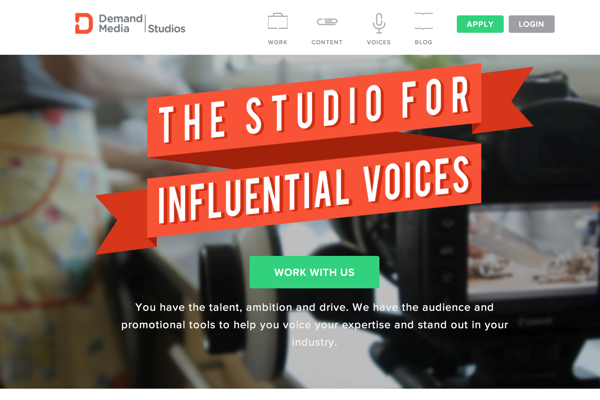 Along with copy editors, Create Demand Studios hires writers, filmmakers, photographers, etc. If you get a job here, you can edit online articles for a good payment which will be transferred to you twice a week. When you apply for a freelance job here, you choose the article categories you would like to work on. The good thing about this job is that you set your own schedule and you get to choose the articles to edit. Moreover, you can be promoted with time and get more money. To get this job, you have to have some editing experience, though.
Edit 911 is one of the biggest and most popular editing services out there. It has been in the market for more than 15 years and has gained very good reputation. They are always in search for good editors. They have high requirements however. You won't be hired unless you are a PhD. You have to have excellent editing skills as well as previous writing, teaching, or editing experience. Great knowledge of different documentation styles is also required. If you match these requirements, apply for this job, it is quite prestigious.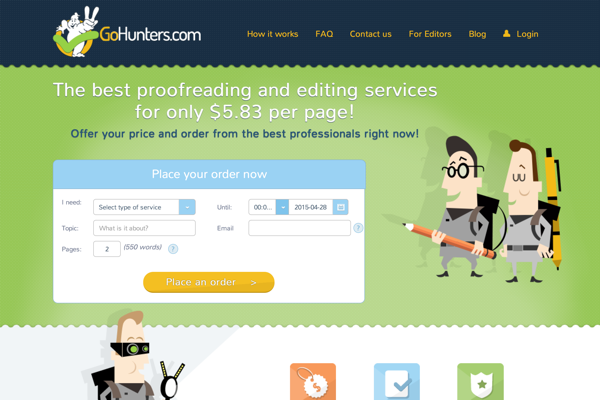 Go Hunters is a comparatively young but very promising editing service. They offer different types of services, but essay proofreading and editing is their bread and butter. They are constantly looking for talented freelance editors and proofreaders to hire. They don't have very high requirements yet, so you can apply even if you don't have numerous certificates and lots of experience. You have to have excellent skills, though, there will be a test. The company offers comfortable conditions and different benefits, so it is worth considering.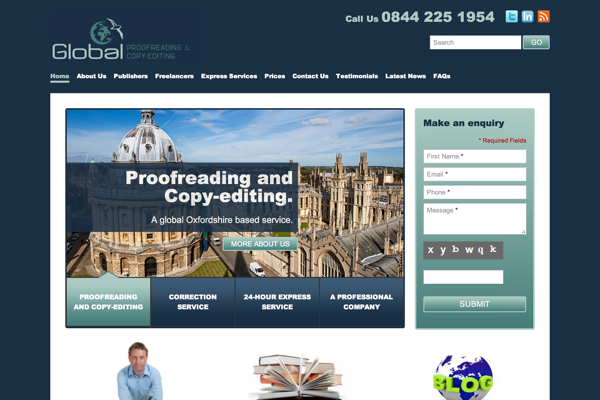 This company is also in the constant search of freelance proofreaders and editors. They hire talented and skilled freelancers and offer good benefits. After you apply, you'll have a small phone interview where you can talk about your qualifications. You'll also have to have some certificate that proves your education and skills.
oDesk, Freelancer, or Elance
If you don't want to work for one specific company, you can register on the sites such as oDesk, Elance, or Freelancer and get different tasks from different clients. These are sites where individuals and companies seek freelancers for various projects. The more tasks you deliver successfully, the more money you'll get for the next orders. The great thing about these and similar sites is that you can choose the tasks yourself and build your own reputation by delivering good work. You have to be careful choosing who to work with, though, as there can be different scams out there and even the greatest sites for freelances cannot be fully protected from that.
Becoming a well-paid freelance editor can be quite difficult, but it is like that with any kind of job – you cannot do nothing and have everything. But if it is what you really want to do, nothing can stop you. Be patient, develop your skills, and follow your goals. Good luck!