While Monday is the most dreaded day of the week, Friday is the most anticipated day. Friday is fun for everyone because it means the work week is over and the weekend is about to start. This signifies relaxation for some and partying for others.
However people spend their weekends, Friday is universally seen as the best day of the week. Work seems to go faster as you look forward to staying up late, binging on your favorite shows, or dancing the night away with friends without worrying about having to wake up early the next day.
Let's learn a little bit more about everyone's favorite day.
Origin of the Word Friday
The word "Friday" gets its roots from several cultures. Like the other days of the seven-day week, a concept that was created by the Babylonians, it was named after gods and celestial beings in various cultures. Friday was named after Frigg or Freya in Germanic culture, while, in Roman culture, it was named after the Goddess of Love, Venus.
Frigg is known in mythology as the wife of the great god Odin. She is clever, intelligent, and renowned for the foresight and ability to discern the future. While not much more is known about her traits or attributes, she is still regarded as one of the most important goddesses in Norse myth.
Venus, on the other hand, is much more popular in history. Friday gets its name from the "Day of Venus" in several forms, such as vendredi in French, venres in Galician, and viernes in Spanish to name a few. Venus is known as the goddess of love, fertility, beauty, desire, and prosperity. Her image is popular throughout art history, and many people still know of her to this day.
As days of the week were most commonly named after deities in the olden days, it makes sense that, even back then, Friday was already associated with a god that people loved and adored.
Everyone Loves Friday!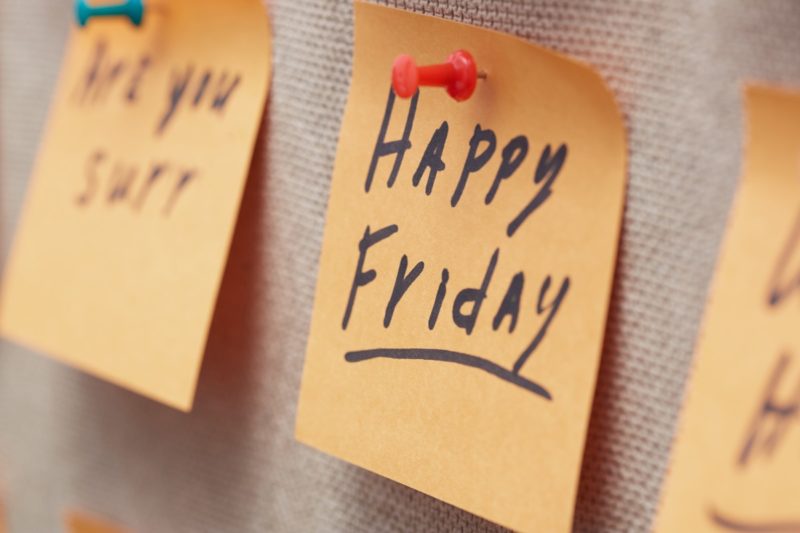 To this day, Friday remains a favorite day and a popular one in pop culture. A famous movie and a popular American chain of restaurants popularized the phrase "Thank God, it's Friday" or "Thank goodness, it's Friday" (TGIF) just to celebrate the end of the week and upcoming weekend.
Famous songs like "Friday, I'm In Love" and "Friday" by The Cure and Rebecca Black, respectively, have become mainstream media hits.
But what is it about Friday that people love so much? When times get difficult and work piles up, Friday represents that proverbial silver lining that rest days are on the horizon.
Friday is special because we had to go through Monday, Tuesday, Wednesday, and Thursday to get to it. And finally, after braving the stress and deadlines, the weekend is here.
Do you love Friday? Enjoy your fabulous Friday even more with these TGIF quotes:
Beautiful Friday Quotes
"Friday afternoon feels like heaven." – El Fuego
"If my boss knew how unproductive I am on Fridays, he wouldn't want me here either." – James Johnson
"It's Friday morning mankind! Good vibe, don't frown and let the monster see you smile!" – Napz Cherub Pellazo
"It's Friday! Time to go make stories for Monday." – Anonymous
"Oh! It's Friday again. Share the love that was missing during the week. In a worthy moment of peace and bliss." – O'Sade
"Every Friday, I like to high five myself for getting through another week on little more than caffeine, willpower, and inappropriate humor." – Nanea Hoffman
"Friday is a day to finish your goals for the week. It is a day to celebrate that which you set out to accomplish at the beginning of the week." – Byron Pulsifer
"Friday is my second favorite F word. Food is my first." – Anonymous
"I have never in my life found myself in a situation where I've stopped work and said, 'Thank God it's Friday.' But weekends are special even if your schedule is all over the place. Something tells you the weekend has arrived and you can indulge yourself a bit." – Helen Mirren
"Friday is about hanging out with friends, having fun." – Rebecca Black
"When you leave work on Friday, leave work. Don't let technology follow you throughout your weekend (answering text messages and emails) take a break you will be more refreshed to begin the workweek if you have had a break." – Catherine Pulsifer
"Hands up if you're ready to do something you'll regret this weekend. Go forth! You have my blessing." – Florence Welch
"Friday. The golden child of the weekdays. The superhero of the workweek. The welcome wagon to the weekend." – Anonymous
"Making food is a wonderful way to spend a Friday night." – Chrissy Teigen
"Change your way of thinking. Use your energy to accomplish more productive things. The choice is yours and it can be made today!" – Garrett Kingston
"Life is good especially on a Friday." – Anonymous
"Fridays are the hardest in some ways: you're so close to freedom." – Lauren Oliver
"Today you are you, that is truer than true. There is no one alive who is 'yourer' than you." – Dr. Seuss
"On a Friday night, I like to go out because my friends, who have been working normal hours, just want to let go after a stressful week at work." – Douglas Booth
"I don't care if Monday's blue, Tuesday's gray and Wednesday too. Thursday I don't care about you. It's Friday I'm in love." – The Cure
"This Friday, finish your work and be done. Look forward to the weekend and have some fun!" – Kate Summers
"Make a Friday a day to celebrate work well done that you can be proud of knowing that you just didn't put in time to the next paycheck." – Byron Pulsifer
"Don't count the days. Make the days count." – Muhammad Ali
"It's Friday night. Time to be a hero and rescue some wine trapped in a bottle." – Anonymous
"Life is like a sewer… what you get out of it depends on what you put into it." – Tom Lehrer
"Rise up and attack the day with enthusiasm." – Anonymous
"It's time to embrace the crazy beautiful mess that you are because it's almost the weekend." – Anonymous
"You're only given a little spark of madness. You mustn't lose it." – Robin Williams
"Music always sounds better on Friday." – Lou Brutus
"By working faithfully eight hours a day you may eventually get to be boss and work twelve hours a day." – Robert Frost
"Employers are at their happiest on Mondays. Employees are at their happiest on Fridays." – Mokokoma Mokhonoana
"Life is not a problem to be solved, but a reality to be experienced." – Soren Kierkegaard
"Life is 10 percent what happens to you and 90 percent how you respond to it." – Lou Holtz
"It's finally Friday, I'm free again. I got my motor running for a wild weekend." – George Jones
"I'll just stay home and eat a lot of gelato and write about how true love is nothing but a myth." – Blake Lively as Serena van der Woodsen, Gossip Girl
"Let's sit on a rooftop at 2am and talk about life." – Anonymous
"You know what I want to do? Wake up one weekend and not have to go anywhere and do nothing." – Derek Jeter
"A wild and crazy weekend involves sitting on the front porch, smoking a cigar, reading a book." – Robert M. Gates
"The weekends are too short for sleep!" – Bryant A. Loney
"Weekends don't pay as well as weekdays but at least there's football." – A. Sachs
"Spend some time this weekend on home improvement; improve your attitude toward your family." – Bo Bennett
"Be in the habit of getting up bright and early on the weekends. Why waste such precious time in bed?" – Marilyn vos Savant
"Weekends are a bit like rainbows; they look good from a distance but disappear when you get up close to them." – John Shirley
"Although I understand that all days are equal with 24 hours each, most of us agree that Friday is the longest day of the week and Sunday the shortest." – S. Mixel
"I have been known to hang out and party back in the day. I had a weekend that lasted a few years." – Vanilla Ice
"I work mostly during the week, and on the weekend I get to hang out with friends, so it balances out pretty well." – Jimmy Bennett
"It's the weekend. Do something that your future self will thank you for." – Anonymous
"People wait all week for Friday, all year for summer, all life for happiness." – B
"Every Friday, I like to high five myself for getting through another week on little more than caffeine, will power, and inappropriate humor." – Nanea Hoffman
"FRIDAY NIGHT! I have a date, with my bed…We're totally going to sleep together!" – Anonymous
"Oh! It's Friday again. Share the love that was missing during the week. In a worthy moment of peace and bliss." – O'Sade
"Tonight's forecast, 99 percent chance of wine." – Anonymous
"Happy Friday! Here's to all of us who made it through another week of faking adulthood." – Nanea Hoffman
"Coffee in hand, sparkle in my eye, smile on my face yep, it's Friday." – Anonymous
"Although I understand that all days are equal with 24 hours each, most of us agree that Friday is the longest day of the week and Sunday the shortest." – S. Mixell
"Life is beautiful especially on Friday!" – Anonymous
"I wanna be your Friday night sweet ride. Summertime sunshine barefoot in the moonlight." – Anonymous
"There's just one legitimate synonym for Friday: Boom Shakalaka." – Anonymous
"Dear radio stations, please do not play Katy Perry's 'Friday Night' Monday morning at 8 AM during my drive to work." – Anonymous
"Love and Life begins on Fridays." – Author Unknown
"Stop waiting for Friday, for summer, for someone to fall in love with you, for life. Happiness is achieved when you stop waiting for it and make the most of the moment you are in now." – Anonymous
"May today be the Fridayest Friday that ever Fridayed." – Anonymous
"When you start to do the things that you truly love, it wouldn't matter whether it is Monday or Friday; you would be so excited to wake up each morning to work on your passions." – Edmond Mbiakading
"Life is good especially on a Friday." – Anonymous
"Making food is a wonderful way to spend a Friday night." – Chrissy Teigen
"I am instantly 70 percent nicer after 3pm on Fridays." – Anonymous
"Friday called. She's on her way and she's bringing the wine." – Anonymous
"Weekends don't count unless you spend them doing something completely pointless." – Bill Watterson
"The only reason why we ask other people how their weekend was is so we can tell them about our own weekend." – Chuck Palahniuk
"Weekends are a bit like rainbows; they look good from a distance but disappear when you get up close to them." – Anonymous
"'I'm so sad it's Friday. I wish it was Monday already' said no one in history, ever." – Anonymous
"Friday is like a superhero that always arrives just in time to stop me from savagely beating one of my coworkers with a keyboard." – Rico
"Make a Friday a day to celebrate work well done that you can be proud of knowing that you just didn't put in time to the next pay check." – Byron Pulsifer
"If you must have motivation, think of your paycheck on Friday." – Noel Coward
"Youth is like a long weekend on Friday night. Middle age is like a long weekend on Monday afternoon." – Richard Nelson Bolles
"For most Americans, Friday afternoons are filled with positive anticipation of the weekend. In Washington, it's where government officials dump stories they want to bury." – John Sununu
"It's always difficult to keep Fridays confined within themselves…they tend to spill over." – Kai Sinclair
"Fridays are the hardest in some ways: you're so close to freedom." – Lauren Oliver
"Dear Monday, I want to break up. I'm seeing Tuesday and dreaming about Friday. Sincerely, it's not me, it's you." – Anonymous
"Happy Monday! Or as I like to think of it, pre-pre-pre-pre-Friday!" – Anonymous