Last Updated on April 7, 2023
They say your friends are the family you choose. You have the freedom to decide who you want to be part of your tribe, who you want to call "your people." Your choice of friends have an immense impact on your life. The best ones help you to be the person you want to be. They hear your unspoken words. They love you, flaws and all.
In this time and age when everything moves and shifts at a fast pace, friendships are sometimes taken for granted. Saying "they'll understand I'm just busy right now" is slowly becoming a lame excuse that, quite honestly, sucks.
Everyone is busy. Everyone has things they need to prioritize. But you should never be too busy for friends the same way they should never be too preoccupied for you. Remember, even the strongest and longest friendships require sustenance.
Here are ways to strengthen your relationship with your friends further.
Be conscious of your friendships.
It happens. You get so busy with your personal and professional life, and you forget you have friends.
It's okay if your besties get bumped down on your list of priorities. However, it's never okay to treat them as nuisances when you're busy and they seek you out. Keep in mind that it's not only you who are juggling multiple responsibilities at the same time.
You can't be too busy to return a phone call or to send a reply in your group chat. Sometimes, an emoji is enough to convey to them that even with your tight schedule, you're still aware of what's happening in and out of your lives.
Learn to listen to unspoken words.
When your friends have a problem, you don't necessarily have to be the problem-solver. More often than not, they only need a shoulder to lean on or someone they can temporarily depend on to pick up the slack while they fix the problem.
This is quite easy if your friends straight away tell you about their hardships. However, some people hesitate reaching out to their friends because they don't want to impose. As such, you have to learn to listen to an unspoken plea for help.
Look for telltale signs like mood swings and restlessness. Also, don't hesitate to directly ask your friends what's bothering them. Sometimes, that's the only opening your pals need to unburden their troubles.
Help as much as you can.
Being available for your friends doesn't only count during times of hardships. The little things matter a lot as well. Find ways to help them breathe easier, especially when you know they are knee-deep with responsibilities and obligations.
For example, if you have some spare time and your friends need to work long hours, you can babysit their children or pick them up from school. Or if they are sick, you can run errands for them or bring them a home-cooked meal.
Have open communication all the time.
Lack of communication can affect friendships, especially these days when there are tons of ways to instantly reach out to them.
If you all can't hang out face-to-face, do it virtually. Send an email. Initiate a conference call. Start a group chat. The point is to actively keep in touch with everyone even if it's just to say hello.
Be a voice of reason.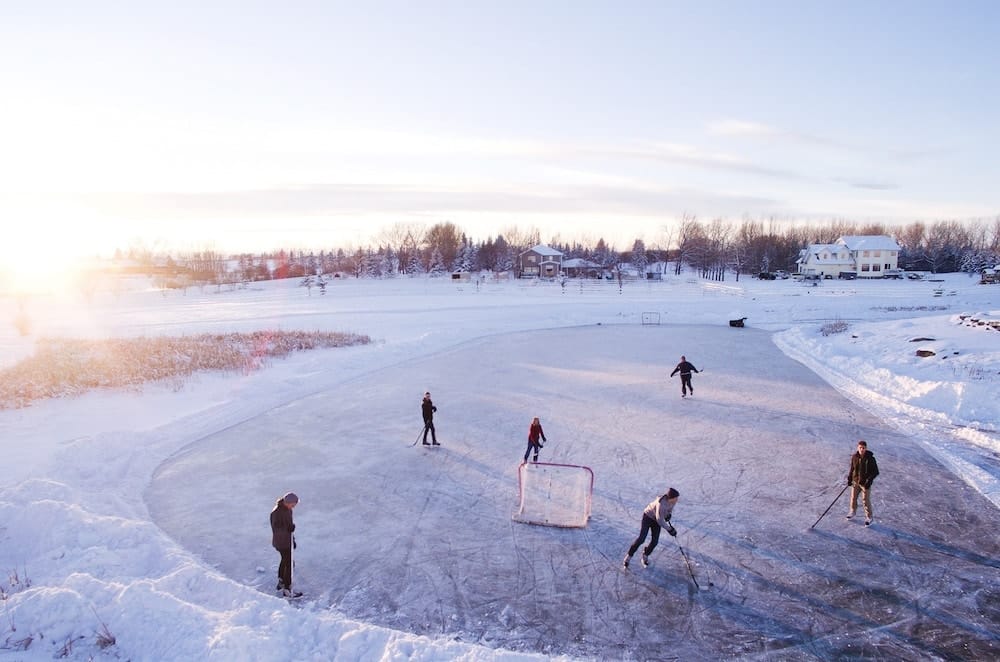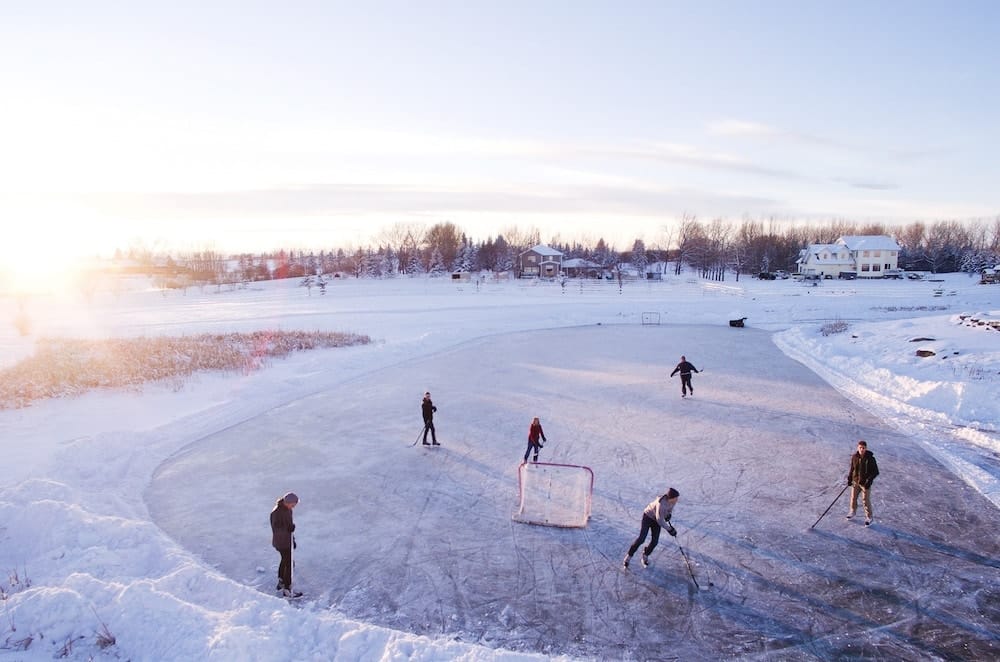 There's a line between supporting and indulging your friends. Encourage them to follow their dreams. Push them to get the job done.
Giving them your support is vital because it's a scary thing to put yourself out there. Having said that, it's equally important to be a voice of reason when you think they're making a mistake. Just make sure you're giving them valuable and constructive advice rather than justtelling them they're wrong without any further explanation.
Accept their flaws.
As the adage says, nobody's perfect. For sure, you have mannerisms or characteristics that annoy other people. Your friends have flaws, too. If their flaw is more of a quirk and not a bad attitude, then don't fret about it.
It can be annoying, but it's part of the package. You wouldn't want someone to tell you to change your personality just because of your annoying trait, right? It's the same thing with your friends. You can't expect and have them change their personality just to suit your needs.
Be realistic.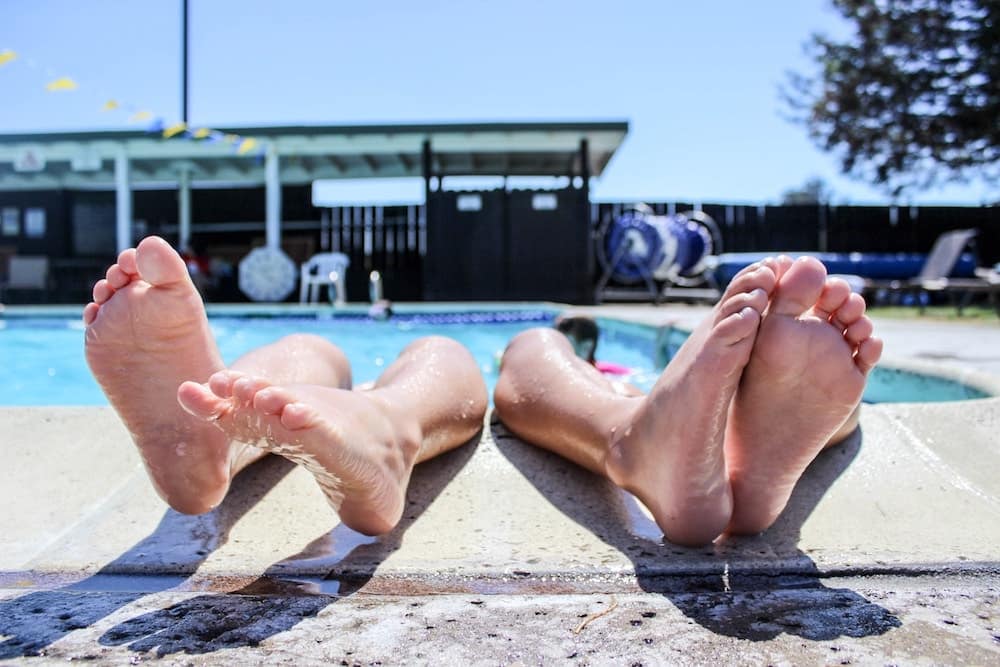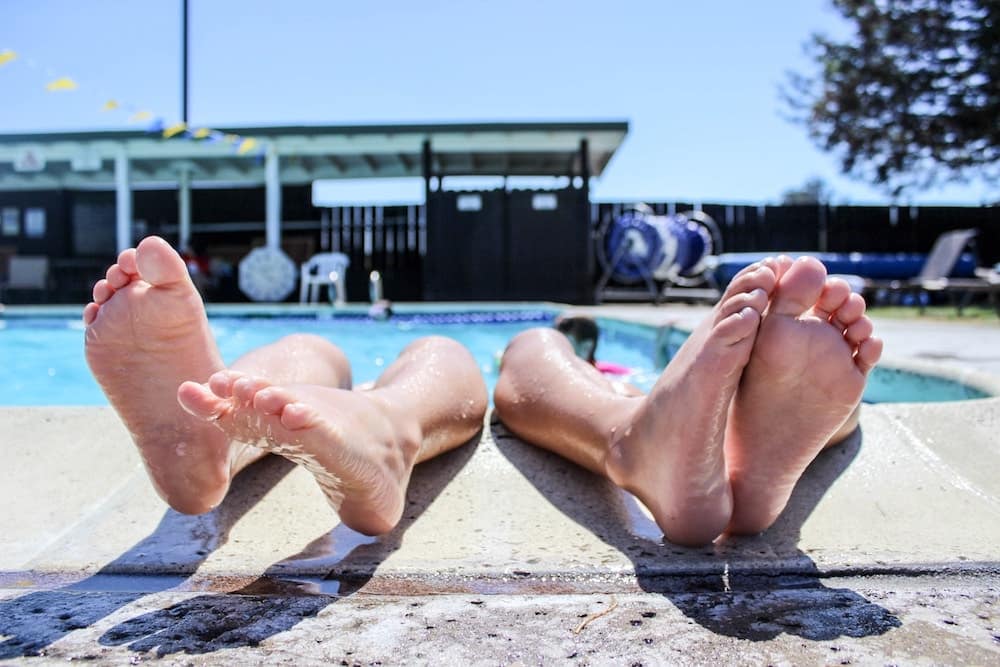 A lot of times, conflicts between friends happen because of unrealistic expectations. While it's heartwarming to be appreciated for your kind gestures, you shouldn't expect your friends to always thank you for all the things you do for them.
In the first place, if you only do good things just to get rewarded, then you're doing them for the wrong reasons.
In the real world, people forget important events. They miss dates and celebrations.  They make mistakes and don't always do what you wish and think they should do. And that should be okay. You need to stop expecting people to act the way you expect.
Friendships make the world a great place to live in. Here are beautiful quotes about friendships you can share with your besties.
Best Quotes about Friendship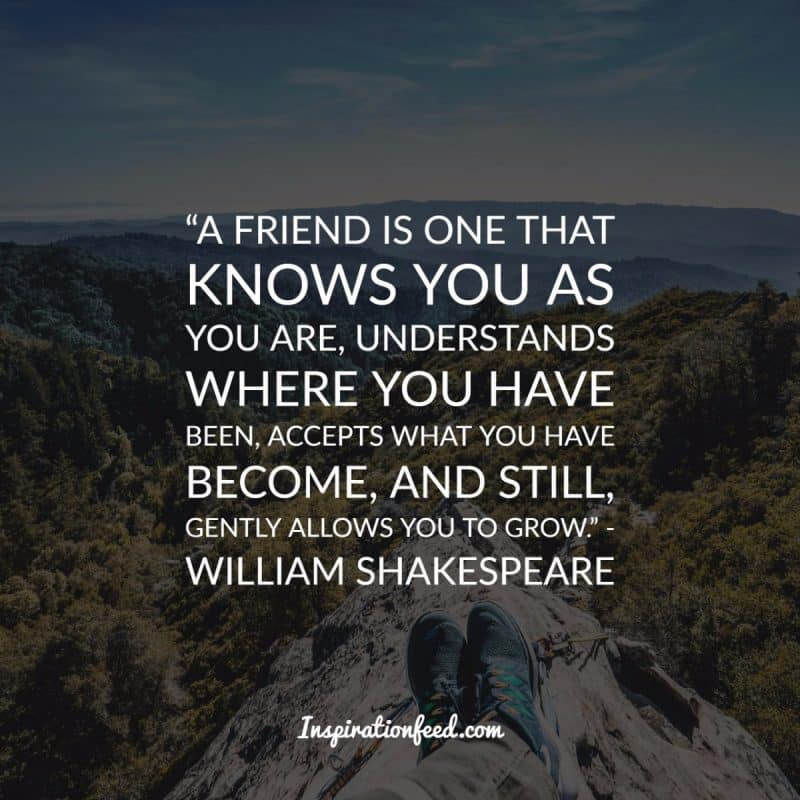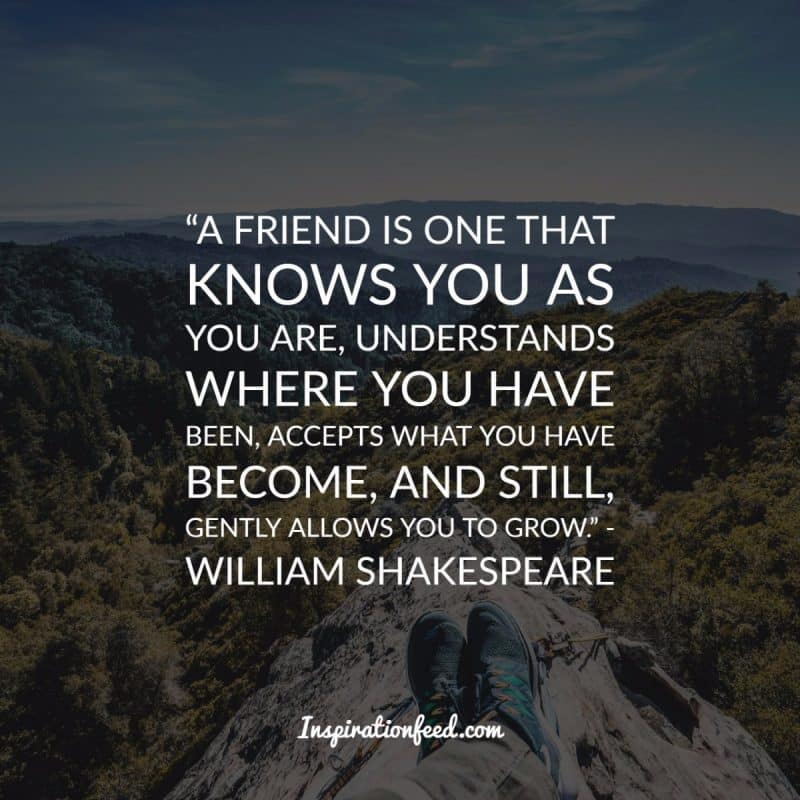 A friend is one that knows you as you are, understands where you have been, accepts what you have become, and still, gently allows you to grow." – William Shakespeare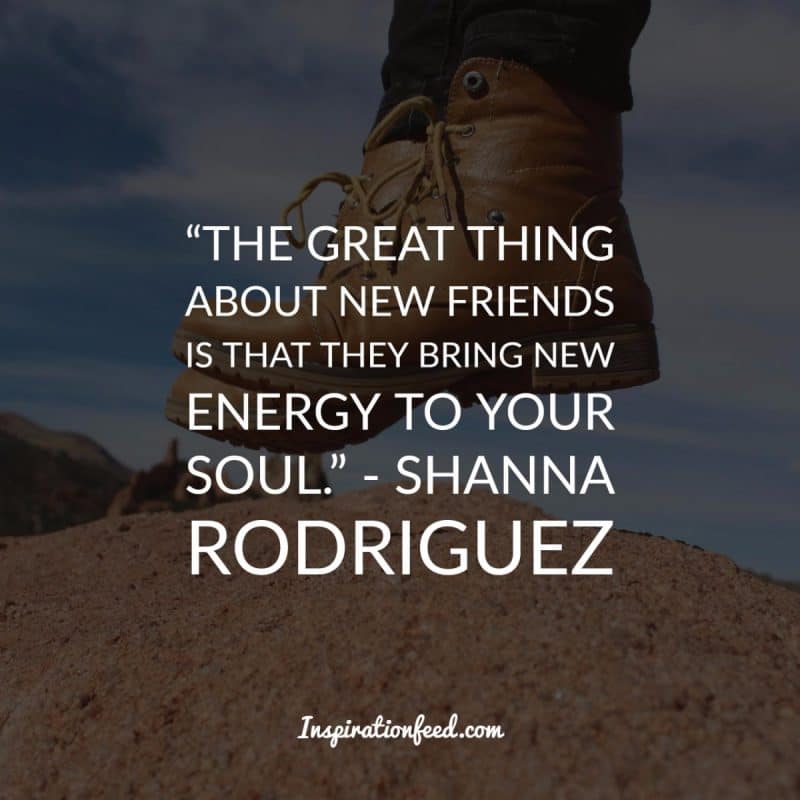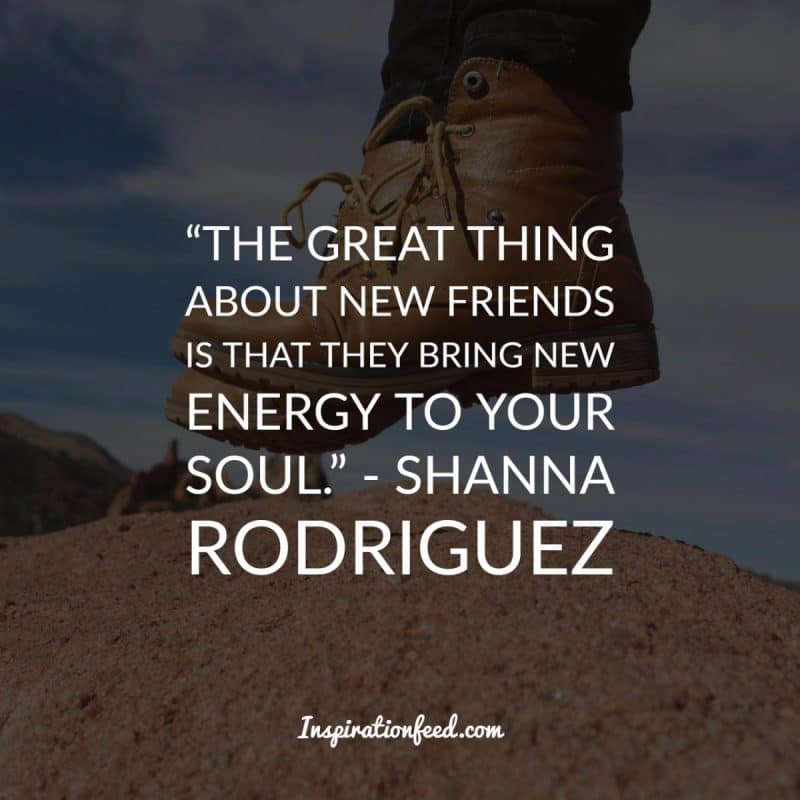 "The great thing about new friends is that they bring new energy to your soul." – Shanna Rodriguez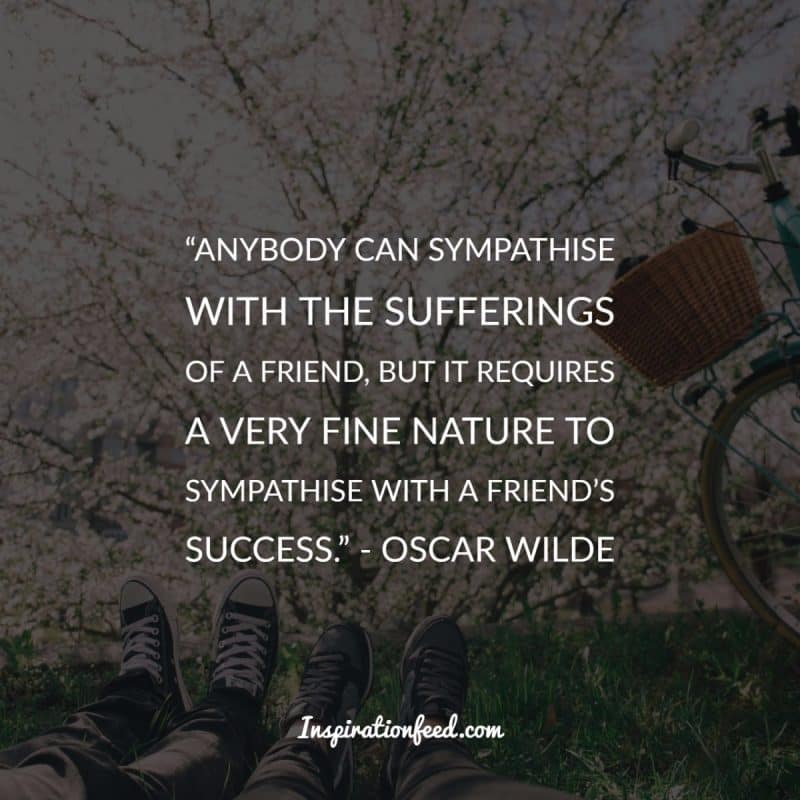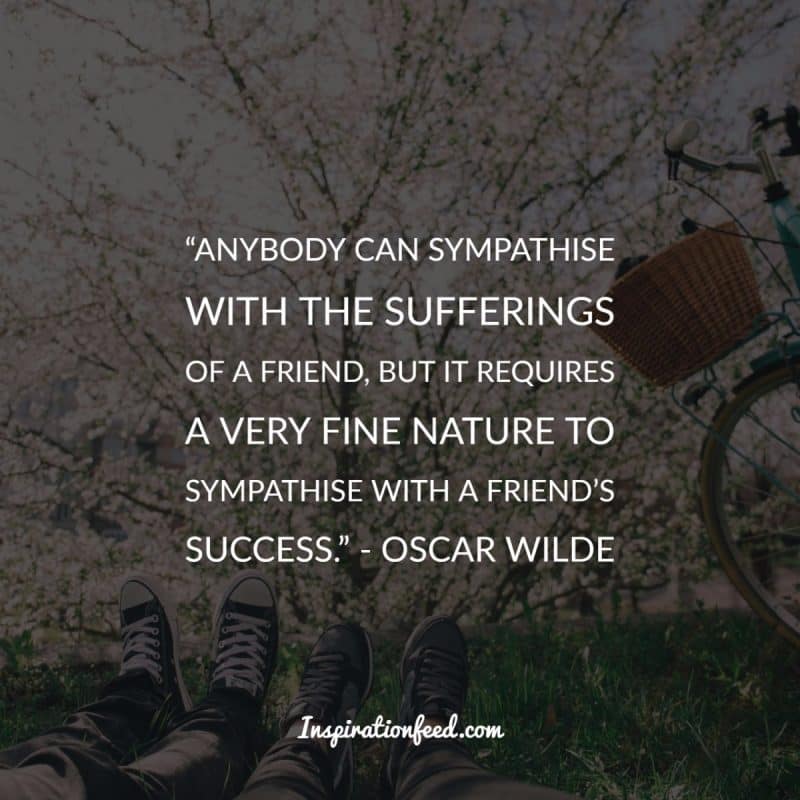 Anybody can sympathise with the sufferings of a friend, but it requires a very fine nature to sympathise with a friend's success." – Oscar Wilde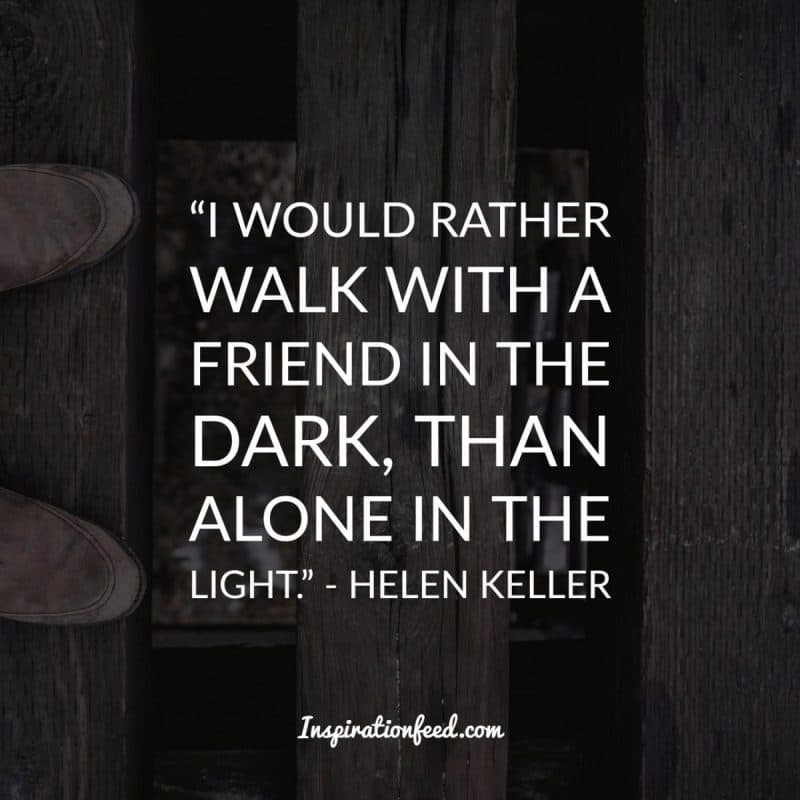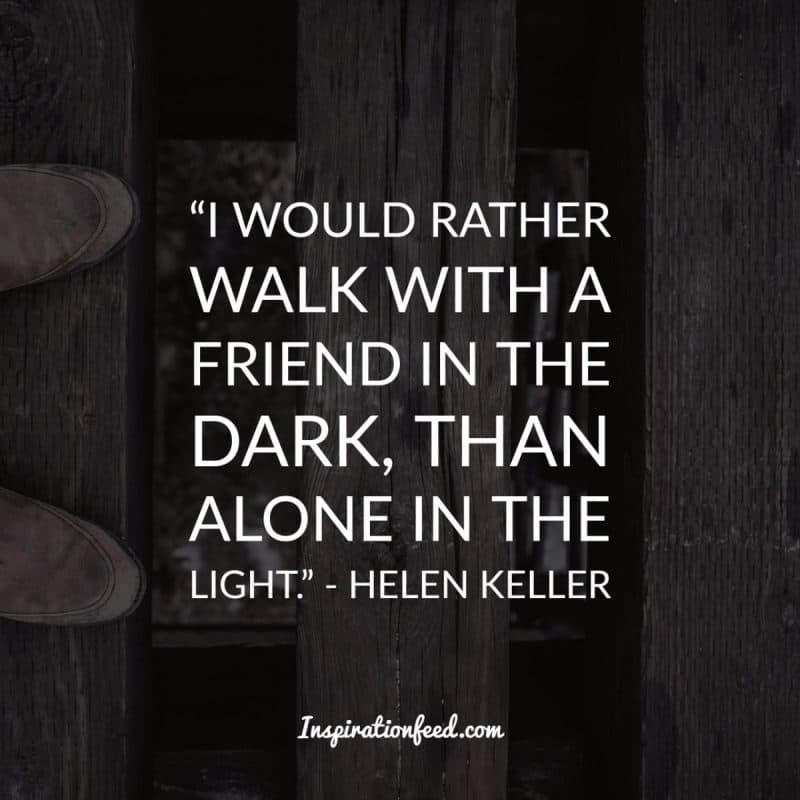 I would rather walk with a friend in the dark, than alone in the light." – Helen Keller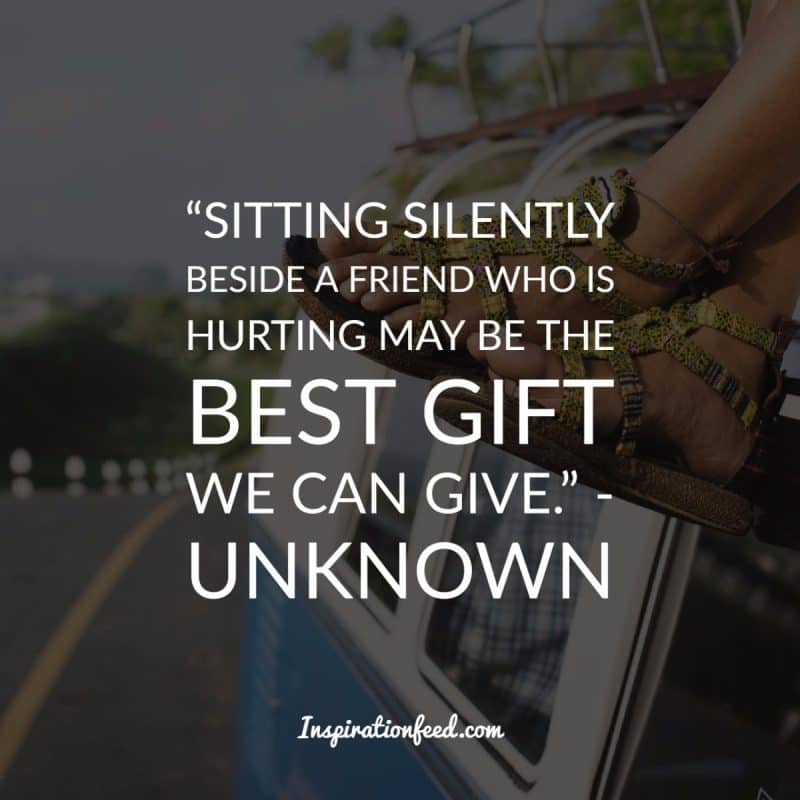 "Sitting silently beside a friend who is hurting may be the best gift we can give." – Unknown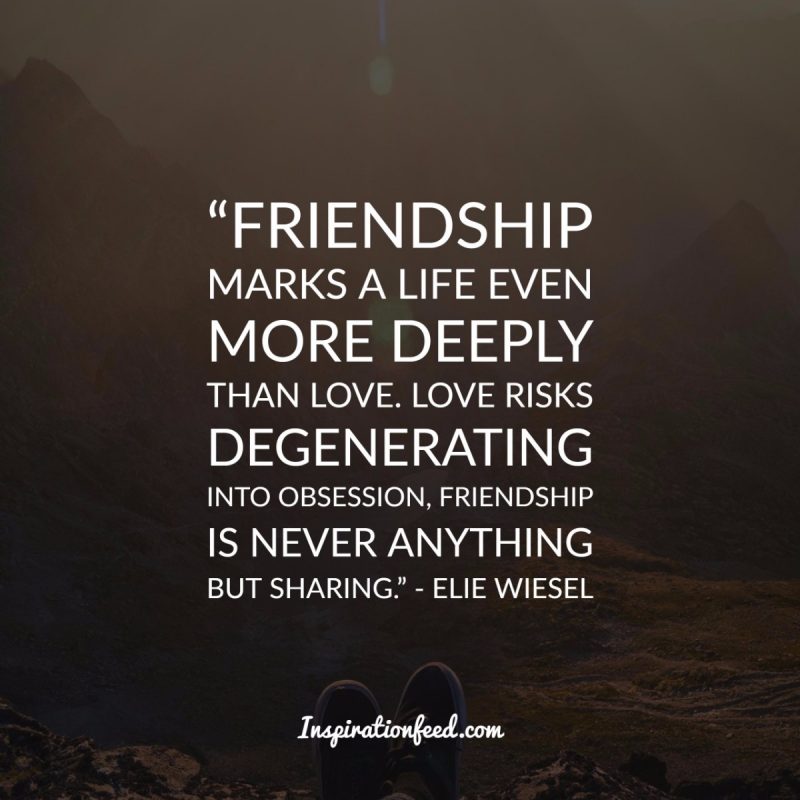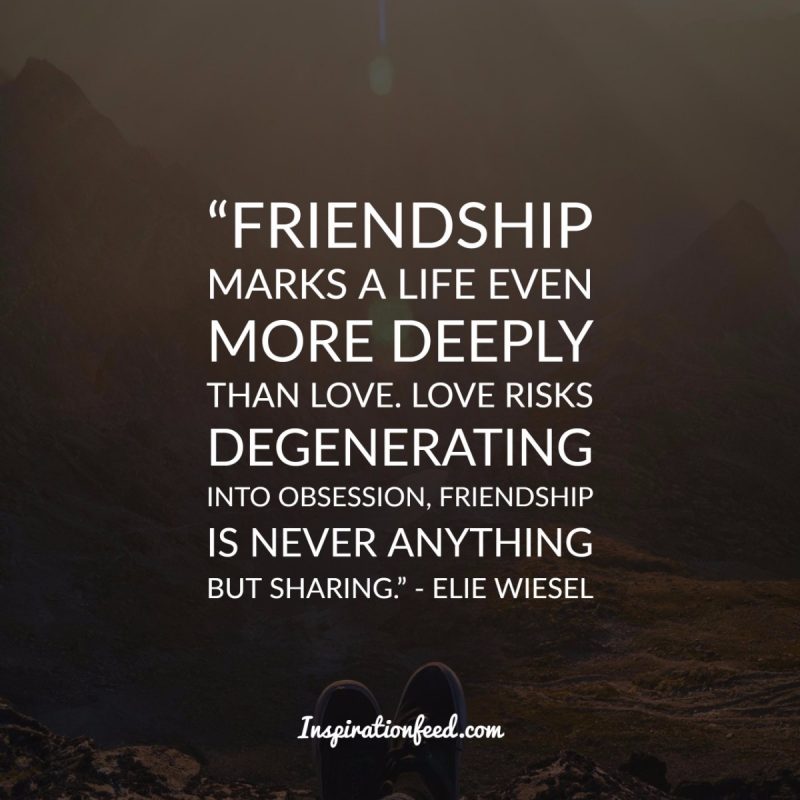 "Friendship marks a life even more deeply than love. Love risks degenerating into obsession, friendship is never anything but sharing." – Elie Wiesel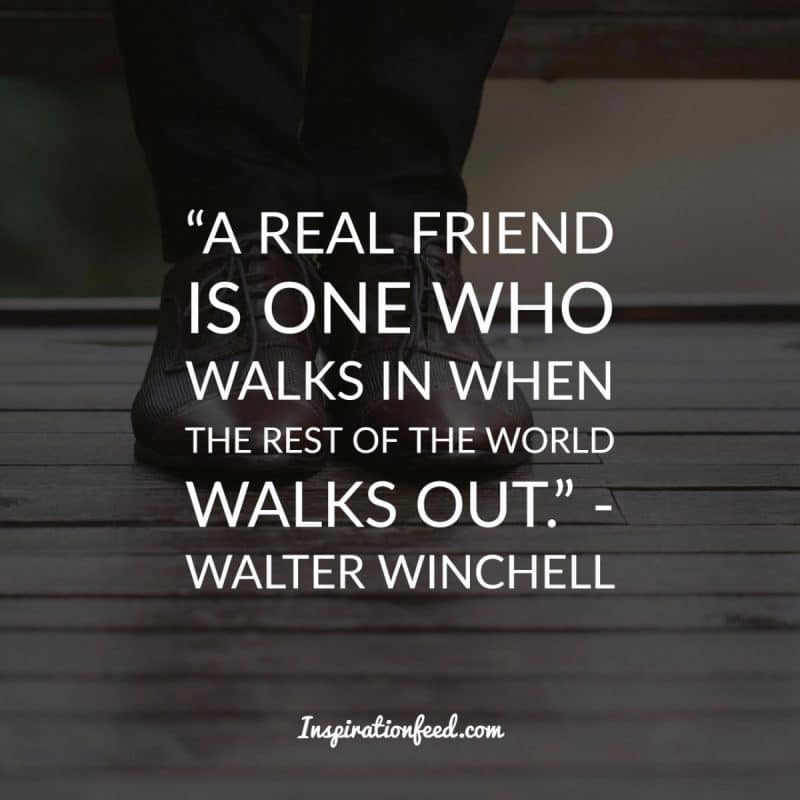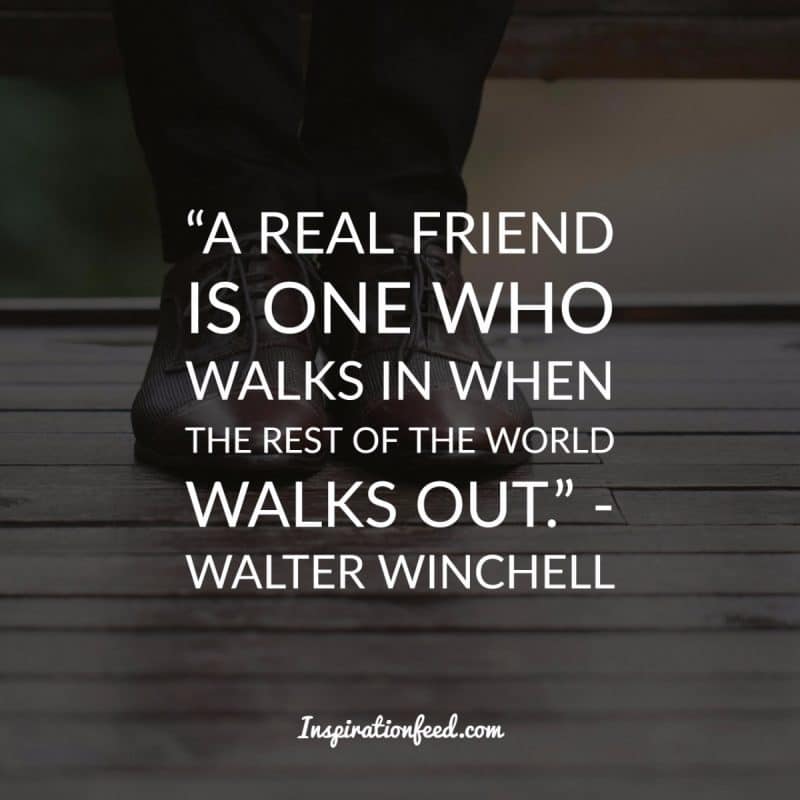 "A real friend is one who walks in when the rest of the world walks out." – Walter Winchell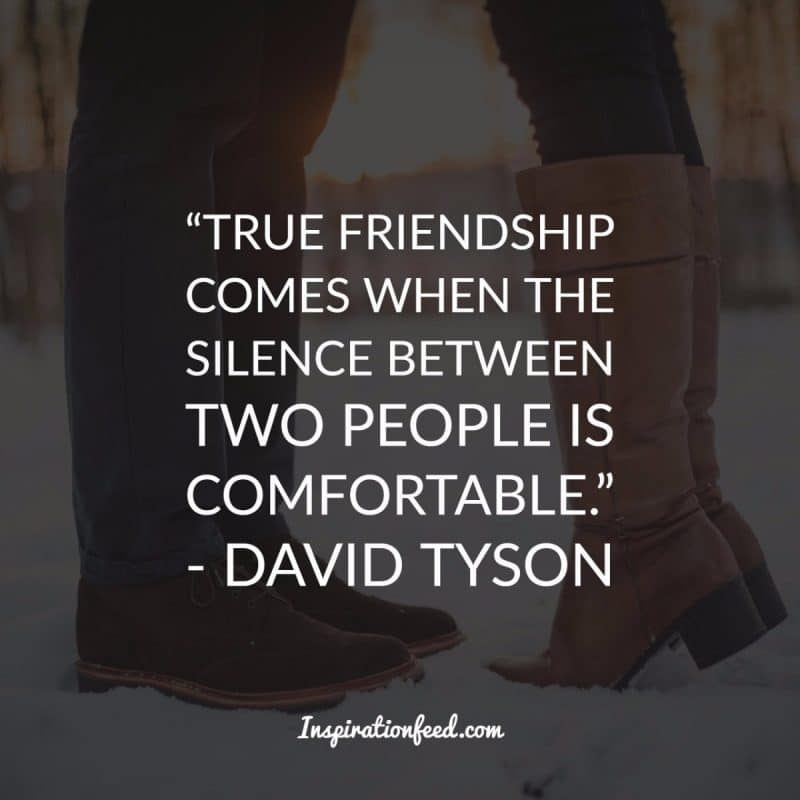 "True friendship comes when the silence between two people is comfortable." – David Tyson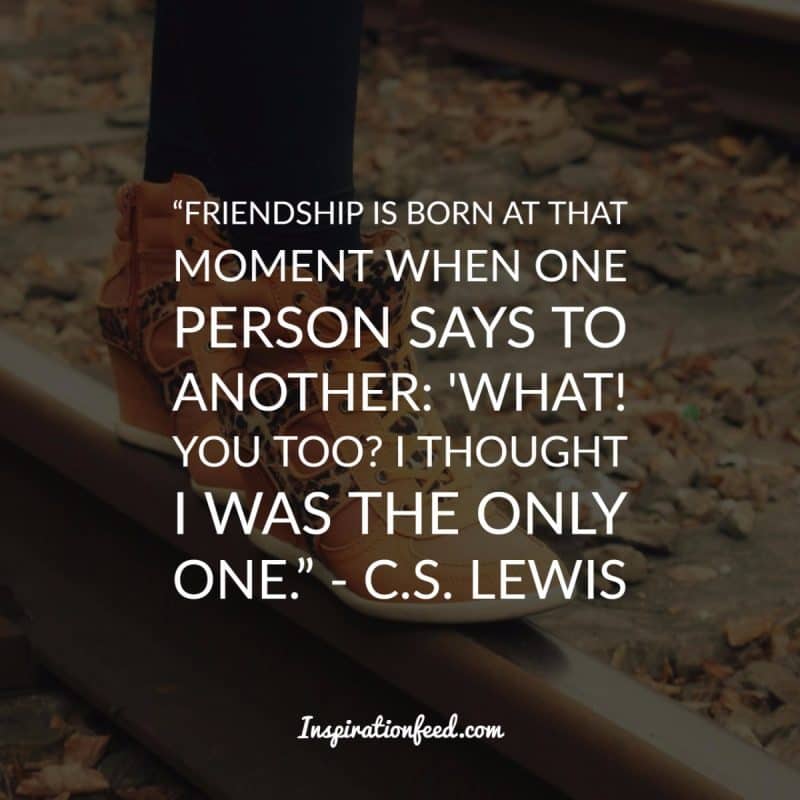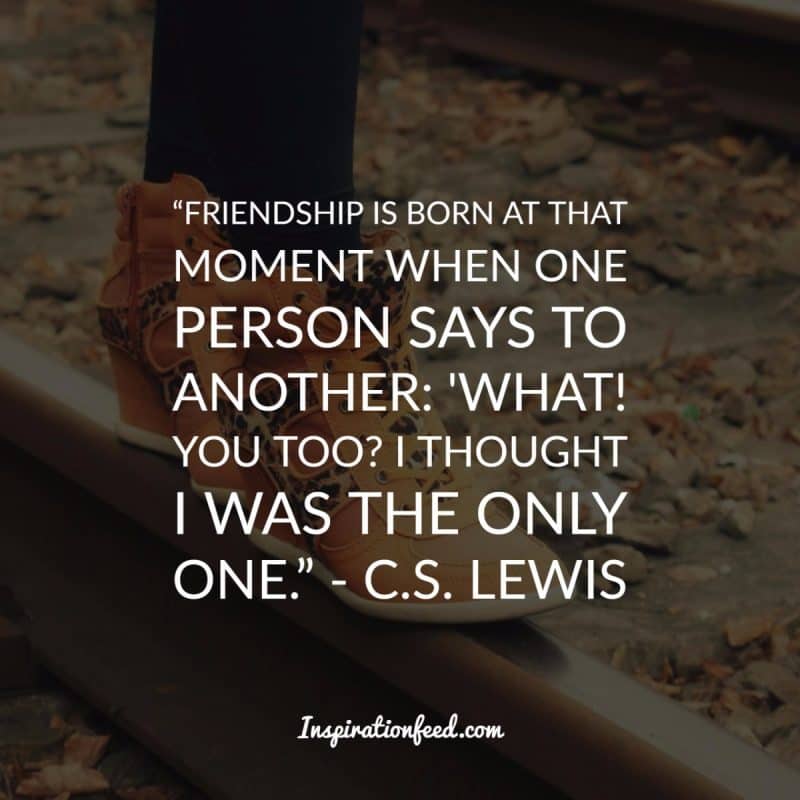 "Friendship is born at that moment when one person says to another: 'What! You too? I thought I was the only one." – C.S. Lewis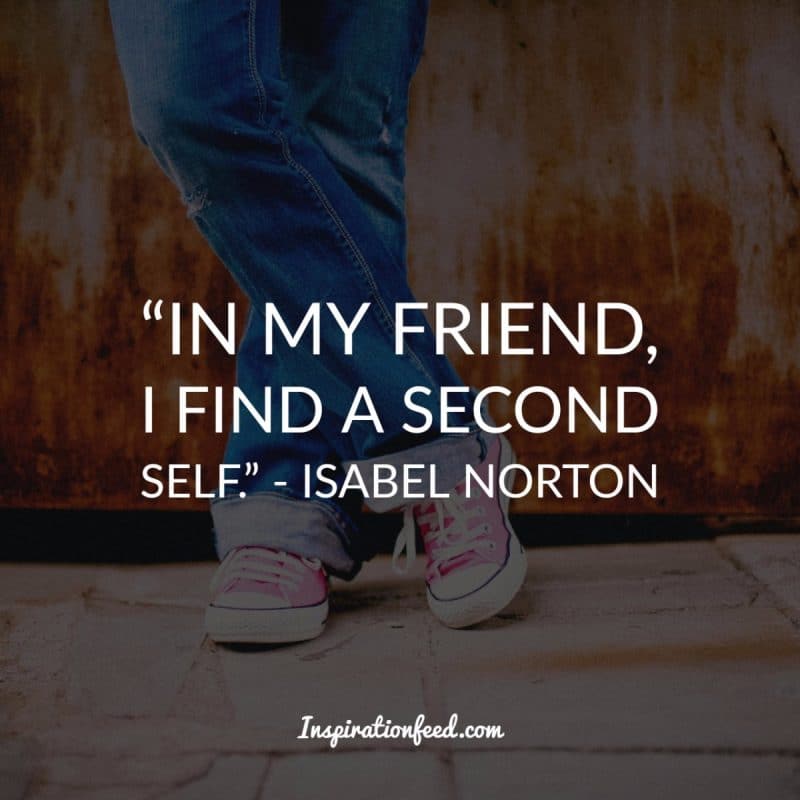 "In my friend, I find a second self." – Isabel Norton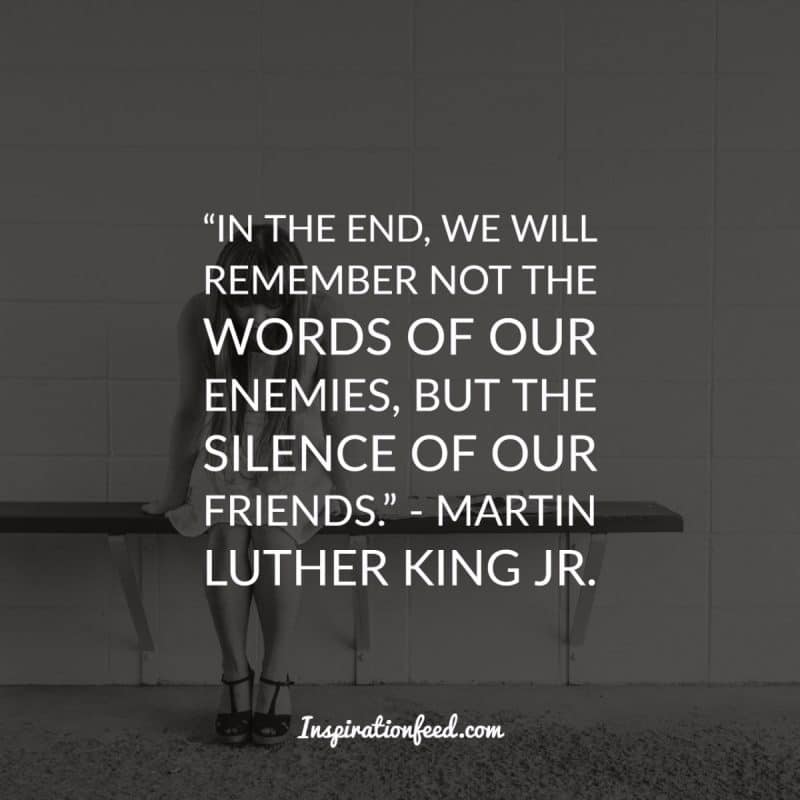 In the end, we will remember not the words of our enemies, but the silence of our friends." – Martin Luther King Jr.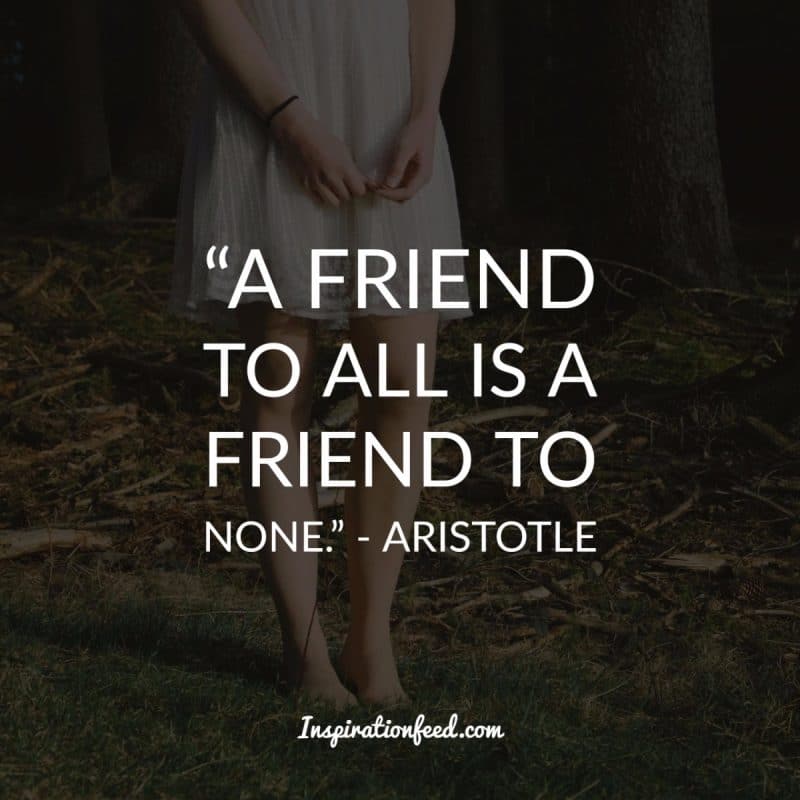 "A friend to all is a friend to none." – Aristotle
"Friends are medicine for a wounded heart, and vitamins for a hopeful soul." – Steve Maraboli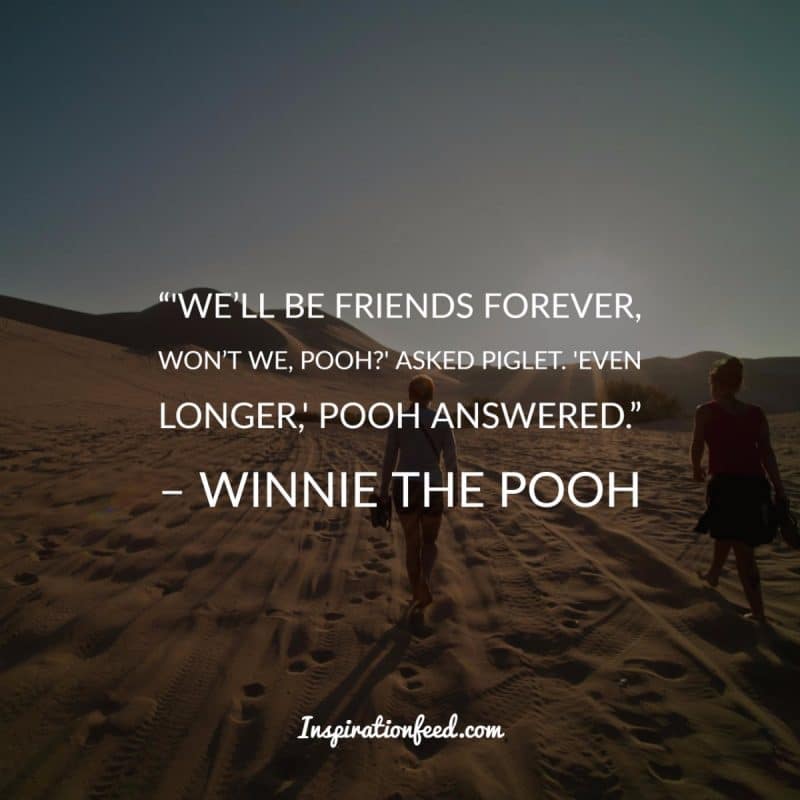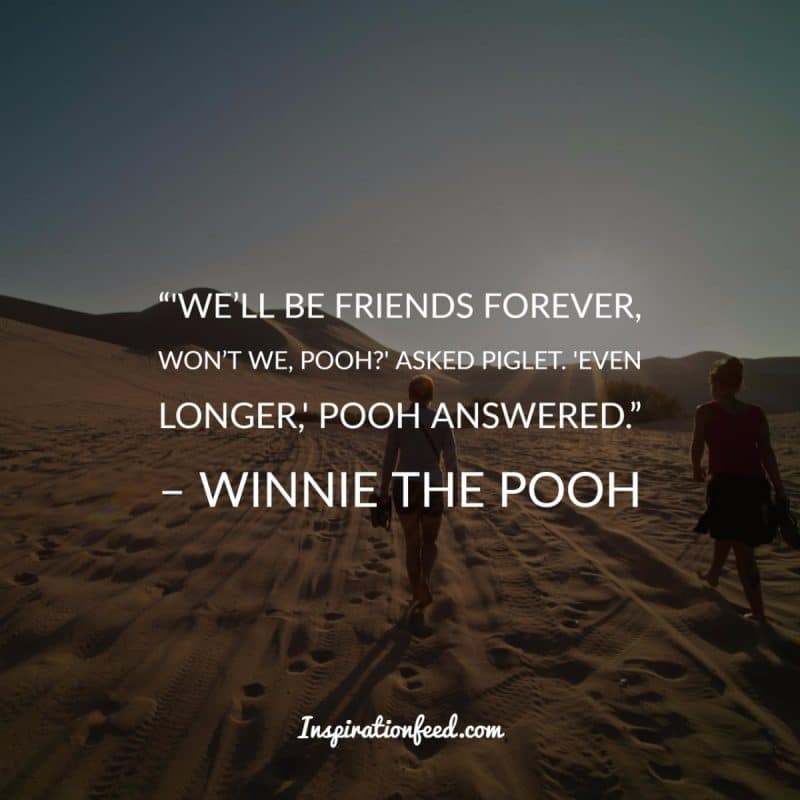 "'We'll be friends forever, won't we, Pooh?' Asked Piglet. 'Even longer,' Pooh answered." – Winnie The Pooh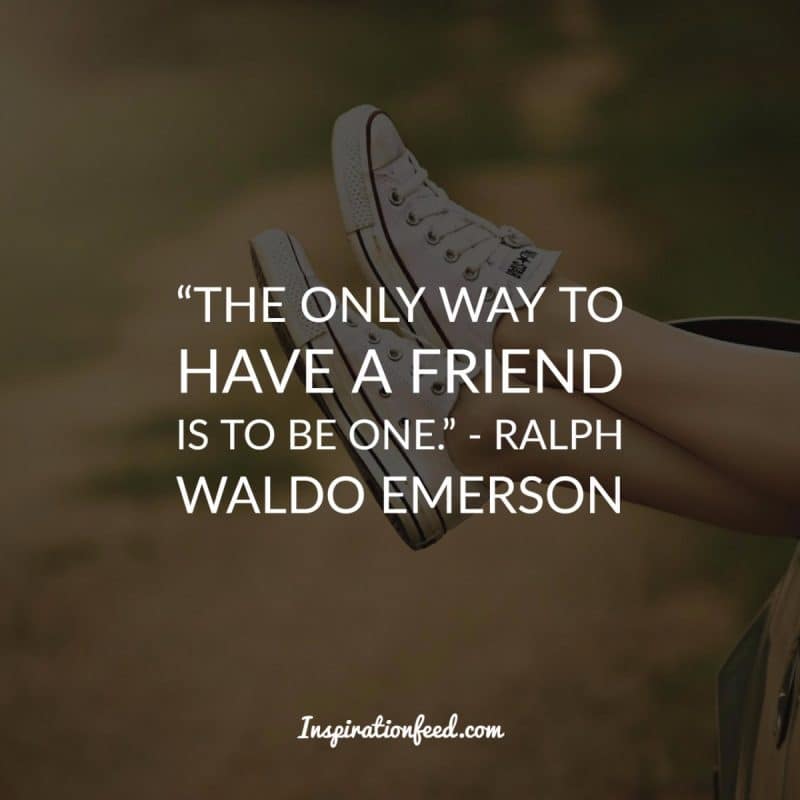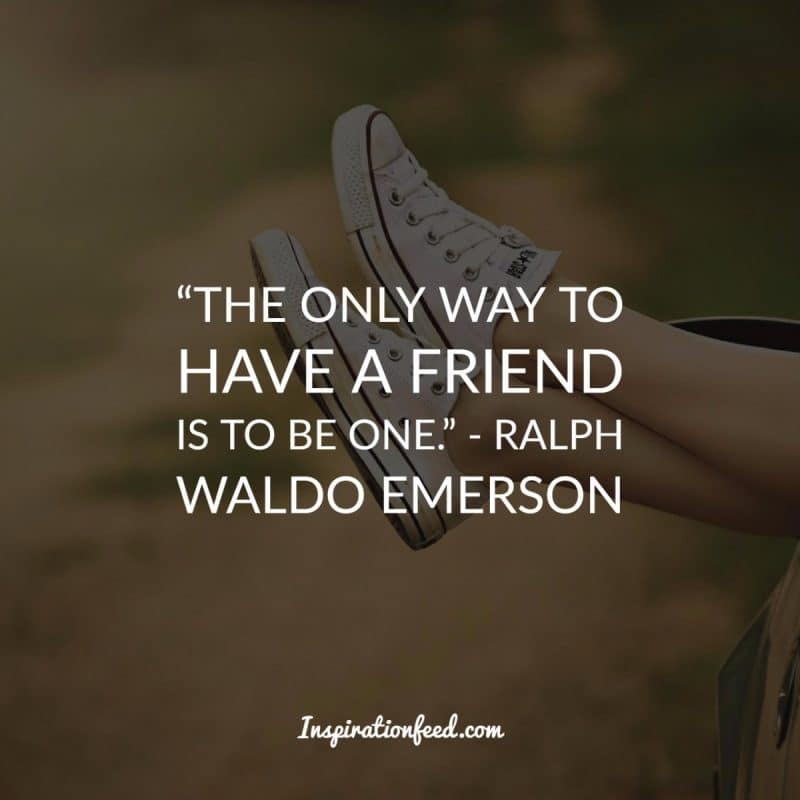 The only way to have a friend is to be one." – Ralph Waldo Emerson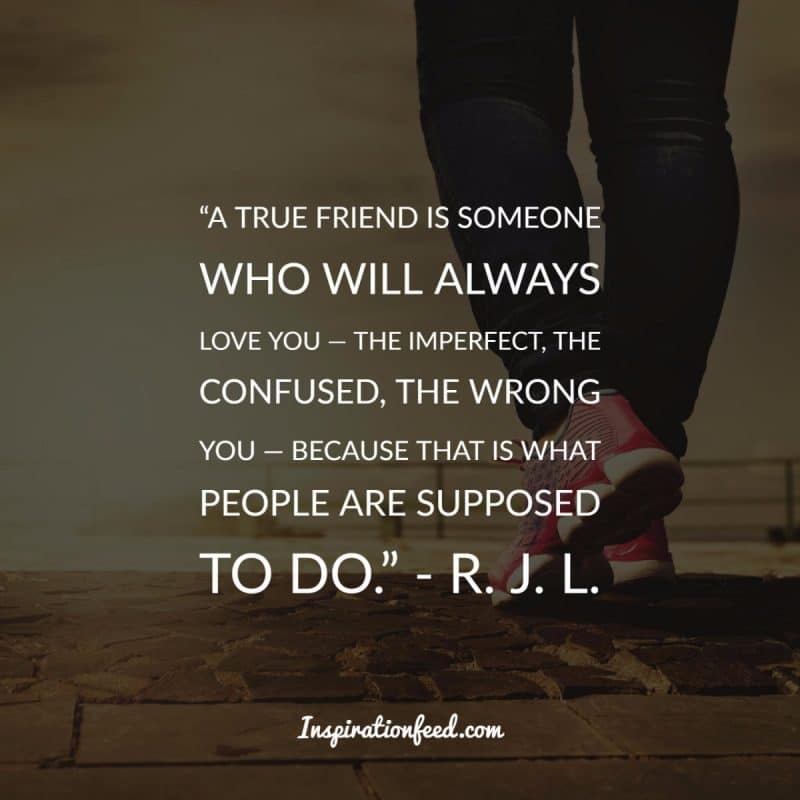 "A true friend is someone who will always love you — the imperfect, the confused, the wrong you — because that is what people are supposed to do." – R. J. L.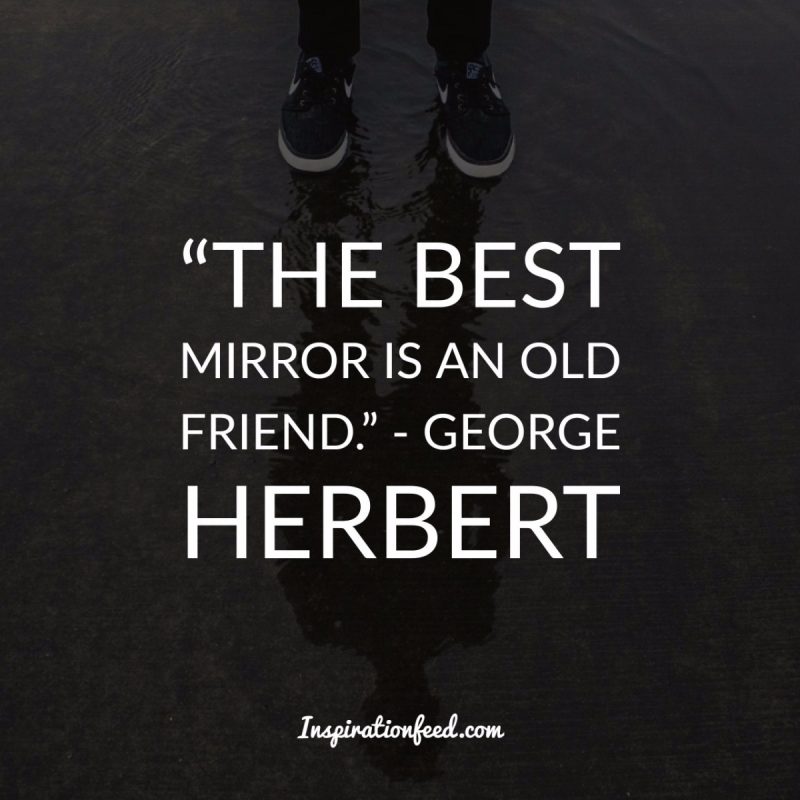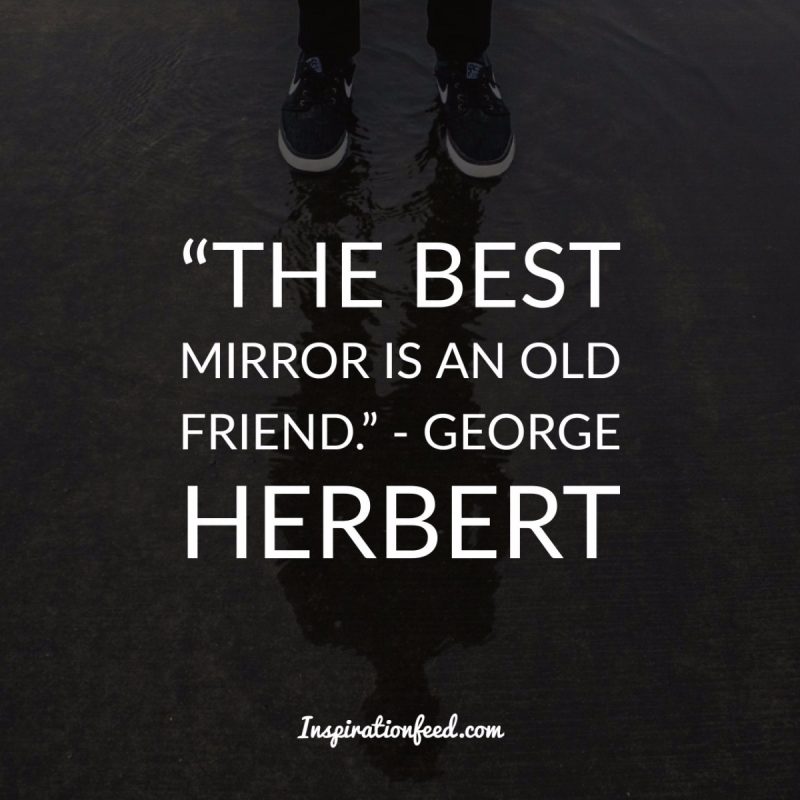 "The best mirror is an old friend." – George Herbert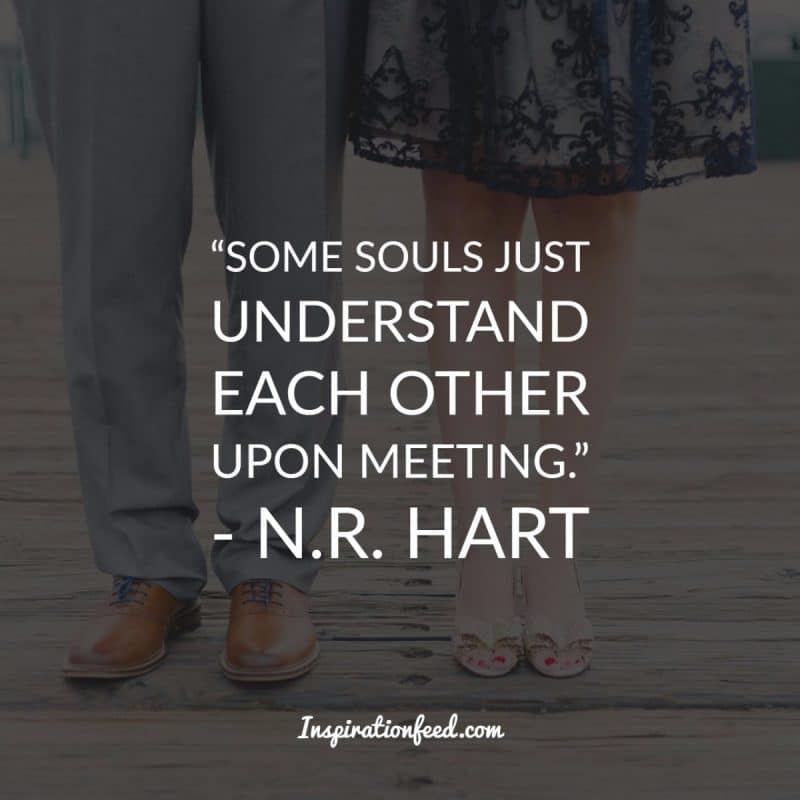 "Some souls just understand each other upon meeting." – N.R. Hart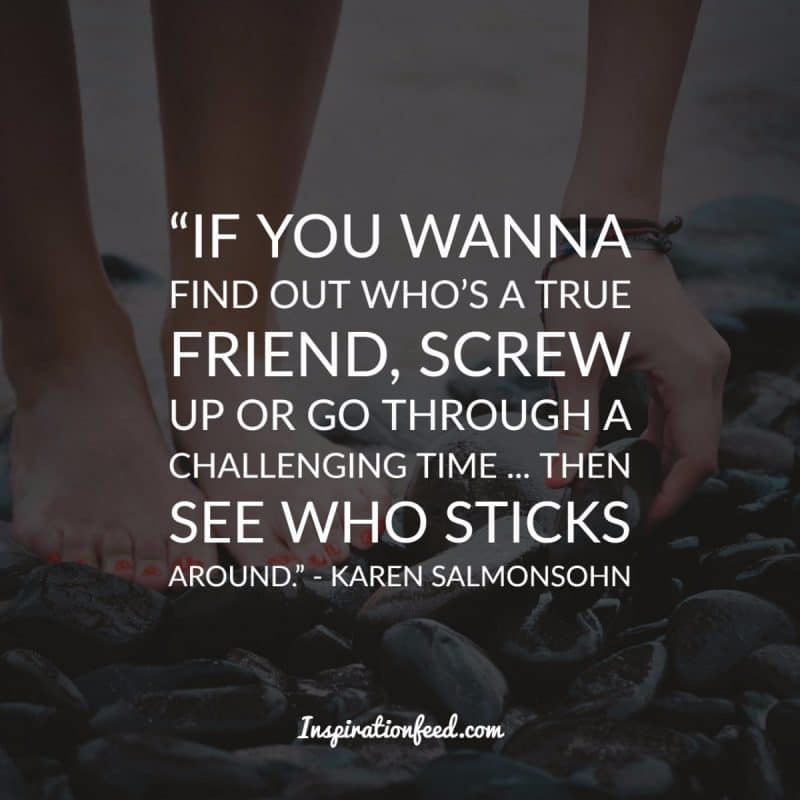 "If you wanna find out who's a true friend, screw up or go through a challenging time … then see who sticks around." – Karen Salmonsohn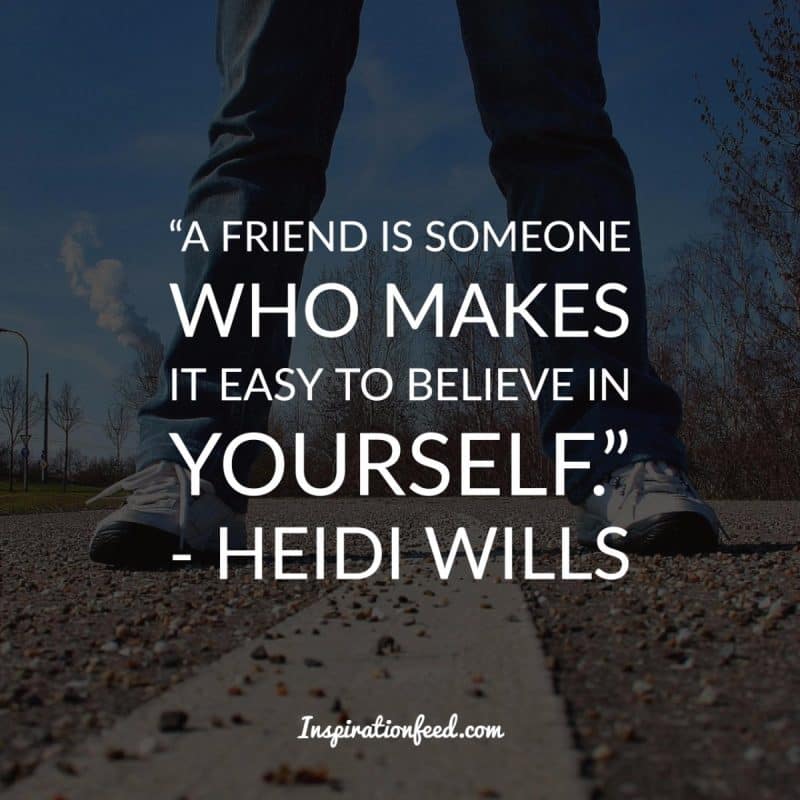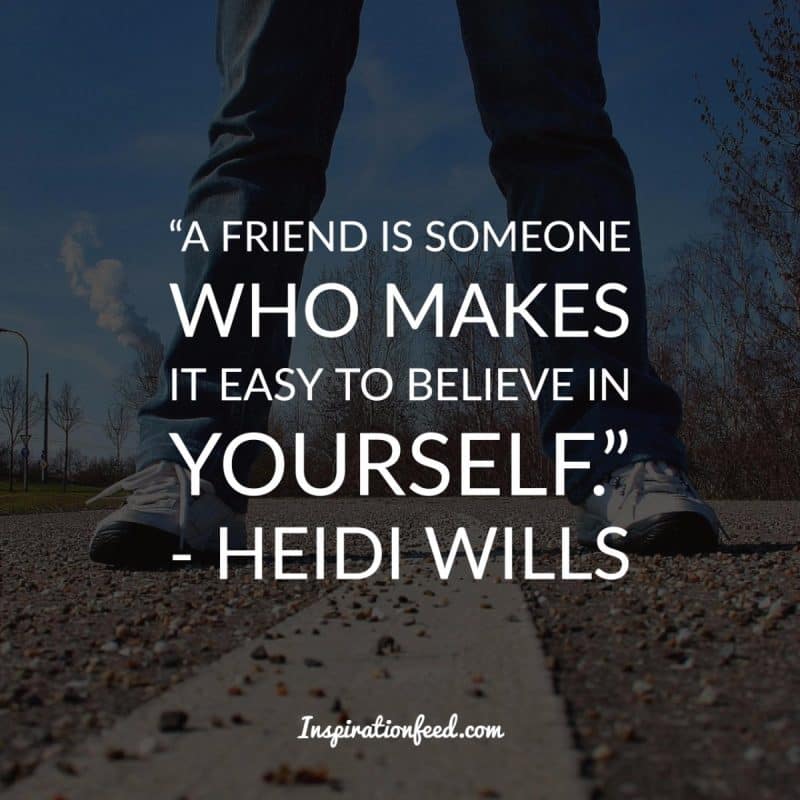 "A friend is someone who makes it easy to believe in yourself." – Heidi Wills
"Some people arrive and make such a beautiful impact on your life, you can barely remember what life was like without them." – Anna Taylor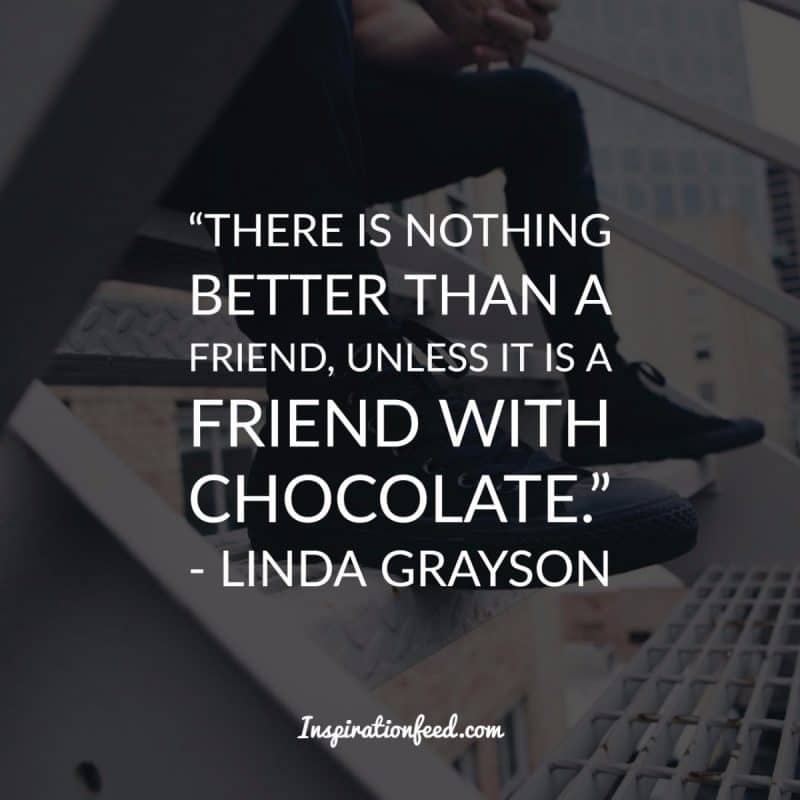 "There is nothing better than a friend, unless it is a friend with chocolate." – Linda Grayson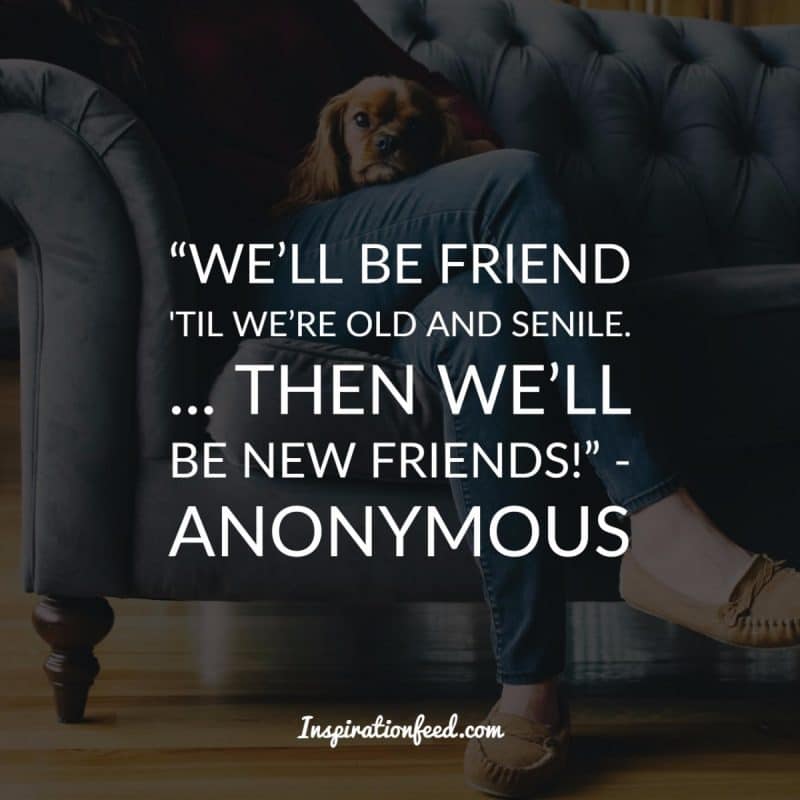 "We'll be friends 'til we're old and senile. … Then we'll be new friends!" – Anonymous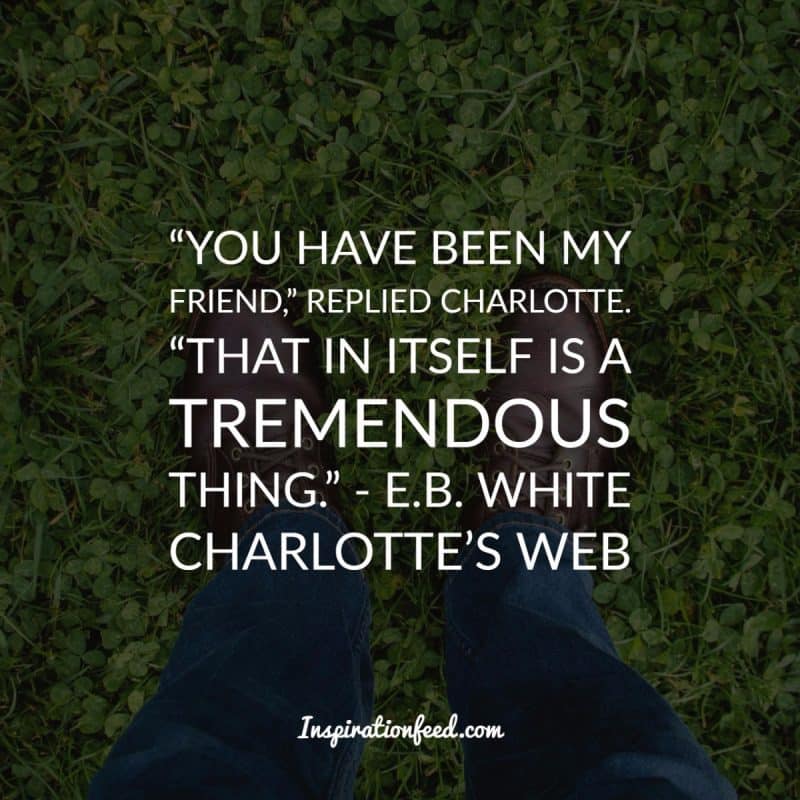 "You have been my friend," replied Charlotte. "That in itself is a tremendous thing." – E.B. White, Charlotte's Web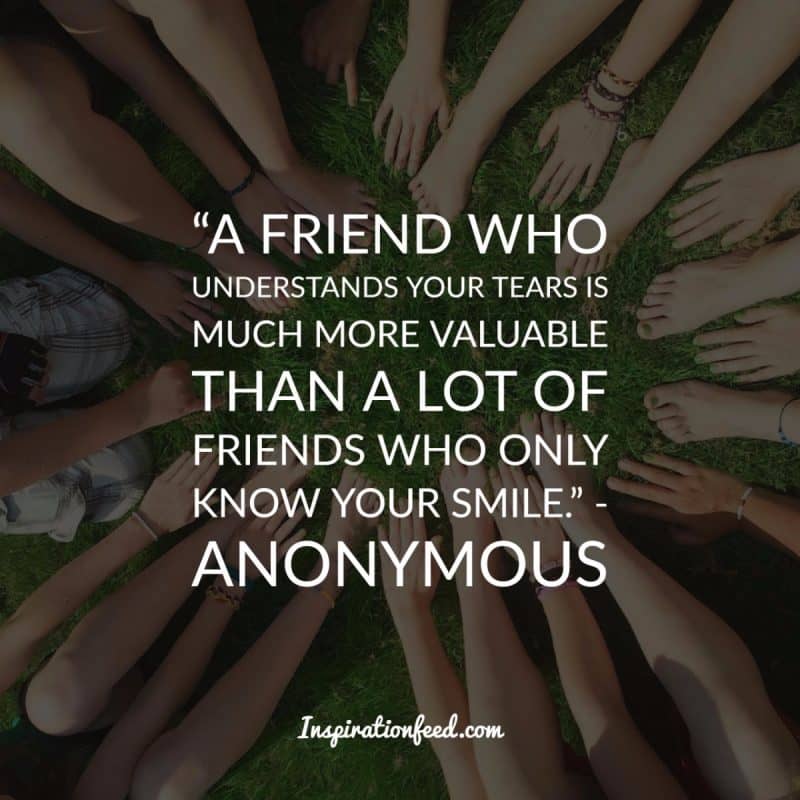 "A friend who understands your tears is much more valuable than a lot of friends who only know your smile." – Anonymous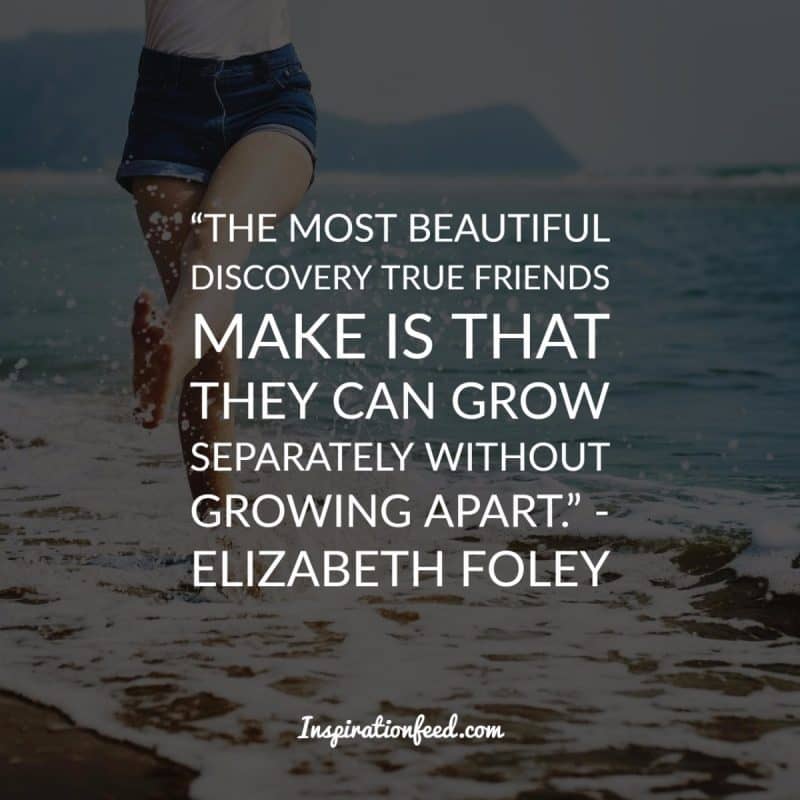 "The most beautiful discovery true friends make is that they can grow separately without growing apart." – Elizabeth Foley
"Friends should be like books, few, but hand-selected." – C.J. Langenhoven
"A strong friendship doesn't need daily conversation or being together. As long as the relationship lives in the heart, true friends never part." – Anonymous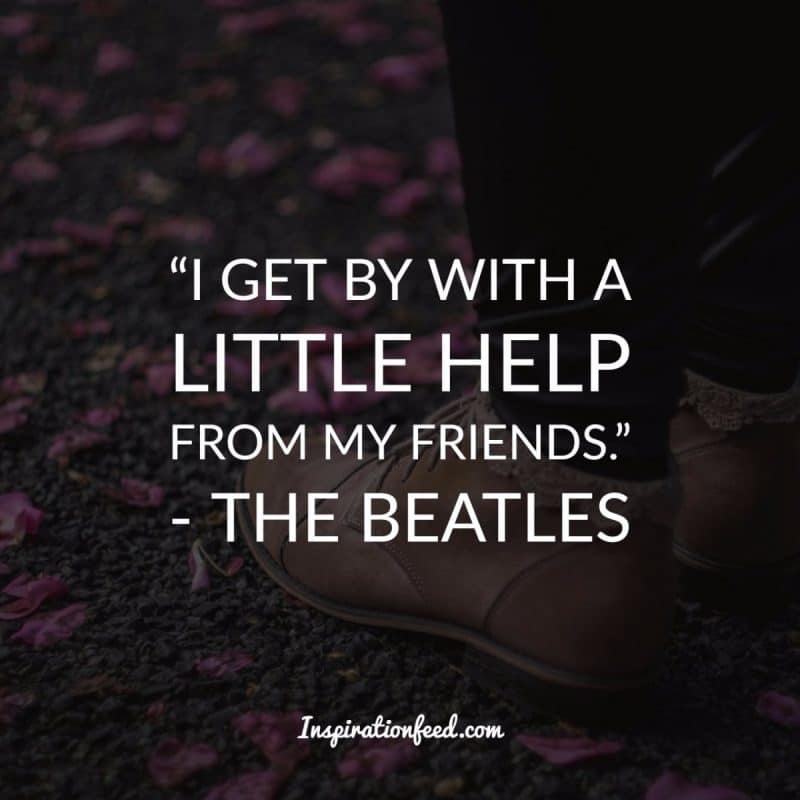 "I get by with a little help from my friends." – The Beatles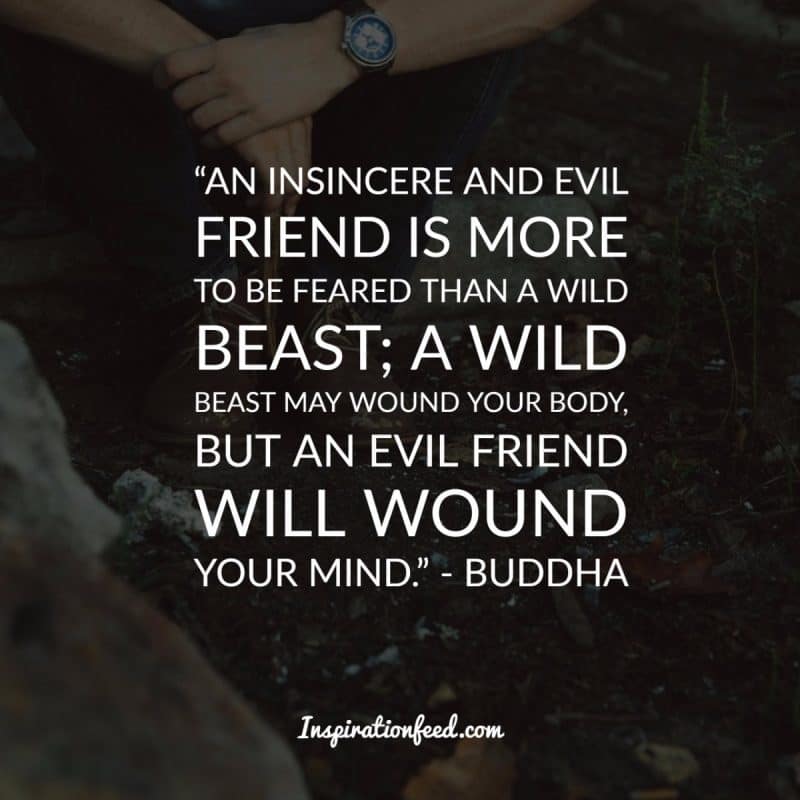 "An insincere and evil friend is more to be feared than a wild beast; a wild beast may wound your body, but an evil friend will wound your mind." – Buddha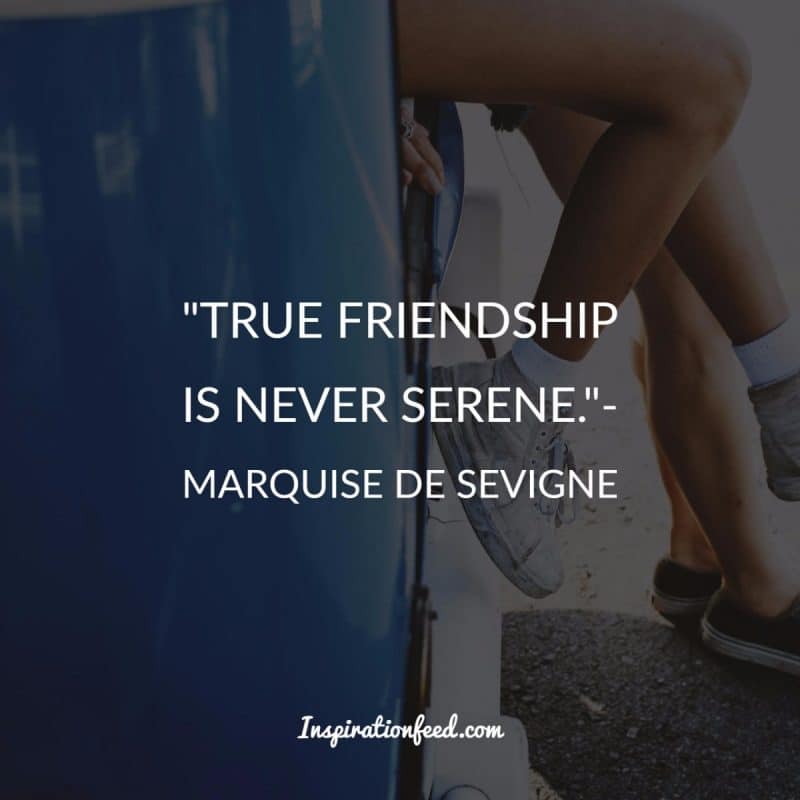 "True friendship is never serene."- Marquise de Sevigne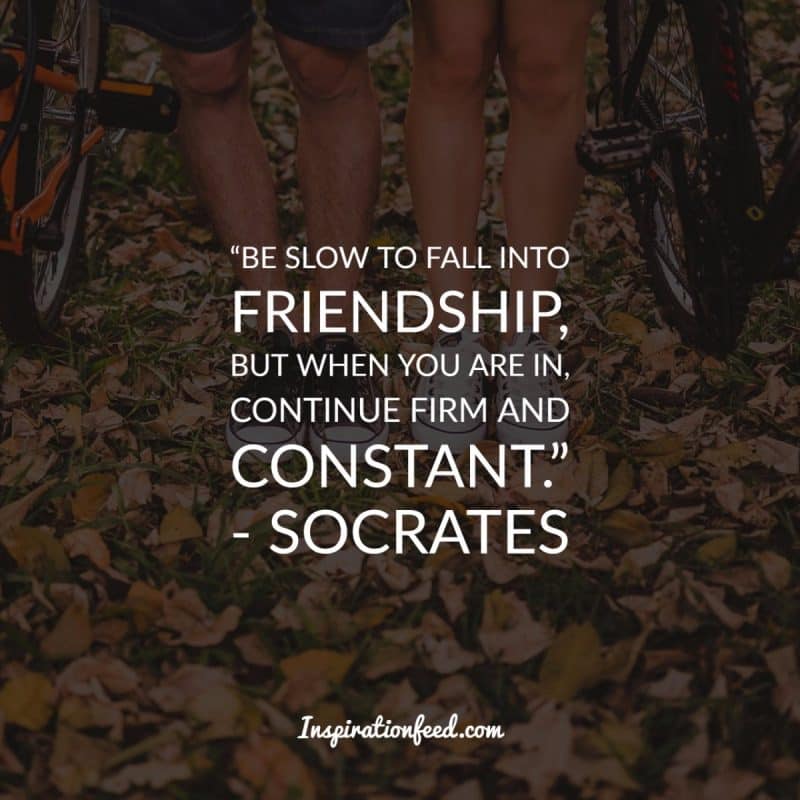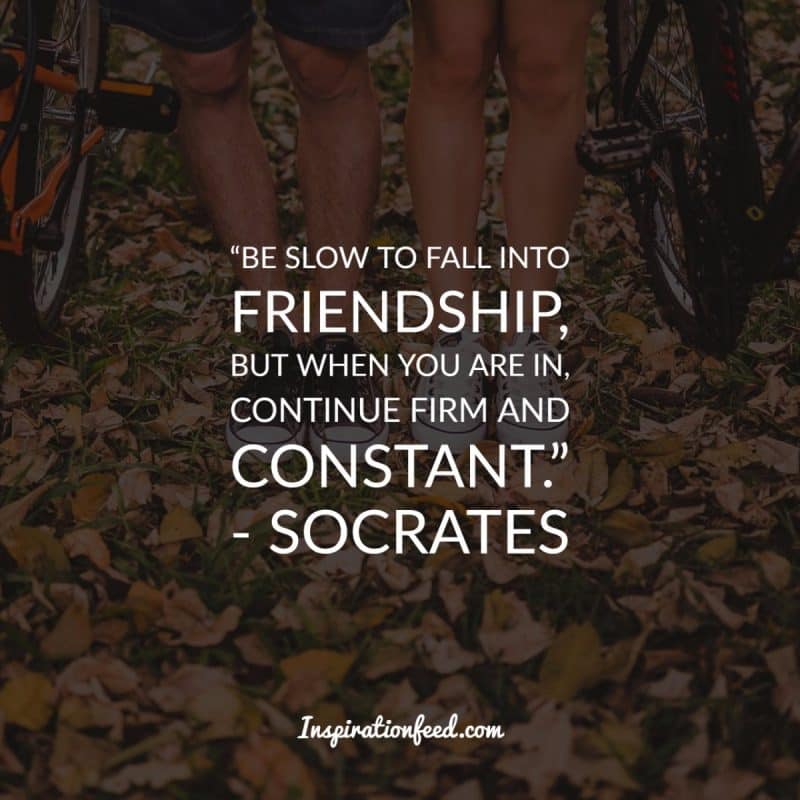 Be slow to fall into friendship, but when you are in, continue firm and constant." – Socrates
"Some people go to priests. Others to poetry. I to my friends." – Virginia Woolf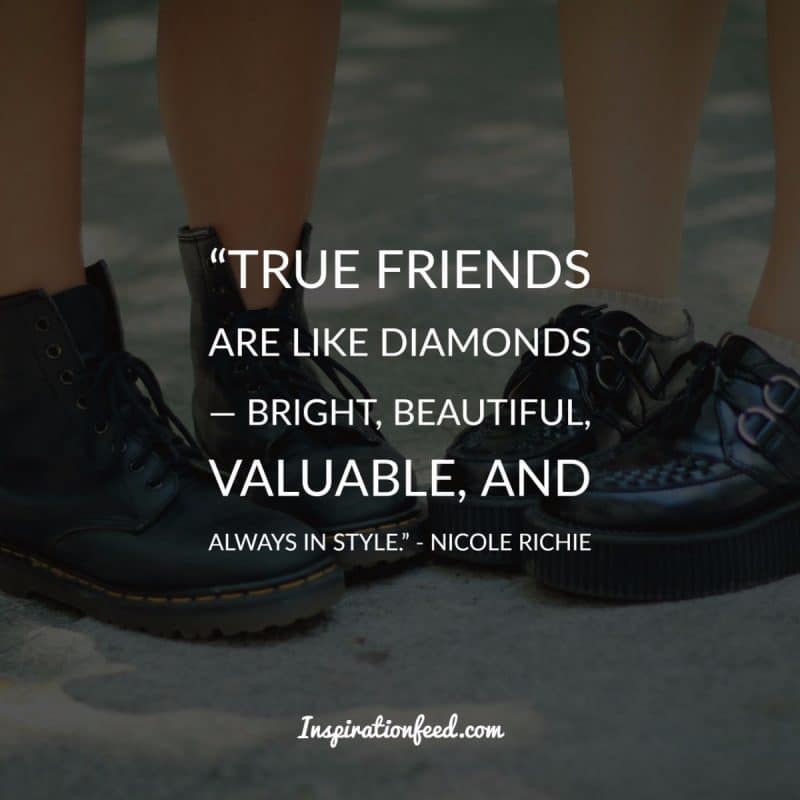 "True friends are like diamonds — bright, beautiful, valuable, and always in style." – Nicole Richie
"Friendship is delicate as a glass, once broken it can be fixed but there will always be cracks." – Waqar Waqar Ahmed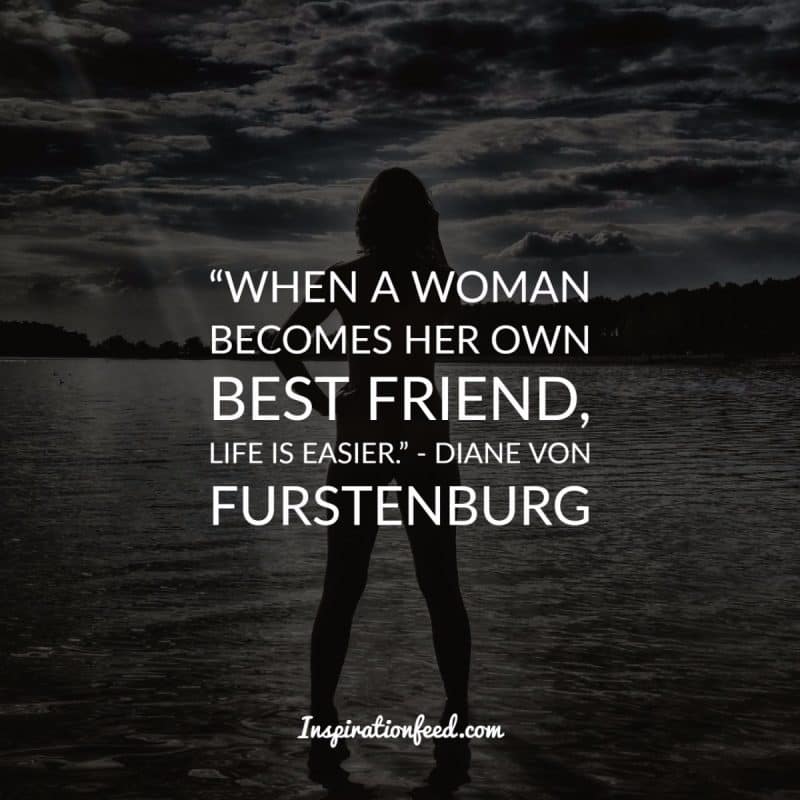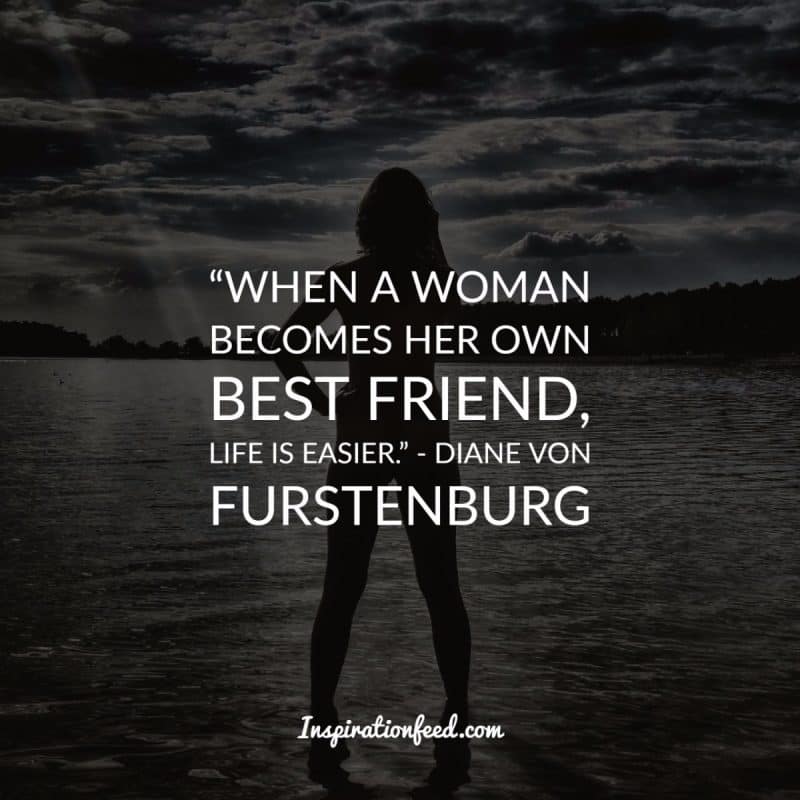 "When a woman becomes her own best friend, life is easier." – Diane von Furstenburg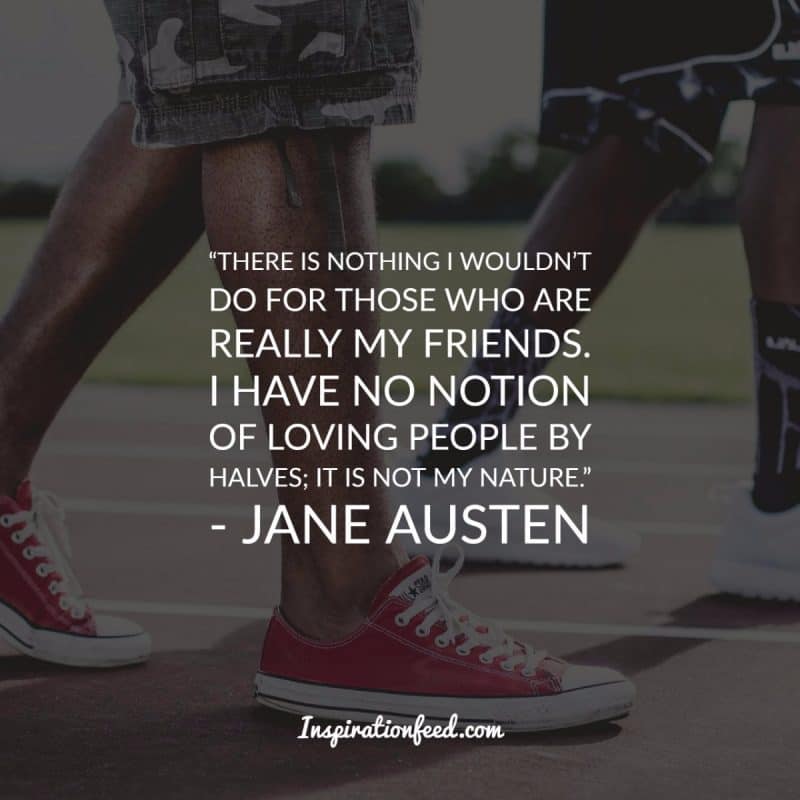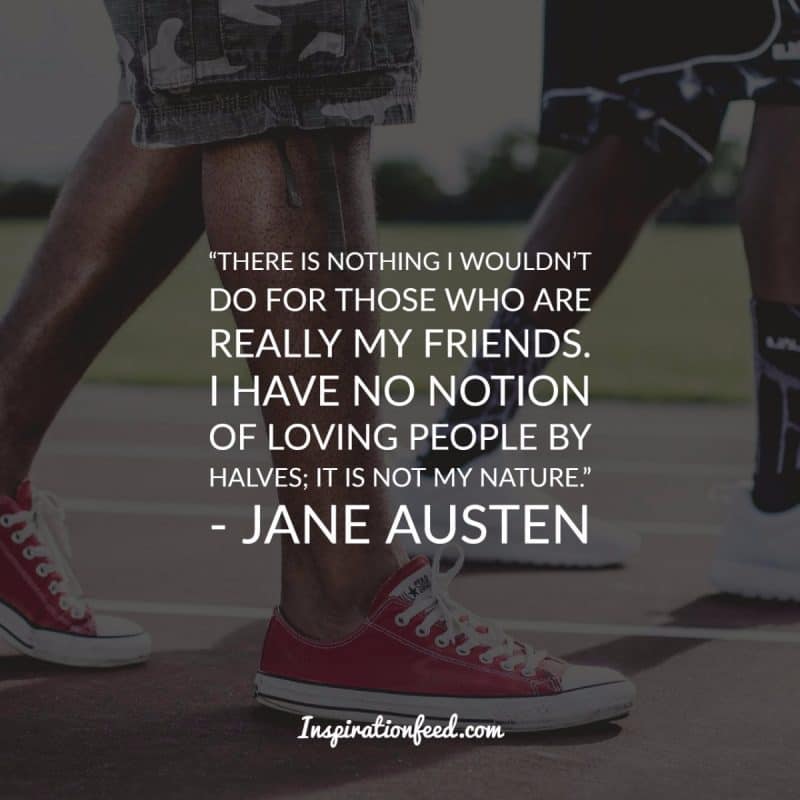 "There is nothing I wouldn't do for those who are really my friends. I have no notion of loving people by halves; it is not my nature." – Jane Austen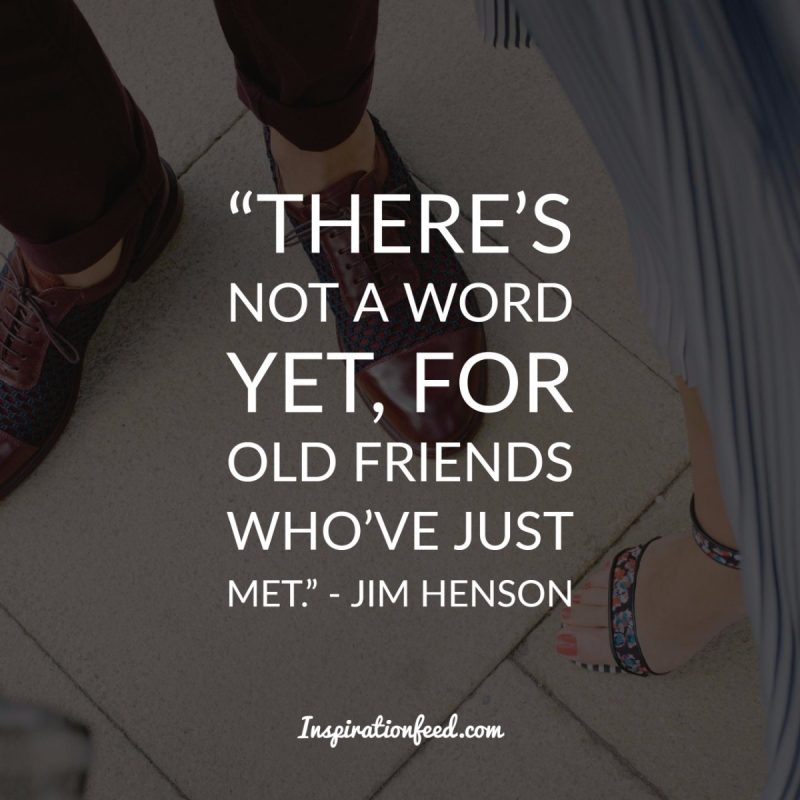 "There's not a word yet, for old friends who've just met." – Jim Henson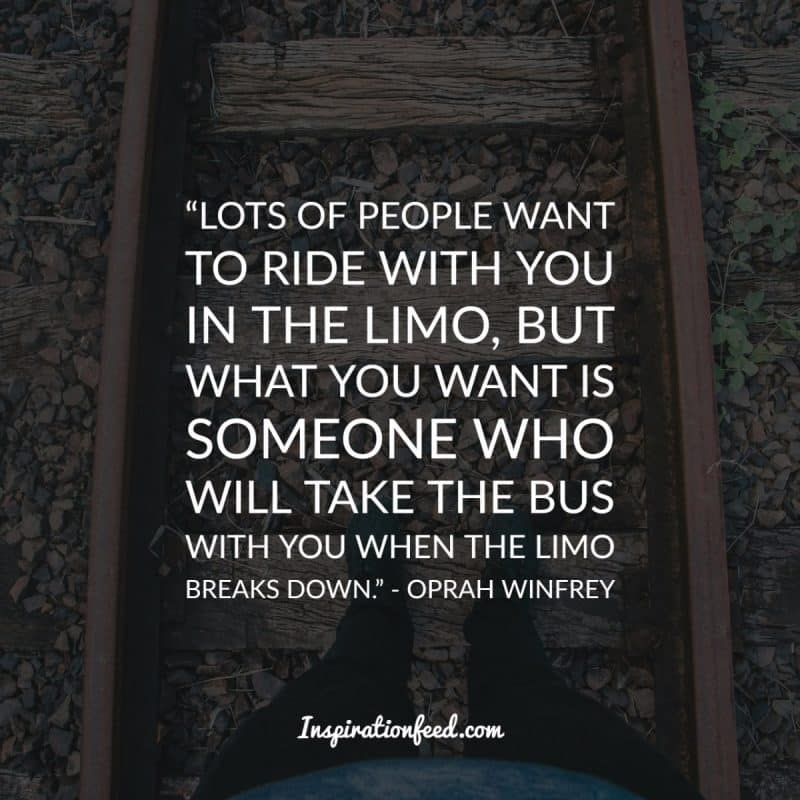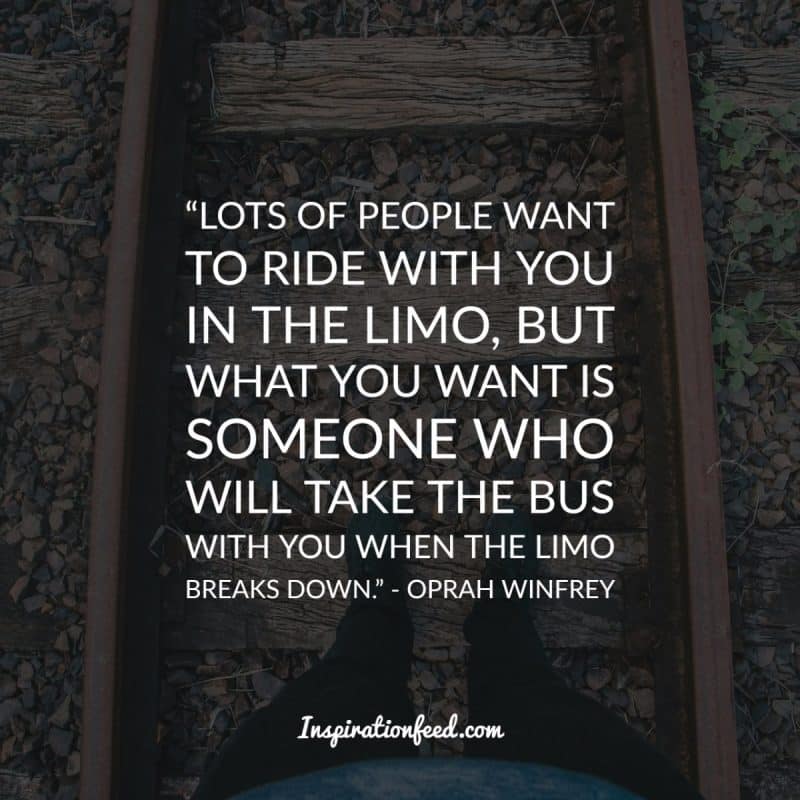 Lots of people want to ride with you in the limo, but what you want is someone who will take the bus with you when the limo breaks down." – Oprah Winfrey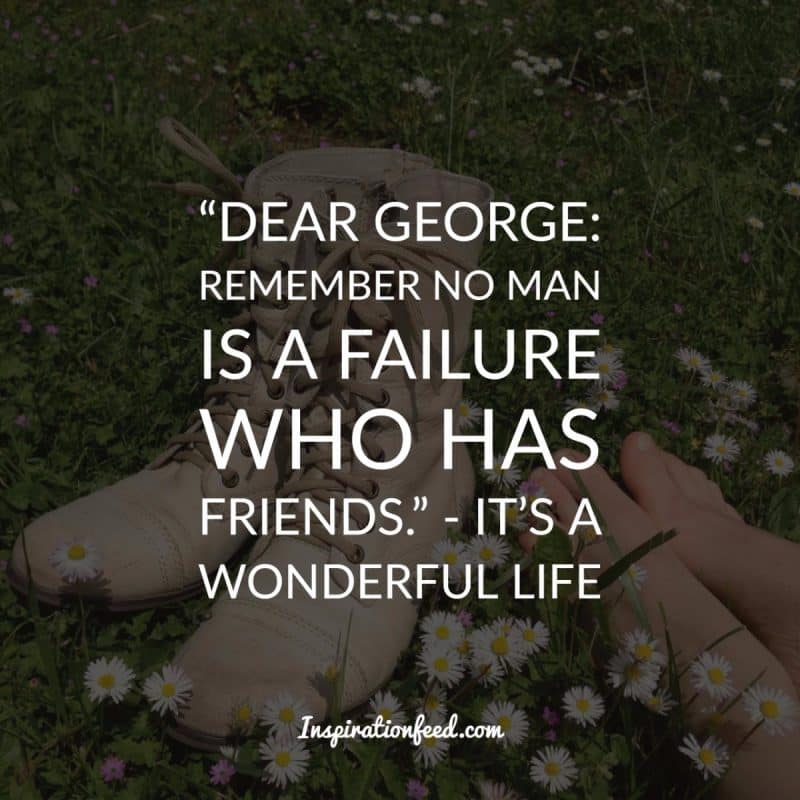 "Dear George: Remember no man is a failure who has friends." – It's a Wonderful Life
20 Meaningful Friendship Quotes
"A true friend is someone who thinks that you are a good egg even though he knows that you are slightly cracked." – Bernard Meltzer
"Friendship is born at that moment when one person says to another, 'What! You too? I thought I was the only one." – C.S. Lewis
"A friend is one who knows you and loves you just the same." – Elbert Hubbard
"In the sweetness of friendship let there be laughter, for in the dew of little things the heart finds its morning and is refreshed." – Khalil Gibran
"Friends are the family we choose for ourselves." – Edna Buchanan
"Friendship is the only cement that will ever hold the world together." – Woodrow Wilson
A friend is someone who gives you total freedom to be yourself." – Jim Morrison
"A friend is someone who understands your past, believes in your future, and accepts you just the way you are." – Unknown
"Friendship is not about whom you have known the longest… It's about who came, and never left your side." – Unknown
"A true friend is someone who is there for you when he'd rather be anywhere else." – Len Wein
"A real friend is one who walks in when the rest of the world walks out." – Walter Winchell
"Friends are the sunshine of life." – John Hay
"The only way to have a friend is to be one." – Ralph Waldo Emerson
"Friendship is like a rainbow between two hearts." – Unknown
"The most beautiful discovery true friends make is that they can grow separately without growing apart." – Elizabeth Foley
"A friend is someone who gives you a new perspective on things when you're stuck in the old ways." – Unknown
"The greatest gift of life is friendship, and I have received it." – Hubert H. Humphrey
"A friend is someone who makes it easy to believe in yourself." – Heidi Wills
"Friendship is the golden thread that ties the heart of all the world." – John Evelyn
"True friendship comes when the silence between two people is comfortable." – David Tyson Gentry