Last Updated on January 24, 2023
If the last year or two taught us anything it is the ability to amuse ourselves at home. But sometimes that well runs dry, right? You cannot think of exciting new things and you are bored with your usual hobbies.
The time has arrived to try something new! Below, you will find our master list of activities that you can do with friends.  
1. Start A Garden
Given, this is not the one-hour drinking game that you might have expected! But if your posse loves nature, then why not start a veggie garden or even cultivate a normal garden? You can even rotate and spruce up each other's properties. But let's circle back to that vegetable patch for a moment. If successful, you can create a community garden that provides fresh produce for everyone.
2. Cook Something New
Whether your friends love to gather around the BBQ pit or share a glass of wine over a fancy dinner table, trying out a new recipe together is a great way to expand your cooking skills – and have a few laughs if you bloop things up! 
You can surprise your friends with a recipe. This way, they will have no idea what they will be cooking. Alternatively, everyone can get together and choose something that they would like to tackle together.
3. Fitness Buddies
A lot of us have sedentary lifestyles and chances are that you and your crowd have talked about wanting to get into better shape. In this case, you can support each other on a new fitness journey. You don't need to go to the gym. Simply choose a yoga or aerobics video that suit your fitness level and start exercising at home.
4. Puzzle Competition
Get two new puzzles. Ideally, they should be identical to give both teams an equal opportunity. Of course, the goal is to see who finishes first, so divide your friends into two groups and off you go! If you don't want to rush things and don't really like the competition idea, you can also get one big puzzle and let everyone work together.
5. Movie Marathon
Choose a few movies that everyone likes, bring snacks, comfy blankets and settle down. A movie marathon is a great way to spend some time together if you are too tired to exercise or your group loves films. 
6. Treasure Hunt
This one takes a bit of planning. But if you put your heart and imagination into creating a scavenger hunt, your friends will rave about it for months. They might insist on having a second one! Recipe for success? Use riddles, rewards and also make the effort to make the losers feel like they have gained something.
7. Try A New Hobby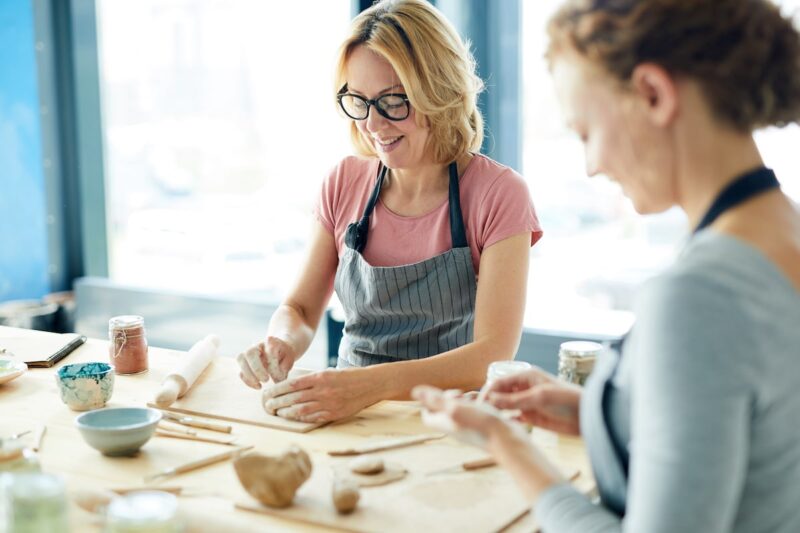 Invite your friends over to try something totally new. Some suggestions are painting, beading, writing a book, sculpting, or a new physical activity like Tai Chi. For ideas, look towards dreams and goals you and your friends have talked about for ages and pick one or two activities.
8. Take An Online Class
It can be daunting to finally take that online course that you've been ogling for months. But if your friends are willing to jump in with you, everyone can enjoy the benefits. The entire group will learn a new skill or advance their education – and it is also a great way to encourage each other and bond as friends.  
9. Snow Games
Lucky enough to get snow in your area? Invite your friends over to make the best snowman ever. Judge a few snow angels or hold a winter-themed scavenger hunt.
10. Big Fire Time
Gather your outdoorsy clan and make a bonfire. Make sure to research how to build a fire safely and if your area has any regulations against big fires. Don't forget to bring along your camping stories and S'mores! Learn how to make the perfect toasted marshmallow if you've never tried this melty delight before.
11. Hunt UFOs
If your backyard is free of artificial lights (like street lights) and the night sky is pretty clear, then a skywatch is a great way to bond with friends. Bring lounge chairs so that you can stare at the stars without straining your neck, chat with your buddies and enjoy the occasional shooting star.
12. Watch A Meteor Shower
Speaking of shooting stars, you can also gather your friends to watch one of several meteor showers that happen every year. Check out this list of annual meteor showers to plan a date with your clan.
13. Try A New Board Game
Choose something that is family-friendly and doesn't involve drinking. Sometimes, just playing a board game that is new is more fun. Bonus – no hangover in the morning!
14. Learn New Dance Moves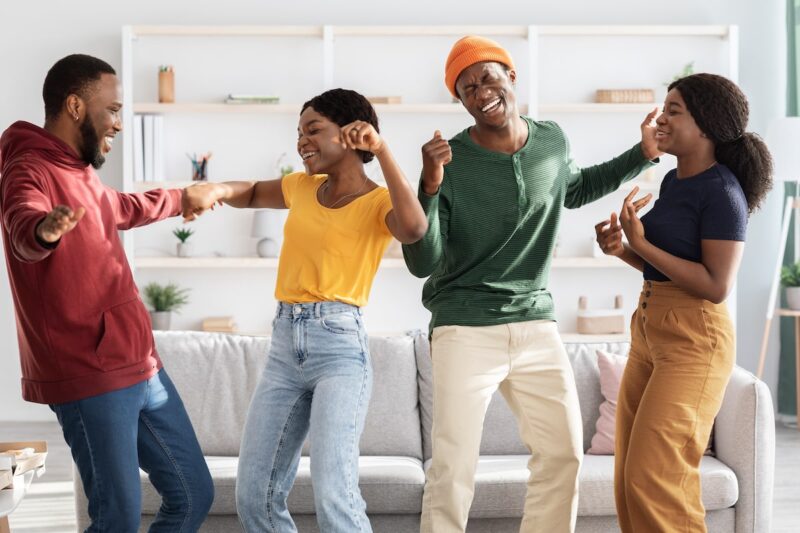 This is another way to learn a new physical activity. These days, you can learn everything from modern dancing to belly dancing online, so put on that Youtube video and shake your tush!
15. Have A Swap Night
You can basically swap anything. Swapping should be permanent and can include things like books, computer games, clothes and more. Everything can be wrapped and put on a table and your friends can draw numbers to pick their item. 
16. Hold A Psychic Night
There are many ways to tell one's fortune. Whether you have Tarot cards or you use online instructions on how to read tea leaves, have some fun telling each other's futures!
17. Hold A Sleepover
Contrary to popular opinion, you are never too old to participate in a sleepover. Let everyone bring sleeping bags, clear out a large room, and have fun doing makeovers, telling stories, reminiscing about old times and eating snacks.
18. Murder Mystery Night
If your friends love true crime, then this is a great activity for everyone. You don't have to waste time inventing a ton of clues, either. There are plenty of free murder mysteries available online and you simply download the story and incorporate it into your events for the evening.
19. Host A Themed Party
Everyone loves a themed party! Some ideas are pirates, tropical islands, cats, Roman toga, superheroes, enchanted forest, or another decade like the '60s.
20. Chocolate Night
Oh yeah, you've been waiting for this one. The idea is to explore this popular treat in as many shapes as possible. If you and your friends are willing to spend a bit, then each one can bring between one to three different types of chocolate. Think strange chocolate bars, brands you've never seen before, speciality chocolate, different flavors of hot chocolate and more.
21. Seasonal Decorations
If Christmas or Halloween is approaching, then you can take turns to help each friend put up their holiday decorations at home. 
22. Battle It Out Online
Sometimes, it is not really feasible to get everyone together in person. But if your friends want to do something together, why not join a multi-player game online and kick each other's butts? 
23. Take An Online Tour
If your friends want to spend time together online but don't feel like hewing each other down with magical sabres, then an online tour is a great alternative. You can trawl zoos together and visit other places like museums. 
24. Create A Story Together
You can gather together and create a story, each person adding their two cents' worth. Or you can create a blockbuster tale in the cloud. Simply alert the next friend that it is their turn so that they can write the next chapter. 
25. Dye Your Hair
You don't have to endure a fluorescent pink mane for weeks. Some party hair shades last only one wash, so tap into your adventurous side and dye each other's hair a ridiculous color! Don't forget to take some photos to remember this crazy night.
26. Make A Time Capsule
Invite your friends over for a fun activity night or even a BBQ night. But here is the twist. They each must bring an item that represents the world today. Place all the items in a time capsule and make a pact to unseal it ten years from now.
27. Hold Christmas – At The Wrong Time
This is a novel idea that most people love. Go all out. Bring wrapped presents, decorate the tree together, wear antlers and serve all your favorite Christmas snacks. A game friend can even dress up like Santa and hand out the gifts.
28. Karaoke Night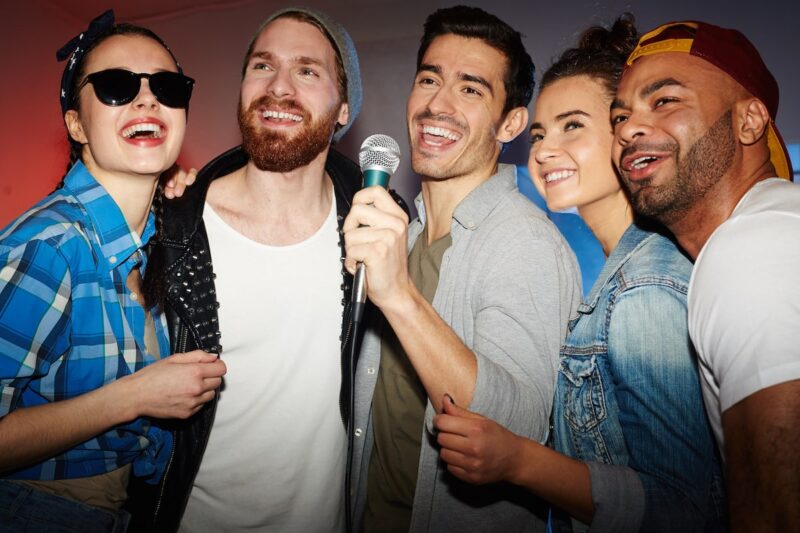 If you have never tried this before, you can hold a full karaoke night with your friends or make karaoke one of the activities that you have planned for the evening. You can even hand out prizes to everyone, regardless of how tone-deaf they are!
29. Try Different Cuisines
This is a great option for those who love cooking, gathering with friends and don't mind spending on unusual items! The latter can get pricey when you try exotic cuisine that calls for unusual ingredients or scarce products but at the end of the day, the bonding experience with your friends and expanding your cooking skills are worth it.
30. Plan Your Next Great Event
Invite your friends over, tell them to bring snacks and all their ideas for your next big getaway. Once everyone has arrived, put on the kettle and start planning your tropical vacation, 4-day hiking trip or that long-awaited visit to Europe. Just planning something so exciting at home can create a happy atmosphere that all your friends will love.
31. Make A Point To Relax
Most get-togethers entail some kind of activity but if you and your friends are worn out from daily life, just relaxing together can be a refreshing experience. Lounge together while your feet are in a herbal bath or sit on an actual lounge and sip wine for hours. Make a fire outside and just listen to the crackle of the flames and wood. 
32. Start A Club
To make this club your own, we are not going to say, "Start a book club," or something similarly specific. Think about the things that you and your crew are passionate about. Games? Family? Mysteries? Find a way to turn your passion into a club that regularly meets at someone's home.