Last Updated on March 8, 2022
The phrases 'gender-reveal party' and 'baby shower' are oftentimes used interchangeably.' However, they do not denote the same thing.

A gender-reveal party is a party held during pregnancy with the primary objective of revealing the unborn baby's sex to the expectant parents, as well as to their friends and relatives. On the other hand, the main activity in a baby shower is giving the expecting parents special gifts for their unborn child.

The one notable similarity between gender-reveal parties and baby showers is that the parties can be combined together.

Gender-reveal parties are usually punctuated with gender stereotypes, such as gender-based colors like blue and pink (for boys and girls, respectively). As such, the practice has attracted criticism from people who believe it reinforces gender bias.

But frankly speaking, the object of gender-reveal parties isn't to reinforce gender discrimination. Rather, it's a genuine effort to appreciate the expectant parents for carrying a bouncing baby boy or girl.

Aside from revealing the infant's sex, gender-reveal parties also offer an excellent opportunity to socialize and play family-friendly games together. Here are some fun and creative gender-reveal games to queue up for your next gender-reveal party.
12 Best Gender-reveal Games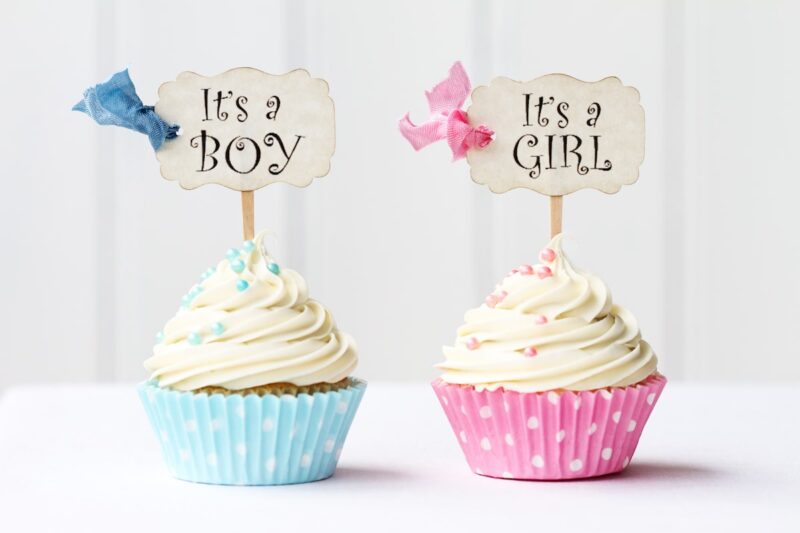 1. He or She Gender-reveal Game
'He or She Gender-reveal Game' is one of the most popular ideas for a gender-reveal party.

To play this game, you'll need a framed picture with blue and pink shapes printed on it. You then allow your guests to write their names inside the blue or pink patterns. Whichever parent guesses the right color wins a prize.

One admirable thing about this game is that parents get to retain the framed picture and can preserve it as a memory of this special day.
2. He or She Pop to See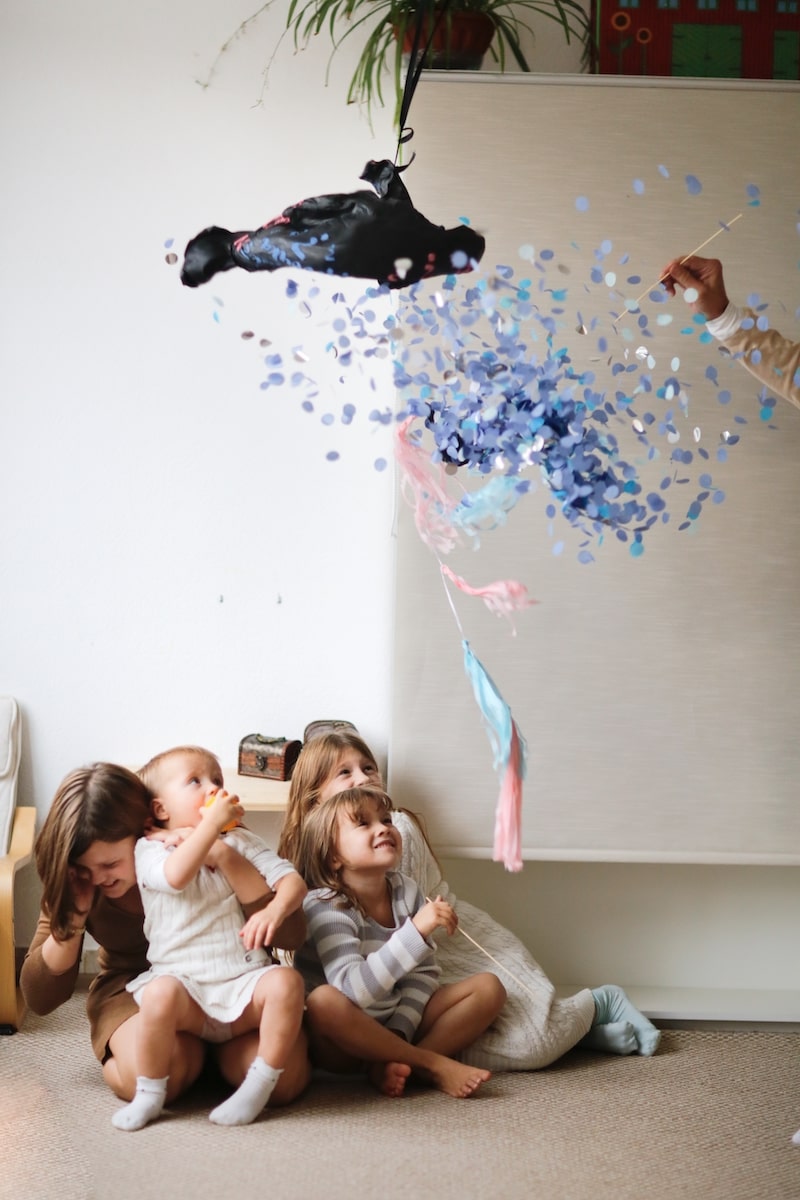 As the name implies, 'He or She Pop to See' is a fun gender-reveal game involving balloons, preferably black balloons.

You place the balloons on a board with the writings "he or she, pop to see" on it. Guests simply pop the balloons to reveal the color inside.

There are multiple ways to spice up this gender-reveal game. For instance, you can recreate the game using balloons filled with powder, paint, or confetti.
3. Pink or Blue – Guess the Lyrics
This is a unique gender-reveal game that will likely appeal to all your guests. It's particularly recommended for music fans.

To play the game, place printed sheets containing a line from a popular song that has the words "blue" or "pink" in its lyrics or title. The guests are required to read the lyrics and try to come up with the song's title and original artist.

Common songs with the words 'blue' or 'pink' in the title include:

• 'Blue Velvet' by Bobby Vinton
• 'Pink Houses' by John Cougar Mellencamp
• 'Rhapsody in Blue' by George Gershwin
• 'Pink Cadillac' by Bruce Springsteen
• 'Don't It Make My Brown Eyes Blue' by Crystal Gayle
• 'Geek in the Pink' by Jason Mraz
4. Pink and Blue – M & Ms Guess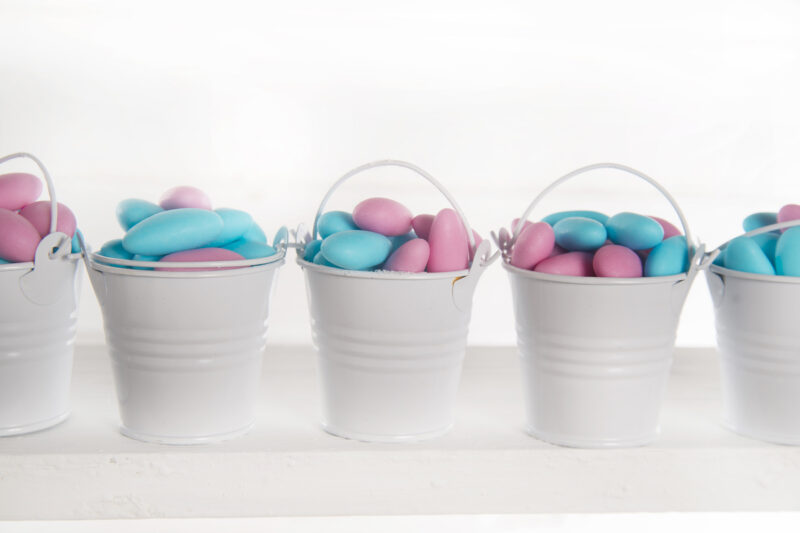 Not to be confused with 'Pink or Blue – Guess the Lyrics,' 'Pink and Blue M & Ms Guess' involves filling a bottle with a specially-ordered pink and blue M & Ms.

You then ask the guests to guess how many M and Ms are there in the bottle or how many of each color.
5. Baby Word Scramble
'Baby Word Scramble' is a game where you come up with jumbled-up baby-related terms. The guests take turns to unscramble the words. Whoever unscrambles the most words wins a present.

To make the game more fun, consider creating and sharing free printable copies of the jumbled-up words to each participant at the start of each round.
6. Fact or Fiction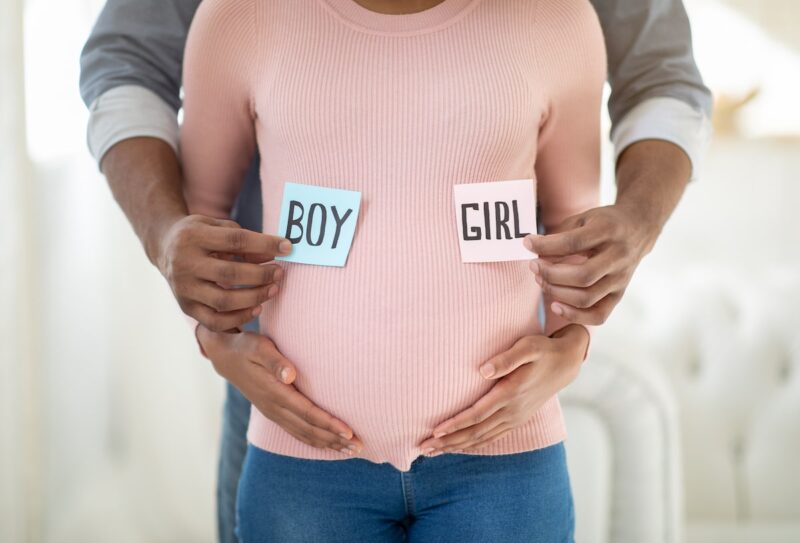 'Fact or Fiction' is a classic quiz game that's suitable for virtually any occasion, including gender-reveal parties.

As a gender-reveal game, you'll need to come up with a list of baby- or pregnancy-related quizzes. The questions shouldn't be too academic or technical. But they also shouldn't be too obvious.

You can start with the following basic quizzes:

• What's considered term pregnancy?
• How soon can a baby be weaned?
• What's the largest baby formula brand?
7. Diaper Raffle
In this game, you buy a roll of pre-printed raffle tickets or hand-make your own tickets. You then give each guest one raffle ticket for every diaper box they bring to the party.

Next, you have the guests write their names on the tickets, and then add the tickets to a large container for mixing. Guests now take turns to draw the tickets from the container.

The guest with the highest number of tickets wins a small prize.
8. Old Wives Tale Trivia
Don't let the name fool you into believing that this gender-reveal game is outdated. Although it's a classic, 'Old Wives Tale Trivia' has maintained its appeal in contemporary gender-reveal parties.

The objective is to have the dad-to-be or mom-to-be fill out an answer sheet that details all the pregnancy symptoms according to old wives tales.

To make the game more fun, you can have the parents-to-be take turns answering the questions. The one with the most correct answers wins a prize.
9. Baby Name Game
The name says it all – 'Baby Name Game' is all about coming up with baby names based on hinted suggestions.

Take a sheet of paper and write or print all the letters of the alphabet on it. Now, let the guests write down as many names as possible that start with the suggested letters within a stipulated time. Whoever can write the most names wins.

One exciting thing about this gender-reveal game is that it offers the parents-to-be an opportunity to sample the names and possibly choose one to call their unborn child.
10. Baby Voting Ballot
'Baby Voting Ballot' is an excellent gender-reveal game for the politically conscious.

Come up with printable baby ballot cards. The cards should have two options printed on them, one for boy and the other for girl. For instance, you can have one set of cards printed with the word Adam and the other set printed with Eve. Alternatively, you can print the cards with gender-specific colors, shapes, or outfits.

Leave the cards at a central point and have the guests take turns to choose one card from either set. Finally, the guests cast ballots to determine which gender wins.
11. Don't Say "Boy or Girl" Game
'Don't Say Baby' is a popular baby shower game where guests try not to say the word "baby." Well, 'Don't Say "Boy or Girl" Game' is a gender-reveal party spin-off of the traditional 'Don't Say Baby' game.

In this twist, guests try not to say "boy" or "girl" during a gender-reveal party. Each guest receives a sticker, clothespin, or something else to wear throughout the party.

If a guest says any of these words, the person who caught them attempts to steal their stickers or clothespin. The guest with the most stickers ultimately wins the game.
12. Stashes or Lashes
Stashes or Lashes involves a chalkboard that's been split right down the middle. One half is for blue and the other half for pink.

Guests take turns to write their name in either blue or pink chalk underneath as a way of choosing the gender they think the unborn child will be.

A total for each column is added up and the guests on the correct side win prizes.
Wrap Up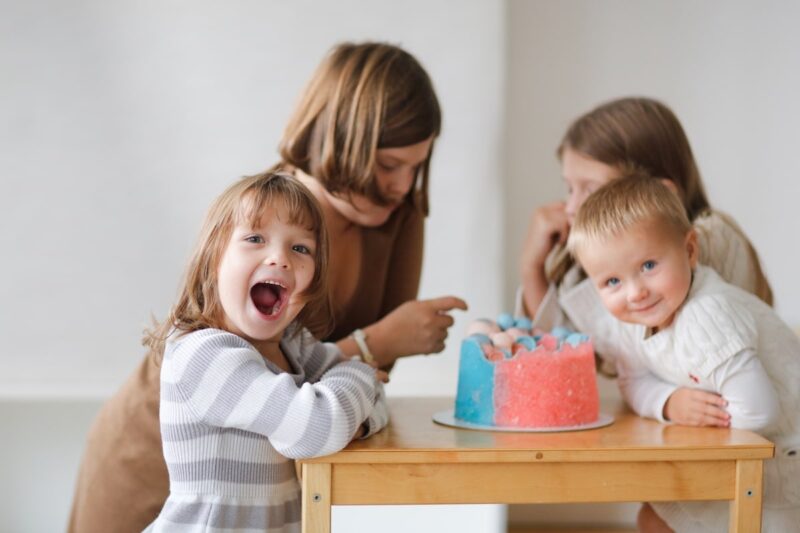 Gender-reveal games work best when fetal sex is already known. A third party known as a gender guardian is usually entrusted with keeping the fetal sex from the parents until each game is complete.

The gender guardian also takes charge of party arrangements. They must avail boy and girl themes in equal measure, ensuring that the decorations remain ambiguous so as not to give the infant's gender away.