Last Updated on January 24, 2023
There are hundreds, if not, thousands of project management tools available out there, but only a handful do the job very well. Considering their features, specs, and overall organization, only very few project management systems can actually expedite and facilitate any project. Between the numerous software programs available, I decided to focus only on the top 5 contenders. Let's take a look.
Asana
With an intuitive yet simple user interface, Asana is a tool designed to improve teams' collaboration and communication on a project. This tool was developed by Justin Rosenstein, an engineer, and a co-founder of Facebook, Dustin Moskovitz. This application is quite popular, it's used by thousands of teams worldwide including ones from Foursquare, Twitter, LinkedIn, Airbnb, AdPorlor, and Disqus.
[PROS] Better Communication – Asana centers all the communication of team members on one page. It has inbox and notification features that make it easy to stay on top of important tasks. Additionally, it sends out tasks, and not emails, which simplifies how team members interact with each other.
[CONS] Inability to work offline – Unlike some other tools, Asana requires you to be always connected to the Internet. This of course prevents teams from doing field work in places that don't have internet access.
Zoho Projects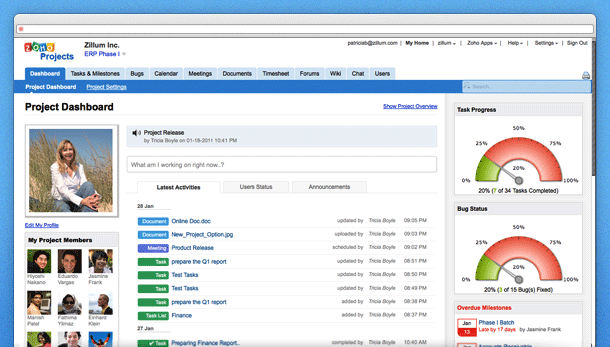 Zoho Projects, more commonly known as Zoho Office Suite, is an online system for project management. It's capable of word processing, presentations, spreadsheets, databases, CRM (Customer Relationship Management), wikis, and note-taking. This system was developed by Zoho Corp, a US based company.
[PROS] Kanban style – Like Trello, Zoho also features "kanban cards," an easy/dynamic way to create and visualize your workflows. It's visually appealing and simple to understand. Zoho also allows a manager to gain a bird's eye view of projects. It allows him to monitor who is involved with what task and when these tasks need to be completed.
[CONS] Feature Separation – Unlike BaseCamp, where everything is placed on one page, Zoho seems to have many different pages, which may complicate a manager's dealings with a project. It also separates different features into different apps, which can be a deal breaker for some.
Wrike
Featuring task organization in a flexible hierarchy, Wrike is a tool that packs a handful of great features. This app was developed by Wrike Inc., a privately held provider of project management services. Other features of this tool includes Gantt chart, iCal & RSS feeds, MS excel export & import, Google apps integration, and API.
[PROS] Mobile availability – Wrike is available on mobile platforms such as iOS and blackberry. This allows flexibility to your team while managing projects. It provides mobility and on-the-go access to important project related stuff.
[CONS] Lacks CRM functionality – For many, the lack of CRM functionality is a deal breaker. This deprives some users of additional organization, synchronization, and automation when it comes to dealing with projects and customers.
Trello
Popularized by its unique and easy-to-use paradigm design, Trello is an online-based project management software developed by Fog Creek Software. It uses a feature called "kaban" which was originally sourced from Toyota. With Trello, projects are represented as boards with cards as a representation of tasks. This software is neatly organized with its task categorization feature, and it keeps track of everything with its progress tracker.
[PROS] Better Organization & Affordable – Trello comes with neat and simple organization features such as color coding, checklist, and progress meter. Tasks here come with time stamps so that workers never forget deadlines or important dates. Trello also keeps records of everything from the past to track improvements. Plus, with this system a manager can sign up for free.
Trello makes working with others easy with fast member addition and real-time conferencing. This software also allows any user to easily gather information such as suggestions or ideas from its members. It also has an activity log and email notifications for better communication among your team members.
[CONS] Lacks a few features – Trello doesn't have a calendar or the ability to make documents.
BaseCamp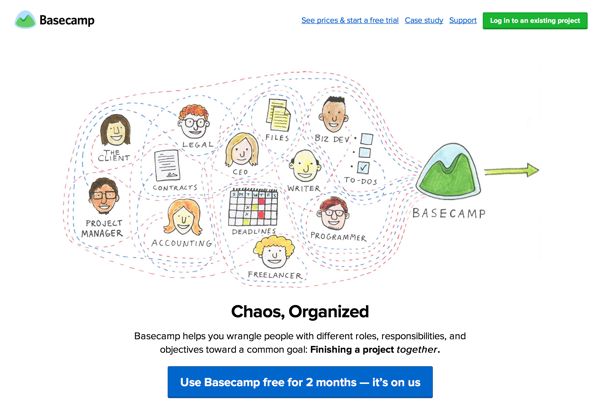 BaseCamp is a web-based project management tool. It was developed by 37signals, a Chigago based company. BaseCamp is a system that puts all projects, files, and members in one place. This tool offers milestone management, to-do lists, file sharing, a messaging system, wiki-styled text files, and time tracking.
[PROS] Stakeholders Collaboration – Workers, clients, contractors and other involved entities in a project can be added into BaseCamp. This system allows everyone to interact and collaborate towards the goal of project completion. In other words, managers can get input from all stakeholders of a project.
With Basecamp, all data, files, information and other stuff is safe and secured online. Even with 100 projects going on at the same time, this system can store all of it. Plus all completed projects can be archived for record keeping purposes.
[CONS] Costs – Although there is a 30-day (thirty) free trial available, this software will still cost $20 per month. But compared to the MS projects, this is a lot cheaper.
If you're in need of a great project management tool, you cannot go wrong with the ones listed above. I would even go as far as to put our own reputation on the line, in sake of assuring you that will settle on at least one of the applications mentioned. If I were you, I would sign up for a free trial and get my feet wet before committing to a single app.