Last Updated on January 24, 2023
If there's one group of people that would be hard to give a gift to, it would probably be a group of gamers. Gamers usually have an extremely complex way of thinking that it's hard to pinpoint what their desires are at the moment.
Their attention span could also be quite limited, especially if the thing you want them to focus on does not really appear interesting to them. In other words, thinking of something to give as a gift to a gamer, whether a casual or a hardcore one, is quite challenging.
Where to Find Gifts
So what's the perfect place to start hunting for gifts? There are a number of different places where you can find a few gems that would send any gamer swooning. One of the default places, of course, would be the video game store. You can grab any of the latest games that they might be interested to try, or you can even get them accessories for their consoles.
The hobby shop is also one of the best places for you to find a great gift for a gamer. This is where you can find novelty items like figures of their favorite game characters, character shirts, and a lot more things that you just won't find in any regular store at the mall.
You can also go online and look for rare items that you can't seem to find anywhere else. There are online stores that specialize in gaming products, especially the hard-to-find ones. What's even greater about online stores is the fact that you can find products that are only being sold in other countries or places that are not as accessible to you. All you need to do is pay a little extra for shipping, and you'll have the perfect gift delivered right to your doorstep.
20 Gift Ideas for Gamers
If you find yourself completely at a loss on what items to choose, here is an entire list of things that any casual or hardcore gamer would love to have for any occasion. Trying to find the perfect gift for your little one can be quite difficult, why not invest into a kids electric car, they are really good fun.
Whether it's for their birthday or for Christmas, any of the gifts on this list would be a welcome addition to the probably huge collection that they already have, or would like to start. Let's take a look.
Level-Up Pipe Mug
Each Level Up Pipe Mug holds 15 oz. of your favorite beverage, be it hot or cold. It is microwave and dishwasher safe, because that just makes your life easier.
Portal 2 Wheatley LED Flashlight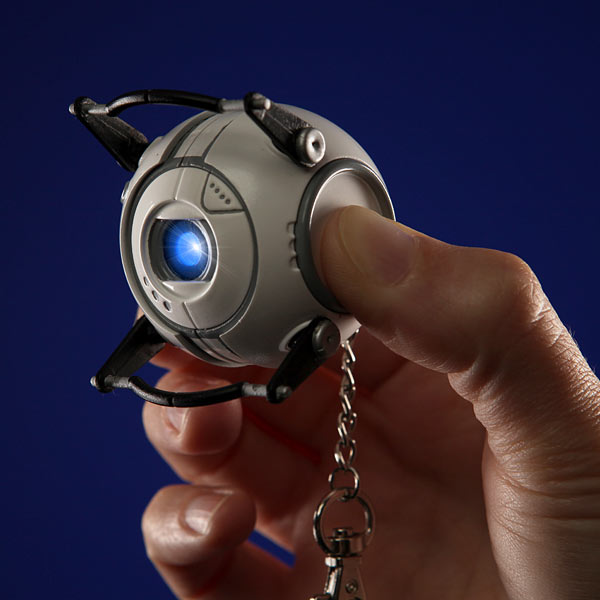 Just like the real Wheatley, this flashlight will come in handy as you try escape a darkened testing facility.
Minecraft Light-Up Redstone Ore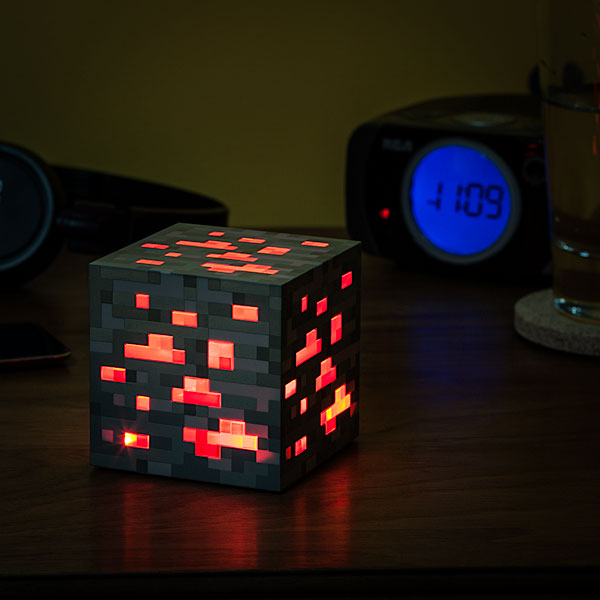 If you dream of living in your own Minecraft creations, we think you'd like to sleep by the warm glow of the Minecraft Redstone Ore Light. It's guaranteed to keep the boogie oogie pigmen from coming out of your closet to murder you in your sleep. Tap once for low light, a second time for medium, and a third time for bright.
TravelBoy Backpack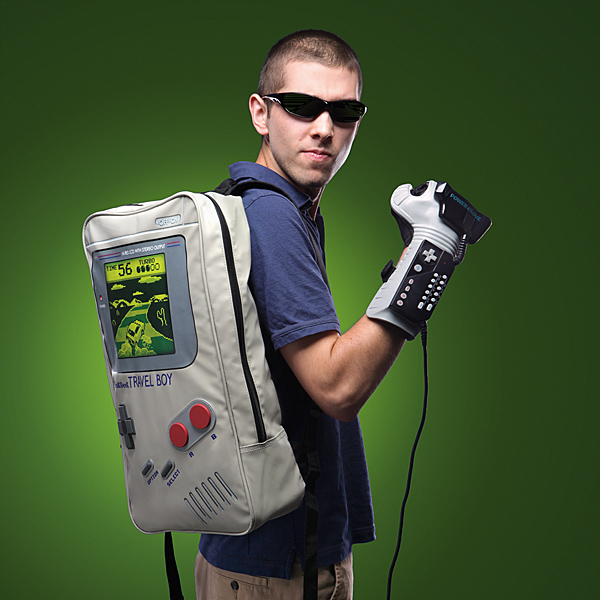 This backpack may induce uncontrollable fits of nostalgia among people who were kids in the 80s. Symptoms include: glossy eyes, faint smiles, inability to pay attention to the world around you, rambling on and on about high scores….
8 Bit Rise & Shine Heat Change Mug
The 8-bit Rise & Shine Heat Changing Mug is special because at an empty and cold state of rest, it looks like it just has a sleeping face on it. But when you add hot liquids, the whole mug brightens, revealing a very awake face on a blue background.
Power-Up Arcade Light Switch Plate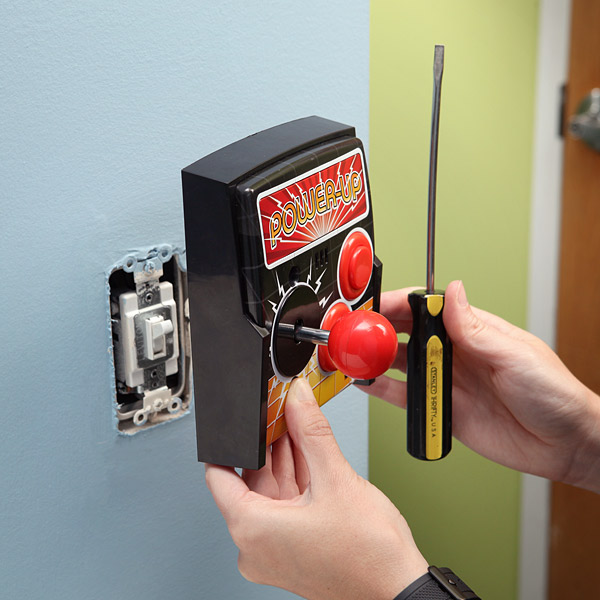 Recapture that joy in your own home with the Power-Up Arcade Light Switch Plate. The Power-Up replaces your boring, normal light switch with 100% more pew pew pew! A quick few minutes of screwdriver finagling and you'll have arcade nostalgia on your wall, ready to do your bidding. Press the joystick down to turn your lights on. Push it up to turn them off. BUT THAT'S NOT ALL! See those two red buttons? Press them for super fun arcade sound effects. Entering a room has never been more fun.
Space Invaders Alien Crab 3D cushion
This pink Space Invaders Alien Crab 3D Cushion is big enough to hug, but will also look nice just sitting on your couch. It's roughly cut out in the shape of one of the crabbier aliens from Space Invaders.
Assassin's Creed Ezio Costume Hoodie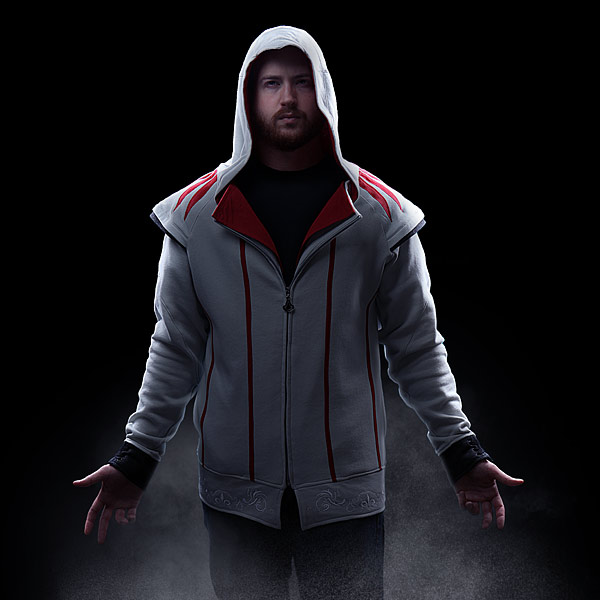 Each Assassin's Creed Ezio Costume Hoodie is loaded with super cool features and details. From the expansive and pointy assassin's hood, to the lace up cuffs, to the embroidery on the bottom bits, you will put on the latest in Renaissance Italian Hoodie fashion when you slip into your Assassin's Creed Ezio Costume Hoodie.
Tetris Stackable LED Desk Lamp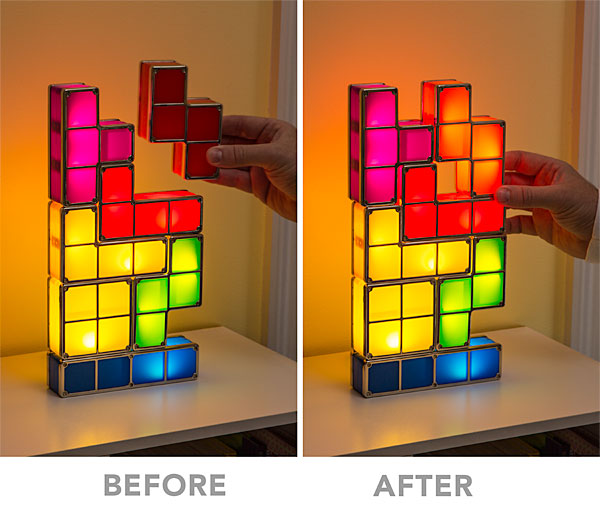 Tetris piece shaped lamps that you can stack.
Nintendo Super Mario Bros. Wall Graphics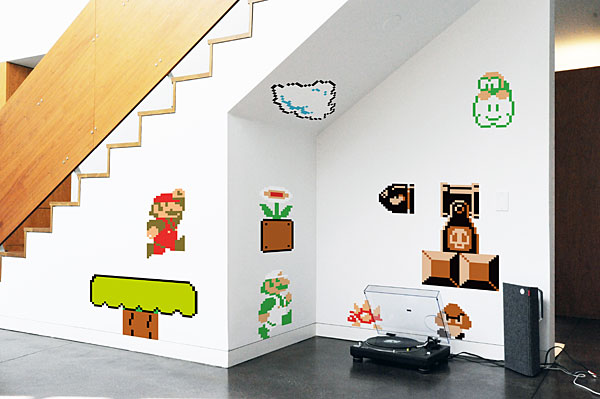 These awesome vinyl restickable wall-stickers feature Mario, friends, and enemies. Do a faithful recreation of your favorite levels, or create your own, using your own space as a template.
LaundryBoy Hamper
What better way to inspire someone (we're looking at you and your clothes all over the place) to put their dirty laundry in a hamper than making it all part of a game? That's how you'll feel when using your new LaundryBoy Hamper. It's quick to assemble and has two handles for ease of transport.
Gaming Cartridge Flasks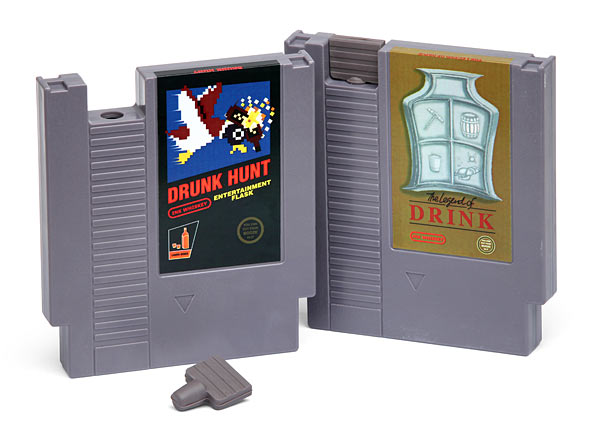 Instead of blowing on this cartridge, you're going to suck on it. That's because it's secretly a flask! With a rubber stopper to keep things in place, these flasks look just like NES cartridges and each hold 6 oz. of your favorite beverage.
Minecraft Pickaxe Touchscreen Stylus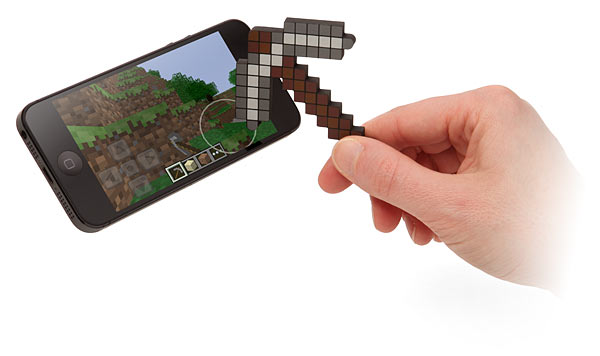 Embrace your addiction. The Minecraft Pickaxe Touchscreen Stylus works on most touchscreen devices, like your smartphone or tablet. Write with the top of the pickaxe or the end of the handle, whichever rows your boat merrily down your choppy, pixellated stream.
Portal 2 Sentry Turret USB Desk Defender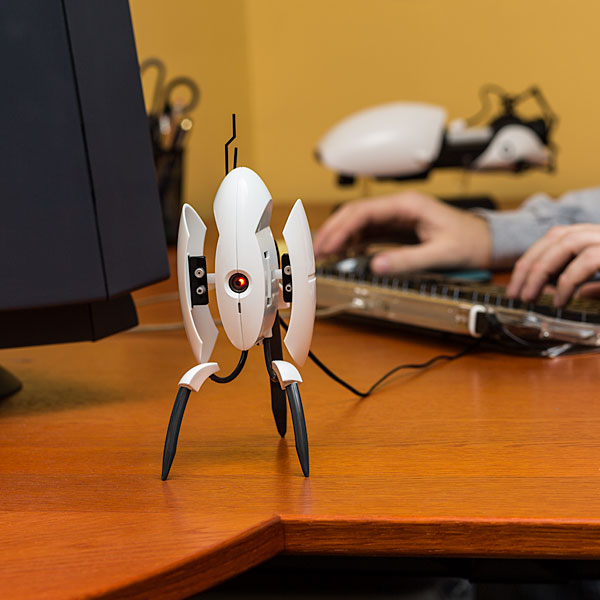 Strike fear into the hearts of your enemies (or coworkers) with your very own Turret Desk Defender, powered by USB. When it detects movement, the wings open and it will announce the acquisition of a target, which is enough to send anyone running away from your desk at top speed. And yes, if you knock it over, it'll vibrate and be sad about its lot in life.
Critical Hit +5 Stones of Frost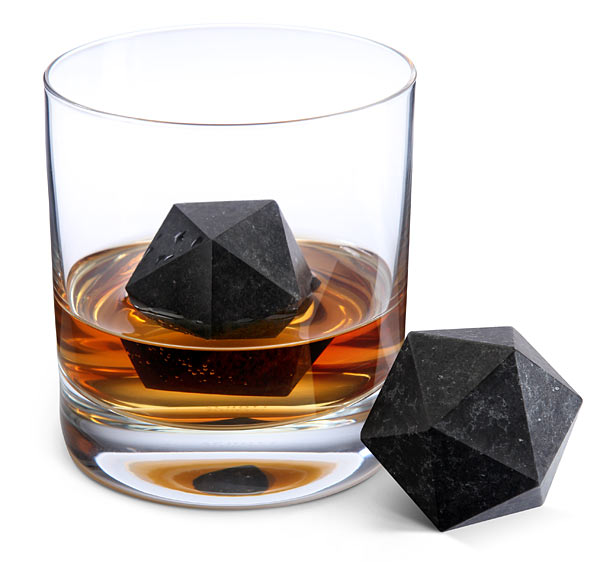 Minecraft Creeper Backpack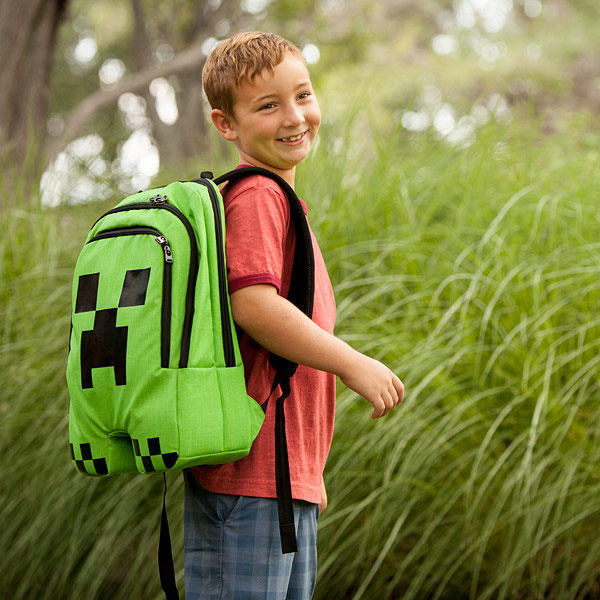 Minecraft is addictive, and as such it already eats kids' homework by distracting them for hours. But now kids can claim the Creeper ate their homework for real as they open up this backpack to reveal their books, assignments, lunch, and more.
A380e Pocket Retro Game Emulator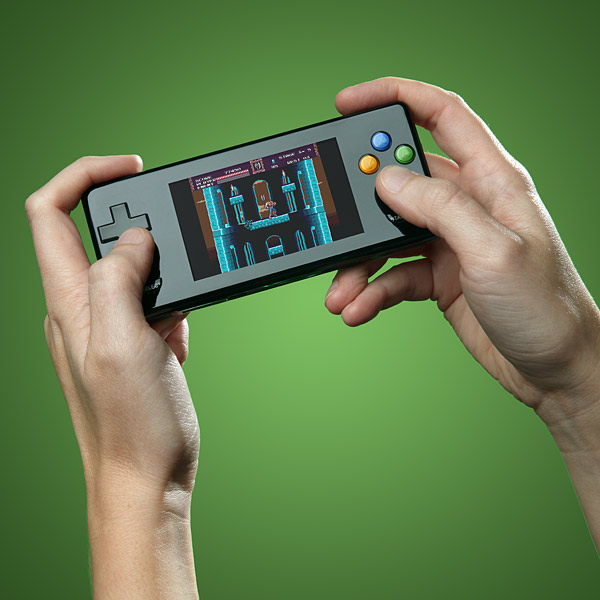 The Pocket Retro Game Emulator looks a bit like the GameBoy Micro but that's where the similarities end. Load on NES, SNES, GBA, Sega Genesis, or Neo Geo roms and play your old favorites in the palm of your hand. With 4GB of built-in storage and (a micro SD slot for expansion) you can bring every single game from the best classic consoles with you. Of course, it doesn't stop there. You can also play movie files, audio files, FM radio. You can view images or read ebooks. You can even do Hi-Fi voice recording.
Ice Speed Chess Set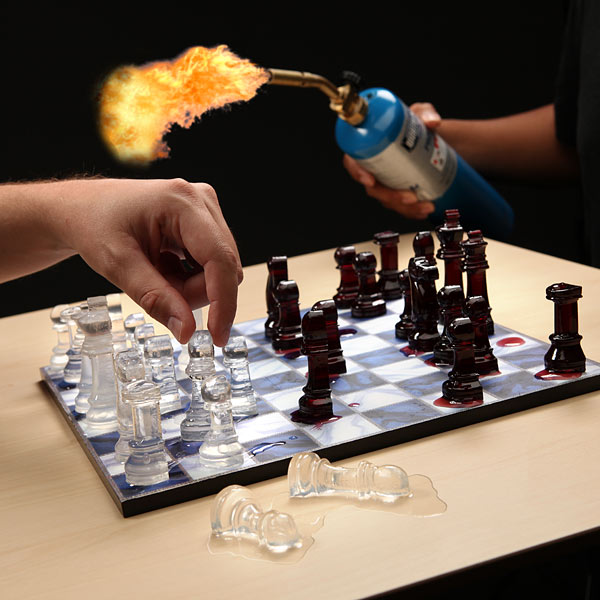 The old men at the park will be green with envy. Pop these unique chess game ice trays in the freezer while you consider your opening move.
Avenger Reflex Controller Adapter
The Avenger is an external adapter. It snaps on over your existing PlayStation 4 or Xbox One controller and will improve your situational awareness, accuracy, agility, and reaction time. The Avenger allows for rapid, fluid movements between individual buttons and analog sticks.
Astro A50
Broadcasting with cutting edge wireless Kleernet 5.8GHz technology, the Astro A50 employs three varied EQ modes designed to fit your audio needs. The uni-directional microphone delivers communication to your teammates by isolating your voice from any background noise in the room. The Astro A50 has been designed to be lightweight and adjust easily to your cranium to ensure maximum comfort for those games that last long into the night. And when you're done it fits perfectly on its own headset stand. The Astro A50 – when you want your ears to enjoy your games as much as your eyes do!