Last Updated on February 18, 2020
One of the essential rooms in a home is the kitchen. It is where families start their day and meet after a long day at work. It is for this reason that homebuyers are particular about the kitchen design of homes they are planning to buy.
This tells you that the kitchen should look its best. One of the easiest ways to improve the appearance of your kitchen is remodeling. With insights from an interior design course at Learning Cloud, you can enhance your kitchen with glass cabinets.
1. They are versatile
Versatility is the first reason why glass is the best material for kitchen cabinets. Glass comes in many patterns, styles, textures, and colors. This gives you an effortless job in picking a design that will blend with your kitchen's interior design.
For instance, if you have an L-shape kitchen design, you can work with clear glass as it reflects light and creates an illusion of space. If you have an open kitchen plan and you like privacy, you can use textured or frosted glass cabinets to obscure the contents of the cabinets.
The options are limitless. If you have some fine china you would like to show off; you can install clear glass upper cabinets.
2. Easy maintenance
The beauty of glass as cabinets material is that you won't sweat to keep it looking presentable. For one, glass is more impermeable compared to other materials. This means that dirt and liquids cannot be absorbed to form permanent stains.
That is why it will take you less effort to keep it clean.
To get rid of dust, you only need a lint-free dry cloth. For deep cleaning, you will only use a glass cleaning liquid and a piece of cloth: in no time your job will be done.
3. Brightness
We are not all lucky to have kitchens close to a source of natural light. This can make the kitchen dull and dark. More light will make meal preparation easy, and you will enjoy being in the kitchen.
Glass, thanks to its reflective properties, will reflect the natural light coming from outside and distribute it to all corners of your kitchen, making it brighter. Also, if you have lighting fixtures, you will not be required to add more to make your kitchen brighter, the glass will do the job.
4. Space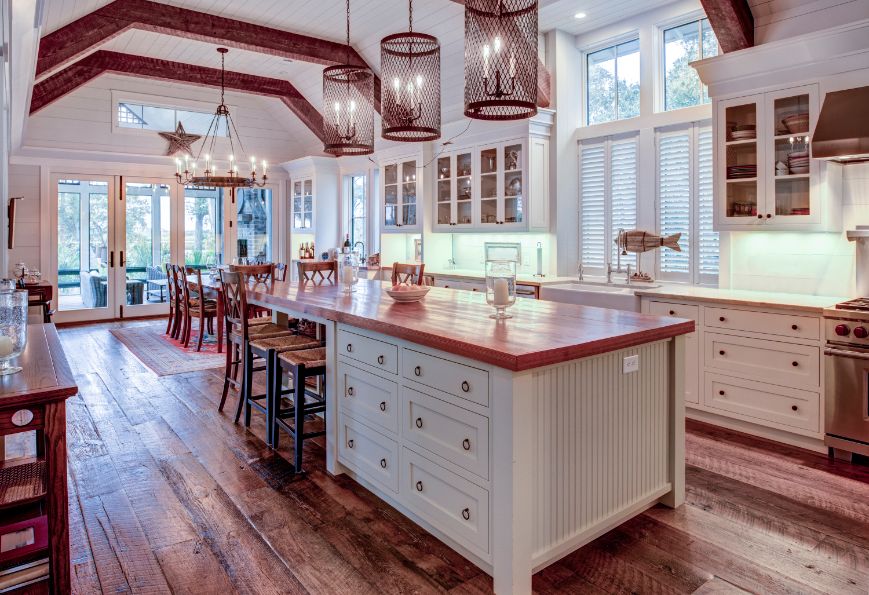 Glass cabinets used in open kitchen plans prevent harsh breaks, which are usually caused by opaque materials. This will make the room more spacious. If you have limited space in your kitchen, you can use glass cabinets as they reflect, creating an illusion of space, making the kitchen airier.
Glass is the best material for kitchen remodeling and giving it an elegant and modern look. Glass is readily available and is flexible, giving you many options of designs to choose from depending on your cabinetry needs. While sourcing glass, ensure that you get it from a reliable manufacturer to get the best quality.