Last Updated on January 24, 2023
Golf is one of the most intriguing games. Although it's predominantly associated with elites, the game attracts players and fans from all walks of life.
Like any competitive sport, golf has its highs and lows. Some days you register impressive wins, while other days you take home nothing but frustrations.
A nice golf quote can inspire you during your bad days on the course. Even if you don't end up winning a match, these quotes can help you handle the loss in a sportsmanlike manner.
Many golf quotes are also hilarious enough to help break the ice during tense moments on the course. Whether you're prepping yourself for a dueling match or are hanging out with your golf buddies, the following golf quotes can come in very handy.
Inspiring Golf Quotes
1. A bad attitude is worse than a bad swing ~ Payne Stewart
2. A good golfer has the determination to win and the patience to wait for the breaks ~ Gary Player
3. A great shot is when you pull it off. A smart shot is when you don't have the guts to try it ~ Phil Mickelson
4. Achievements on the golf course are not what matters, decency and honesty are what matter ~ Tiger Woods
5. Aggressive play is a vital asset of the world's greatest golfers. However, it's even more important to the average player. Attack this game in a bold, confident, and determined way, and you'll make a giant leap toward realizing your full potential as a player ~ Greg Norman
6. As you walk down the fairway of life, you must smell the roses, for you only get to play one round ~ Ben Hogan
7. Confidence is the most important single factor in this game, and no matter how great your natural talent, there is only one way to obtain and sustain it: work ~ Jack Nicklaus
8. First and foremost, you must have confidence. Your second mental problem is concentration. Think the shot through in advance before you address the ball. Draw a mental image of where you want it to go and then eliminate everything else from your mind, except how you are going to get the ball into that preferred spot ~ Sam Snead
9. Forget the last shot. It takes so long to accept that you can't always replicate your swing. The only thing you can control is your attitude toward the next shot ~ Mark McCumber
10. Golf gives you an insight into human nature, your own as well as your opponent's ~ Grantland Rice
11. Golf is a compromise between what your ego wants you to do, what experience tells you to do, and what your nerves let you do ~Bruce Crampton
12. Golf is a day spent in a round of strenuous idleness ~ William Wordsworth
13. Golf is a fascinating game. I've taken nearly 40 years to discover that I can't play it ~ Ted Ray
14. Golf is a game that is played on a five-inch course – the distance between your ears ~ Bobby Jones
15. Golf is a game whose aim is to hit a very small ball into an even smaller hole, with weapons singularly ill-designed for the purpose ~ Winston Churchill
16. Golf is a lot like life. It will test your patience. It will dazzle and baffle you with highs and lows, successes and frustrations ~ Amy Alcott
17. Golf is a science, the study of a lifetime, in which you can exhaust yourself but never your subject ~ David Forgan
18. Golf is about how well you accept, respond to, and score with your misses much more so than it is a game of your perfect shots ~ Dr. Bob Rotella
19. Golf is an awkward set of bodily contortions designed to produce a graceful result ~ Tommy Armour
20. Golf is deceptively simple and endlessly complicated; it satisfies the soul and frustrates the intellect. It is at the same time rewarding and maddening – and it is without a doubt the greatest game mankind has ever invented ~ Arnold Palmer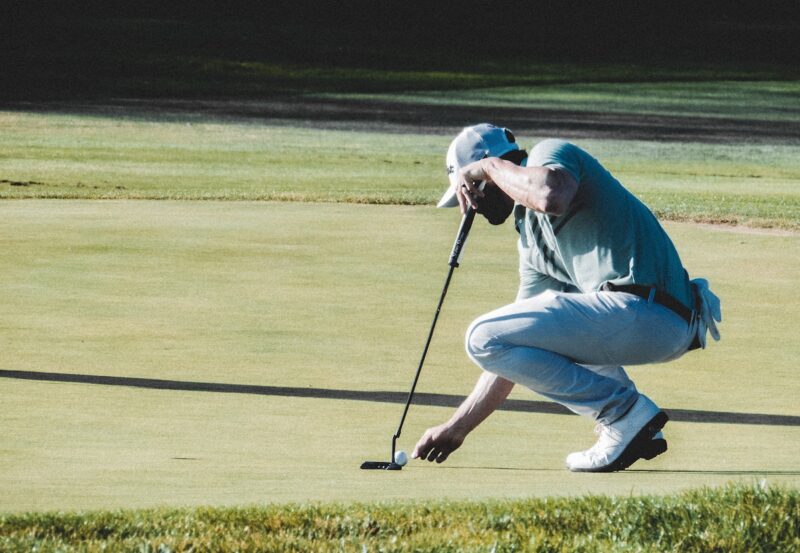 21. Golf is so popular simply because it is the best game in the world at which to be bad ~ AA Milne
22. Golf is the closest game to the game we call life. You get bad breaks from good shots, good breaks from bad shots – but you have to play where it lies ~ Bobby Jones
23. Golf is very much like a love affair. If you don't take it seriously, it's no fun, if you do, it breaks your heart. Don't break your heart, but flirt with the possibility ~ Louise Suggs
24. Golf puts a man's character on the anvil and his richest qualities—patience, poise, restraint—to the flame ~ Billy Casper
25. Golf tips are like Aspirin: One may do you good, but if you swallow the whole bottle you'll be lucky to survive ~ Harvey Penick
26. Golf… is the infallible test. The man who can go into a patch of rough alone, with the knowledge that only God is watching him, and play his ball where it lies, is the man who will serve you faithfully and well ~ P.G. Wodehouse
27. Grip the club as if you were holding a baby bird ~ Sam Snead
28. If a lot of people gripped a knife and fork the way they do a golf club, they'd starve to death ~ Sam Snead
29. If you are going to throw a club, it is important to throw it ahead of you, down the fairway, so you don't have to waste energy going back to pick it up ~ Tommy Bolt
30. If you watch a game, it's fun. If you play it, it's recreation. If you work at it, it's golf ~ Bob Hope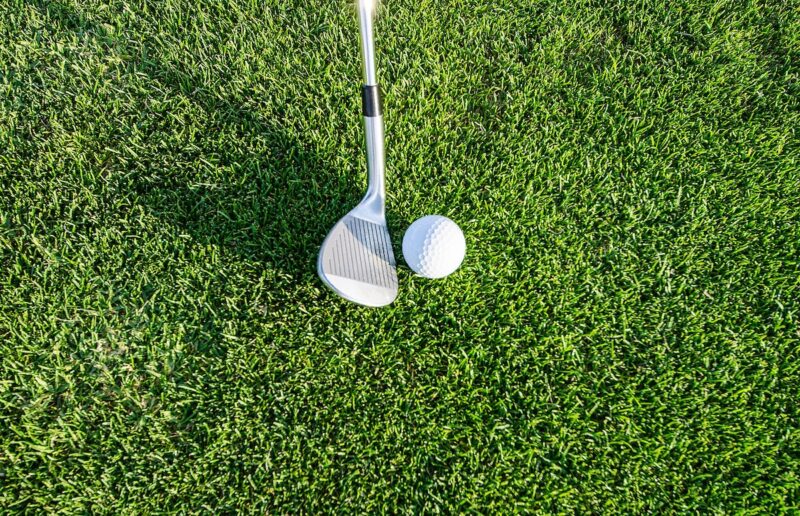 31. If you're caught on a golf course during a storm and are afraid of lightning, hold up a 1-iron. Not even God can hit a 1-iron ~ Lee Trevino
32. In your approach to golf, no one can tell you what to do. Just as in life, you are presented with options; it's up to you to decide which ones suit you best ~ Sandra Haynie
33. Instead of worrying about making a fool of yourself in front of a crowd of 4 or 40,000, forget about how your swing may look and concentrate instead on where you want the ball to go. Pretty is as pretty does ~ Harvey Penick
34. It's not just enough to swing at the ball. You've got to loosen your girdle and really let the ball have it ~ Babe Didrikson Zaharias
35. Keep your sense of humor. There's enough stress in the rest of your life not to let bad shots ruin a game you're supposed to enjoy ~ Amy Alcott
36. No other game combines the wonder of nature with the discipline of sport in such carefully planned ways. A great golf course both frees and challenges a golfer's mind ~Tom Watson
37. One of the most fascinating things about golf is how it reflects the cycle of life. No matter what you shoot – the next day you have to go back to the first tee and begin again and make yourself into something ~ Peter Jacobson
38. One reason golf is such an exasperating game is that a thing we learned is so easily forgotten, and we find ourselves struggling year after year with faults we had discovered and corrected time and again ~ Bobby Jones
39. Reverse every natural instinct and do the opposite of what you are inclined to do, and you will probably come very close to having a perfect golf swing ~ Ben Hogan
40. Success depends almost entirely on how effectively you learn to manage the game's two ultimate adversaries: the course and yourself ~ Jack Nicklaus
41. Success depends less on strength of body than upon strength of mind and character ~ Arnold Palmer
42. The greatest single lesson to be learned from golf is mental discipline ~ Louise Suggs
43. The mark of a great player is in his ability to come back. The great champions have all come back from defeat ~ Sam Snead
44. The most important shot in golf is the next one ~ Ben Hogan
45. There are no absolutes in golf. Golf is such an individual game, and no two people swing alike ~ Kathy Whitworth
46. There is no such thing as a natural touch. Touch is something you create by hitting millions of golf balls ~ Lee Trevino
47. There's no sense in going to a tournament if you don't believe that you can win it ~ Tiger Woods
48. They call it golf because all the other four-letter words were taken ~ Ray Floyd
49. To find a man's true character, play golf with him ~ P.G. Wodehouse
50. Trust is one of the most important qualities in the game of golf. With trust, it feels like you and your golf club are partners dancing as one. Without trust, it feels like you and your golf club are on opposite sides of a tug-of-war ~ Dr. Joseph Parent
Conclusion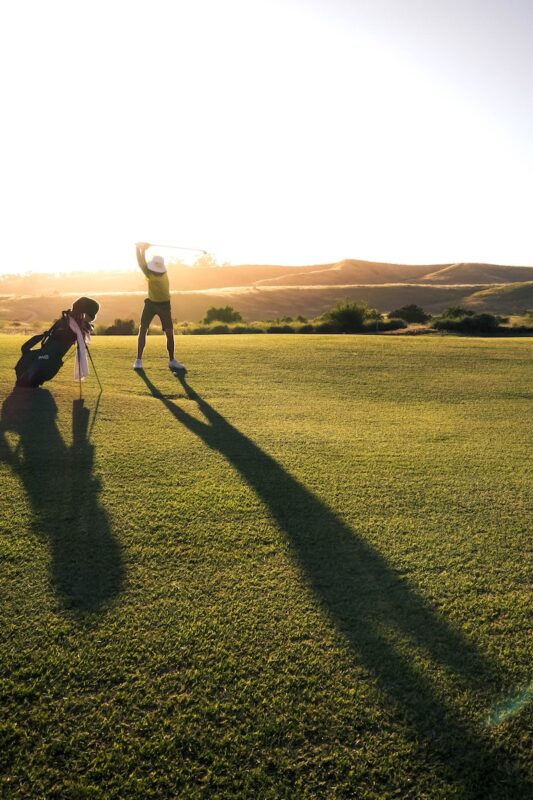 Golf quotes are like positive affirmations. Repeating them before or during a competitive game may not necessarily help you win the match.
However, these quotes can go a long way in helping to inculcate a sense of positivity during a match while also changing your perception about the whole game of golf.
Golf quotes can also give you a good laugh, which is often necessary in diffusing tensions before or after a golf match.