GoPro is continuously proving its status of the mightiest action camera and with the new HERO7 Black released this September, the brand will probably grow its fanbase even more. If you have recently bought a GoPro but you don't have experience using one, below is an ultimate cheat sheet on what to remember before and during the shooting process to get exceptional videos.
Understand your GoPro camera settings and specs
Before you start, it might be useful to check out the basic settings your camera comes with: resolution, fps, and aspect ratio. Understanding these parameters is important because they affect the output video quality. Here is a brief overview of each parameter's area of control:
Resolution
Resolution refers to the number of horizontal pixel lines your video is made up of. Naturally, the higher the resolution, the more pixels there are and the higher the quality is. With GoPro, you have the following options to choose from: 720p, 960p, 1080p, 2,7K, and 4K.
And while in the end you get the highest resolution choosing 4K, you should also understand that it's resource-consuming. It will drain your battery faster, take more space, and on top of that, will require more computer resources if you decide to edit such a video afterward.
In fact, not every video editing software and not every PC will easily cope with 4K. That's why 1080p is a general recommendation for GoPro owners because unless you're shooting for commercial purposes or 4K monitors, you'll be happy with how a 1080p video looks.

b
Image source: http://abekislevitz.com/43-gopro-footage-explained/
Aspect ratio
Now, resolution is closely related with Aspect Ratio. The latter is a ratio between the width and the height of a video. For instance, if you've chosen 1080p (1920X1080 to be more specific), the aspect ratio will be 16:9 – and that's the standard for HD screens.
When shooting in 2,7K (2704X2018) or 1440p, you get a 4:3 ratio. As you can see from the illustration above, 4:3 videos provide a taller image and contain more information while a 16:9 footage will certainly look better on a wide screen but it will also chop off the top and the bottom.
FPS
FPS stands for "Frames per Seconds" and is often called a frame rate. The most widely used options available in GoPro are 24, 30, or 60 but you can set even higher FPS for a perfect slow-motion effect – we'll talk about it later.
As you may have understood, the more frames per second you capture with your camera, the more detailed your video will be. On the other hand, just like with resolution, the higher your FPS is, the more battery life and storage it will consume. So, unless your project requires it, or you're recording a fast-action scene, there is no reason to go higher than 60 fps.
Choose video editing software to work with
GoPro used to provide their own video editing tool called Studio, but it stopped being supported in 2017. As an alternative GoPro video editor, you can consider VSDC if you're on a Windows PC or iMovie if you're a Mac user.
Both pieces of software are recommended by the technical support team at GoPro, and they are completely free without watermarks or trial periods. You should probably download the one compatible with your OS to get the hang of it before planning and shooting your first big movie.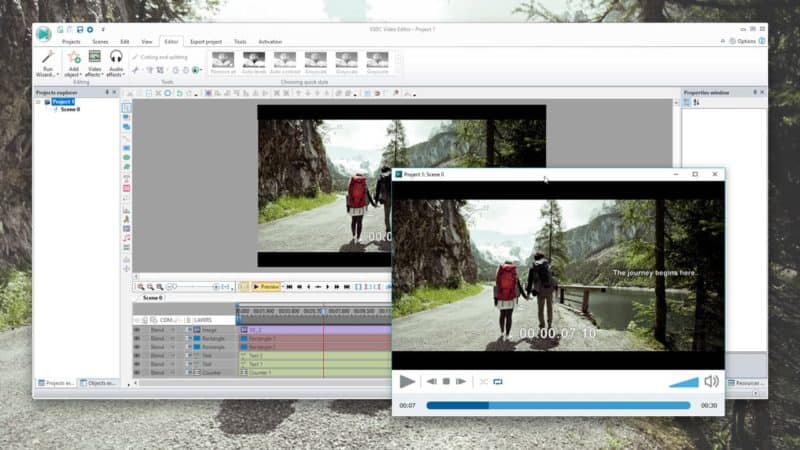 VSDC Free Video Editing Software
VSDC is a powerful video editor allowing you to quickly cut the footage, add music and titles, apply a picture-in-picture effect, a split screen view, and even some advanced tricks like "video inside text". VSDC has low system requirements, so it's a great choice for a PC with limited resources. Plus, it helps you keep high quality at the export and change the framerate or the resolution in case you need to adjust the initial parameters.
iMovie is a video editing software by Apple, and it's available for free to all Mac owners. iMovie is also well compatible with the videos produced by GoPro cameras (typically .MP4 or .MOV) and allows you to edit 4K footage. It brings intuitive interface, playback speed settings, theme templates, titles, and effects.
Check out Protune
Now, most video editing software provides a set of color correction tools but in order to reduce the time spent on post-production, you should check out the Protune feature available in GoPro cameras. Protune controls help you pre-configure white balance, sharpness, ISO, color capture and exposure before you start shooting.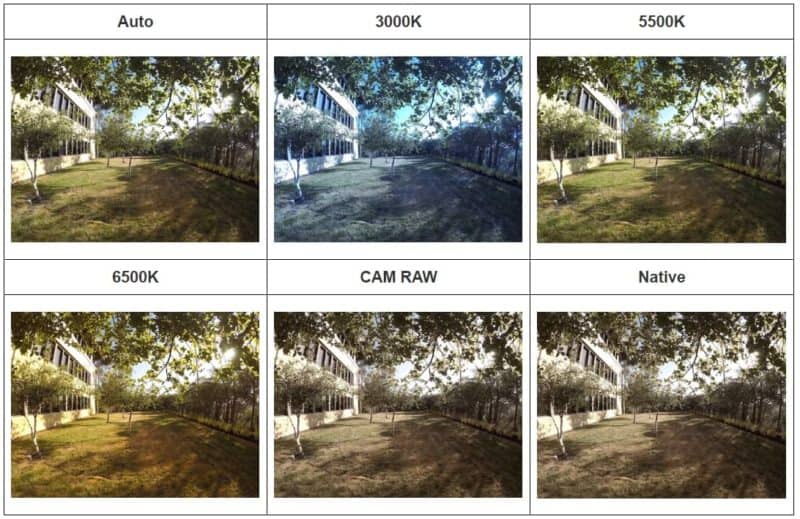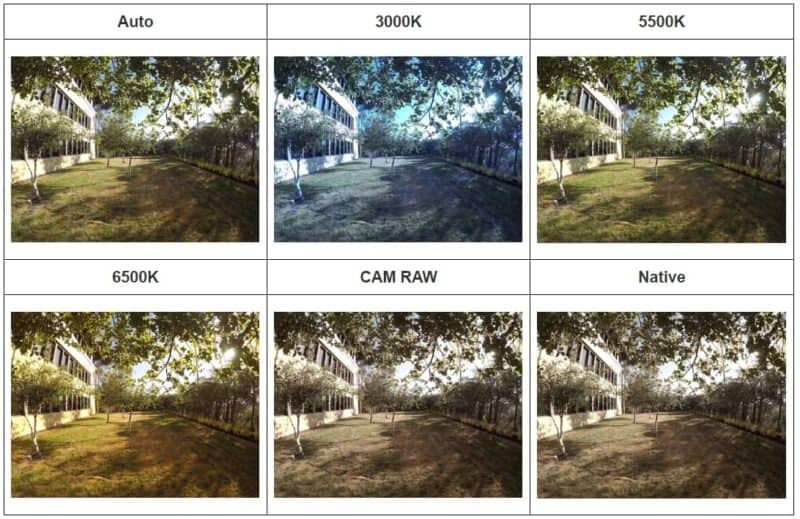 Image source: https://gopro.com/help/articles/Question_Answer/Advanced-Protune-Controls-Explained
This feature comes in handy when you want to achieve a higher-quality image especially if you're shooting outdoors. White balance controls the color temperature of your footage, ISO helps balance out shadows and highlights, and Exposure allows you to tune up the amount of light in the video.
For instance, on a cloudy day you should dial exposure compensation up to avoid getting the footage that's too dark, while under bright sunlight you'll want to avoid overexposed videos by dialing this setting down.
Consider GoPro accessories for better quality
If you are planning to be actively using your new GoPro, there a few items that will make your experience smoother. Here are three accessories for a beginner's arsenal:
Extra battery
GoPro batteries are capable of supporting your device for approximately 2 hours of non-stop usage – give or take. But that also depends on the resolution you choose, on the wifi usage, and high-level screen brightness setup.
So, typically, if you're an amateur videographer producing a lot of extra footage to choose the best fragment later, or if you have plans to capture a long trip including timelapses – you'll definitely need to have a spare battery in the pocket.
Mount
Chest mount, suction cup mount, and head straps are designed to attach action cameras to practically any surface and continue shooting with your hands being free. There is a wide choice of these accessories for any price range, plus the GoPro official mounts are quite affordable.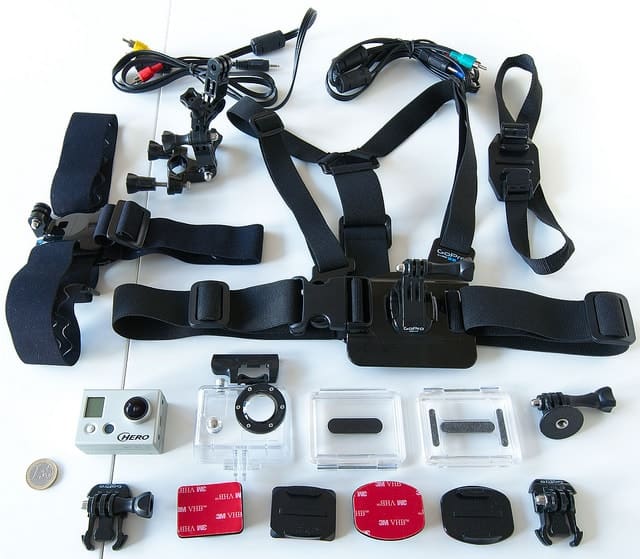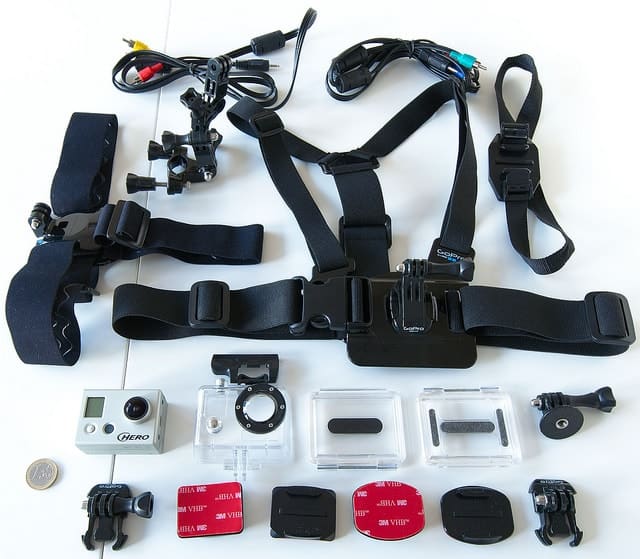 Image source: https://www.flickr.com/photos/slaunay/6165418478
Stabilizing gimbal
Although GoPro cameras come with a built-in video stabilization feature, it will not save you from major shakes at the times when you're shooting while biking, running, or just actively moving the device.
That's when power gimbals become useful. They consist of a handle with a versatile mount on top that counteracts every camera movement making the recording process steady.
Shooting tips to try with your new GoPro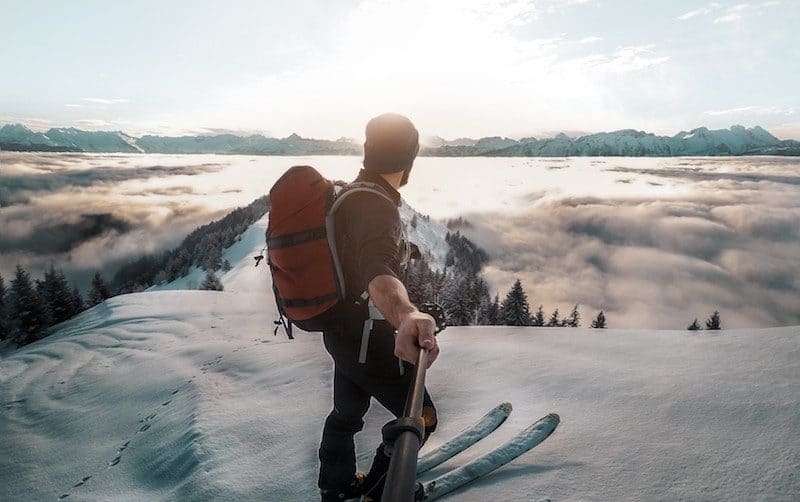 Try the Time Lapse mode. GoPro makes it easy to create beautiful time-lapses with a special built-in mode. The most popular scenes to capture are day-to-night change, cloud movement, people walking down a busy street and work-progress stories.
Create a slow motion. If you happen to record fast action scenes, such as extreme sports performance, the slow-motion effect will look incredibly impressive. There is no built-in slow-mo feature but you can easily achieve it in any video editing software including the above-mentioned VSDC and iMovie. Just remember to choose higher FPS to catch every moment of the action.
Shoot underwater and try the Burst mode. One of the most bragged-about advantages of GoPro is its water resistance. And it's perfect for both – video and photo sessions. For the latter, you can test the Burst mode. It allows you to snap up to 30 photos per second, and if you're trying to capture the quickly moving habitants of the sea world, that is a perfect way to record every moment.
Always plan ahead
A GoPro camera is a great choice to save the moments worth remembering but it's also important to understand its settings and plan your shootings ahead.
Every video tells a story, so it's a good idea to think of what parts of the adventure you'd like to include to the movie and perhaps even write a basic script. Besides, weather conditions and excessive movement may affect the video quality, so take your time to get familiar with the tricks preventing the unwanted results.
And if you need some inspiration, here is a roundup of GoPro videos that will sure spark a few creative ideas!