Last Updated on March 3, 2023
Who Is Grant Cardone?
Grant Cardone is an American professional sales trainer, motivational speaker, author, social media personality, real estate investor, finance counselor, and entrepreneur.

As an author, Cardone has written at least eight business books, some of which have become New York Times bestsellers.
Quick Facts
| | |
| --- | --- |
| Full Name: | Grant Cardone |
| Popular Name: | Grant Cardone |
| Gender: | Male |
| Birth Date: | March 21, 1958 |
| Age: | 64 years |
| Parents: | Curtis Louis Cardone and Concetta Neil Cardone |
| Siblings: | 4, including his twin brother Gary Cardone |
| Birth Place: | Lake Charles, Louisiana |
| Nationality: | American |
| Ethnicity: | Caucasian and Italian |
| Education: | LaGrange High School and the McNeese State University |
| Marital Status: | Married  |
| Sexual Orientation: | Straight |
| Wife/Spouse: | Elena Lyons |
| Children: | Scarlett Cardone and Sabrina Cardone |
| Dating: | N/A |
| Net Worth: | USD 300 million  |
| Source of Wealth: | Sales Training, Writing, Business Coaching and Consulting, Social Media, Real Estate, Entrepreneurship, and Other Ventures |
| Height: | 6′ 0″ (1.85 m) |
| Weight: | 90 kg; In pounds: 198 lbs. |
Early Life and Career Information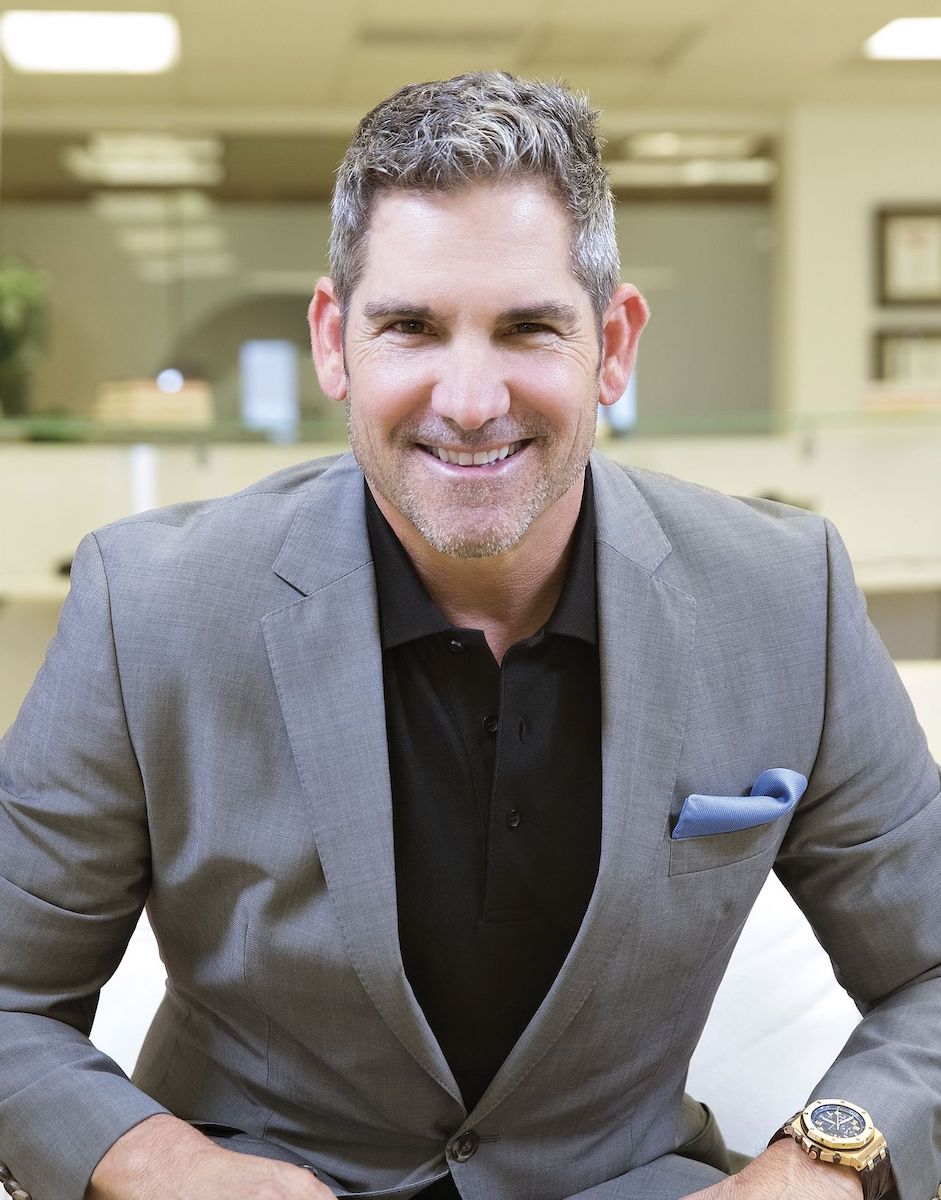 Grant Cardone was born on March 21, 1958, in Lake Charles, Louisiana, to Curtis Louis Cardone and Concetta Neil Cardone. Cardone attended LaGrange High School and later graduated from the McNeese State University in 1981 with a degree in accounting.

In 1987, Grant Cardone moved from his hometown of Lake Charles to Chicago, Illinois, where he began working for a sales training company. Determined to achieve higher success, Cardone traveled across the United States looking for greener pastures. He lived in different cities, including Houston, Texas for 5 years and La Jolla, California for 12 years, before eventually moving to Los Angeles.

Cardone's fortunes began to rise after he landed an automobile sales job, during which he became the CEO of Freedom Motorsports Group Inc. To date, he has authored several business books and is one of the most renowned business coaches in the world.
Grant Cardone's Net Worth
Grant Cardone has achieved tremendous fame and fortune throughout his professional career as a sales assistant and business coach. In 2016, he made the Richtopia list of 500 Most Influential CEOs in The World, debuting at number 7. A year later, Forbes magazine named him as the number one most promising marketer.

As of 2023, Grant Cardone had a net worth of $300 million. Cardone is a versatile sales assistant who has earned his wealth from various sources, including as an author, social media personality, finance consultant, real estate investor, etc.
1. Grant Cardone's Earnings from Writing
Grant Cardone is one of the most accomplished authors, with several books to his name. He has since authored at least eight business books, including a few New York Times bestsellers.

One of his most famous books is If You're Not First, You're Last: Sales Strategies to Dominate Your Market and Beat Your Competition. The book was a remarkable success in various retail outlets, including Amazon as well as Barnes and Noble. It also featured on The New York Times and Wall Street Journal bestseller lists.

Other notable books by Grant Cardone include:

• Be Obsessed or Be Average
• Sell or Be Sold,
• Sell To Survive,
• The 10X Rule,
• The Closer's Survival Guide, and
• The Millionaire Booklet
2. Grant Cardone's Earnings from Social Media
Grant Cardone enjoys a vibrant presence on various social media platforms, including YouTube, Snapchat, and Twitter. He has since monetized his YouTube channel known as Grant Cardone YouTube channel. On this channel, Cardone offers some invaluable tips and how-to guides on investment and leadership.

Besides his social media platforms, you can also catch Cardone on his Grant Cardone TV or listen to his timeless pieces of investment advice on the Grant Cardone podcast.
3. Grant Cardone's Earnings from Coaching and Consulting
If you prefer to have a physical encounter with Grant Cardone instead of following him on social media, you can consider attending one of his group classes through Cardone University. The classes seek to introduce students to the basics of establishing lucrative ventures.

Cardone reportedly earns as much as $15,000 for each one-on-one personal coaching session. A virtual sales rally with the renowned business coach will set you back $10,000. And as a keynote speaker, Cardone generally charges $100,000.
4. Other Ventures by Grant Cardone
The following are other ventures associated with Grant Cardone, which also contribute to his $300 million net worth:

• He owns several multi-million dollar companies, including The Cardone Group, Cardone Enterprises, Cardone Training Technologies, and Cardone Acquisitions
• He is the CEO of 7 privately-owned companies
• He runs 13 business programs
• He partnered with Atlas Media Corp to create the reality television series Turnaround King, which aired on National Geographic in 2011
• He, alongside his wife Elena, costar in their self-produced web series known as The G & E Show
5. Grant Cardone's Real Estate Portfolio
Grant Cardone took an avid interest in real estate during his childhood. When he was 29 years old, Cardone acquired and rent out his first-ever single-family home. He eventually sold the property after a couple of months due to its dismal performance.

Cardone went on to flip tons of other real estate properties and by 2012, his real estate company, Cardone Acquisitions, owned the largest private-party acquisitions portfolio in entire Florida. Today, Cardone reportedly owns a real estate portfolio to the tune of $350 million.
Lessons from Grant Cardone
1. Start early

Cardone took an interest in real estate during his childhood. To learn more about the industry, he would often visit real estate properties alongside his father as a family outing.

2. Follow your passions

Although Grant Cardone graduated with a degree in accounting, he decided to pursue a different path immediately after leaving college.

3. It's possible to bounce back from setbacks

At the age of 25, Grant Cardone was battling substance abuse and had to go into rehab. But he didn't let his drug problem put him down and just five years after leaving rehab, Cardone was already a millionaire.
Famous Quotes by Grant Cardone
"Approach every situation with a whatever-it-takes-mindset."
"Focus on creating and producing a future, not what happened yesterday."
"Never fear the haters. You can't reach your potential without them."
"Show up early. Treat people with respect. Perform at the highest levels."
"Your greatness is limited only by the investments you make in yourself."
Conclusion
Grant Cardone is an accomplished sales assistant, author, motivational speaker, and investor. He credits his $300 million net worth to his strong work ethic and ability to diversify his investments.