Last Updated on March 8, 2022
Life is not fair. It never was, and it never will be. And it is never more apparent than it is today in the age of social media.
Picture this: as you are scrolling through your feeds, you see snapshots of a friend getting married in a lavish, fairytale-like wedding ceremony. A high school classmate is now living the dream, showing off his newly bought luxury car. A colleague gets promoted to a high-paying position.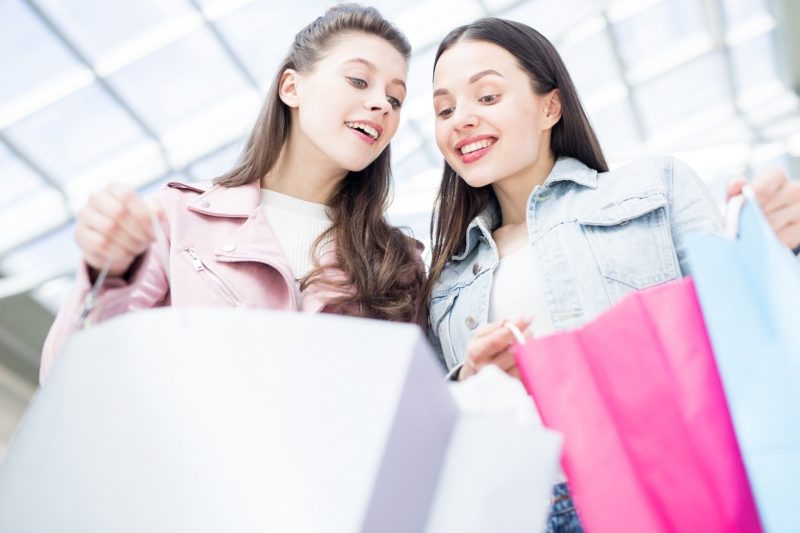 Your neighbors travel to places you can only dream of visiting. Or worse, you're being affected by something as trivial as a friend getting more likes and comments on their posts than yours. Whether we realize it or not, we almost always end up comparing ourselves to others. This inevitably leads to feeling inferior. 
A recent study even showed that frequent use of social media increases the likelihood of depression. All these negative feelings of inferiority can easily be avoided. There is one essential attitude that will ultimately lead us to happiness – gratitude.
What Gratitude Is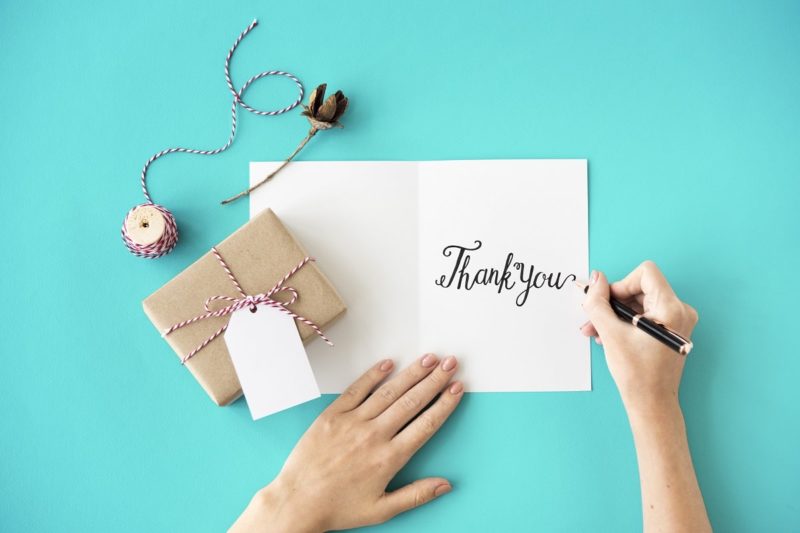 Gratitude is appreciating what we already have. It is recognizing that everything that happens, whether good or bad, serves a purpose and can be for our good. It is being thankful for the little things that we otherwise take for granted. That small apartment you currently live in that you're complaining about?
Think of the people living in the streets who would be thrilled to simply have a roof over their head. That bland-tasting food they served at lunch? Hungry kids from poor places would be over the moon feasting on that. That high-end smartphone you can't afford to buy?
Some families couldn't even pay for basic needs such as food and electricity, let alone expensive gadgets. That 9-to-5 work that you dread coming to every weekday? Some people couldn't even land a job.
Oftentimes, in our pursuit of the things we want, we tend to forget to recognize the things that we are blessed with. Yet if we make a concerted effort to think about the things we already have, no matter how meager or humble, and express sincere gratitude, we will realize how fortunate we actually are and that life is not as bad as we think after all.
Gratitude and its Health Benefits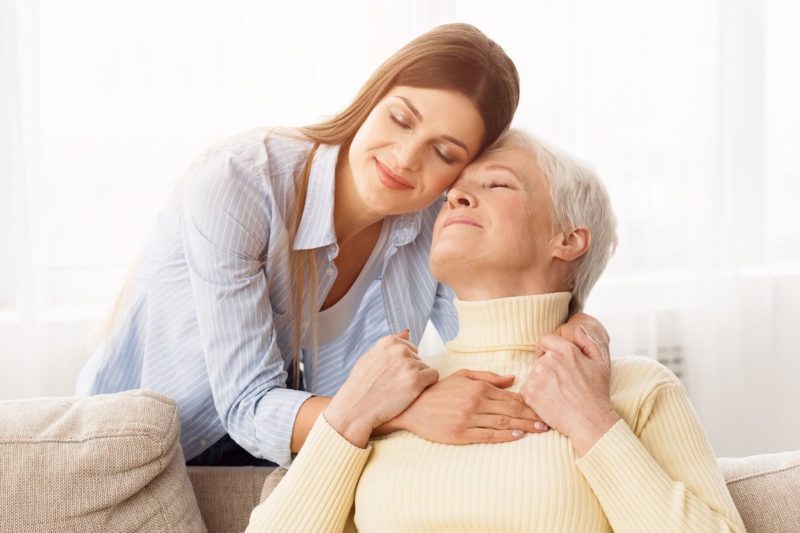 The toxic culture of comparison in social media negatively affects our mental and emotional well-being. Gratitude, on the other hand, brings about an abundance of positive benefits, not only emotionally but even physically and mentally, too.
Grateful people tend to sleep better, experience fewer aches and pains, and become mentally stronger. Gratitude also reduces negative stress and diminishes toxic emotions leading to an overall good psychological state.
When you're grateful, you will not only feel good emotionally, your body and mind will also benefit tremendously.
The True Key to Happiness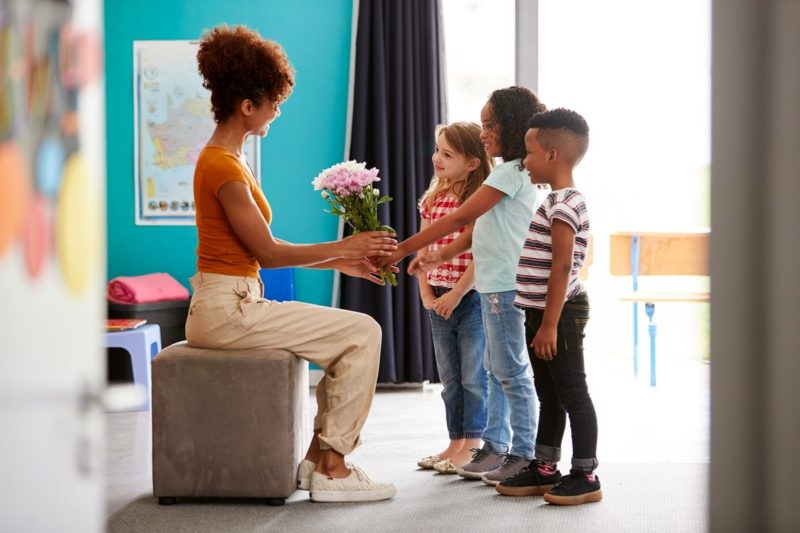 Everything we do in life is geared towards our pursuit of happiness. And while there is absolutely nothing wrong with desiring for more – a bigger house, nicer car, more delicious meals, more zeros in our bank accounts – this seemingly endless chase of material wealth more often than not eventually only leads to disappointment and misery.
To be truly happy, simply choose to be grateful. Pursue worthwhile endeavors to give your life meaning and purpose, but never forget gratitude every step of the way. For it is only with the attitude of gratitude that we can truly see how richly blessed we are.
And even if you are struggling right now, be grateful. For in these struggles, you develop the strength you need to overcome life's adversities. If you have experienced failures, be grateful. Temporary setbacks keep our feet planted firmly on the ground and prepare us for greater things to come. If you've made questionable choices in life, be grateful.
Those experiences will serve as valuable lessons you can carry and share for the rest of your life. And if you do not like the life you have right now, do something about it but still be grateful.
Being alive means you still have the chance to turn your life around, one decision at a time. No matter how unfair or difficult life maybe, if you only take the time to think about it, there is always something to be grateful for.
With that, here are 100 inspiring quotes about gratitude:
Gratitude Quotes
"Walk as if you are kissing the Earth with your feet." – Thich Nhat Hanh, Peace Is Every Step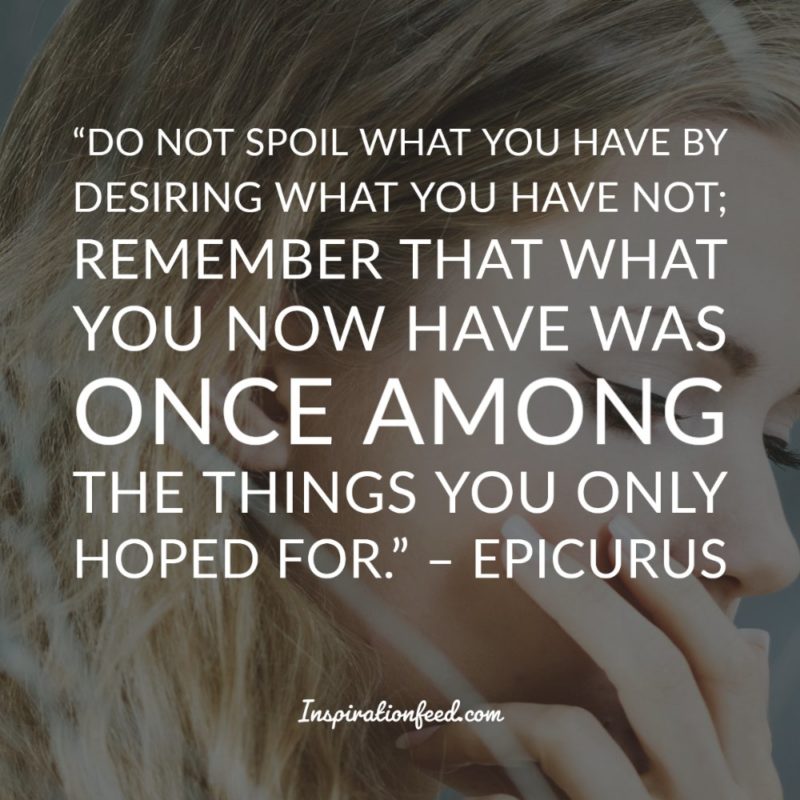 "Do not spoil what you have by desiring what you have not; remember that what you now have was once among the things you only hoped for." – Epicurus
"Be thankful for everything that happens in your life; it's all an experience." – Roy T. Bennett
"We can complain because rose bushes have thorns, or rejoice because thorns have roses." – Alphonse Karr, A Tour Round My Garden
"Piglet noticed that even though he had a Very Small Heart, it could hold a rather large amount of gratitude." – A.A. Milne, Winnie-the-Pooh
"Cultivate the habit of being grateful for every good thing that comes to you, and to give thanks continuously. And because all things have contributed to your advancement, you should include all things in your gratitude." – Ralph Waldo Emerson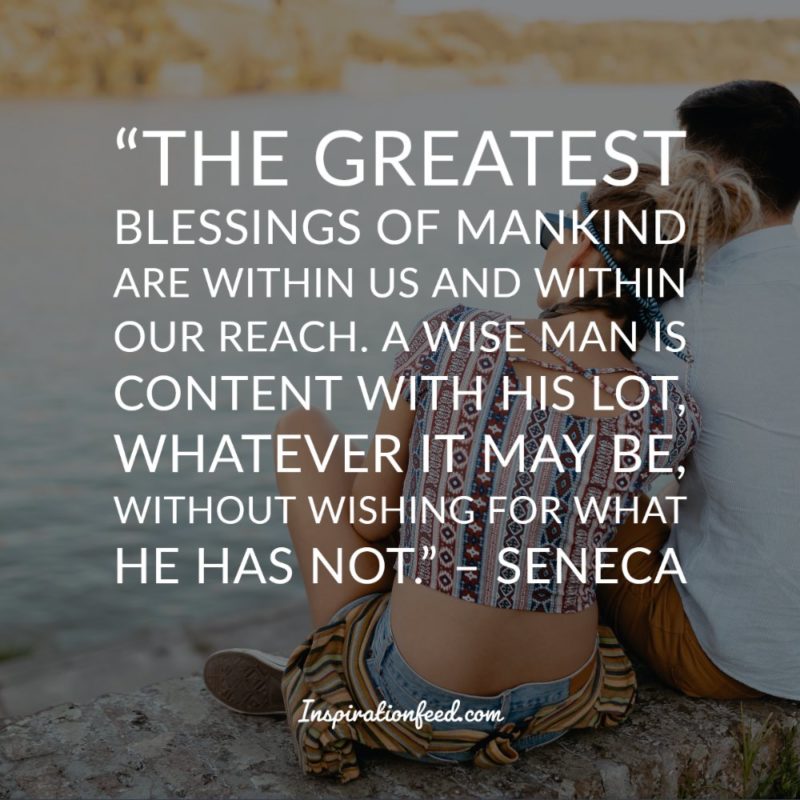 "The greatest blessings of mankind are within us and within our reach. A wise man is content with his lot, whatever it may be, without wishing for what he has not." – Seneca
"Let gratitude be the pillow upon which you kneel to say your nightly prayer. And let faith be the bridge you build to overcome evil and welcome good." – Maya Angelou, Celebrations
"In the end, maybe it's wiser to surrender before the miraculous scope of human generosity and to just keep saying thank you, forever and sincerely, for as long as we have voices." – Elizabeth Gilbert, Eat, Pray, Love
"If the only prayer you said was thank you, that would be enough." – Meister Eckhart
"When we give cheerfully and accept gratefully, everyone is blessed." –Maya Angelou
"We must find time to stop and thank the people who make a difference in our lives." – John F. Kennedy
"You pray in your distress and in your need; would that you might pray also in the fullness of your joy and in your days of abundance." – Kahill Gibran, The Prophet
"If having a soul means being able to feel love and loyalty and gratitude, then animals are better off than a lot of humans." – James Herriot , All Creatures Great and Small
"Gratitude is not only the greatest of virtues, but the parent of all others." – Marcus Tullius Cicero
"Appreciation is a wonderful thing. It makes what is excellent in others belong to us as well." – Voltaire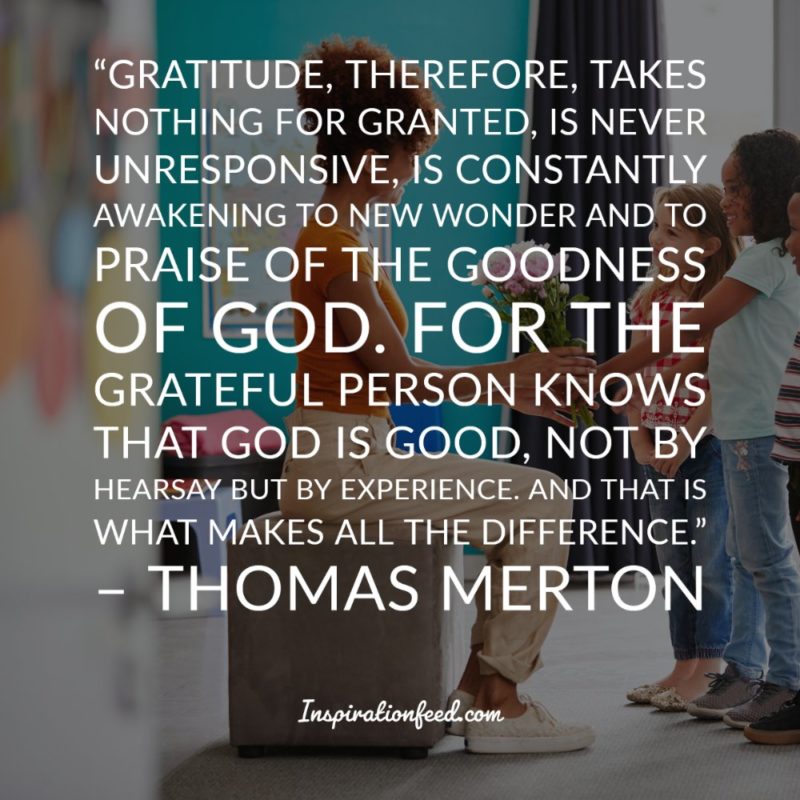 "Gratitude, therefore, takes nothing for granted, is never unresponsive, is constantly awakening to new wonder and to praise of the goodness of God. For the grateful person knows that God is good, not by hearsay but by experience. And that is what makes all the difference." – Thomas Merton
"Gratitude looks to the Past and love to the Present; fear, avarice, lust, and ambition look ahead." – C.S. Lewis, The Screwtape Letters
"We should certainly count our blessings, but we should also make our blessings count." – Neal A. Maxwell
"The unthankful heart discovers no mercies; but the thankful heart will find, in every hour, some heavenly blessings." – Henry Ward Beecher
"Not what we say about our blessings, but how we use them, is the true measure of our thanksgiving." – W. T. Purkiser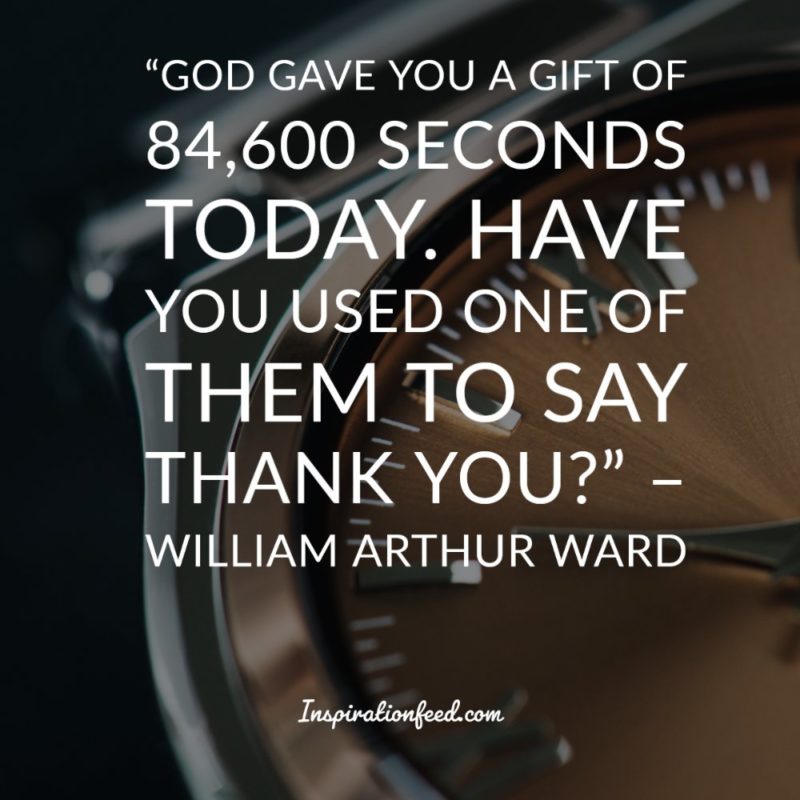 "God gave you a gift of 84,600 seconds today. Have you used one of them to say thank you?" – William Arthur Ward
"Got no checkbooks, got no banks. Still I'd like to express my thanks – I've got the sun in the mornin' and the moon at night." – Irving Berlin
"In ordinary life we hardly realize that we receive a great deal more than we give, and that it is only with gratitude that life becomes rich." – Deitrich Bonhoeffer
"The miracle is not to walk on water. The miracle is to walk on the green earth, dwelling deeply in the present moment and feeling truly alive." – Thich Nhat Hanh
Above all, I have been a sentient being, a thinking animal, on this beautiful planet, and that in itself has been an enormous privilege and adventure." – Oliver Sacks, Gratitude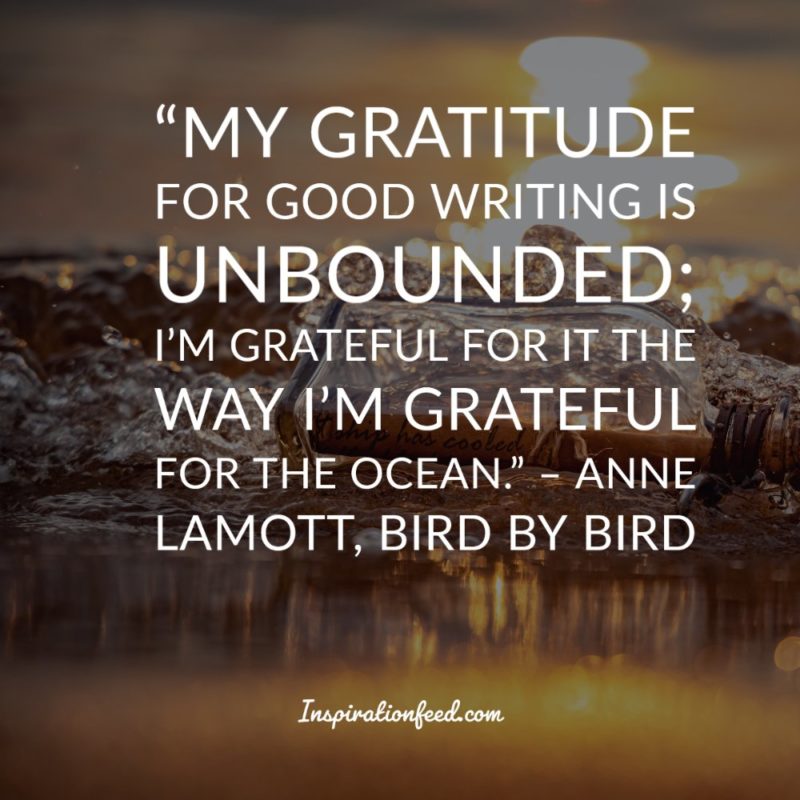 "My gratitude for good writing is unbounded; I'm grateful for it the way I'm grateful for the ocean." – Anne Lamott, Bird by Bird
"Breath is the finest gift of nature. Be grateful for this wonderful gift." –Amit Ray, Beautify your Breath – Beautify your Life
"When we learn to read the story of Jesus and see it as the story of the love of God, doing for us what we could not do for ourselves – that insight produces, again and again, a sense of astonished gratitude which is very near the heart of authentic Christian experience." – N.T. Wright
"Take full account of what Excellencies you possess, and in gratitude remember how you would hanker after them, if you had them not." – Marcus Aurelius, Meditations
"I think that real friendship always makes us feel such sweet gratitude, because the world almost always seems like a very hard desert, and the flowers that grow there seem to grow against such high odds." – Stephen King, The Eyes of the Dragon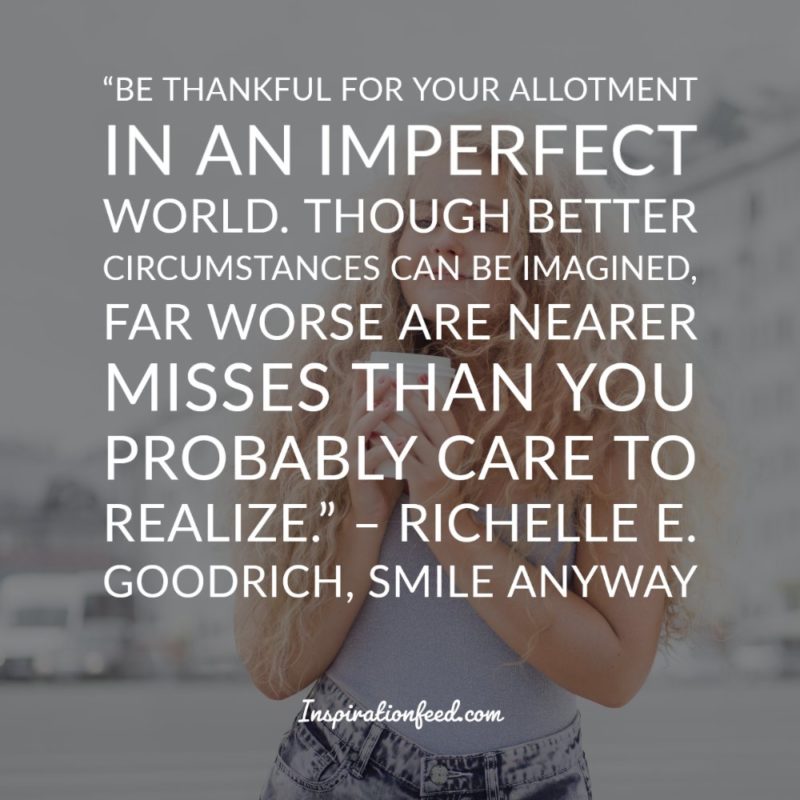 "Be thankful for your allotment in an imperfect world.  Though better circumstances can be imagined, far worse are nearer misses than you probably care to realize." – Richelle E. Goodrich, Smile Anyway
"It's a funny thing about life, once you begin to take note of the things you are grateful for, you begin to lose sight of the things that you lack." – Germany Kent
"The poor man shuddered, overflowed with an angelic joy; he declared in his transport that this would last through life; he said to himself that he really had not suffered enough to deserve such radiant happiness, and he thanked God, in the depths of his soul, for having permitted that he, a miserable man, should be so loved by this innocent being." – Victor Hugo, Les Misérables
"An attitude of gratitude brings great things." – Yogi Bhajan
"He who does not reflect his life back to God in gratitude does not know himself." – Albert Schweitzer, Reverence for Life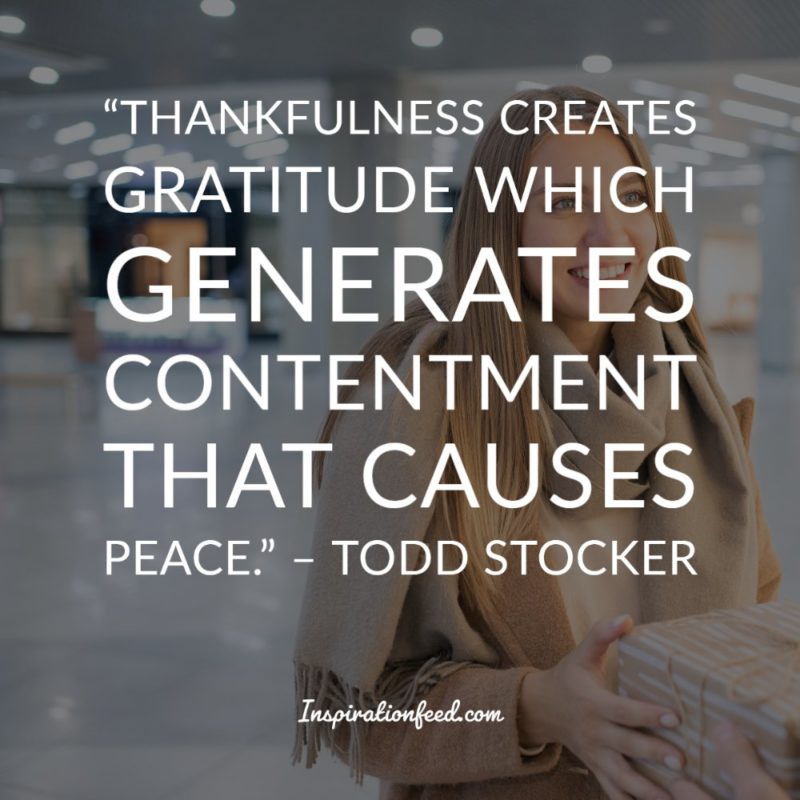 "Thankfulness creates gratitude which generates contentment that causes peace." – Todd Stocker
"I may not be where I want to be but I'm thankful for not being where I used to be." – Habeeb Akande
"Gratitude is the ability to experience life as a gift. It liberates us from the prison of self-preoccupation." – John Ortberg, When the Game Is Over, It All Goes Back in the Box
"Courtesies of a small and trivial character are the ones which strike deepest in the grateful and appreciating heart." – Henry Clay
"When you express gratitude for the blessings that come into your life, it not only encourages the universe to send you more, it also sees to it that those blessings remain." – Stephen Richards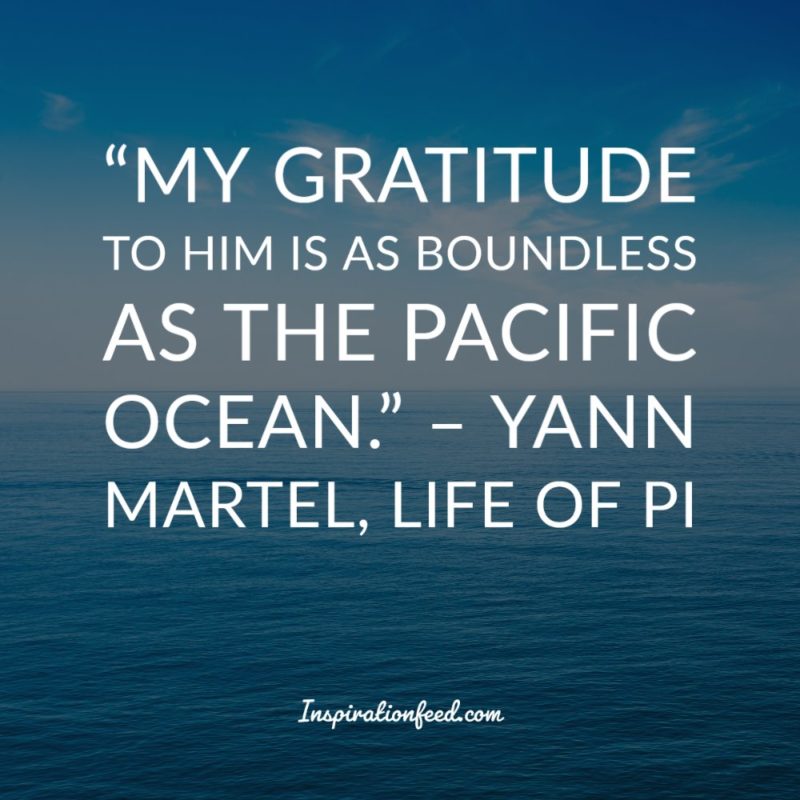 "My gratitude to him is as boundless as the Pacific ocean." – Yann Martel, Life of Pi
"Every once in a while God allows you to stub your toe as a kind reminder to be grateful for the miraculous body attached to it." – Richelle E. Goodrich, Smile Anyway
"Only children and a few spiritually evolved people are born to feel gratitude as naturally as they breathe, without even thinking. Most of us come to it step by painful step, to discover that gratitude is a form of acceptance." – Faith Baldwin, Many Windows, Seasons of the Heart
"If we want to keep the blessings of life coming to us, we must learn to be grateful for whatever is given." – Harold Klemp, The Language of Soul
"Even the smallest tender mercy can bring peace when recognized and appreciated." – Richelle E. Goodrich, Smile Anyway
"There is an inverse relationship between expectations and gratitude: The more expectations you have, the less gratitude you will have." – Dennis Prager
"But once you accept the fact that you have always been alone, and will always be, then your perspective can begin to change. You can become aware of the small kindnesses, the little comforts. Be grateful for them." – Linda Olsson, Astrid and Veronika
"Steam seems to have killed all gratitude in the hearts of sailors." – Jules Verne, Twenty Thousand Leagues Under the Sea
"Eucharisteo—thanksgiving—always precedes the miracle." – Ann Voskamp, One Thousand Gifts
"Be happy, noble heart, be blessed for all the good thou hast done and wilt do hereafter, and let my gratitude remain in obscurity like your good deeds." – Alexandre Dumas, The Count of Monte Cristo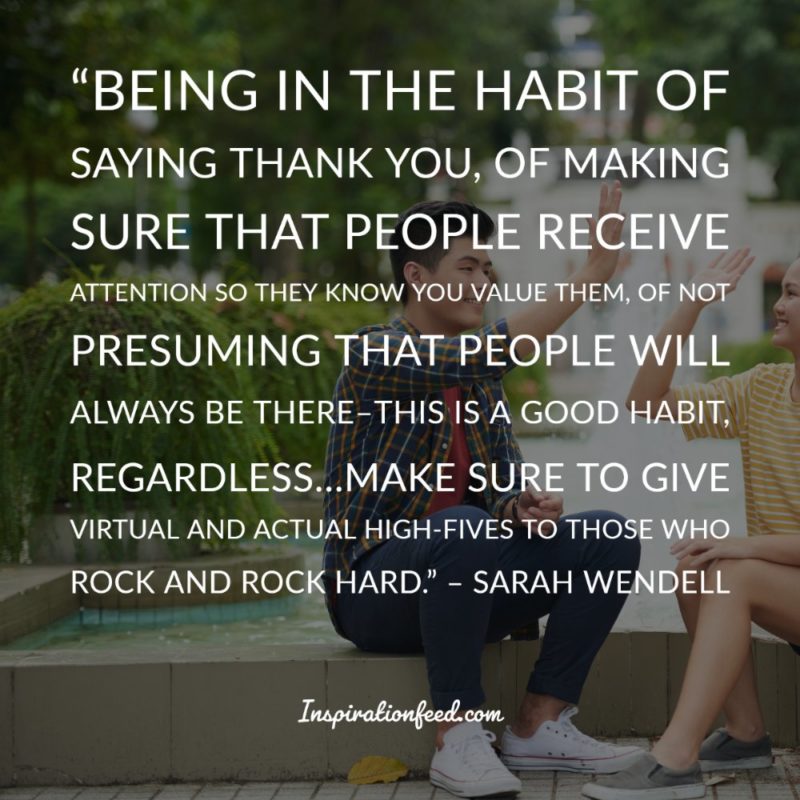 "Being in the habit of saying Thank you, of making sure that people receive attention so they know you value them, of not presuming that people will always be there–this is a good habit, regardless…make sure to give virtual and actual high-fives to those who rock and rock hard." – Sarah Wendell
"A little 'thank you' that you will say to someone for a 'little favour' shown to you is a key to unlock the doors that hide unseen 'greater favours'. Learn to say 'thank you' and 'why not?'" – Israelmore Ayivor
"For me, I'm going to believe in miracles, celebrate life, rejoice in the views of eternity and hope my choices will create a positive ripple effect in the lives of others. This is my choice." – Mike Ericksen, Upon Destiny's Song
"I see the glass half full and thank God for what I have." – Ana Monnar
"Gratitude helps you to grow and expand; gratitude brings JOY and laughter into your life and into the lives of all those around you." – Eileen Caddy, Opening Doors Within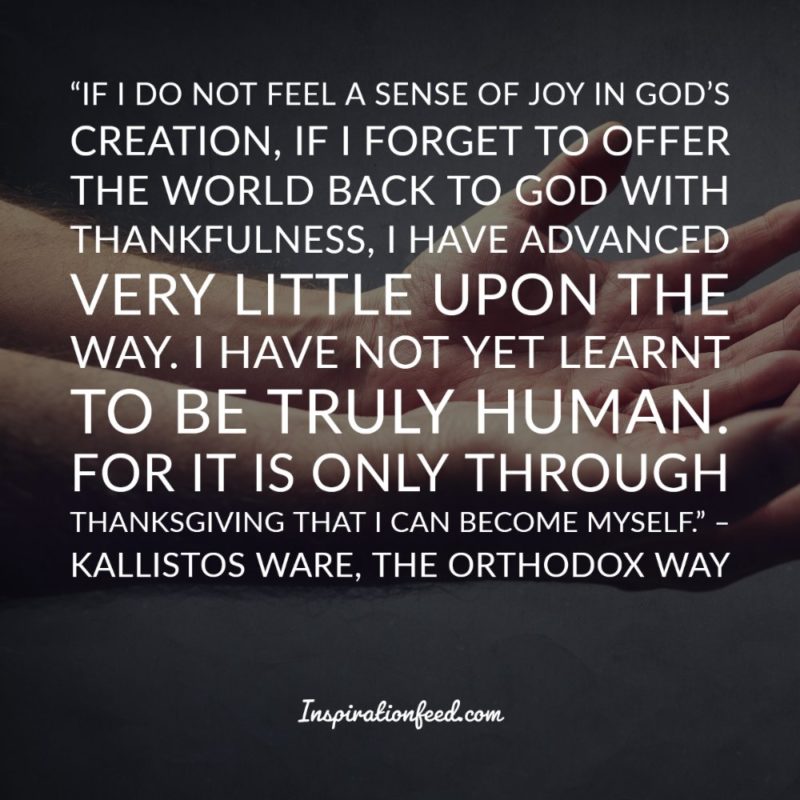 "If I do not feel a sense of joy in God's creation, if I forget to offer the world back to God with thankfulness, I have advanced very little upon the Way. I have not yet learnt to be truly human. For it is only through thanksgiving that I can become myself." – Kallistos Ware, The Orthodox Way
"Gratitude always comes into play; research shows that people are happier if they are grateful for the positive things in their lives, rather than worrying about what might be missing." – Dan Buettner, Thrive
"Gratitude is an overflow of the pleasure filling your soul." – Raheel Farooq
"It was gratitude; gratitude, not merely for having once loved her, but for loving her still well enough to forgive all the petulance and acrimony of her manner in rejecting him, and all the unjust accusations accompanying her rejection." – Jane Austen
"Love of God is pure when joy and suffering inspire an equal degree of gratitude." – Simone Weil, Gravity and Grace
"Don't count your blessings, let your blessings count! Enjoy life!" – Bernard Kelvin Clive, 52 Seconds
"Gratitude and love are always multiplied when you give freely. It is an infinite source of contentment and prosperous energy." – Jim Fargiano, The Spoken Words of Spirit
"Are you thankful for not being young?' 'Yes, sir. If I was young, it would all have to be gone through again, and the end would be a weary way off, don't you see?…" – Charles Dickens, Our Mutual Friend
"Thank you, Tempest, for loving me when understanding was too hard. Thank you for understanding when loving me is impossible." – Tracy Deebs
"In every class of society, gratitude is the rarest of all human virtues." – Wilkie Collins, The Haunted Hotel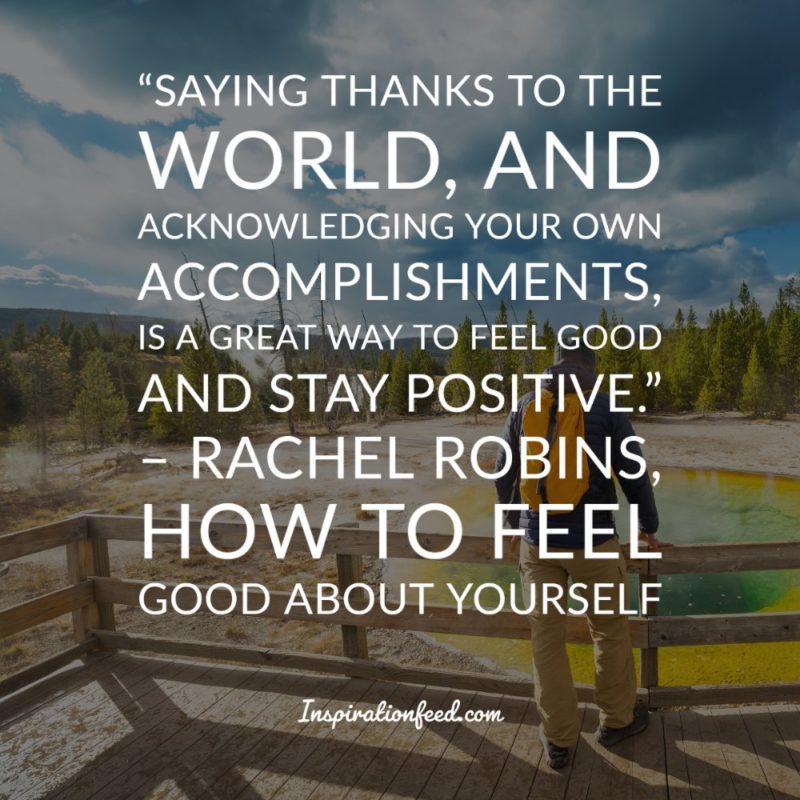 "Saying thanks to the world, and acknowledging your own accomplishments, is a great way to feel good and stay positive." – Rachel Robins, How To Feel Good About Yourself
"Life is a web of intersections and choices. Your 1st choice is to recognize an intersection. Your 2nd choice is to be grateful for it." – Ryan Lilly
"When you focus on gratitude, positive things flow in more readily, making you even more grateful." – Lissa Rankin, Mind Over Medicine
"No one can obtain felicity by pursuit. This explains why one of the elements of being happy is the feeling that a debt of gratitude is owed, a debt impossible to pay. Now, we do not owe gratitude to ourselves. To be conscious of gratitude is to acknowledge a gift." – Josef Pieper, Happiness and Contemplation
"Beth ceased to fear him from that moment, and sat there talking to him as cozily as if she had known him all her life, for love casts out fear, and gratitude can conquer pride." – Louisa May Alcott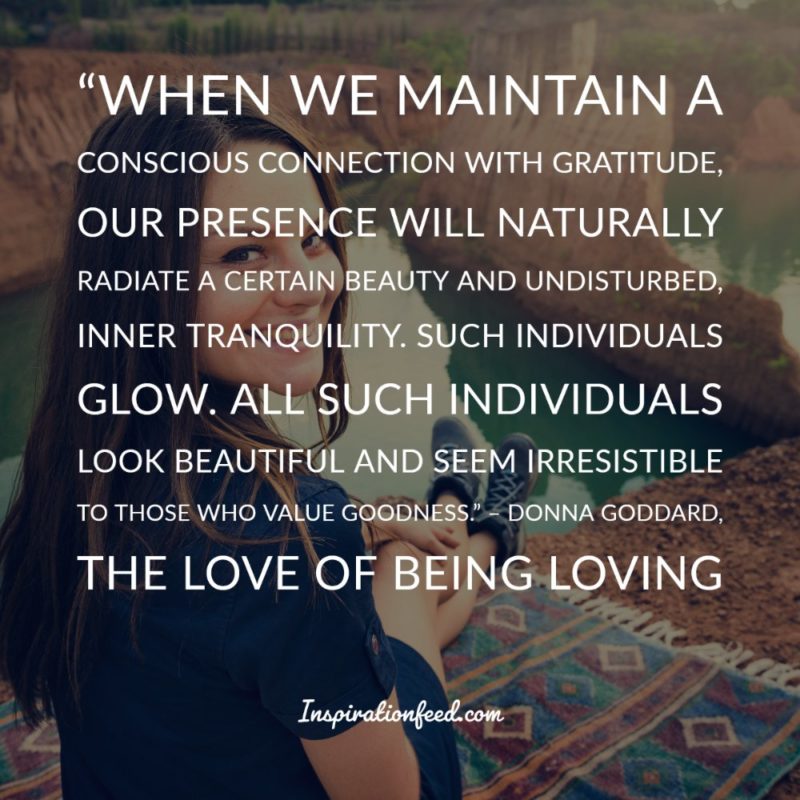 "When we maintain a conscious connection with Gratitude, our presence will naturally radiate a certain beauty and undisturbed, inner tranquility. Such individuals glow. All such individuals look beautiful and seem irresistible to those who value goodness." – Donna Goddard, The Love of Being Loving
"What well-bred woman would refuse her heart to a man who had just saved her life? Not one; and gratitude is a short cut which speedily leads to love." – Théophile Gautier, Mademoiselle de Maupin
"For a wise man, I have been told, once said, 'Gratitude is best and most effective when it does not evaporate in empty phrases.' But alas, my lady, I am but a mass of empty phrases, it would seem." – Isaac Asimov, Foundation and Empire
"Here is the world, and you live in it, and are grateful. You try to be grateful." – Michael Cunningham, The Hours
"Embrace every new day with gratitude, hope and love." – Lailah Gifty Akita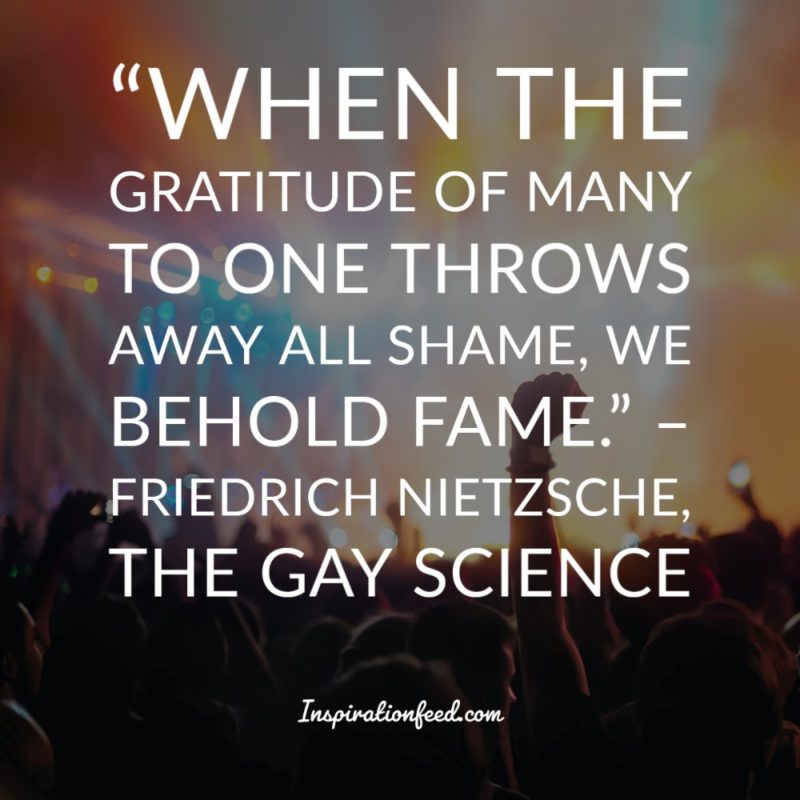 "When the gratitude of many to one throws away all shame, we behold fame." – Friedrich Nietzsche, The Gay Science
"Rather than getting more spoilt with age, as difficulties pile up, epiphanies of gratitude abound." – Alain de Botton
"Ask. Trust. Give thanks. Simple right?" – Dawn Gluskin
"We can never bring anything to us unless we are grateful for what we have. In fact, if somebody were completely and utterly grateful for everything, they would never have to ask for anything, because it would be given to them before they even asked." – Rhonda Byrne, How The Secret Changed My Life
"Some plant lips on Mother Earth in a display of gratitude. Meanwhile, she is kissing the soles of your feet, recognizing the one to be worshiped is you." – Taylor Patton
"My prayer is an attitude of pure gratitude for having the opportunity to experience life on this earth with all its pain, heartache, worry, and turmoil; coupled with this gratitude is the thankfulness for just having the opportunity to have lived. That is fairly easy on good days but difficult when life puts rocks and boulders in the road." – David W Earle
"Every morning when I wake up, I kiss her forehead as symbol of gratitude and appreciation and she repays me back with a lovely smile." – M.F. Moonzajer, A moment with God
"Though they only take a second to say, thank yous leave a warm feeling behind that can last for hours." – Kent Allan Rees, Molly Withers and the Golden Tree
"I try hard to hold fast to the truth that a full and thankful heart cannot entertain great conceits. When brimming with gratitude, one's heartbeat must surely result in outgoing love, the finest emotion we can ever know." – Bill W.
"More Miracles occur from Gratitude and Forgiveness than anything else" – Philip H. Friedman, The Forgiveness Solution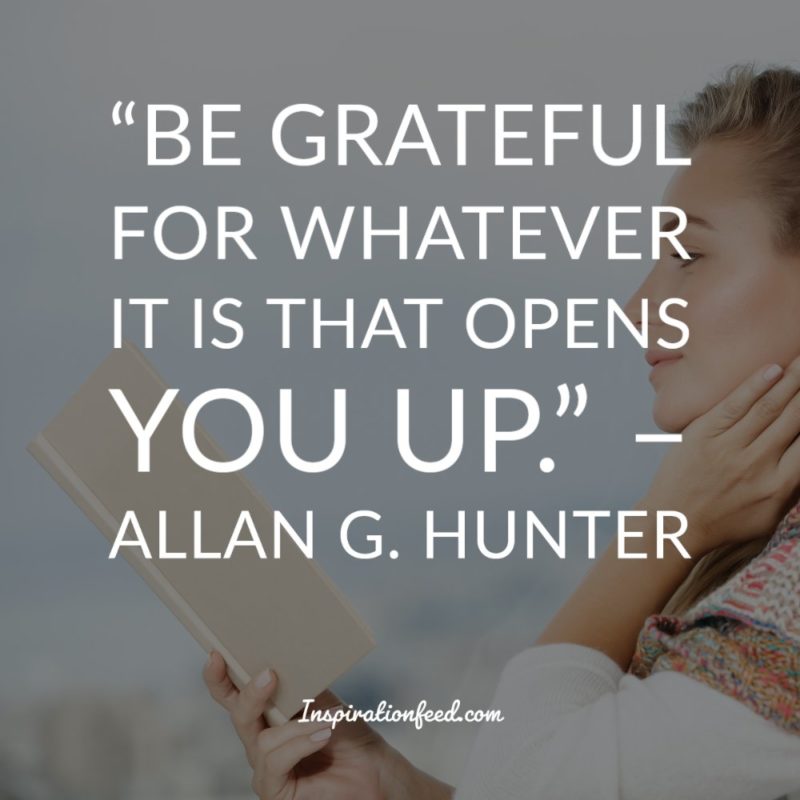 "Be grateful for whatever it is that opens you up." – Allan G. Hunter
"Thanks, Pepe. You've put an extra night into my life. I would have spent it just sleeping like an ox, but I've lived it instead. I'm grateful." – Manuel Vázquez Montalbán, La Soledad Del Manager
"Gratitude is a virtue of the rarest kind." – K.Hari Kumar
"Gratitude is a feedback loop that will show you where you are thriving." – Danielle LaPorte, The Fire Starter Sessions
"Gratitude is the best written verse of the soul!" – Qwana M.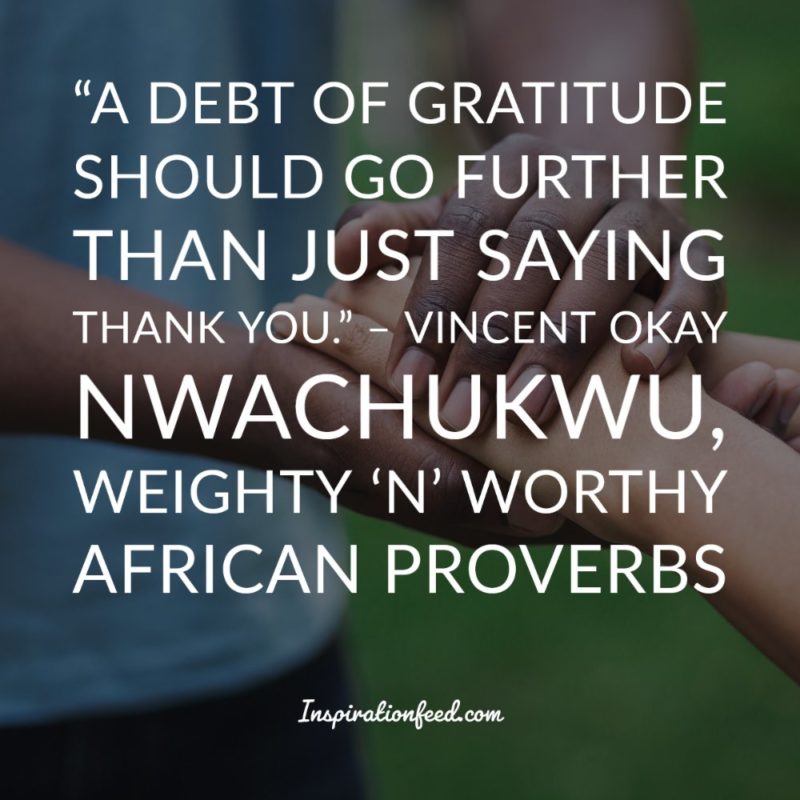 "A debt of gratitude should go further than just saying thank you." – Vincent Okay Nwachukwu, Weighty 'n' Worthy African Proverbs
"Gratitude is an energetic signature, which when tapped into is the ultimate power source for the creation of what we envision in our minds" – Daniel Mangena
"The more you thank, the more things to be grateful for you will receive. The opposite is also true." – Richie Norton
"Every time we decide to be grateful it will be easier to see new things to be grateful for. Gratitude begets gratitude, just as love begets love." – Henri J.M. Nouwen, Life of the Beloved
"Find yourself in a multitude of human attitudes, called, in the milieu of everlasting gratitude, a messenger." – Kamini Arichandran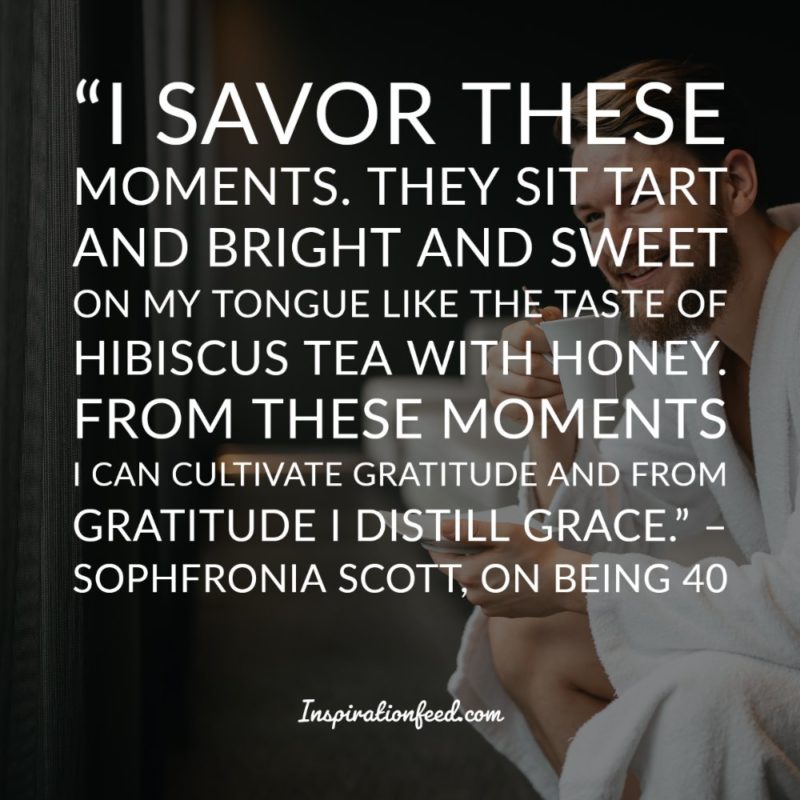 "I savor these moments. They sit tart and bright and sweet on my tongue like the taste of hibiscus tea with honey. From these moments I can cultivate gratitude and from gratitude I distill grace." – Sophfronia Scott, On Being 40
"I am one of the happiest gals you know because I choose it every single day. I choose to practice gratitude; I choose to surround myself with things and people who support positivity." – Rachel Hollis, Girl, Stop Apologizing
"Gratitude is the foundation of compassion." – Master Jun Hong Lu