Last Updated on January 24, 2023
When we think about how to tackle the problems brought about by climate change from a business perspective, we tend to think of ways to lessen our carbon emissions and mitigate the negative impact of global warming and other large-scale consequences. Solutions-oriented thinking makes it easier to consider climate change as an abstraction, but we should remember that the most direct and immediate manifestations of climate change are extreme weather and other significant climate events.
As important is it is to manage the downstream effects of climate change, it is the climate events themselves that are driving these changes. As excessive carbon in the atmosphere leads to warming global temperatures and changes to longstanding weather patterns, communities all across the world are faced with droughts, powerful storms, rising sea levels, and side effects including wildfires, flooding, and crop damage.
These events are starting to strike more frequently in places where they'd previously been rare occurrences and increasing in intensity in places that have already been dealing with them.
Reducing emissions and improving sustainable resource consumption is one way to fight climate change. Another way to combat it is by changing the weather itself.
New advances in technology are leading us closer than ever to abating the worst effects of climate change. These technologies are being designed to reduce the amount of carbon in the atmosphere, control precipitation, and improve forecasting so that the impact of extreme weather can be minimized.
Nowhere is this more evident or made pertinent than when looking at the current raging fires in Australia. Accurate forecasting at a hyper-local may have been able to help keep people safe and, in fact, still can.
Prognostications related to climate change may look bleak at times, but the forward-thinking technologies in development can give us reasons to be optimistic. Here are ten technologies tackling one of the biggest challenges of our time.
1. Fixing the Oceans: The Oxygenator by Ocean-Based Climate Solutions, Inc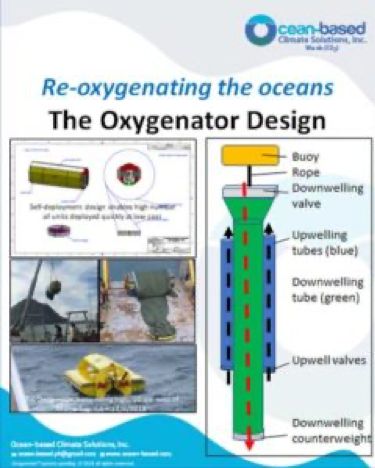 Climate change isn't just warming up the atmosphere—it's heating the oceans, too. Increasing ocean temperatures are leading to acidification, less carbon sequestration, and harm to phytoplankton and other sea life, resulting in greater numbers of low-oxygen anoxic zones and less overall oxygen output. With more than half of the oxygen we breathe provided by the oceans, this is a problem we cannot afford to ignore.
Powered by the motion of ocean waves, the Oxygenator is a device designed to use the ocean's natural upwelling and downwelling processes to draw nutrients trapped in the deeper ocean layers up to the sunlit zones closer to the surface, where they can be consumed by phytoplankton and converted into oxygen.
2. Cow Methane Inhibition: Bovaer by DSM Nutritional Products

A surprisingly high amount of greenhouse gas emissions come from livestock: specifically, from the methane in the burps and other gases, they release as part of their digestive process. It can add up to nearly three gigatons of carbon dioxide per year, a significant amount that puts it on a scale with heavy manufacturing industries and other more obvious polluters.
In light of this, some have advocated that we change our eating habits to consume less meat and dairy. Another way to approach the problem is to change what the cows and other livestock are eating. Bovaer is a food additive that safely and immediately suppresses digestive methane production in cows, reducing emissions by up to 30%.
Given that a single cow can produce three tons of carbon dioxide each year, the widespread use of Bovaer could have an enormous impact on livestock-based methane emissions.
3. Lab-Grown Meat: Beyond Meat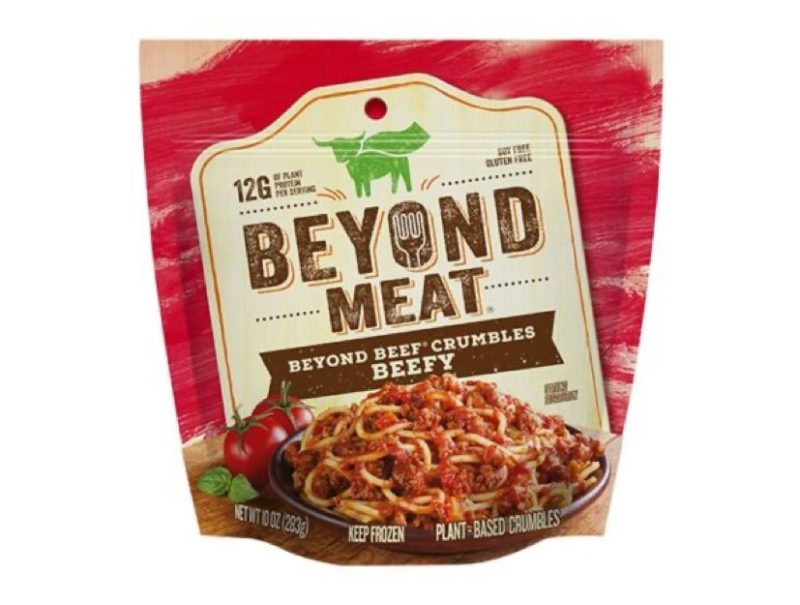 While products like Bovaer can reduce methane emissions and it's unrealistic to expect the entire world to go vegetarian in our lifetimes, finding ways to reduce the role our dietary choices play in contributing to climate change must be a part of any comprehensive solution. Companies like Beyond Meat are meeting this challenge head-on by innovating plant-based, lab-grown meat substitutes that are coming closer than ever to matching the taste and texture of the real thing.
Beyond Meat's Beyond Burger consists primarily of pea protein, canola oil, and coconut oil, and has been designed to deliver the same nutritional content and flavor as a beef hamburger patty.
4. Reducing Carbon in the Atmosphere: Direct Air Capture by Carbon Engineering and ClimeWorks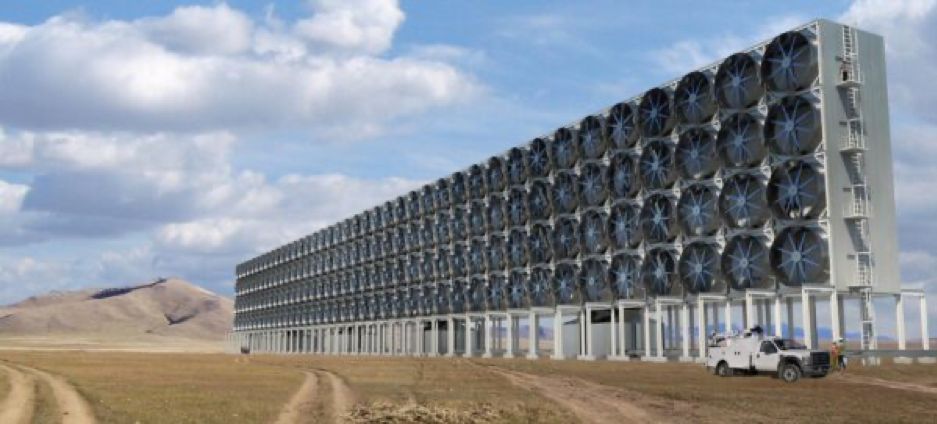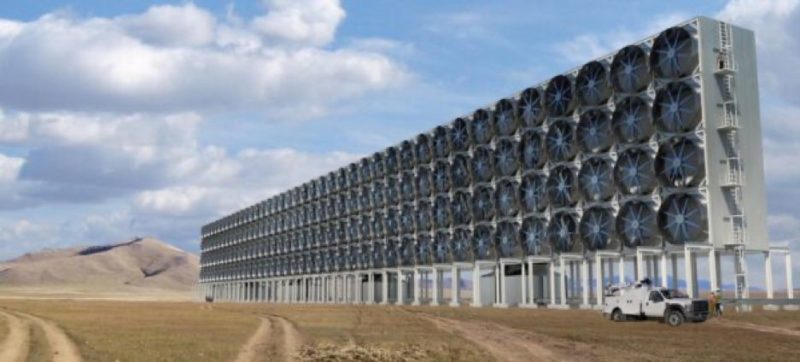 Some solutions to the problems of climate change deal with the tertiary effects, but others are aiming straight for the root causes. Direct Air Capture is an ambitious technology that utilizes a mechanically engineered system to pull carbon dioxide directly out of the air we breathe.
Put simply, Direct Air Capture functions in the same manner as trees and other plants, drawing in air from the atmosphere, separating and containing carbon dioxide through a process of chemical reactions, and releasing oxygen back into the atmosphere. Direct Air Capture can do this much faster and at a greater scale than plants can, and stores the CO2 in a compressed form for easy reuse or disposal.
5. Safe and Clean Nuclear Energy: General Fusion
Under the right circumstances, nuclear power is an extremely clean and efficient way to generate power. The problem is that when things go wrong, the consequences can be devastating and long-lasting. Disasters like Three Mile Island and Chernobyl understandably frightened many people and greatly slowed the development of nuclear energy sources in the past few decades.
Existing nuclear power plants have been based on fission reactions. General Fusion is seeking to become the world's first manufacturer of energy facilities that generate fusion power, a safer process that produces far less radiation and nuclear waste. Up until now, fusion reactors have not been able to output more energy than is needed to power them, but General Fusion appears to be on track to deliver a commercially viable fusion reactor.
6. Advanced Weather Forecasting: ClimaCell
Staying ahead of extreme weather conditions not only saves money – it saves lives. Meteorological forecasting has come a long way since the days when jokes about unreliable TV weathermen were commonplace, but forecasting is still largely dependent on government-provided weather stations spread out across the land. The data generated at these stations is more accurate than ever, but it still limits where and how much we can see about the weather coming our way.
The weather technology company ClimaCell seeks to deputize the Internet of Things as weather sensors, gathering data points from internet-connected cameras and other devices that behave or are used differently according to weather conditions. They then connect all the data points to provide a more cohesive, hyper-accurate weather forecast.
What's more, they have developed methods for interpreting data from microwave signals transmitted to cell phone towers and other wireless communication infrastructure into reliable information about atmospheric conditions.
This data can create a broader and more detailed meteorological picture than weather stations alone, leading to better forecasting that can help individuals and organizations prepare for impending climate events.
7. Controlling Precipitation: Cloud Seeding by Cloud Seeding Technologies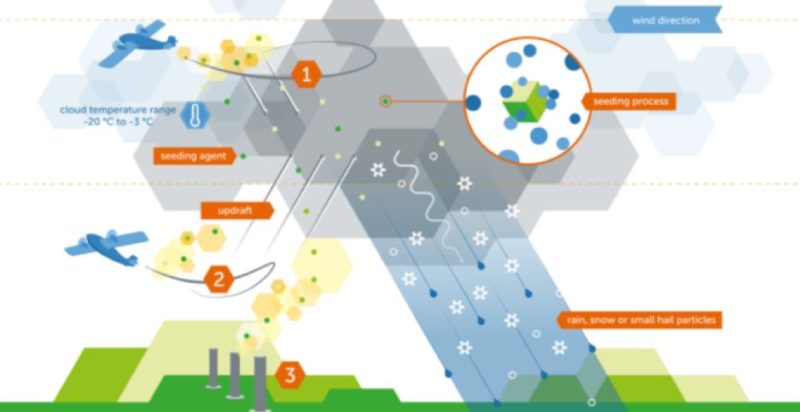 Cloud seeding is the practice of distributing particulate matter into clouds to cause rapid condensation that turns into rainfall. China famously seeded the clouds approaching Beijing before the 2008 Summer Olympics, ensuring that the rain would fall outside the city and leave clear skies for the opening ceremonies.
Needless to say, cloud seeding has far more consequential applications, such as relieving drought in rain-starved regions of the world. Cloud Seeding Technologies is developing more advanced, reliable seeding particles that can be used both to generate rain and snow and to reduce hail and fog. Deployed properly, cloud seeding can minimize flooding and weather damage in saturated areas and bring much-needed precipitation to drought-afflicted regions.
8. Geoengineering to Stop Arctic Ice Melt: Ice911

In Kurt Vonnegut's sci-fi novel Cat's Cradle, a chemical compound known as ice-nine freezes the world's oceans, causing unimaginable devastation. In the real world, where rising temperatures are melting polar ice caps and causing sea levels to rise, Ice911 might be the thing that saves us.
What they've engineered is an elegantly simple solution: tiny glass beads that reflect sunlight, keeping the arctic ice cooler and slowing its thaw. Made primarily of silica, Ice911's solution is chemical-free and safe for wildlife. It sticks to ice and water, causing the light that hits it to bounce back into space instead of heating up the underlying surfaces.
Protecting arctic ice would require deploying Ice911's beads at a massive scale, but the potential benefits could easily justify such a venture.
9. Custom Microbes to Reduce and Replace Carbon: Visolis
If we want to live in a world where carbon emissions no longer threaten our planet and health, we're going to have to step away from our dependence on carbon-based products and materials derived from petroleum. Take a look around at all the plastics in your home or workplace and that might seem like a far-fetched dream, but innovative minds are hard at work trying to find viable alternatives to petroleum-based byproducts.
Visolis is developing biologically-based molecules that can serve as the chemical feedstock for solvents, resins, polymers, fuels, and other materials. In time, their efforts might help to make non-biodegradable plastics a thing of the past.
10. Personal Sustainable Agriculture through Aquaponics: Aquaponics Design Co
Modern agriculture feeds the world, but the price we pay in water consumption, land use, and other environmental impacts cannot be brushed aside. If we want to continue to produce food in the quantities and varieties we've grown accustomed to, we have to figure out how to do so sustainably.
Enter aquaponics—a method of sustainable farming that utilizes a symbiotic relationship between aquatic plants and fish. In an aquaponics system, which can be scaled down to the size of a small aquarium, the plants provide food for the fish, the fish waste provides nutrients for the plants, and edible fish and vegetables are produced in a sustainable, cyclical system that minimizes water usage and carbon output.
Companies like Aquaponics Design Co are helping to design and implement aquaponics systems at both the individual level and for large-scale enterprises.
Conclusion
Climate change may be the great existential challenge of our era, and overcoming the threats it poses will require a wide range of solutions and adaptations across all industries, nationalities, and cultures.
There's no magic bullet that's going to save us from rising tides and warming temperatures, but the range of new and imaginative technologies being developed to combat these problems should give us some faith that the problems caused by human ingenuity can be solved by them, too.