Did you know that over 1 billion people use Instagram every month? That means plenty of opportunities for you as well, whether you're only using this photo app for fun or for business. Instagram has definitely blown up in the last couple of years.
In fact, it's a must to include Instagram in your digital marketing strategy, particularly for budding entrepreneurs. If you're a blogger or social media Influencer, increasing your influence in this platform will also prove to be highly beneficial later on.
But with the growth of your account comes more work. Of course, you can't leave followers hanging! Aside from crafting great content, you also shouldn't forget to follow new people, like their photos, or leave clever messages. It's all part of being a success.
How do you juggle all these while still being creative? Enter Instagram marketing tool Combin.
What Is Combin
Combin is an innovative tool that helps Instagram users manage and grow their accounts safely, and organically. It has all kinds of features that lets you search, filter, and engage with current followers AND potential followers in just a few clicks. With the aid of Combin, you cut your work time in half. This frees you up so you can do more of what your Instagram followers expect – amazing content.
Combin is compatible with Windows, iOS, as well as Linux devices. It's also safe and reliable. If you want to get started right away, their Starter Plan is FREE and gives you the basic tools you're going to need to begin managing your account with ease. No string attached.
Love what you see? For just $10 a month, their Personal Plan is great for either individual or business users, and lets you view up to 1,000 search results. Want to manage more than one account? Their Business Plan lets you handle up to five Instagram accounts!
How Does Combin Work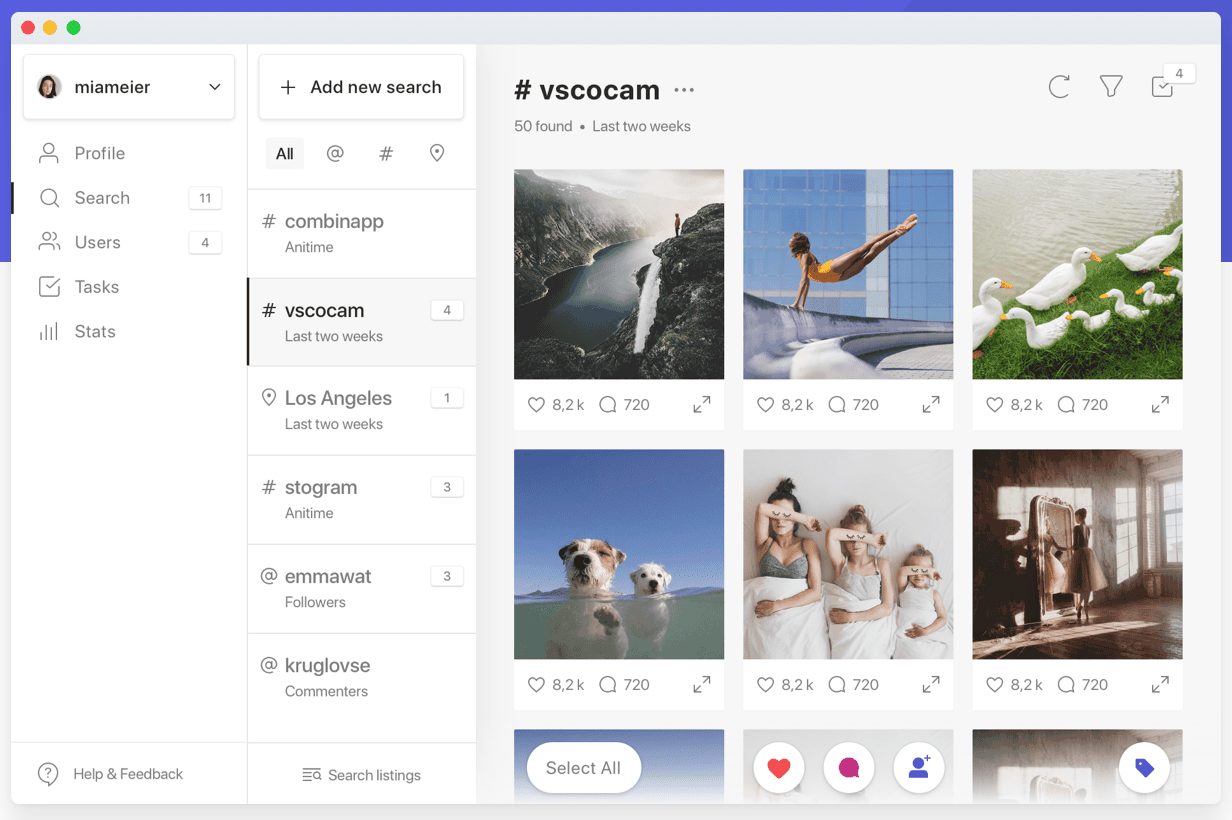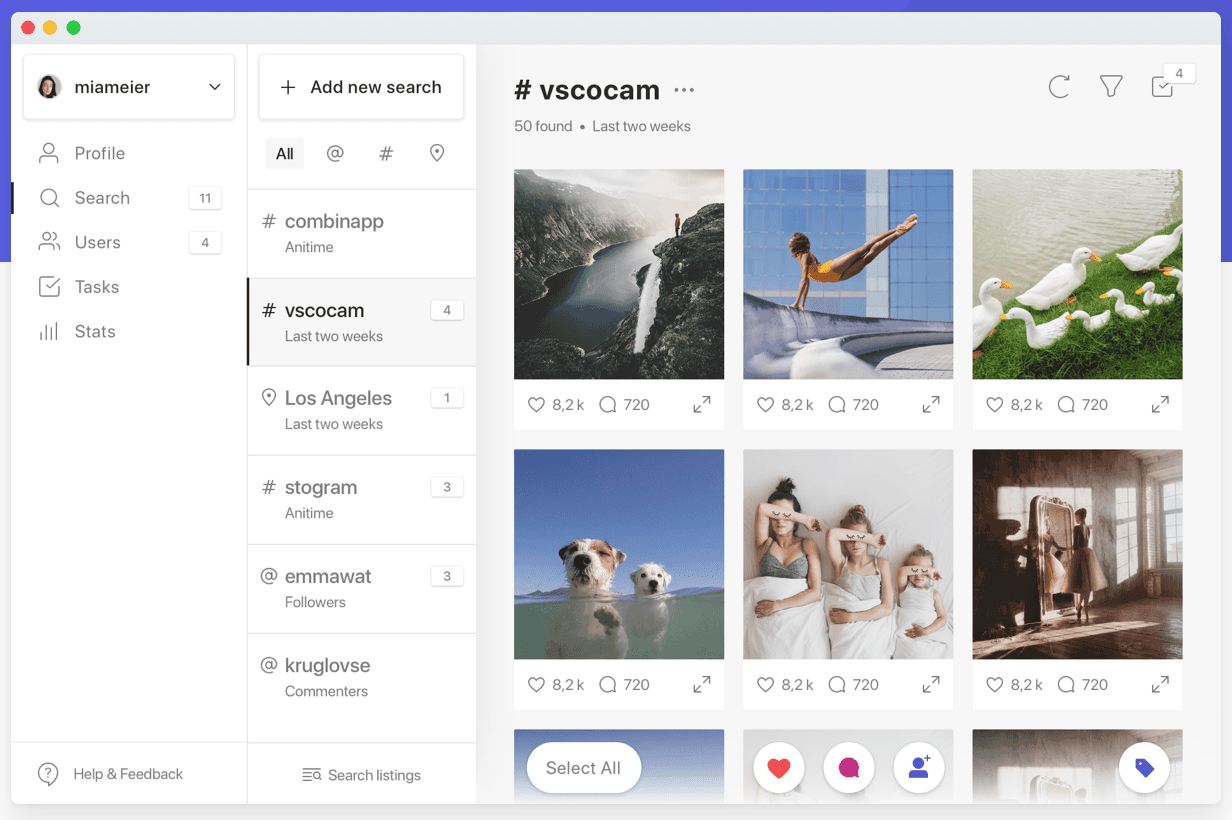 Combin is a user-friendly app that will help you manage and grow your Instagram account as well as assist in existing Instagram marketing plans.
Simply go to the webpage Combin.com, enter your email address, and download the app. Install it on your device and use your Instagram credentials to log in.
Once inside the application, you should be able to begin searching for users, or do batch actions, like liking several photos at once.
What makes this app unique is that it not only lets you search by hashtags, it also helps you look up content by Place or by Users. Sift through results by choosing how many items appear on your search results, and also by date posted (e.g. last week, last month, etc.).
From these results, you can get a glimpse of which Instagram accounts or content are a hit with your existing followers, as well as help you find potential followers that might be interested in content you already have.
Next, engage users with batch actions right on the platform. Pick specific users to Follow, or select all those that appear on your search results. Do the same for content. Like several photos, or select everything on your search results. Believe it or not, you can also do targeted actions, such as liking the last photo of your chosen users.
Love writing individual comments but don't have the time? Then use the app's comments template feature. From your search results, pick a couple of photos you want to post comments in, and the app will do the rest. Write as many ready-made comments for future use. Bookmark them to create a template you can pull up anytime for your convenience.
Indeed, Combin seems to be an app way out of its league. But it's really just a smart tool that's out there to enhance your digital marketing strategy and make life feel less regimented. At the end of the day, you're still 100 percent in-charge of everything on your account.
That's why it's safe and legit – because it's all about REAL effort from REAL people, like you!
More Reasons To Use Combin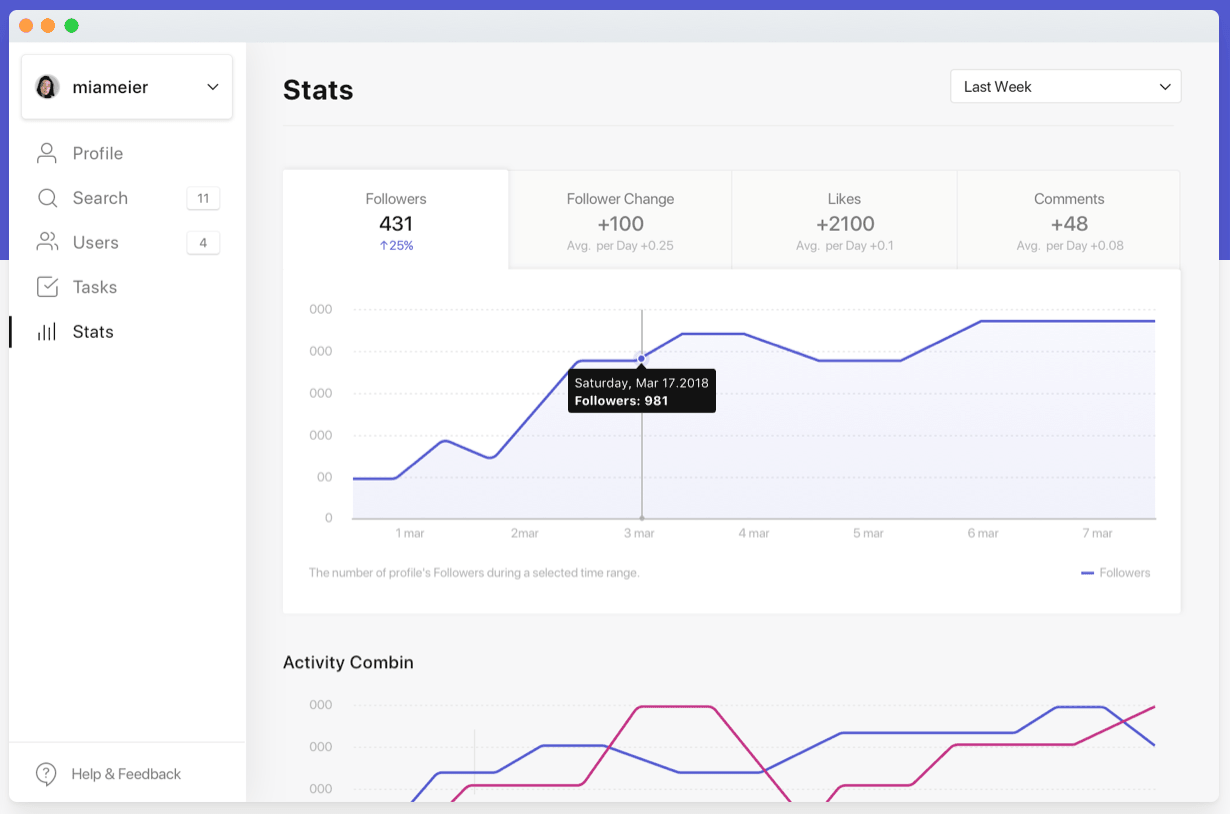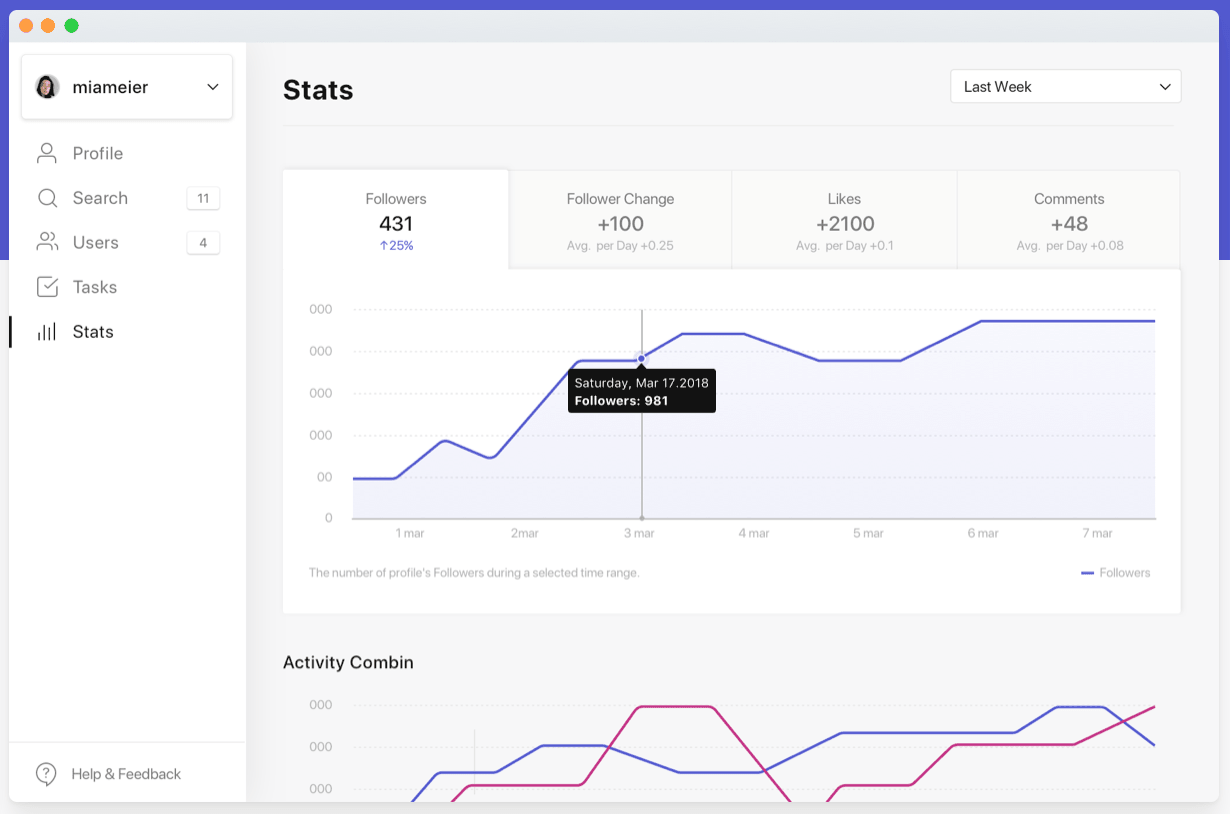 Combin is always innovating and improving their services. So in the future, you can expect more remarkable features such as Instagram Posts Scheduling, Instagram DM, and Auto-Tasks.
Instagram Posts Scheduling will allow you to queue content directly on the platform so they are posted at a preferred date and time. This will definitely be a huge time-saver, especially for Influencers and entrepreneurs.
Instagram DM and the Comments Inbox on the other hand, will let you see every comment and private message on Combin. That way, you'll never miss an important note or comment again! Reply to them immediately too, right on the app.
Got repetitive tasks you wish you could automate? Then you'll love their future service, Auto-Tasks. This feature will help you shave minutes off your daily Instagram routine by automating simple tasks such as liking, commenting, following, or unfollowing. You can even set it up to be done daily, weekly, or monthly.
How cool is that?
Ready To Try Combin?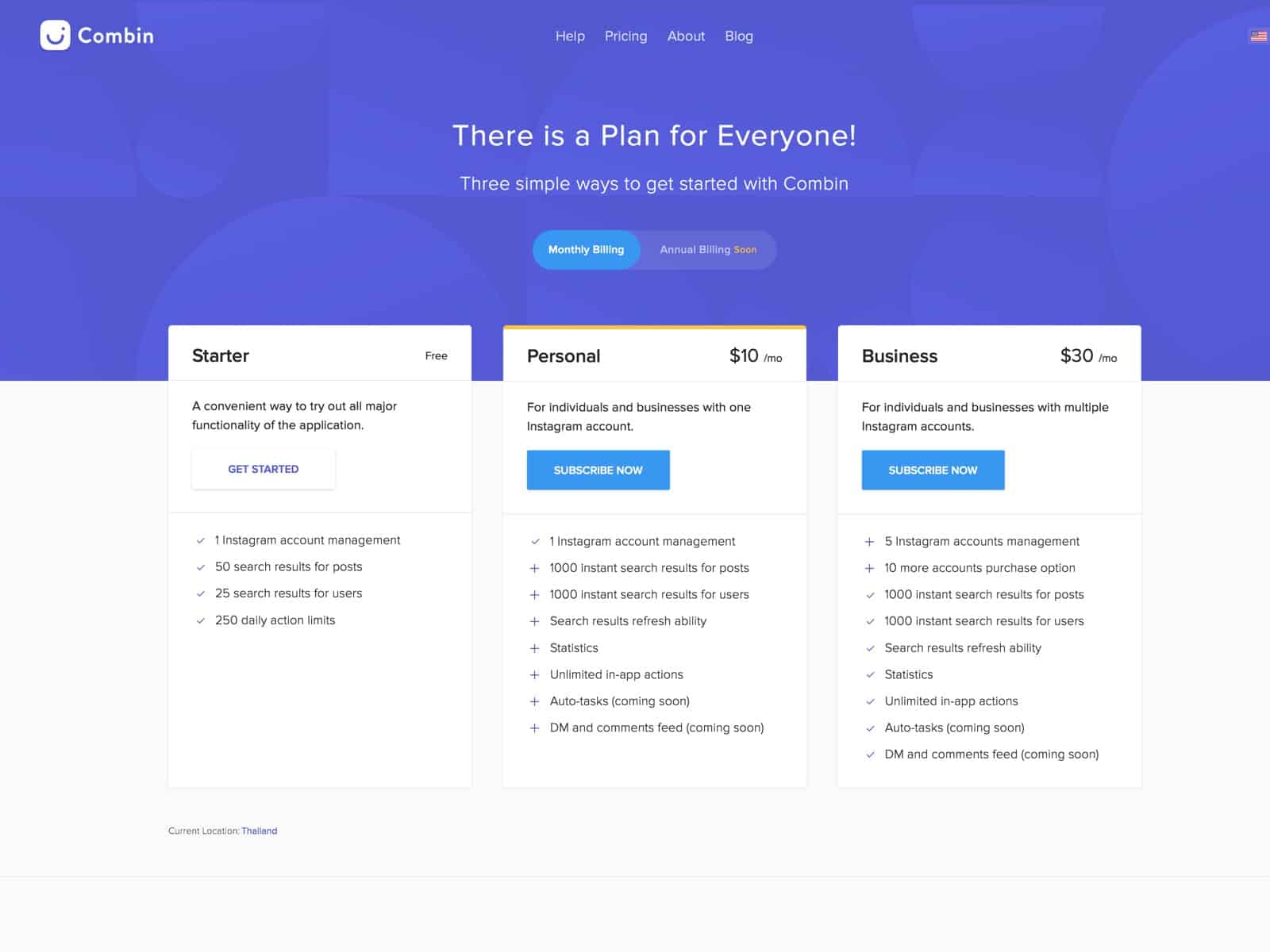 One can't argue that Instagram is one of the most influential social media platforms in the market today. From food, fashion, to travel, people love getting ideas from their favorite Instagram users. Even if you don't see yourself leveraging your account right now, anybody could use a bit of a help managing apps to free up more time in their hands.
Let Combin be your buddy when it comes to keeping your followers engaged. From winning over potential followers, to making sure you post that important comment on your friend's photo, this little app has got your back. By the time you reach out with your new product or idea, your Instagram marketing foundation is already solid.
See what Combin can do for you by downloading the app today!