UPDATED on 1/10/2022: We are no longer accepting any guest posts at this time.
Interested in writing an article or tutorial for us? Awesome! Contributors are always welcome here at Inspirationfeed. Our primary goal is to deliver the highest quality content for our community. The following guideline will provide you with all the information you need to help you get started with your article.
What are we looking for?
We receive a lot of submissions every day from companies, startups, and internet marketers. Some are brilliant, but some are awful. Let's go over what we are looking for, so you don't end up wasting your time.
1. We get emails & submissions which are completely unrelated to our niche. Please understand our website, the topics we cover, and our audience. We cover design, business, entrepreneurship, freelancing, applications, themes, SEO, Wordpress, social media, and other related topics. Do not try and submit something completely unrelated.
2. Our audience consists of creative entrepreneurs, designers, and freelancers looking to expand their mind and improve their skills. If you contact us and knowingly pitch something that isn't beneficial to our audience, we will ignore your email.
3. Remember to include links, pictures, and videos. Pictures and videos must be very high quality. They can make or break your product when it comes to product presentation. You may have the next best thing, but if you can't show off your product in a way which people can understand, they'll ignore it.
4. Have an app you want us to try? Include a promo code! We always love trying out new apps but if we have to fork out for every app we reviewed we'd be broke.
5. Please don't ask us if we're "interested" and expect us to reply. If you have an cool project, app, blog post, or anything else you'd like to share. Send us the link to it. We unfortunately don't have the time to reply back to every submission. Therefore you should provide all the possible information we would need.
6. Have a business opportunity? Please lay down specifics in your submission. Don't expect a reply if you specify nothing but then put something along the lines of 'reply back if you're interested' in your submission. Time is the most valuable resource in the world, especially when it comes to business.
7. Be concise as possible. Simplicity is the ultimate form of sophistication.
If you don't follow the tips above, your submission will be ignored. We know that may sound harsh, but if you don't respect our time, then why should we respect yours?
Requirements
Now that you got an idea of kind of content we are looking for, let's take a moment to go over the proper way of sending us your article.
Editing
We seek only the highest quality content. It is not our responsibility to edit your article for you. Before you send your article over, have a friend or colleague edit it. We expect content that is ready to be published right away.
Poorly written articles will be rejected. We won't bother emailing you back.
The article must match the quality of other posts on the site. Take a moment to visit our homepage and read an article for yourself.
The article must be at least 1,000+ words. We're not interested in articles that were half-assed, or slapped together in a few minutes.
Formatting
It's very important that you format your article to the following guidelines:
Break your sentences in paragraphs.
Use bulleted lists where possible.
Don't overuse bold and italic formatting.
For main headlines use H2.
For sub-headlines use H3.
Images
"What if I don't have images?"
Don't worry, we will make sure your article looks beautiful. 🙂
"I have my own images, what size should they be?"
If you are taking your own screenshots to illustrate the article, make sure the image width is at least 800px wide, and the height is at least 400px, when saving for the web in Photoshop, save it as a JPG image with 80% quality.
Make sure to name the images correctly giving descriptive titles:
bad example – pgffdgh4372e24352.jpg
good example – how-to-build-a-content-marketing-team-2016.jpg
To better convey the point don't forget to add a caption under the image.
For the featured image there are two options, cover image should be 1400 x 800px. Make sure the image is not distorted or disproportionally stretched.
Links
When linking out make sure the website you link to is credible and a trusted resource. Don't link out more than needed. We may have previously discussed a topic or you refer to in your article. An easy way to find content and keywords on our websites, is by using Google.
Example: site:inspirationfeed.com "keyword" in Google.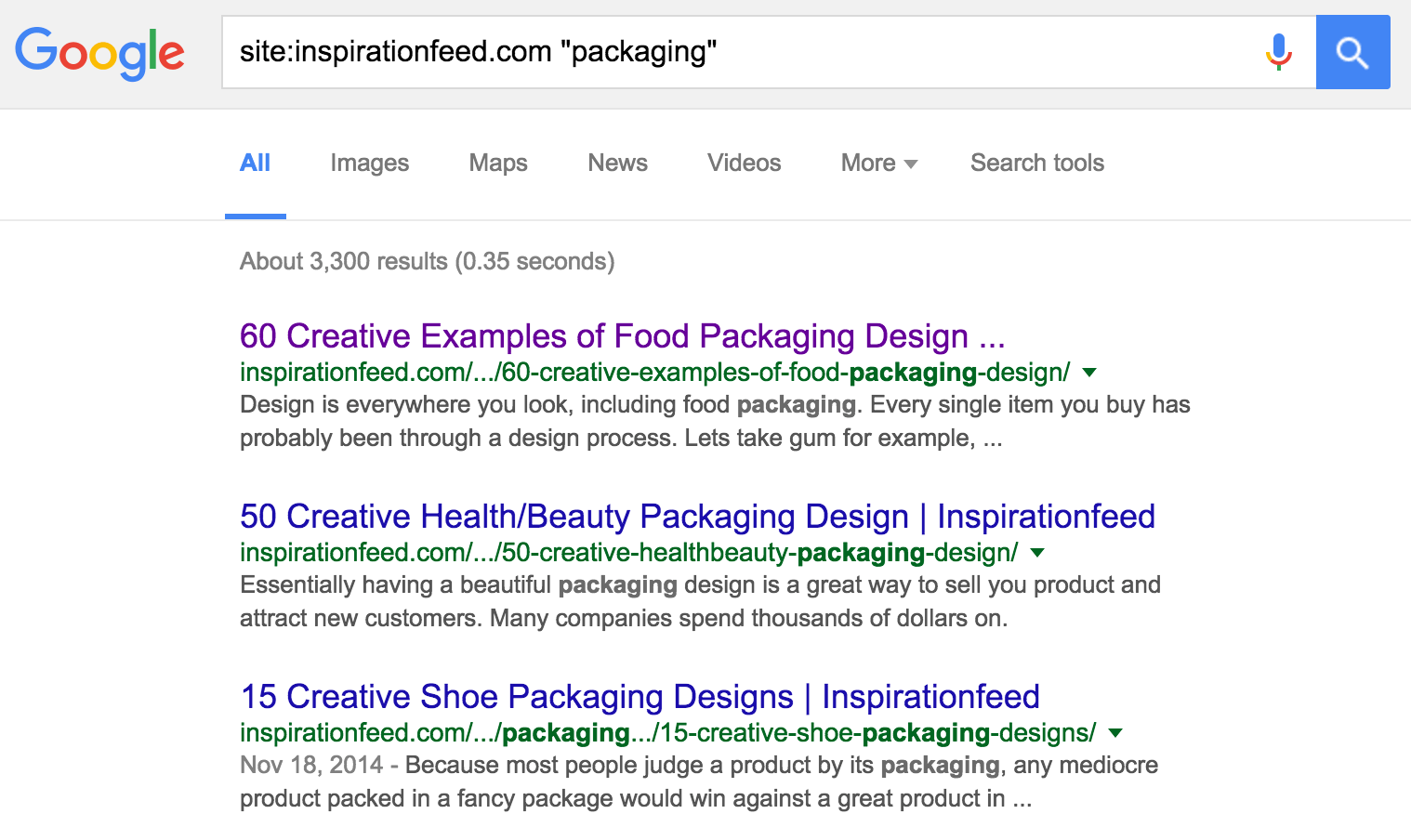 About The Author
We credit all authors. Your full name, picture, short biography, and links to your website and social media profiles.
Full Name: Your name that will be shown right after the article.
Email: Provide an email address registered with gravatar.com to be used for your author profile picture. Gravatar is a free service that will benefit any posts or comments you make on any blog, and show a small picture of yourself so people can easily identify you.
Bio: Short description of who you are and what you do (including links to your website and Twitter account).
Here is an example of what it looks like:

Benefits
Writing for Inspirationfeed is a great way to tell your story, share experience, get exposure, and help other designers, entrepreneurs, and creatives grow.
Your article will be featured for our entire community to see.
You receive an about the author profile (You can promote your own portfolio, website, along a short bio.)
You'll be giving back to the community by sharing your knowledge.
Submission
If you have a finished article that is ready to be published on Inspirationfeed, please send us .ZIP file containing your article, images, and short bio. If your article is accepted we will notify you when it will go live.
Your submission must be your original work and not published elsewhere.
Your submission must be edited prior to publishing.
Your article must credit all the sources.
Not all submissions will be accepted.
No ads disguised as guest articles, for advertising opportunities check out our Advertising page.
Note: We receive hundreds of submissions and it's impossible for us to get back to everyone. If you don't follow our directions, your email will be ignored.
The subject line should be: Article Submission