Marketing tools come and go; this can make it difficult for marketers to know which platforms to prioritize and which ones are just a passing trend. Nowadays, with long-form content dominating SEO rankings, brands are jumping on the chance to create longer content to promote their ideas and establish themselves as thought-leaders in their industries.
That's where Medium.com comes in. It began as a platform for writers to share their work, but quickly caught the attention of marketers as well as business owners as a tool to complement their content marketing strategy, helping them reach new audiences. When done right, using Medium can promote your brand, get fresh eyes on old content, and help drive traffic to your most important pages.
This self-publishing platform was launched in 2012 by Twitter co-founder Evan Williams. They recently announced new updates to its partner program that pays writers to self-publish members-only content on the site. Since launching, it has become one of the top 200 sites in the US, boasting nearly 80 million monthly visitors.
While writers are hopping on board to earn some extra income, some business owners still see the platform as another trend in the ever-changing social media landscape. However, by taking a bit of time to create the right strategy, businesses can use Medium's high volume of traffic and wide range of readers to leverage their content as well as meet their marketing goals.
Why publish on Medium?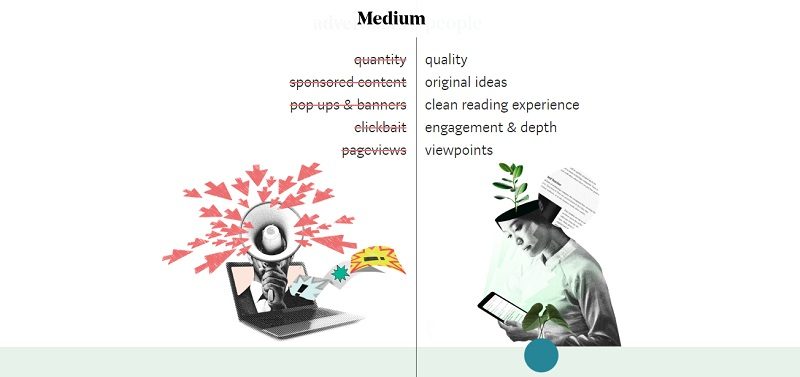 Medium's website design and user-friendly interface is applicable to all. That's why it has plenty of traffic: from everyday readers to niche publications looking to syndicate existing content. Medium is also a great platform to produce original articles and expose your ideas to a worldwide audience.
But you might ask: "If I already have a blog, why would I publish content on Medium?"
Marketers are using this platform to make the most out of their digital strategies. The correct use of Medium can offer plenty of potential benefits to your business. Depending on your goals, it can serve as a marketing tool aside from being a publishing platform.
Articles about business, marketing, tech, and self-development perform especially well on the platform as Medium's audiences are usually made up of entrepreneurs and industrial leaders. Notable publications include: Hackernoon, The Startup, and The Mission.
They have thousands of followers as well as email subscribers, who help generate a substantial amount of engagement on their posts. These publications crowdsource content from users. If you want to become a contributor, it's relatively simple to apply and create your profile.
Using links and CTA's to drive traffic to your pages
When writing articles, there's always an opportunity to drive traffic to your sales or landing page. Given Medium's high traffic and massive user base, creating content with specific calls to action (CTA) can drive visitors from your post to a particular source.
This can create an opportunity to capture leads by asking readers to subscribe to an email list, download something of value, or sign up for an event related to your topic. Aside from CTAs, adding links within your story to other relevant content from your site will entice readers to know more about you and your business.
To get more value, you can add PixelMe links to the article. This allows you to collect information from people who have clicked your links within Medium, and then re-target them with ads on Facebook.
Starting a publication to crowdsource content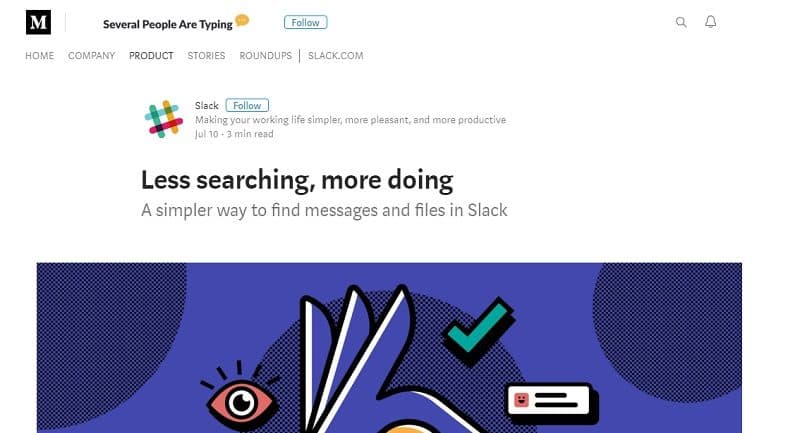 Companies like Slack and Kickstarter house their entire blogs on Medium instead of hosting them on their website. As Medium has a considerable population of tech and business enthusiasts (among hundreds of other niches), it creates the perfect market for such content.
Once you've created your publication, be sure to register it on Smedian to allow writers to quickly apply and submit their content. Publications form a mutually beneficial relationship for writers and owners – owners have a steady flow of material, while writers get exposure from the publication's followers.  
Through your Medium publication, you'll also have the opportunity to create an email newsletter and reach your audience directly in their inbox. This allows you to nurture them for future offers. Starting a publication can position you as an authoritative figure in your niche, grow your community, and build awareness among people who have yet to know your brand.
Whether you're an individual or a brand, starting a publication on Medium can jumpstart your community, which you can eventually convert into leads or sales.
Republishing content for a new audience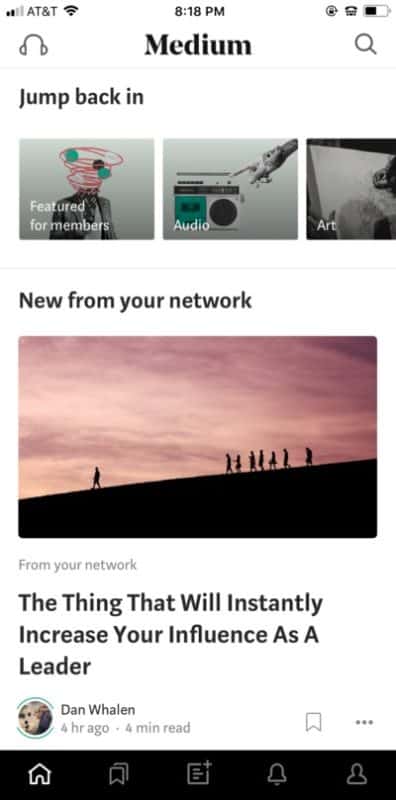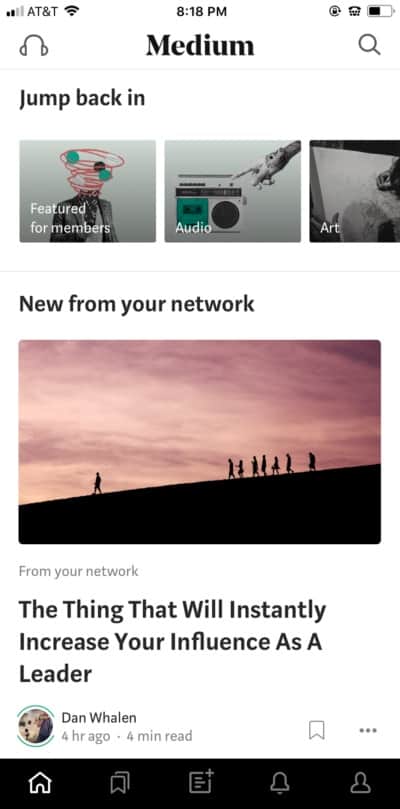 Republishing or syndicating your content to Medium can help it get more views. This works well if you have posts on your blog that are not doing well, or old, evergreen content that you want to gain more exposure for.
A lot of companies choose to syndicate their content to Medium. If you have a WordPress site for instance, this process is made simpler when you use Medium's plugin for WordPress. This gives you the option to publish new WordPress content to Medium automatically.
As Medium codes the articles in a way that tells Google it's likely to be syndicated, there's no need to worry about penalties because the search engine will recognize the duplicate content.
Don't forget SEO even when you're syndicating content. If you want your website content to rank exclusively, then consider using non-canonical tags in your syndicated posts to retain original SEO rankings. But because Medium has a high domain authority, posts on the platform will likely rank higher than the content on your website (if you are using the same title and keywords).
Another strategy is using Medium to create roundups of existing blog content, with links to the original site. Do this by creating a post on Medium that features a summary or 'sneak peek' at the content already published. Then link it to the original article or story hosted on your website.
You'll drive traffic back to that original post and make your content more accessible to Medium readers. Again, you're using Medium's reach and marketing features to expose your brand to new audiences in your industry.
Reaching new audiences in your industry
Medium's ever-changing algorithm is always working to show it's users the type of content they want to see. This means that even though someone isn't your follower or subscriber, using the right tags on your posts boosts your content enough so the right people see it. These are a few of the most searched tags on the platform: startup, life, politics, life lessons, travel, entrepreneurship, education, technology, business.
Keep in mind that the algorithm could change – and it does change – regularly. Since revealing the newest version of their Partner Program, Medium has made a noticeable shift to promote Members Only content that lives behind Medium's paywall, causing a lot of frustration to users who don't want to join the program or earn money for their content.
That being said, Medium's organic reach is still substantial, whether the algorithm favors your content or not. The platform is full of success stories of people who have grown their audiences, communities, and personal brands by publishing content on Medium. As with any platform, consistency is key, along with keeping your audience engaged with quality content.
Conduct your own internal content audit to see what your audience is engaging with most. Then use that information to drive your strategy by creating more of what you know your audience wants to see.
The platform isn't perfect. There will always be downsides to publishing content on a platform you don't control. This is why a lot of businesses are using it as a complement to their strategy, without putting plenty of high of expectations on the results.
It may take some trial and error to figure out how Medium can work best for your goals. Once you get past the initial learning curve though, the site will prove itself as a promising source of traffic and exposure for companies across many industries.