Last Updated on January 24, 2022
Who Is Guy Fieri?
Guy Ramsay Fieri (né Ferry) is an American restaurateur, chef, author, television presenter, and game show host.

As a restaurateur, Guy Fieri co-owns three restaurants based in California, in addition to his own personally branded restaurants in New York City and Nevada. He has also lent his name to sauces and several other merchandises.

On television, Fieri is best known as one of the most popular personalities on the series The Food Network. By mid-2010, he had become the face of the show.
Quick Facts
| | |
| --- | --- |
| Full Name: | Guy Ramsay Fieri |
| Popular Name: | Guy Fieri |
| Gender: | Male |
| Birth Date: | January 22, 1968 |
| Age: | 54 years |
| Parents: | Lewis James Ferry and Penelope Ann Price |
| Siblings: | Morgan Fieri |
| Birth Place: | Columbus, Ohio |
| Nationality: | American |
| Ethnicity: | Italian, Scots-Irish, and English |
| Education: | American River College and University of Nevada – Las Vegas |
| Marital Status: | Married |
| Sexual Orientation: | Straight |
| Wife/Spouse: | Lori Brisson |
| Children: | Hunter Fieri and Ryder Fieri |
| Dating: | N/A |
| Net Worth: | USD 25 million (as of August 1, 2021) |
| Source of Wealth: | Restaurateuring, Television Presenting, Game Show Hosting, Writing, Endorsement Deals, and Other Ventures |
| Height: | 5′ 10″ (1.78 m) |
| Weight: | 85 kg; In pounds: 210 lbs. |
Early Life and Career Information
Guy Fieri was born on January 22, 1968, in Columbus, Ohio, to Lewis James Ferry and Penelope Ann Price.

Fieri developed culinary interests while in high school. At the time, he was a foreign exchange student based in France. He sold pretzels off his Awesome Pretzel cart, as well as washed dishes to fund a study trip to France.

Upon returning to the US, Fieri landed a restaurant job at the Red Lion Inn based in Eureka, California. He later attended college in Las Vegas before proceeding to the University of Nevada – Las Vegas, where he graduated in 1990 with a Bachelor of Science in Hotel Management.

Shortly after graduating from university, Guy Fieri worked as a manager of a restaurant located in Long Beach, California, known as Parker's Lighthouse. Three years later, he was hired as the district manager of Louise's Trattoria, overseeing six locations in addition to conducting recruitment and training of the restaurant's staff.

In late 1996, Guy Fieri teamed up with Steve Gruber to open a restaurant known as Johnny Garlic's in Santa Monica, California. Over the next twelve years, the restaurant opened in other locations, including Windsor, California in 1999, Petaluma, California in 2000, and Roseville, California in late 2008.

In 2012, Fieri opened his first New York City restaurant in 2012, called Guy's American Kitchen and Bar. Two years later, he opened his first Las Vegas restaurant, called Guy Fieri's Vegas Kitchen and Bar. In 2018, Guy opened Chicken Guy! at Disney Springs in Orlando, in partnership with Robert Earl of the Planet Hollywood franchise.

On television, Guy Fieri's big break came on April 23, 2006, after winning the second season of The Next Food Network Star.

Soon after winning The Next Food Network Star, Fieri joined the Food Network series and on June 25, his first episode, known as Guy's Big Bite, premiered. Guy's Big Bite went on to air more than 190 episodes across 13 seasons, with the show's most recent episode airing on November 16, 2016. Fieri has since followed up with several other television series, including Diners, Drive-Ins and Dives, Ultimate Recipe Showdown, Guy Off the Hook, and Guy's Family Road Trip.

As a game show host, Guy Fieri is mostly remembered for hosting the Minute to Win It. The show premiered on March 2010 but only aired for two seasons due to high production costs.

Fieri has also authored and co-authored several cookbooks, most of which ended up becoming New York Times bestsellers. Some of his books include:

• Diners, Drive-ins, and Dives: An All-American Road Trip … with Recipes!
• More Diners, Drive-ins and Dives: Another Drop-Top Culinary Cruise Through America's Finest and Funkiest
• Guy Fieri Food: Cookin' It, Livin' It, Lovin' It
• Diners, Drive-Ins, and Dives: The Funky Finds in Flavortown: America's Classic Joints and Killer Comfort Food
• Guy on Fire: 130 Recipes for Adventures in Outdoor Cooking
• Guy Fieri Family Food: Kitchen Tested, Home Approved
Guy Fieri's Net Worth
As of August 1, 2021, Guy Fieri had a net worth of $25 million. A huge chunk of his wealth comes from his restaurateuring and television careers.

Over time, Fieri has been able to establish highly profitable restaurants across the US. He also makes money off his personally branded products like sauces, as well as from culinary tours.

Guy Fieri also owns his own wine label known as Hunt & Ryde, which is named after his two sons.

Advertising and endorsement deals is another way Guy Fieri has earned his millions. Fieri has appeared in promotions for the California-based auto exhaust parts manufacturer, Flowmaster. Between 2008 and 2009, he was the official spokesperson for T.G.I. Friday's and in 2010, he was featured in a commercial for Aflac.

Having authored a couple of New York Times bestsellers, it's logical to imagine that Guy Fieri also makes millions in book royalties.
Lessons from Guy Fieri
1. You don't need to be a certified professional to make it in life

Guy Fieri didn't attend any culinary school. Regardless, he went on to become one of the world's most celebrated chefs.

2. Keep pushing yourself

Fieri is not the type of investor who wallows in the comfort zone. As soon as he opened one restaurant, he went ahead to establish several others in different locations.

3. Love what you do

Guy Fieri is a passionate chef whose love for his job is evidence across all the food-based television series that he has hosted.
Famous Quotes by Guy Fieri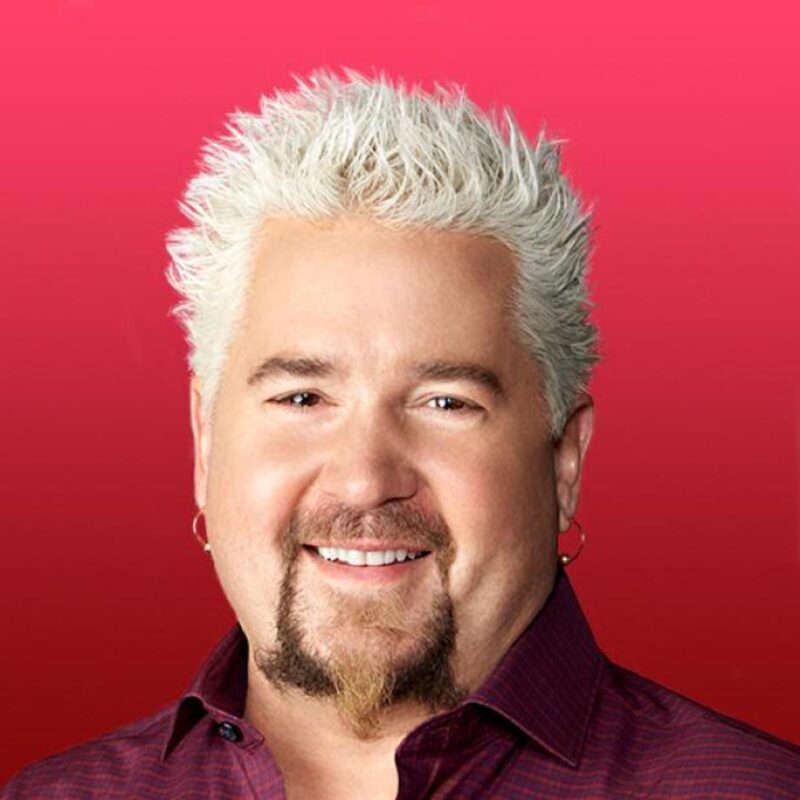 "I don't know if it's fair to call their Russian dressing Russian dressing — it should be called something sexy, like liquid Moscow."
"I'm a five-seasons griller… I don't care what the weather is like. My hair is impervious to any kind of dampness, so I don't have too much to worry about."
"If it tastes really good and it's funky, it's funkalicious."
"If you're cooking and not making mistakes, you're not playing outside your safety zone. I don't expect it all to be good. I have fat dogs because I scrap that stuff out the back door."
"Peace, love and taco grease!"
Final Word
Guy Fieri is an accomplished investor, with tons of successful restaurant chains to his name. Thanks to his resilience and enterprising spirit, Fieri has been able to establish numerous profitable ventures as well as hosted several critically-acclaimed television shows.