Habit tracking refers to a simple process whereby you measure your behavior over a given period of time. You can track your habits daily, weekly, monthly, or even yearly. Habit tracking serves various fundamental purposes.
First, it enables you to monitor the progress you're making with a habit to ensure you maintain your streak. By consistently tracking a habit, you can easily establish whether you're putting in enough effort to achieve your desired goals or not. Secondly, habit tracking comes with a sense of fulfillment in the fact that you can record your own success. Most importantly, it's a practical technique of acquiring a new behavior or getting rid of an undesired one
The following are some of the common habits people track;
• Working out,
• Taking meditation,
• Going to sleep/Waking up at specific hours,
• Healthy dieting,
• Drinking water,
• Yoga and meditation,
• Calling friends,
• Traveling to new places,
• Avoiding drugs/alcohol,
• Reading the Bible, etc.
There are numerous ways to track your habits. You can go the old-fashioned way of pen and paper, where you make notes of your habits in a diary or journal. If you're looking for a bit more visual appeal, you might consider tracking your habits on a spreadsheet. Lastly, there's the option of apps. Habit tracking apps are the most convenient way of monitoring your progress with a habit, as you don't necessarily need to make entries manually.
Now, the app market teems with thousands of habit tracking tools. However, knowing which software delivers on its claims may be a bit challenging, especially if you don't understand the features to look for in a habit tracking tool.
This article shall review the ten most innovative habit tracking apps ever designed.
10 Best Habit Tracking Apps
Formerly known as Habit Bull, Habit Tracker is a habit tracking software that comes with a sleek and user-friendly interface, making it ideal for people who love minimalistic layouts. The app's name change from Habit Bull to Habit Tracker came with plenty of other upgrades.
You can now enjoy a reporting section for average trends on any of the habits you're presently tracking. You also get a separate GUI for days in which you've marked your habits as Done, Skipped, or Value Not Entered. And to spice up your experience, Habit Tracker displays random quotes whenever you start the app for the first time each day.
Coach.me is presently only available for iPhone users. But don't let that discourage you from using it to track your habits, as the app comes with plenty of other redeeming features. First off, Coach.me is designed like a social media website, with an intuitive and user-friendly dashboard as well as a very helpful community.
Also, the app not only tracks your habits but also helps you to nurture leadership skills as you pursue your personal goals. To that end, Coach.me lets you follow a leader whose coaching style you love. And if you're no longer interested in a leader's coaching and management style, you simply unfollow them.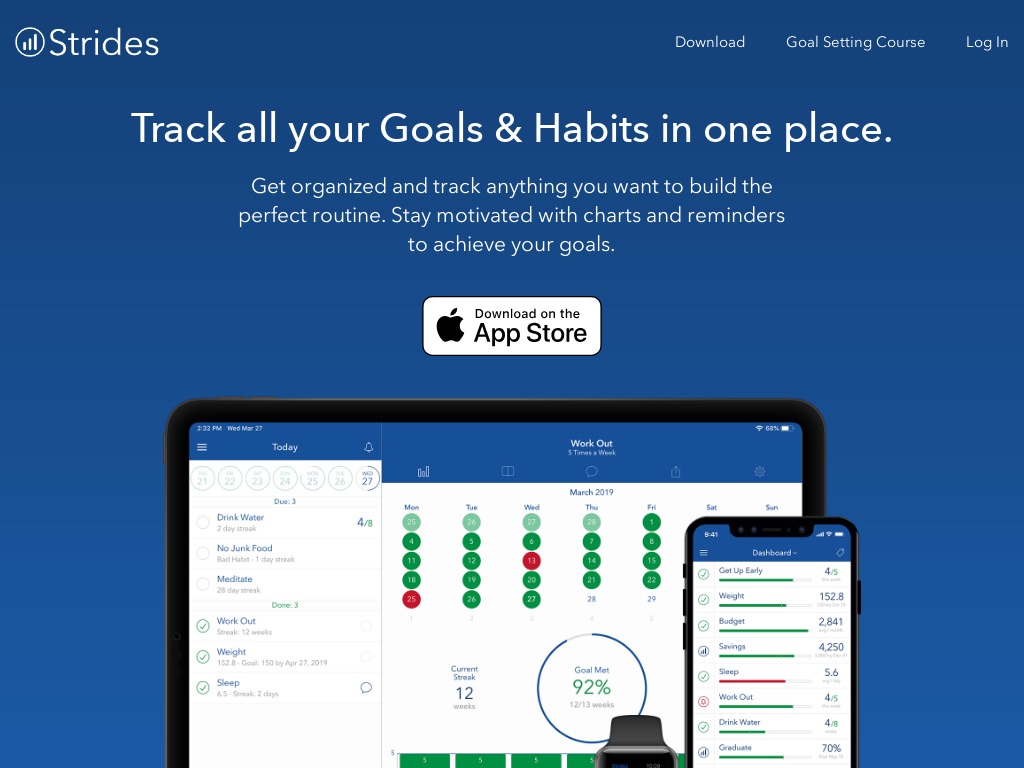 Like Coach.me, Strides is currently available only on the App Store, but there are plenty of reasons to download and install the habit tracking software. Strides comes with a clean and professionally-designed user interface. The app allows you to set up and track your habits as streak goals, or as Yes or No.
Secondly, there's the option of setting quantity goals, which is recommended for habits that you want to do a given number of times, such as flossing in a day. And finally, you can also track an "average" for your habits. For instance, you can choose to call your friends 21 times a week but not necessarily 3 times every day.
Habitica is not primarily a habit tracking software. Instead, it's an RPG that comes with built-in habit-tracking features. Being an RPG makes it especially ideal for video gamers. The app is not only easy but also fun to use.
As you complete your goals, you seamlessly accumulate stats to be used by an avatar in the game. Some of the things the avatar can do with your stats include joining parties, acquiring new gear, and going on quests. Habitica ensured that the performance of the gaming character depends on how you fare with your habits. And that gives you the impetus to complete more goals.
One of the most outstanding features of Beeminder is the fact that it incorporates incentives to help you track your habits. On the same breath, it slaps you with a penalty, known as a pledge, each time you fall short of your goals. That way, the app allows you to monitor good habits while also helping you to get rid of undesired ones.
Beeminder is designed with lots of features related to money matters, making it a perfect fit for entrepreneurs or people who wish to track their spending and saving habits. The software provides quantifiable data that captures the trends for each habit, which you can follow through graphs.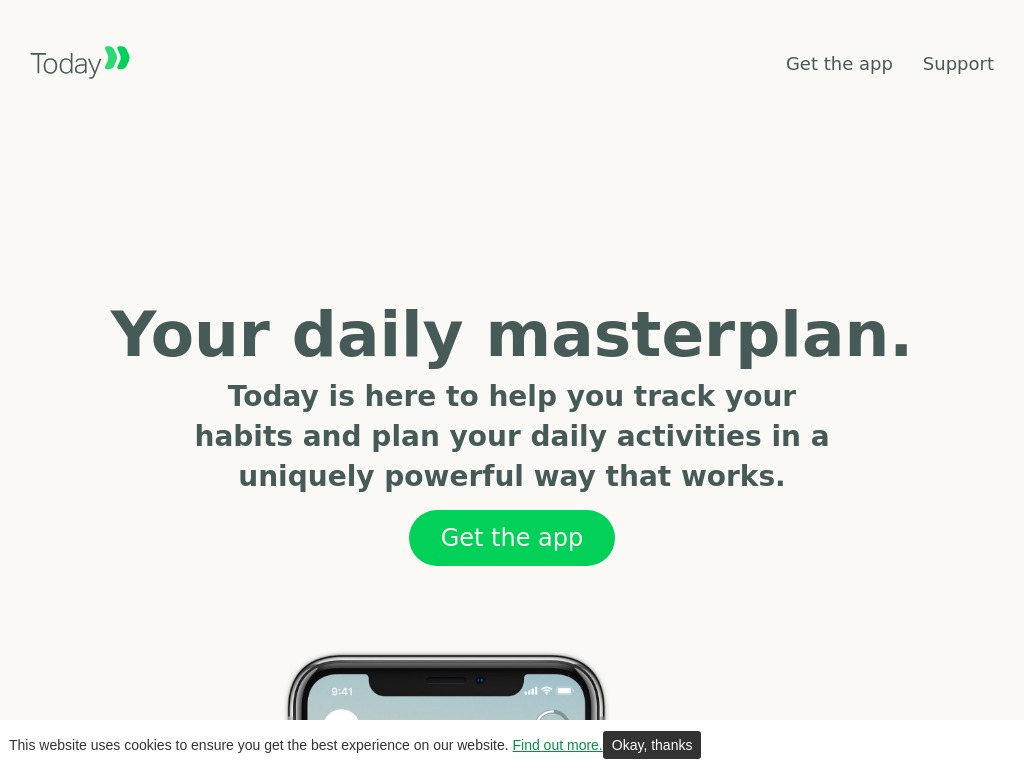 If you're looking for an innovative habit tracking software that comes with aesthetic appeal as a bonus feature, then your search ends with Today. With this app, you can custom cover images for each of the habits you're tracking, which makes the experience more realistic. There's also the option of adding "Custom Cards" to your habits. This is useful if you're looking for extra context on the progress with your goals.
Today is also one of the few habit tracking tools out there that lets you personalize the dashboard of your habits. The software comes with a streak calendar to help you monitor your progress, and it awards you a badge each time you complete a goal.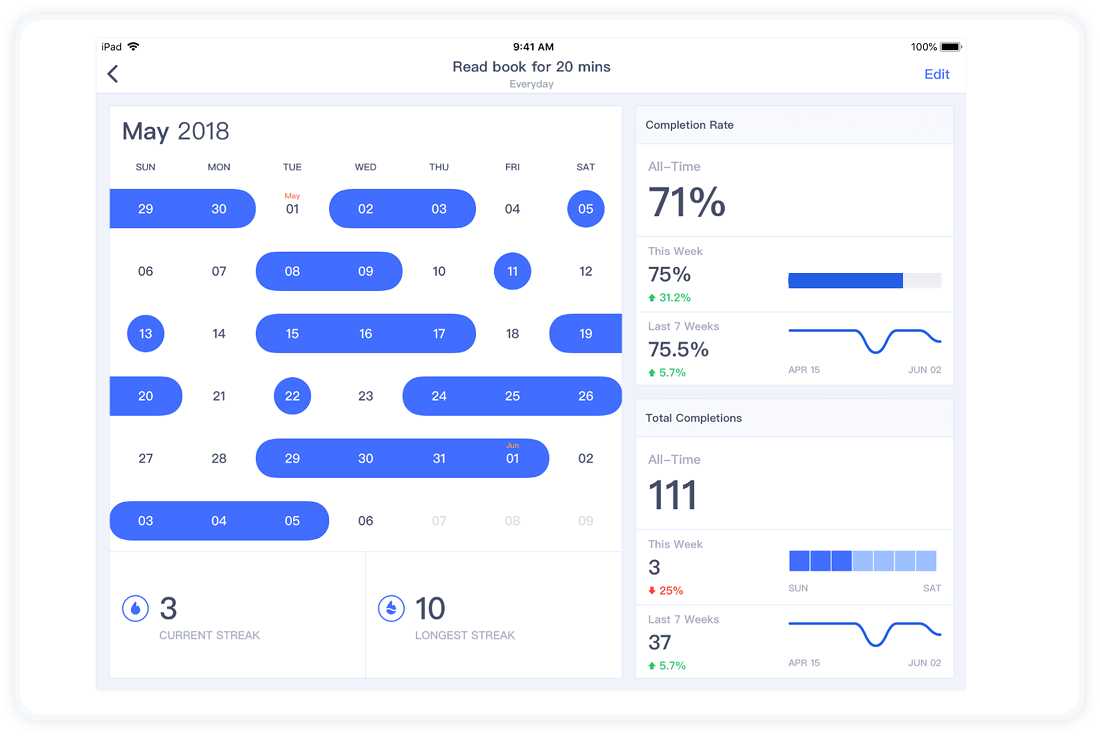 Habitify is compatible with Android, iOS, and Mac, which makes it one of the most flexible habit tracking tools. Along with that flexibility comes a cocktail of other features. Besides its basic habit-tracking functionalities, the app comes with a Dark Mode that reduces the glare, thereby relieving strain on your eyes.
Another great thing to love about Habitify is that it shows you the tasks you need to complete sooner, making it ideal for on-the-go users. All data relating to your habit is displayed in cool charts and graphs. The only drawback to this app is its limited customization features.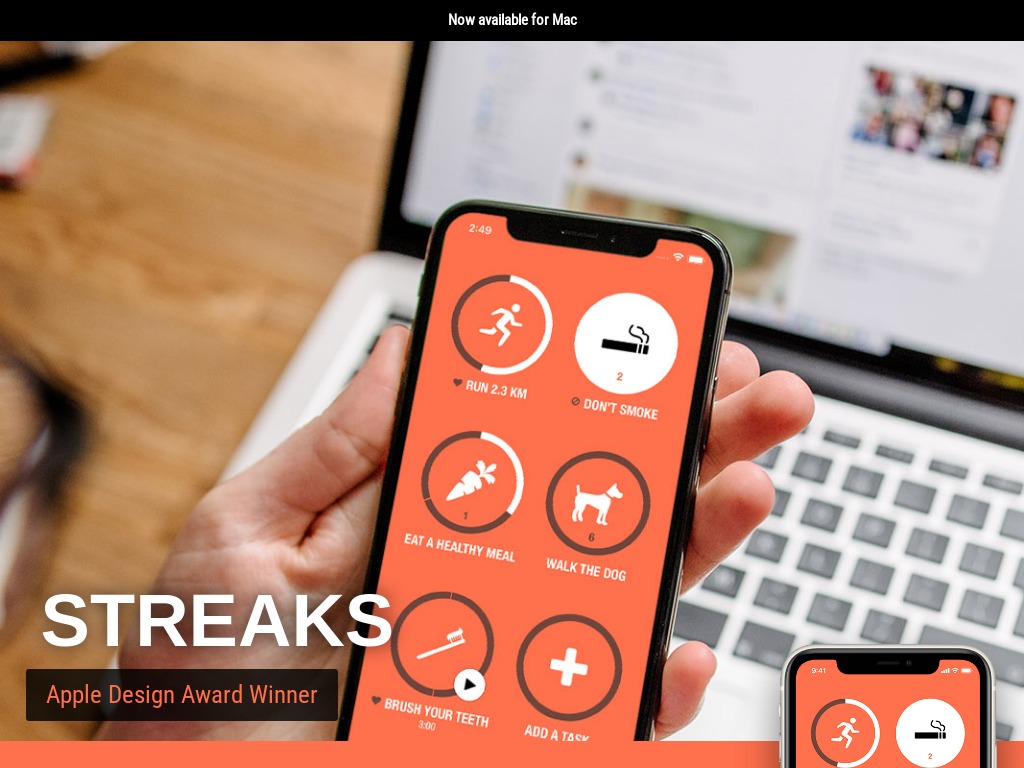 Streaks lives up to its name. The habit tracking tool is designed to work like a chain, where it gets longer and more exciting as you complete your goals. However, the moment you fail with a habit, your streaks reset to zero. If you're looking for a habit tracker that will challenge you to set your goals and follow through with them, this is the app to install.
Basically, Streaks tracks multiple habits at once. You simply choose the habits you want to form or get rid of. Then, you set the number of times you want to do them within a week and let Streaks do the rest. The app uses cool icons, a colorful dashboard, and also integrates with Apple Health.
One of the unmissable features of Aloe Bud is its retro pixel design. And when it comes to functionality, Aloe Bud also lives up to the task. The software allows you to track numerous daily habits, ranging from simple goals like breathing and drinking water.
To make your habit tracking hassle-free, Aloe Bud uses cozy reminders that are located on your iPhone home screen. The best part is that the tracker sends the notifications even when your phone screen is off, helping you not to fall behind with your goals. There's a dedicated section on the app where you can monitor all your habits.
StickK is a brainchild of behavioral economists at Yale University, which speaks volumes about how innovative and effective the app is. As soon as you sign up, the app requires you to create a special commitment contract with yourself and the tracker, that you'll always reach your goals.
And there are numerous incentives to help fuel your motivation to succeed. You can bet money on yourself or assign a third party the role of checking your data to ensure you're always on track. Other things to love about SickK include its minimalistic design, cool layout, and user-friendliness.
Conclusion
Finding an ideal habit tracking app is nearly as difficult as the actual process of tracking your habits. However, the apps we've reviewed here are an excellent place to start your search for a suitable software that will help you monitor your habits efficiently.