In today's comprehensive Hankotrade review, we'll delve into the various aspects of Hankotrade to help you make an informed decision about whether it's the right platform for your trading needs.
Hankotrade is an online trading platform that offers access to a wide range of financial markets, including stocks, forex, cryptocurrencies, commodities, and indices. It was founded with the aim of providing traders with a seamless and efficient trading experience.
Let's explore the key features and offerings that set Hankotrade apart.
Asset Diversity
Diversification is a key principle in trading and investing, and Hankotrade recognizes this by offering access to a wide array of assets. Whether you're interested in trading stocks of well-known companies, forex currency pairs, cryptocurrencies like Bitcoin and Ethereum, or commodities such as gold and oil, Hankotrade has you covered.
Having a diverse set of assets at your disposal can help you spread risk and potentially enhance your trading opportunities. Hankotrade's asset selection is on par with some of the leading online trading platforms in the industry.
Trading Tools and Education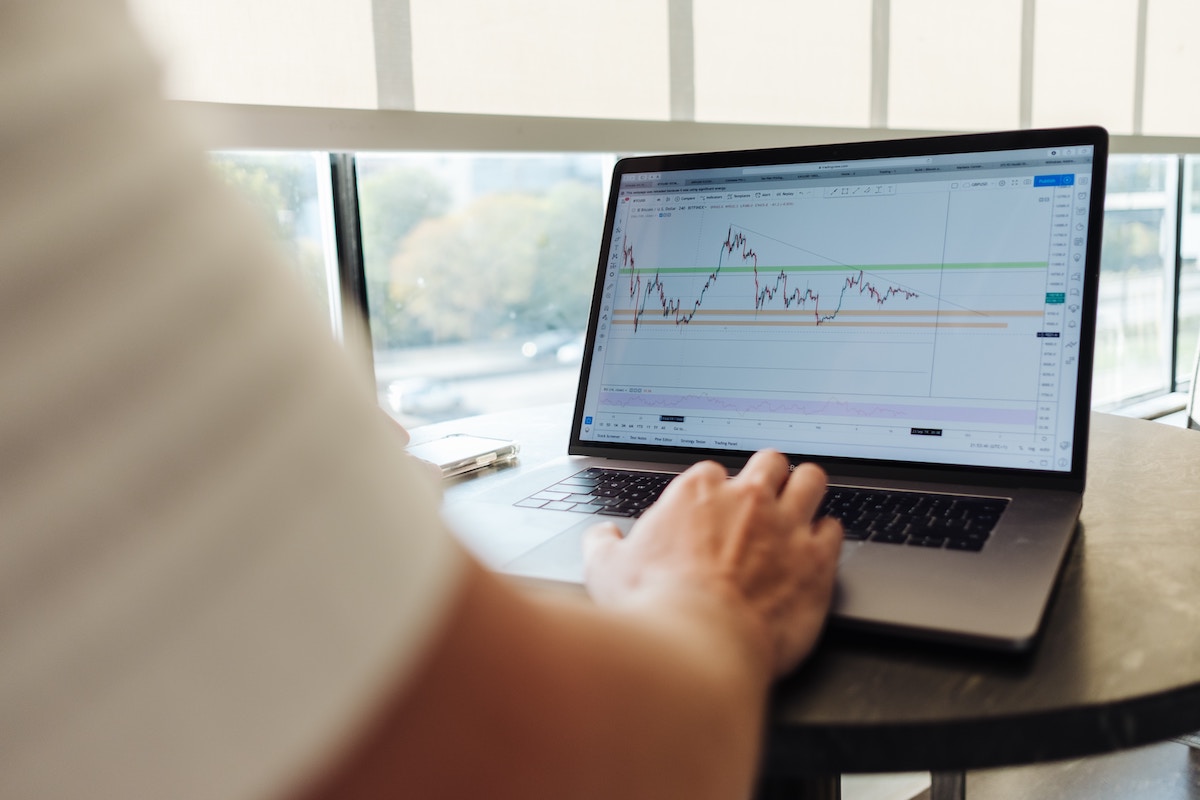 Hankotrade equips its users with a suite of practical trading tools that can enhance their trading experience. These tools encompass essential resources such as forex calculators, which aid in calculating various aspects of forex trading, enabling traders to make informed decisions.
The platform also provides access to an economic calendar, a valuable tool for staying updated on important economic events, announcements, and data releases that can impact financial markets. Traders can use this calendar to plan their trading strategies and stay ahead of market movements.
Additionally, Hankotrade offers a VPN service, which can be particularly beneficial for traders concerned about online security and privacy. A VPN (Virtual Private Network) can help safeguard sensitive trading information and ensure secure access to the platform from different locations.
However, it's important to note that as of the current offering, Hankotrade does not provide any educational content. While it provides these practical trading tools, it does not offer educational resources such as video tutorials, webinars, or articles on trading strategies and market analysis to help users learn or improve their trading skills.
Hankotrade Trading Account Types
Hankotrade offers various account types to cater to the diverse needs of its users. The most common account types include:
STP Account
The STP account is the basic trading account requiring a minimum investment of just $10 to get started. The spreads on this account begin from 0.7 pips. The best part about this Hankotrade account is that it is commission-free. The broker won't charge a dime of commission on your trades. Traders can also enjoy a leverage of 1:500 on this account.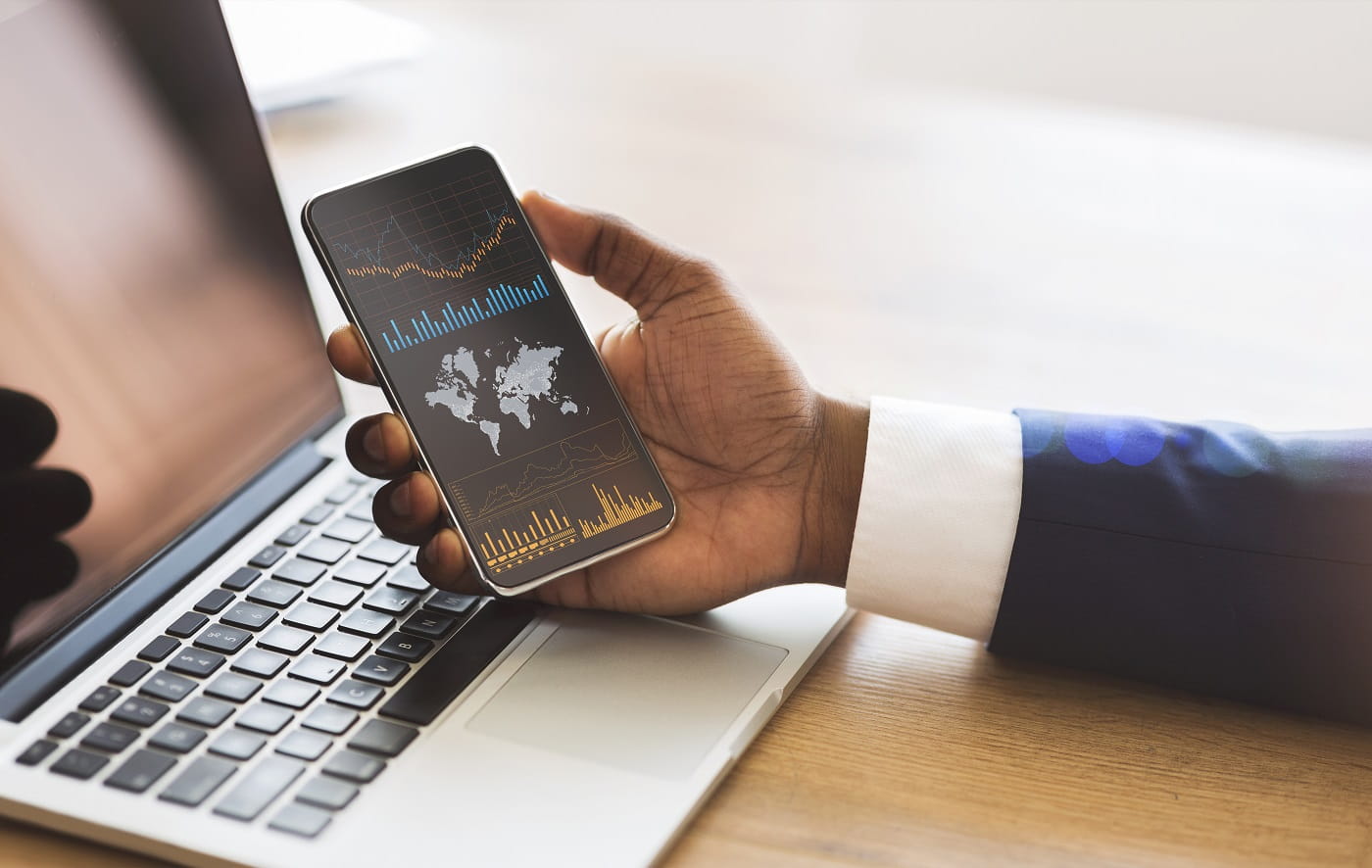 ECN Account
The ECN account is a zero-spread trading account with commission charges of $2 per side per $100K traded. Traders need to deposit at least $100 to get started with trading. Traders also get the leverage of 1:500 on this account.
ECN Plus Account
The ECN Plus account is the upgraded version of the ECN account. The spreads on this account are zero, with commission charges also lower than the ECN account. The broker charges a commission of $1 per side per $100K traded.
Security Measures
Regulatory Compliance
Hankotrade places a strong emphasis on adhering to regulatory standards to ensure a secure trading environment. The platform operates under the watchful eye of reputable regulatory authorities. These regulatory bodies set and enforce rules and guidelines that Hankotrade must follow.
This commitment to regulatory compliance adds an extra layer of trust for users, assuring them that the platform operates within legal boundaries.
SSL Protection
Security is a paramount concern for Hankotrade, and it is evident in the robust measures they employ to safeguard user data and financial transactions. Hankotrade utilizes state-of-the-art SSL (Secure Socket Layer) encryption technology, which is an industry standard for securing sensitive information exchanged between users and the platform.
This encryption ensures that all data transmitted, including personal and financial details, remains confidential and protected from unauthorized access.
Two-Factor Authentication (2FA) Login
Hankotrade places user security at the forefront by offering Two-Factor Authentication (2FA) for logins. This additional layer of security requires users to provide two forms of authentication before gaining access to their accounts.
Typically, this involves something the user knows (such as a password) and something the user possesses (such as a mobile device). 2FA significantly reduces the risk of unauthorized access and enhances the overall integrity of the trading community on the platform.
Traders can rest assured that their accounts are well-protected against potential threats, bolstering their confidence in Hankotrade's commitment to their security.
Hankotrade Customer Support
Effective customer support is essential for any online platform, and Hankotrade doesn't disappoint in this regard. The platform offers customer support via email, live chat, and phone, ensuring that users can reach out for assistance whenever they need it. The support team is known for its responsiveness and professionalism, which is crucial when dealing with trading-related inquiries or issues.
Deposits and Withdrawals
Hankotrade stands out in the financial industry by exclusively accepting cryptocurrency for transactions. While many trading platforms offer a variety of payment methods, Hankotrade has chosen to focus solely on the use of cryptocurrencies. This unique approach aligns with the growing popularity and acceptance of digital currencies in the global financial landscape.
Deposit and Withdrawal Speed of Hankotrade
The deposit and withdrawal speed at Hankotrade is a testament to the platform's commitment to providing a seamless trading experience. With a focus on efficiency, Hankotrade processes withdrawal requests promptly, ensuring that users can access their funds without unnecessary delays.
Whether you're depositing funds to initiate your trading journey or withdrawing profits from successful trades, Hankotrade's swift transaction processing adds a layer of convenience that traders can appreciate in the fast-paced world of online trading. This speed allows users to react quickly to market opportunities and manage their accounts with ease.
Hankotrade Proof of Withdrawals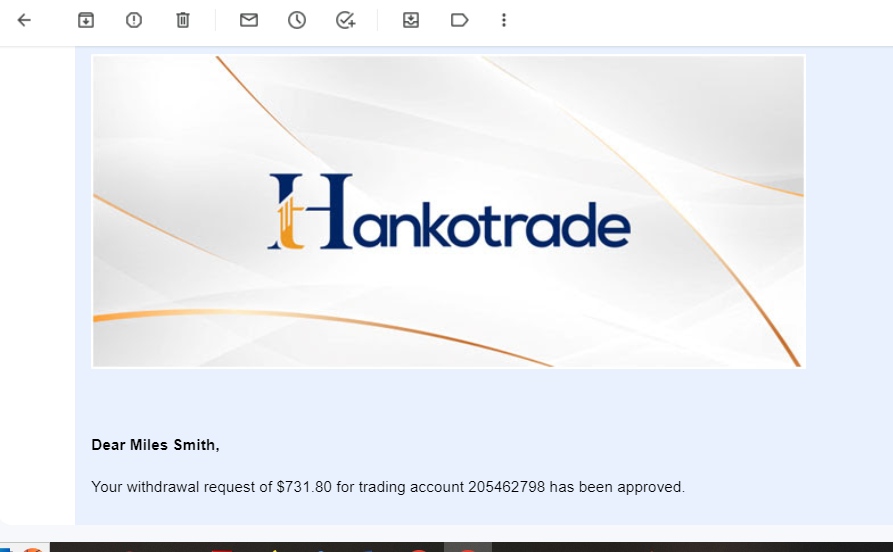 Legit Hankotrade Reviews
Hankotrade is trusted by thousands of traders who have vouched for its credibility and reliability on numerous authentic review platforms.
The following are the screenshots of the top positive Hankotrade reviews on platforms like sitejabber, Slashdot, fx-list.com, etc.

Hankotrade Reviews on SiteJabber
Hankotrade Reviews on Slashdot
Hankotrade Reviews on FX-List
Hankotrade Reviews on Forbino

Hankotrade Reviews on BrokerXplorer
Pros and Cons of Trading with Hankotrade
Pros
Diverse Asset Selection
Hankotrade offers access to a wide range of financial markets, allowing for effective diversification of trading portfolios.
User-Friendly Interface
 The platform's intuitive interface makes it suitable for traders of all experience levels.
Security Measures
Strong security measures, including encryption and regulatory compliance.
Customer Support
 Responsive and professional customer support is available via multiple channels, such as live chat on the website, an online form, a telephone number, and an email address.
Backed By Traders' Support
Hankotrade has garnered plenty of positive reviews on numerous testimonial forums. The broker is appreciated for its transparent costs, swift withdrawals, and razor-sharp spreads on Forex pairs and cryptocurrency pairs.
Cons
Fees and Spreads
While competitive, the fees and spreads associated with Hankotrade may not be the lowest available in the industry.
Limited Deposit Options
Currently, Hankotrade only offers deposits and withdrawals via cryptocurrency. It doesn't provide other options like bank transfer, debit or credit payment options, etc.
Non-availability of Educational Content
Another con of trading with Hankotrade is the limited educational material on its website. Unlike other prominent brokerages in the market, Hankotrade doesn't provide any textual or video content to enhance the trading knowledge of its clients.
Hankotrade Review: Conclusion
Hankotrade has established itself as a reliable and user-friendly online trading platform that caters to traders of various experience levels. With a diverse range of assets, educational resources, and a commitment to security, it offers a compelling option for those looking to venture into online trading.
In conclusion, Hankotrade is a noteworthy contender in the online trading arena. Still, individuals need to evaluate their specific needs and objectives to determine if they align with their trading goals. Always trade responsibly and stay informed about market developments to make informed decisions in this dynamic and exciting field.