Last Updated on January 24, 2023
No matter what you do or try to succeed in, someone will always hate you. Haters are people who try to bring you down. You either know them personally or you don't. But like death and taxes, they are life's constants. 
You might think that only celebrities and other public figures receive hate, but you would be surprised to know that many of us regular folks gain as much scorn out there. But what have you done anyway to receive such hate? 
Maybe you were selected for a promotion. Maybe you have a nice-looking home. Maybe you excel in your passion and are about to publish a novel. Or maybe you tweeted about how much you disagree with the president (yet again). Or maybe you simply posted a video of you baking without wearing gloves. The possibilities are limitless.
Hate Around Us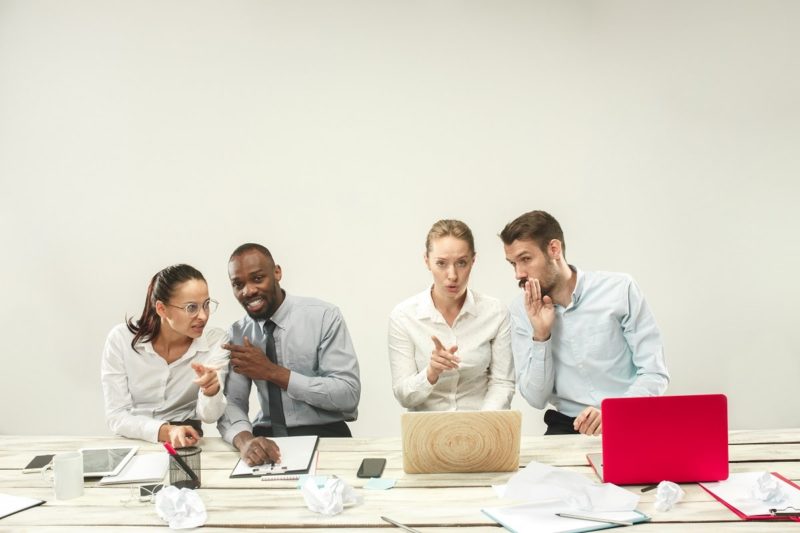 Thanks to social media, hate has become an even more rampant part of everyday life. People's personal affairs are now more exposed to a network of friends and mutual friends. 
While social media is a great way to stay connected, people's innocent posts and life updates can easily inspire hatred, especially in this age of viral content and social media witch hunts. 
For one, gone are the days when a simple delete can solve your woes. Technology these days run twice as fast. Posts can easily be grabbed, liked, shared, and commented on. Before you can take back what you said, a myriad of hate shoots up from your screen. 
Sometimes days, you don't even need to do anything to receive hate. Even people's mere existence is enough to irritate some people. Without proper education on race, LGBTQIA+, diversity, and inclusivity, people become less tolerant of each other's differences.
What's worse, the people we expect to accept us for who we are become our top detractors instead of our supporters. 
Hate from Friends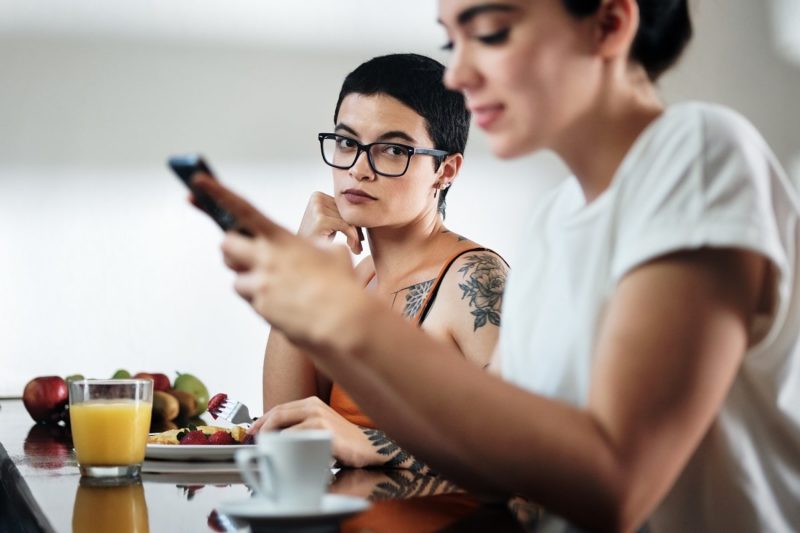 Surprisingly, much of the hate that you receive come from people you know. Half of your acquaintances are frenemies after all. As much as you love these people, your conversations with them are still littered with subtle insults and claims to small achievements as a way to one-up each other. 
It can be quite frustrating and can even leave you seething for days when you don't choose to be the bigger person. While some people welcome the competition and use this type of toxicity as fuel, others are affected more negatively.
For one, this type of relationship poses more health risks than the hate you receive anonymously. The anticipation of having to interact with frenemies, for instance, already increases blood pressure and anxiety. It is stressful primarily because frenemies can hurt you more, given the deeper level of connection that you have with them. 
Hate and Health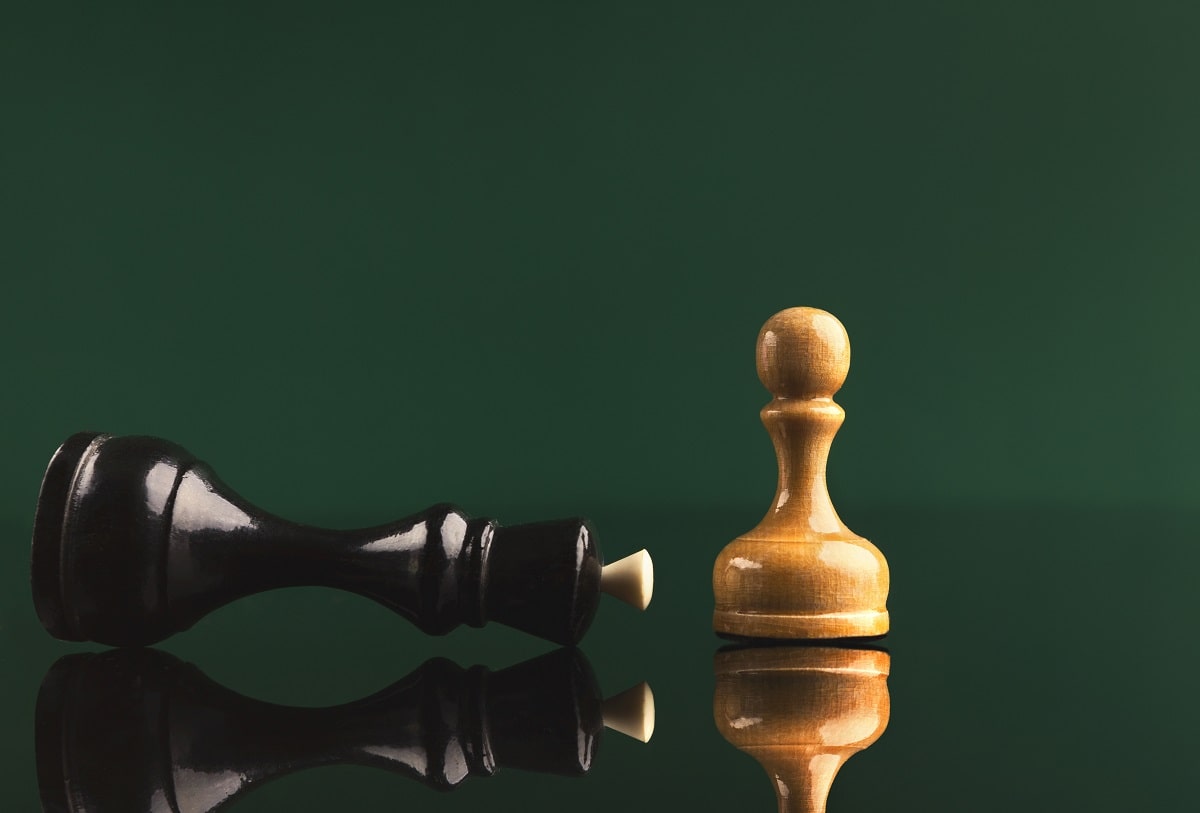 In general, receiving hate can be a stressful event. For people who don't do well with criticism, hateful energies can be extremely overwhelming and lead to unfavorable defense mechanisms. When such negative emotions remain unchecked, they can cause extreme stress and anxiety, and can even lead to serious health risks like heart attack and stroke. 
Spreading hate can be equally detrimental to your health. For one, hatred can take up much of your headspace and control your emotions. Jealousy and blame are the usual roots of hatred. Harboring these feelings are not only petty; they could also lead to violent tendencies and destructive habits. Most importantly, they won't do you any good.
Walking Away from Haters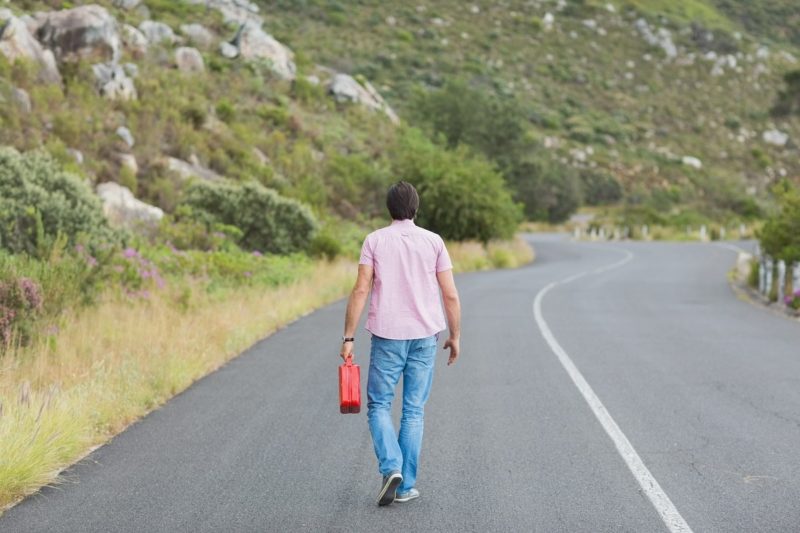 In such a negative and toxic environment, where hate is just about everywhere, is there a way to overcome hatred? Absolutely. You can do that by accepting the criticism, weeding out the non-constructive comments, and focusing on self-improvement. 
Dealing with haters, especially people you don't know, mostly means not giving them any space in your thoughts. While a few hurtful comments may seem like walls, the road is wide and full of possibilities. The best thing to do right now is to direct your attention to the road, which would eventually get you past those walls.
Now, if you do decide to respond to the hate, don't be a hater yourself. Do so with grace and in the kindest way possible. You will be surprised how far it could get you; you might even end up turning haters into admirers.
Here are some quotes to help you deal with haters.
Hater Quotes
"The only thing more frustrating than slanderers is those foolish enough to listen to them." – Criss Jami, Killosophy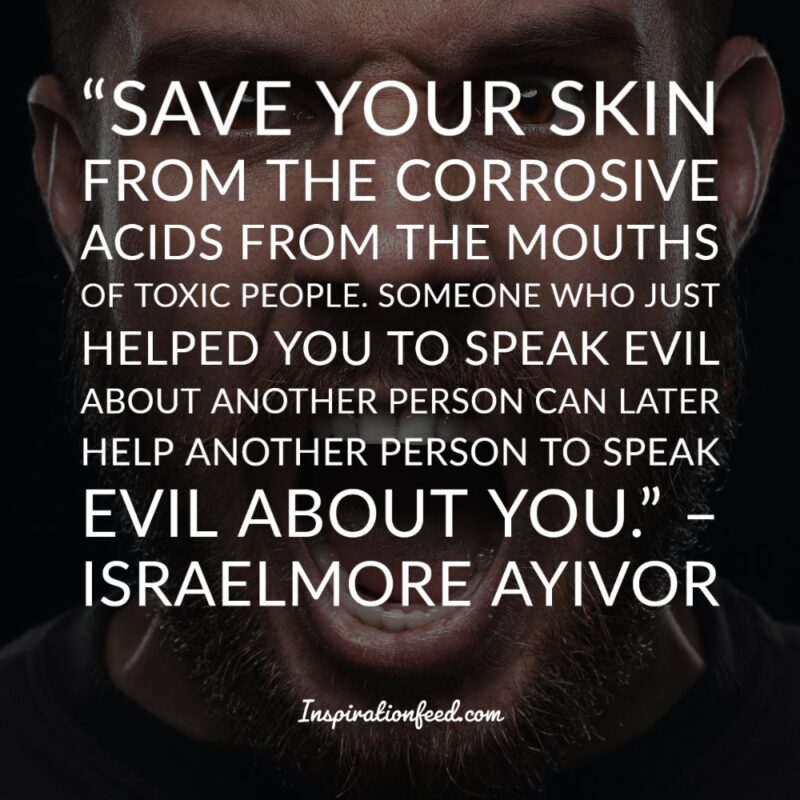 "Save your skin from the corrosive acids from the mouths of toxic people. Someone who just helped you to speak evil about another person can later help another person to speak evil about you." – Israelmore Ayivor
"Be so good they can't ignore you." – Steve Martin
"Someone who smiles too much with you can sometime frown too much with you at your back." – Michael Bassey Johnson
"Always remember…Rumors are carried by haters, spread by fools, and accepted by idiots." – Ziad K. Abdelnour, Economic Warfare
"Most haters are stuck in a poisonous mental prison of jealousy and self-doubt that blinds them to their own potentiality." – Steve Maraboli, Unapologetically You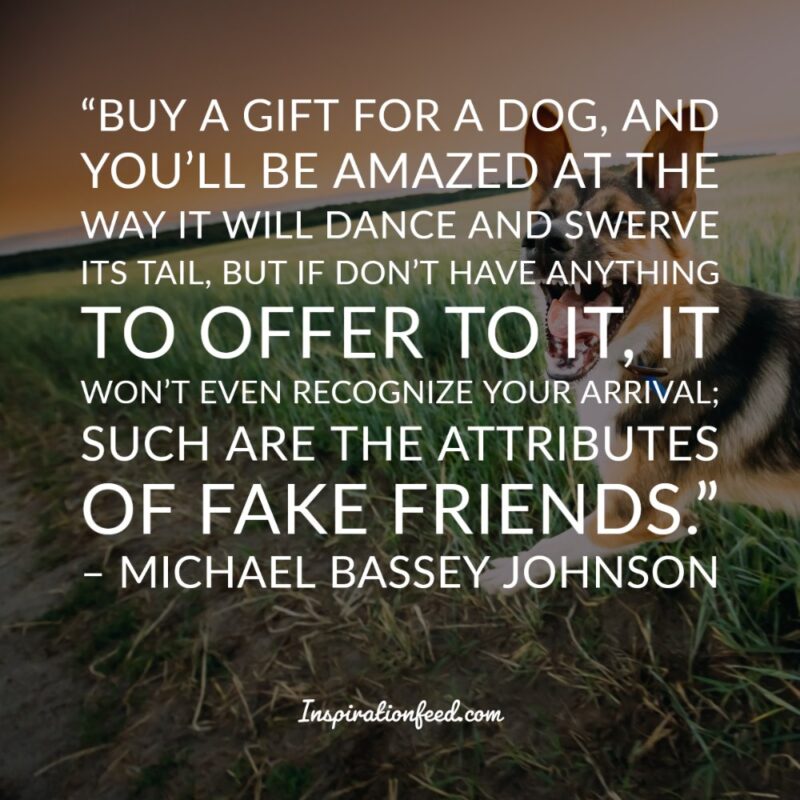 "Buy a gift for a dog, and you'll be amazed at the way it will dance and swerve its tail, but if don't have anything to offer to it, it won't even recognize your arrival; such are the attributes of fake friends." – Michael Bassey Johnson
"What is evil? Killing is evil, lying is evil, slandering is evil, abuse is evil, gossip is evil, envy is evil, hatred is evil, to cling to false doctrine is evil; all these things are evil. And what is the root of evil? Desire is the root of evil, illusion is the root of evil." – Buddha
"Haters and bullies are always cowards, you know. They like to pick on little guys." – Scylar Tyberius, Sebastian the Great
"There will always be haters. And the more you grow the more they hate; the more they hate the more you grow." – Anthony Liccione
"When God takes out the trash, don't go digging back through it. Trust Him." – Amaka Imani Nkosazana, Heart Crush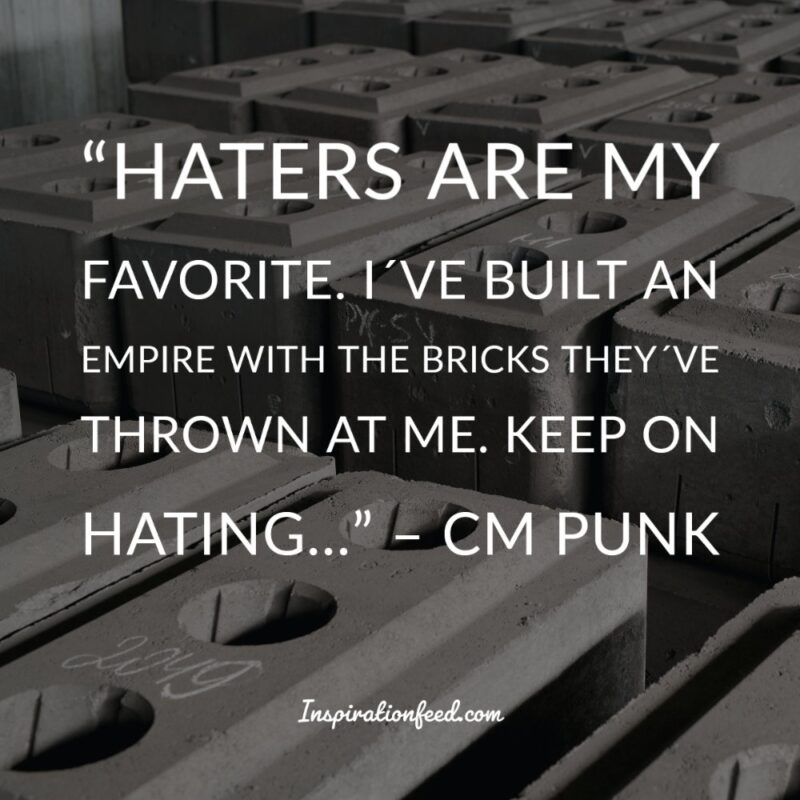 "Haters are my favorite. I´ve built an empire with the bricks they´ve thrown at me. Keep on hating…" – CM Punk
"The moment you have to recruit people to put another person down, in order to convince someone of your value is the day you dishonor your children, your parents and your God. If someone doesn't see your worth the problem is them, not people outside your relationship." – Shannon L. Alder
"If it's easy to be friendly she will be. If the wind blows the other way her friendship will be gone. And I'm thinking the wind is blowing the other way. She has found some other way to be an important person in her own right by hating others." – Charlaine Harris, All Together Dead
"Those who think he had lucky breaks are not only unaware of the real story but also fall prey to that sin of the mediocre: bitchiness about others' success." – Marlon James
"Knowledge planted in truth grows in truth. Strength born of peace loses nothing to hate." – Aberjhani, Elemental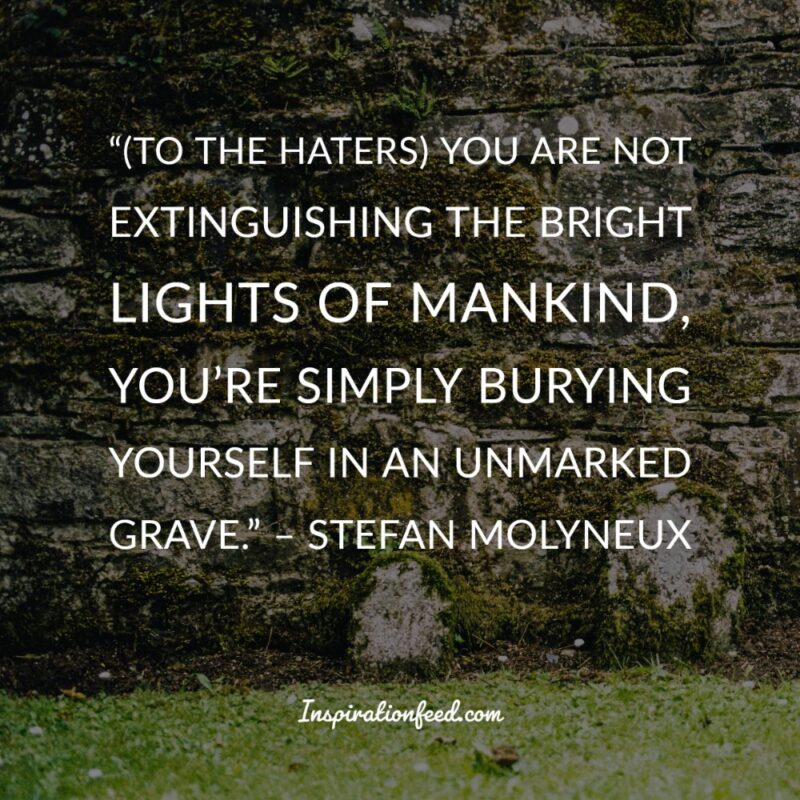 "(To the haters) You are not extinguishing the bright lights of mankind, you're simply burying yourself in an unmarked grave." – Stefan Molyneux
"To hate everything is to be wounded by everything." – Marty Rubin
"There will be haters, there will be doubters, there will be non-believers, and then there will be you proving them wrong." – Jennifer Van Allen, The Runner's World Big Book of Running for Beginners
"Hate your haters, then you are no different from them." – Racine Bamwanya
"He who does not feel me is not real to me, therefore SHE does not exist!" – Habeeb Akande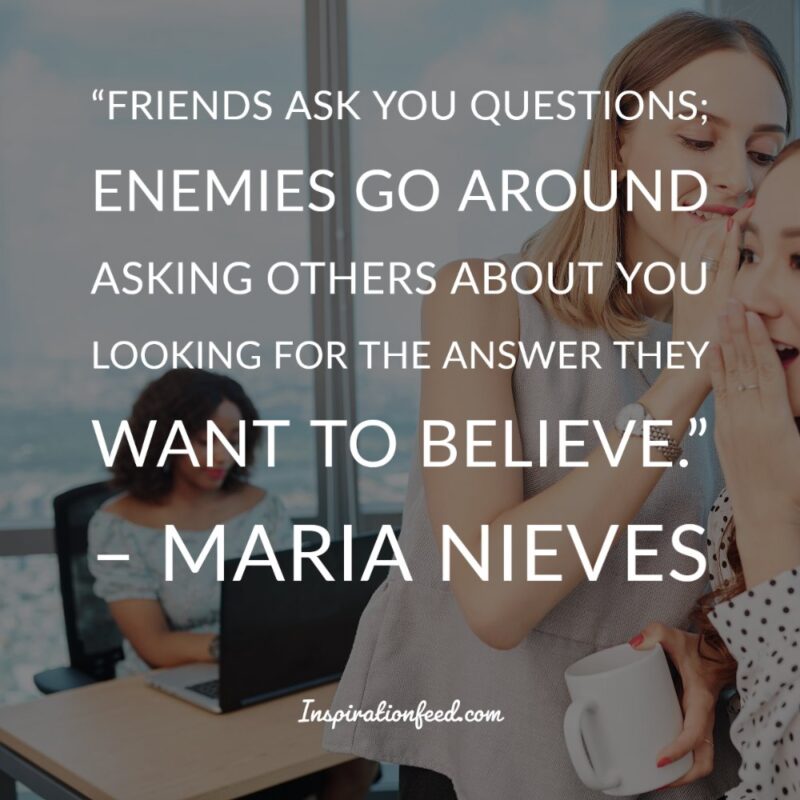 "Friends ask you questions; enemies go around asking others about you looking for the answer they want to believe." – Maria Nieves
"If you don't have haters, you aren't loving hard enough. If you don't stand for something, you stand for nothing." – Richie Norton
"There is no magic wand to get rid of haters. There is no secret spell to win them over to your side." – Oscar Auliq-Ice
"When you start pursuing your vision, some people will try to discourage you. When they can't discourage you, they'll try to discredit you. When they can't discredit you, they'll start saying they were there from the start." – Andrena Sawyer
"If we think about it…There is no reason for hate in this World if everyone had the most selfish attitude of doing what they love." – Rodolfo Peon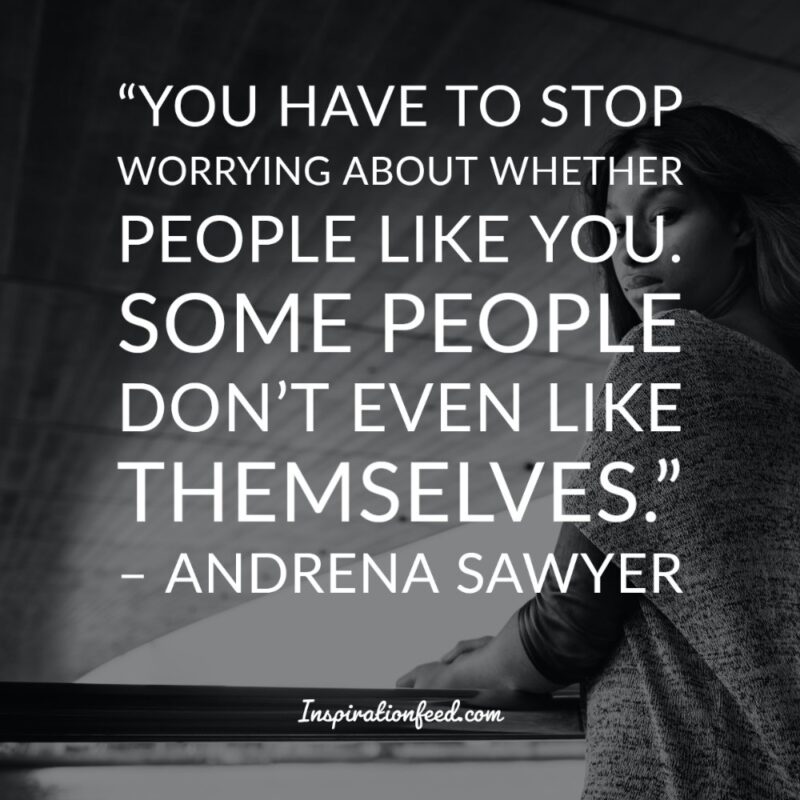 "You have to stop worrying about whether people like you. Some people don't even like themselves." – Andrena Sawyer
"They're not happy for you because they wish it was them." – Carlos Wallace
"We need not reply or even listen to people who are talking about—not to—us." – Mokokoma Mokhonoana
"The haters are the ones that must investigate what is wrong with themselves and why they spread negative vibes instead of encouraging people to follow their dreams and be better in what they do." – Maria Karvouni
"When we choose to spread negativity, the bad vibes, or focus too much on spreading rumors and gossiping about the other person, it doesn't show who that other person is but, it shows who we are to the world." – Jyoti Patel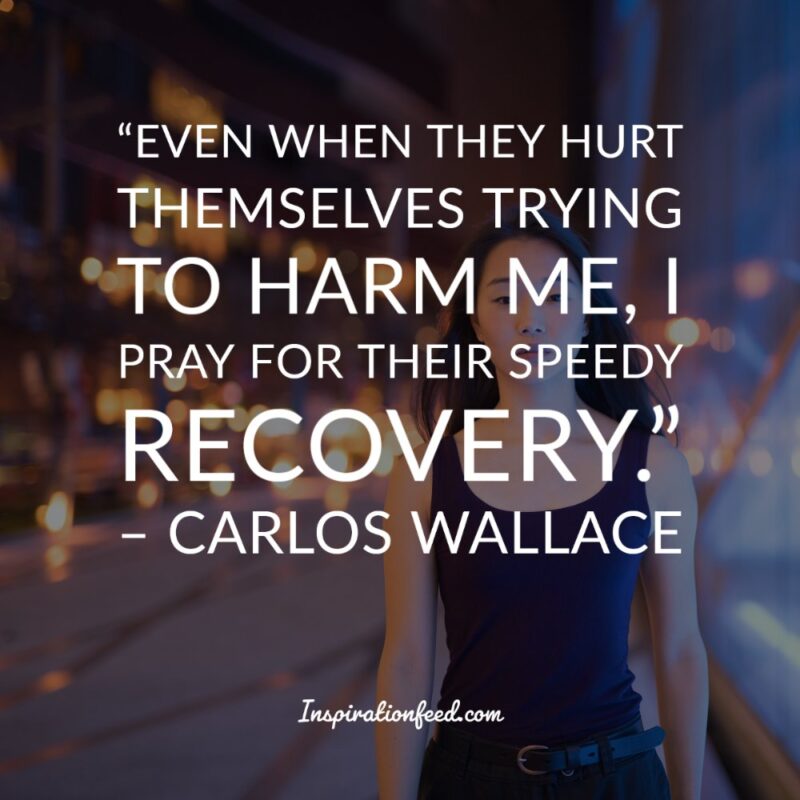 "Even when they hurt themselves trying to harm me, I pray for their speedy recovery." – Carlos Wallace
"When others tell you, 'you can't', they actually fear that you can and are even more afraid that you will." – Cherie White
"When we hate other people, it reduces ourselves." – Kilroy J. Oldster, Dead Toad Scrolls
"Folks who scream the loudest get heard, and those who spew the most negative, most repeatedly, get falsely perceived as telling the truth." – Cathy Burnham Martin
"At times in life you are your haters inspiration and motivation unconsciously." – Angel Moreira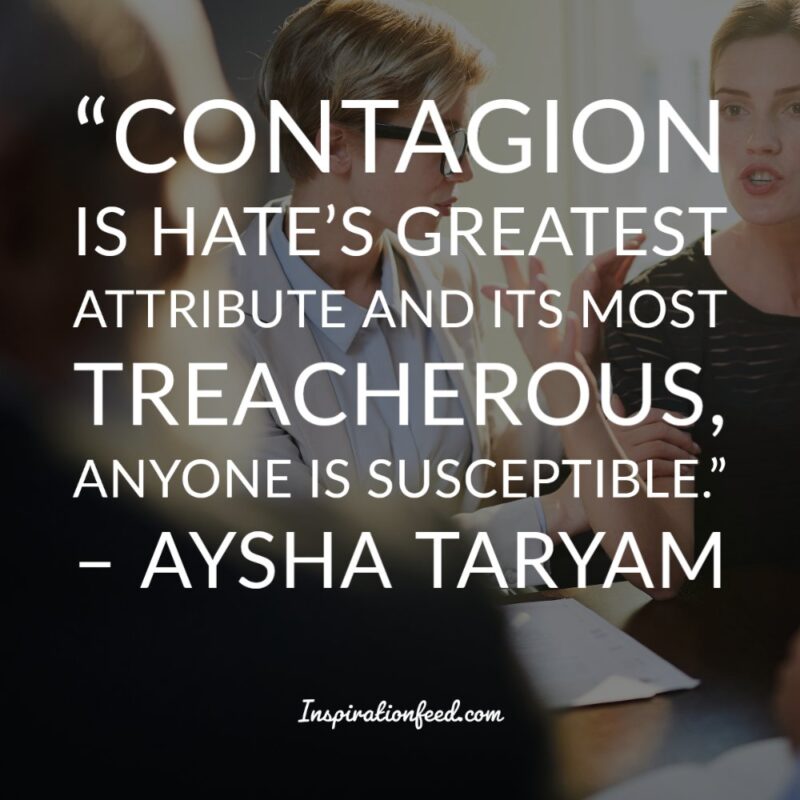 "Contagion is hate's greatest attribute and its most treacherous, anyone is susceptible." – Aysha Taryam
"If you can't handle haters on this level, then you're not ready for the Next Level." – Jeanette Coron
"I Love my Haters, but they Love to be hated back." – Syed Sharukh
"Reflect who you truly are even when people try to tempt you to reflect the wrong image of yourself." – Thebe Kegomoditswe
"Every time I speak of the haters and losers I do so with great love and affection. They cannot help the fact that they were born fucked up!" – Donald J. Trump
"You know you're doing something right when you've haters around every corner." – Cliff Hannold
"Perfection is not the ultimate requirement in order someone to have a remarkable career and to deserve to have one, not only in music but everywhere." – Maria Karvouni
"Never let anyone (or any situation) scramble your mind, your heart or your money. You are no good to anyone (especially yourself) if you are insane, miserable and broke." – Carlos Wallace, The Other 99 T.Y.M.E.S.
"Trolls and haters are only distractions from your greater purpose. When you achieve your goals and success, not only will the trolls and haters be forgotten, but they will definitely be looked upon as the biggest fools." – Kailin Gow
"Next time, just give your enemy a smile, and he will wonder why." – Ernest Agyemang Yeboah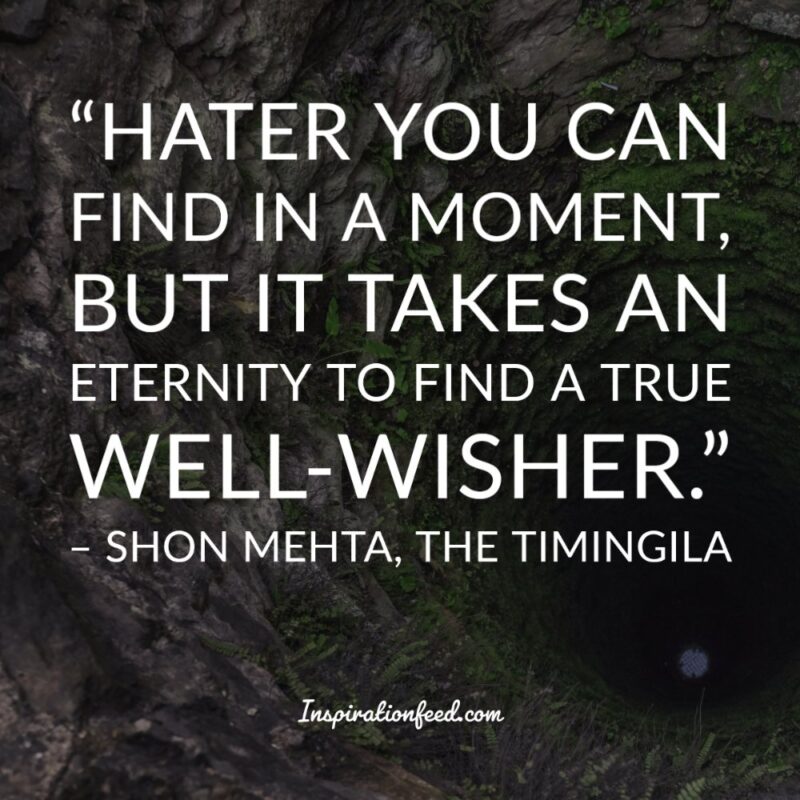 "Hater you can find in a moment, but it takes an eternity to find a true well-wisher." – Shon Mehta, The Timingila
"Most haters are like the cobras they spits evil and deadly venom, but don't let the Viper's bite poison you, kill them slowly with the living fire of your success." – Motherly Love
"I love my haters. They actually help me to grow faster." – Soham Mondal
"Haters don't really hate you. They hate seeing your potential and not their own. Love them anyways and someday they'll become your biggest fans." – Farshad Asl
"I want to be a living example of YES to every dreamer the world told NO." – Carlos Wallace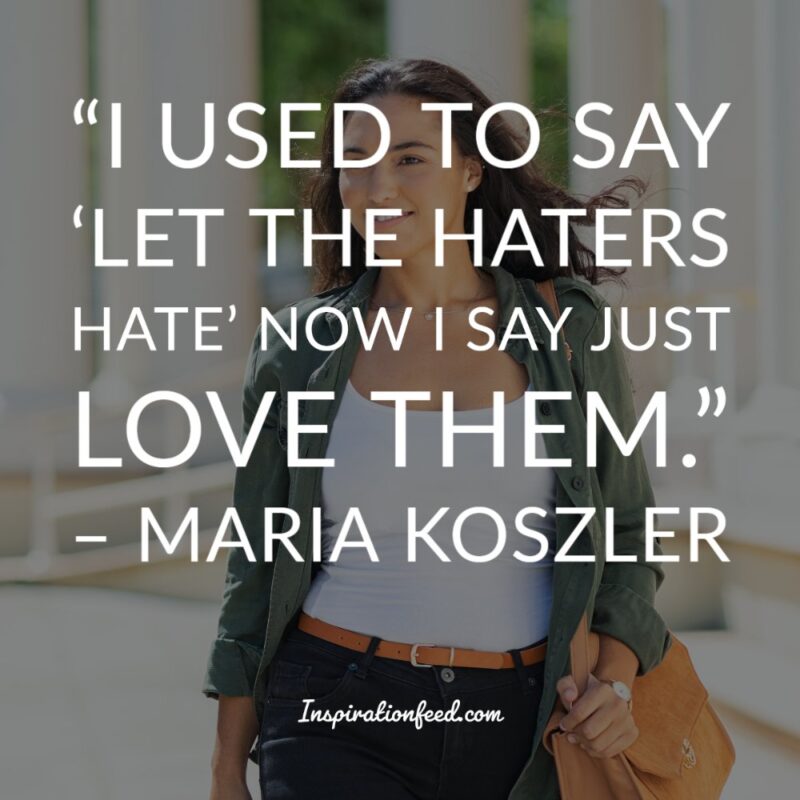 "I used to say 'Let the Haters Hate' now I say just LOVE them." – Maria Koszler
"Do not allow haters to ruin your happiness." – Gift Gugu Mona
"If my fall made you smile, you might not want to witness what's about to happen when I get up." – Yvonne Pierre, The Day My Soul Cried
"Stick to love; it is heavy and it will carry you. Avoid hatred; it is heavy and you have to carry it. It is left to you to make your choice." – Israelmore Ayivor, Leaders' Frontpage
"When people support you when you have done something wrong. It doesn't mean you are right, but it means those people are promoting their hate, bad behavior or living their bad lives through you." – De philosopher DJ Kyos
"Stay away from people who don't know who they are but want you to be just like them. People who'll want to label you. People who'll try to write their fears on your face." – Richard Peck, The Best Man
"Remember how many people want to see you losing? It is your duty to make sure that they keep waiting…forever!" – Harshvardhan Malpani
"Being hated isn't easy, you know. You just cannot falter meeting their expectations." – Aniruddha Sastikar
"Haters will unwittingly give you the inspiration you need to conquer your great obstacle of destiny if you did not give up." – Sunday Adelaja
"Hatred imprisons the haters; love opens doors." – Debasish Mridha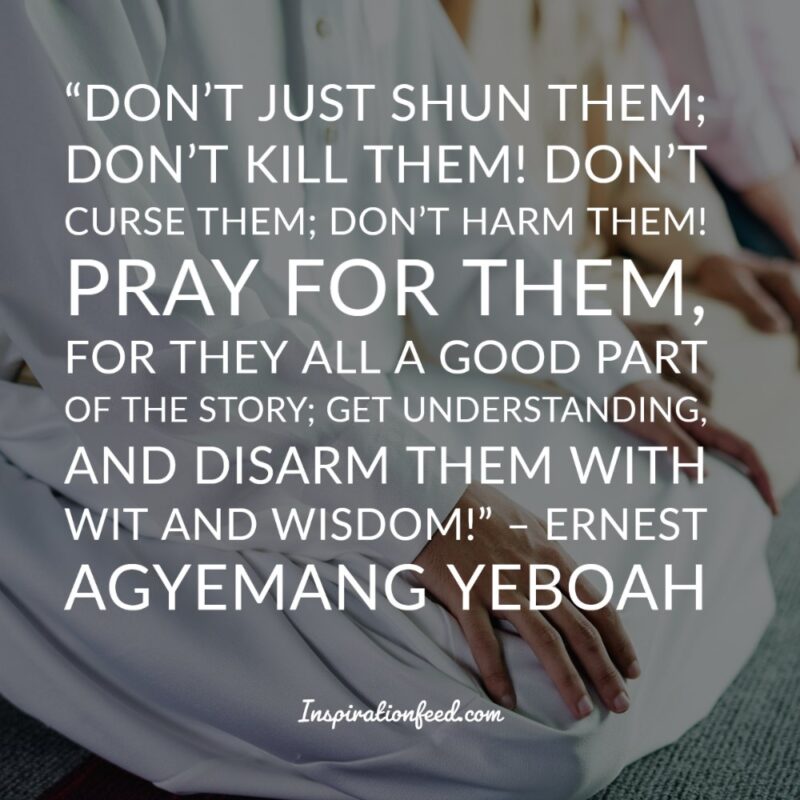 "Don't just shun them; don't kill them! Don't curse them; don't harm them! Pray for them, for they all a good part of the story; get understanding, and disarm them with wit and wisdom!" – Ernest Agyemang Yeboah
"Your success increases your haters…!!!" – M.Rehan Behleem
"If you have influence on other people. Dont be influenced by their hate, money, jealousy, anger and popularity." – De philosopher DJ Kyos
"Club Hate does not admit fine people to its membership." – T.F. Hodge, From Within I Rise
"Your haters gather the most at the sidelines." – Johnnie Dent Jr.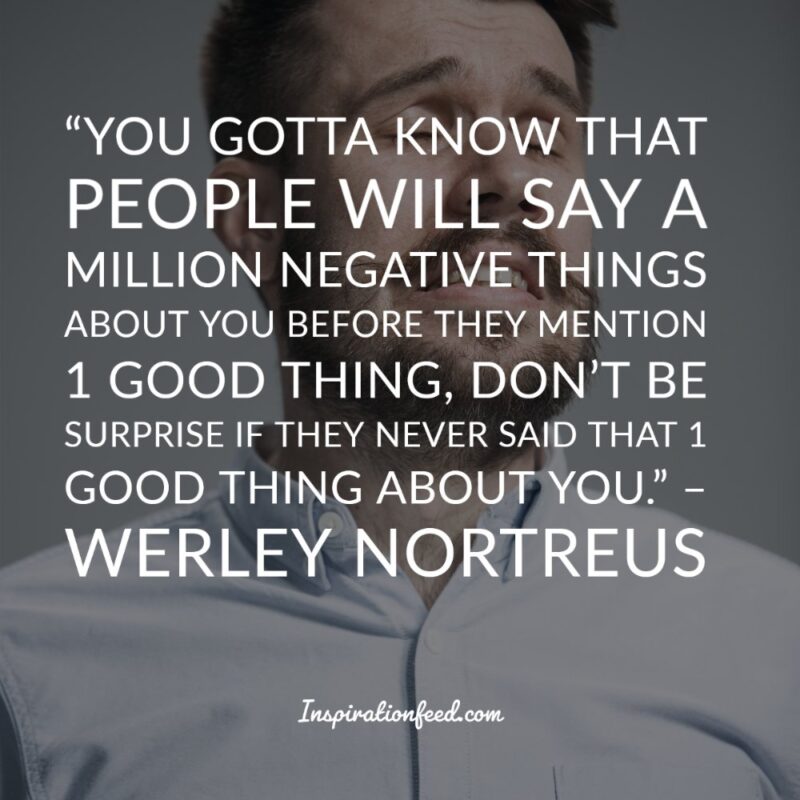 "You gotta know that People will say a million negative things about you before they mention 1 good thing, don't be surprise if they never said that 1 good thing about you." – Werley Nortreus
"May my haters live long to see my success." – Moosa Rahat
"Reflect who you truly are even when people try to tempt you to reflect the wrong image of yourself." – Cyc Jouzy
"Remain humble but still let the haters know." – Moosa Rahat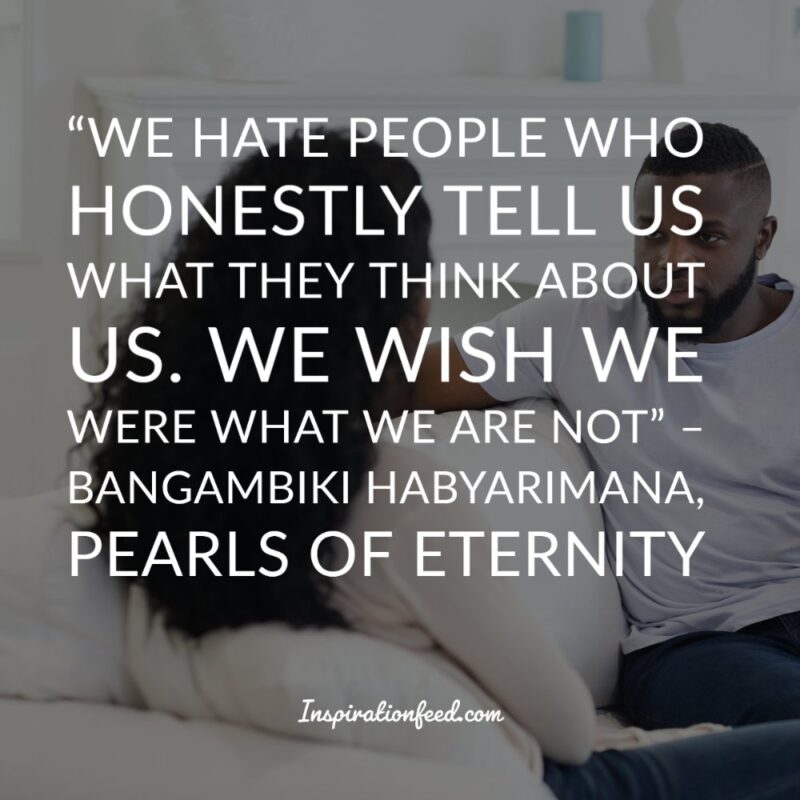 "We hate people who honestly tell us what they think about us. We wish we were what we are not" – Bangambiki Habyarimana, Pearls Of Eternity
"Everyone wanted to see [him] fall so they could devour his remains. As is usually the case, the army of sycophants had turned into a horde of hungry hyenas." – Carlos Ruiz Zafón
"Don't allow people who say it cannot be done interrupt you while you are doing it." – Carlos Wallace
"Hate lawyers all you want. Unlike you, we'll never be replaced with robots. Case closed!" – Natalya Vorobyova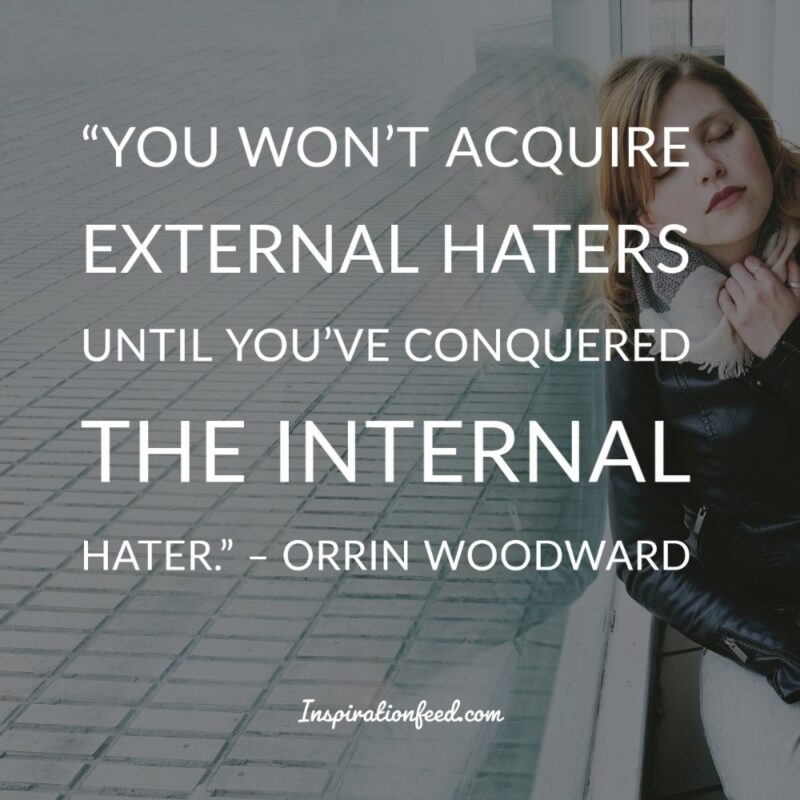 "You won't acquire external Haters until you've conquered the internal Hater." – Orrin Woodward
"People may love to hate me. I can do a lot with the love in their hate." – Amit Abraham
"We learn to love when we're young. If we learn hating better, it has to go somewhere. We can hate ourselves or we can hate somebody else. Most people would rather hate somebody else." – Dan Groat, A Punctual Paymaster
"It takes a special kind of person to be a hater, but only a true loser will give the impression of being your friend while resenting every progress/success in your life." – Cory Stallworth
"'I don't have the time or the energy to hate,' says Shara. 'I only wish to understand. People are what they are.'" – Robert Jackson Bennett, City of Stairs
"Learn to forgive 'HATERS' and people who think less of you. Don't bring yourself down to their level, because you know who you are. Be HUMBLE and shower them with unexpected love." – Henry Johnson Jr.
"I don't hate you, because hate is a feeling and I feel absolutely nothing for you." – Auliq Ice
"Never wrestle with pigs for the pigs remain clueless and you end up muddy." – Orrin Woodward
"A hater is a person with a complete understanding of your destiny but assigns him or herself as a representative to work tirelessly on your misery." – Johnnie Dent Jr.
"Don't waste your time trying to win people over that can never be won over." – Joel Osteen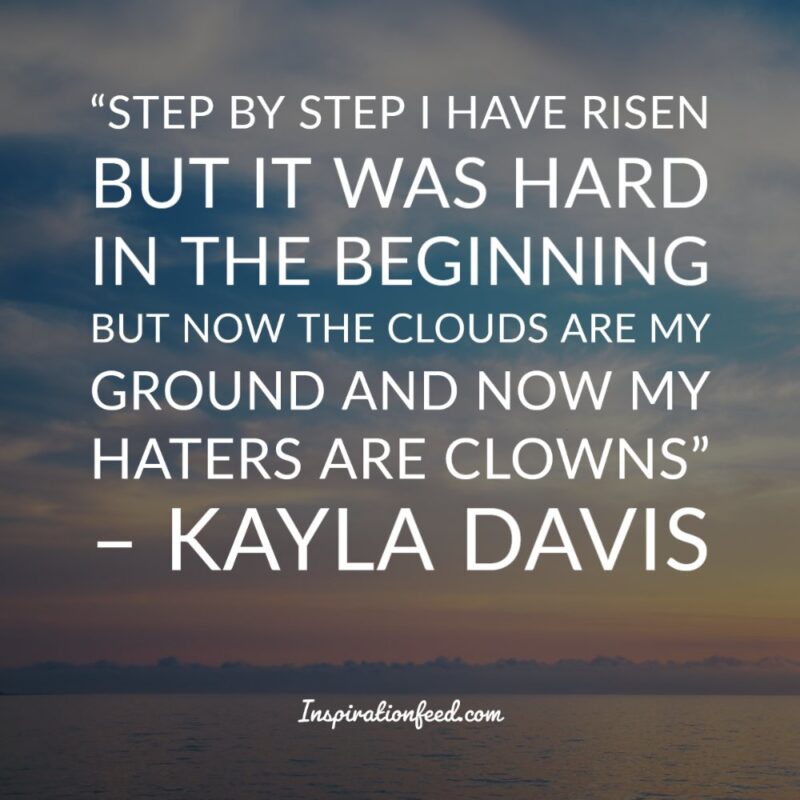 "Step by step I have risen but it was hard in the beginning but now the clouds are my ground and now my haters are clowns" – Kayla Davis
"I had a dream that I had no haters…I woke up missing them." – Starley Ard, Dreaming is for lovers
"Haters are those, that never were given any chances, that blew their chances, or that never took the chance." – Anthony Liccione
"Learn to use the criticism as fuel and you will never run out of energy." – Orrin Woodward
"We cannot let the haters of this world define us. Or frighten us into no longer being ourselves." – Mary E. DeMuth, Everything
"It's easy to attack and destroy an act of creation. It's a lot more difficult to perform one." – Chuck Palahniuk