Last Updated on December 11, 2019
Music has a way of connecting people. It's almost like an international language that can speak to you on several levels. Often music is associated with memories that evoke powerful emotions – there is a reason why most girls listen to sad music after a painful breakup.
Music is nowadays a significant part of our life, even when it comes to working. In many offices, it's not unusual to see your co-workers with headphones on. Furthermore, it's actually rare to see a person without headphones on.
When it comes to listening to music, the important thing is to choose the right headphones that will be suitable for your needs. For example, if the only thing you want to hear while listening to music is the music itself and not noises from outside, maybe you should consider buying headphones which can cancel the noise. On websites like https://headphonesaddict.com/, you can find several rankings that can help you in deciding which will be the best headphones for music.
Music can help you relax, or pump you up, but does it have any effect on your productivity? And does listening to music help you work? If you want to find out, keep reading.
How Music Can Affect Your Work Productivity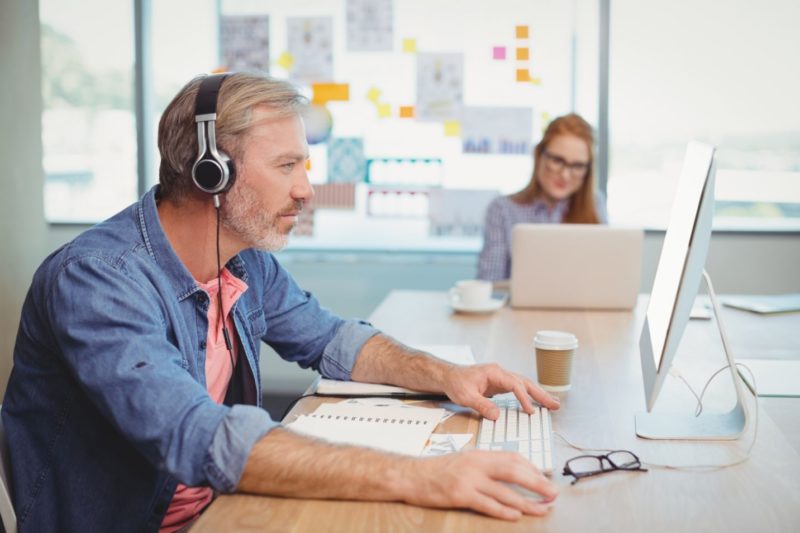 You probably noticed that most of the people who are running have headphones in their ears. It's been scientifically proven that listening to music while exercising can improve the quality of your workouts and can help in reducing the boredom. It can also increase your capacity to exercise harder and longer and delay fatigue.
Studies have shown that music can affect your mood. When you're listening to something that you like, your brain releases dopamine, which reduces stress and anxiety, and makes you feel good. This, in turn, can improve your ability to focus and make it easier to concentrate on a given task. Music can also make repetitive tasks more enjoyable.
Music can help you escape in a noisy workplace, which definitely doesn't help with your productivity, and makes completing your work harder. Sometimes you don't have a chance for a real escape, like for example a private room. In that case, a pair of headphones might be the only alternative. Having headphones in will also indirectly communicate to your co-workers that you wish not to be disturbed.
If you think that listening to music while performing some tasks might be distracting, and have a negative impact on the way you work, that's fine. But there is nothing wrong with listening to music in-between tasks. Furthermore, it can boost your mental performance.
What Kind Of Music To Choose In The Workplace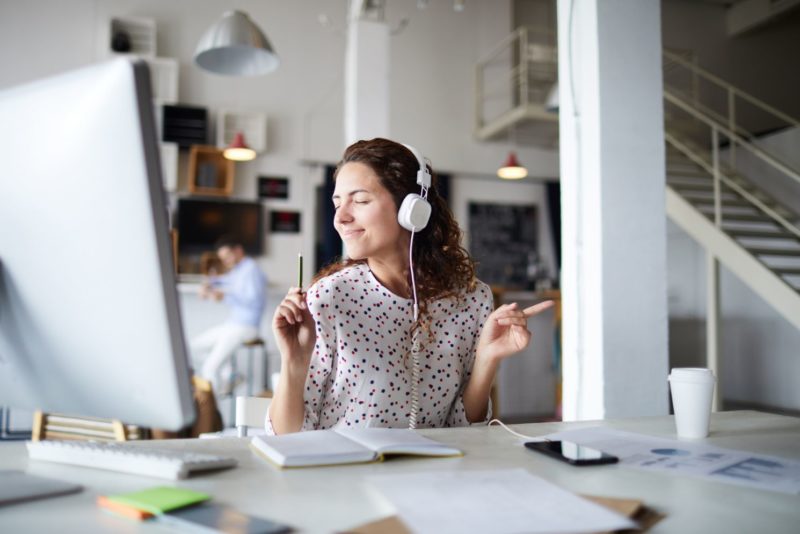 So now that you know how music affects your brain, you might wonder – what is the best music to increase productivity? The truth is that actually, for every person the best music to work to will be slightly different – everything depends on their personal preference. While choosing the best work music, you should think about
How many lyrics does the song have?
Are you familiar with the song?
Is the task you need to do repetitive or not really?
Is it more of a physical or mental activity?
Some experts suggest that the best way of choosing music for work productivity is to create a playlist of songs that you enjoy, but are so familiar with them that it becomes unnecessary to focus on the lyrics or the beat. That way, your brain will still produce dopamine without any distraction.
Others think that two genres might be suitable for the majority of people – classical music and the sounds of nature. To be honest, everything depends on what kind of task you are performing. Let's say that you need to read a very long and very dull document – for this task, in particular, classical music would be more beneficial. However, if you are working out, or running, a better option would be something upbeat, like pop music.
Conclusion
As you can see, music does have an effect on people and their productivity. Choosing the best music for work is very important. Still, it's also something that should be done individually, as everyone has their own music taste, and what helps you concentrate, might be very distracting for another person.