Last Updated on December 11, 2019
Sleeping on your side is one of the most popular sleeping positions. There's no clear indication that one position is strictly better than all the others, but most sleeping positions do come with strengths and weaknesses—and sleeping on your side is no exception.
For example, sleeping on your left side can reduce heartburn symptoms, but it might also put more strain on your shoulder.
If you find yourself sleeping on your side most often, there are some steps you can take to get a better night's sleep overall.
Important Tips for Side Sleepers
These strategies can improve the quality of your sleep when sleeping on your side:
Reduce CNH (Chondrodermatitis nodularis helicis) with a better pillow.
There are many inherent benefits to sleeping on your side, like putting less strain on your back. However, many side sleepers suffer from Chondrodermatitis nodularis helicis, or CNH, which is a condition affecting the cartilage of the ear and resulting in pain.
Some pillows, like the Side Sleeper Pillow, are designed specifically to accommodate side sleeping habits and reduce CNH. This particular pillow features ergonomically placed holes to make it possible to sleep on your side comfortably even with CNH.
The pillow is fully adjustable and designed to reduce facial pressure, which can be a problem when sleeping on your side. Its built-in holes accommodate your ears, which is great for reducing ear discomfort and pain when you sleep. It also has the proper shape to support your neck and spine.
Use a pillow between your knees.
When you sleep on your side, your upper leg can have a tendency to pull your spine slightly out of alignment. It can also put increased pressure on your hips and lower back.
Over the course of a single night, these effects won't add up to much, but if you sleep on your side consistently, eventually this habit can result in significant back and hip pain.
To prevent this and sleep better, consider keeping a pillow between your legs, which will keep your spine aligned and reduce the pressure on your body.
Find the perfect mattress.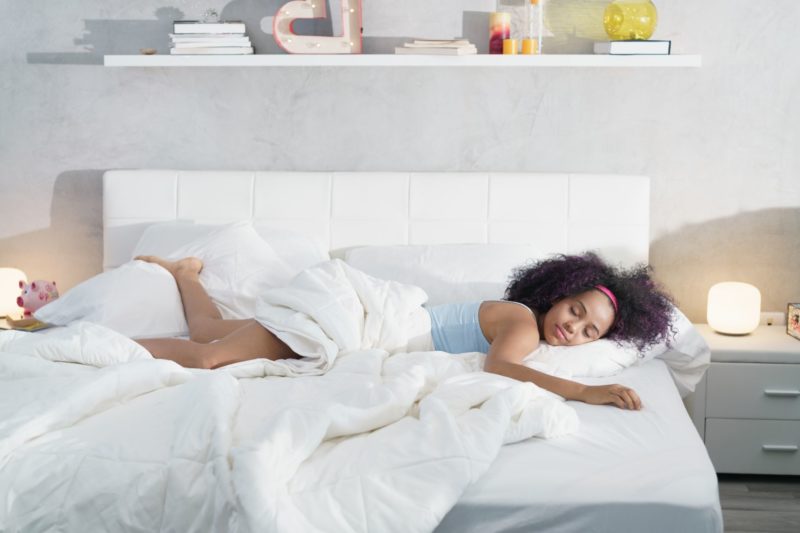 If your mattress doesn't provide you with adequate support, you're always going to be uncomfortable when sleeping on your side. The right mattress should be firm enough to support the natural curvature of your body, but also soft and sensitive enough that it lends plenty of giving to your shoulders and hips.
Don't be afraid to spend extra; good mattresses are almost always worth the money.
Pull your knees toward your chest.
By default, you may sleep on your side with your legs stretched out. However, it's much better to pull your knees toward your chest, even if only slightly, toward a kind of fetal position.
This way, you'll put less pressure on your spine, and you may find it more immediately comfortable. This can be tough if you're used to sleeping with your legs straight, but it's a good habit to get into.
Rotate your full body when turning.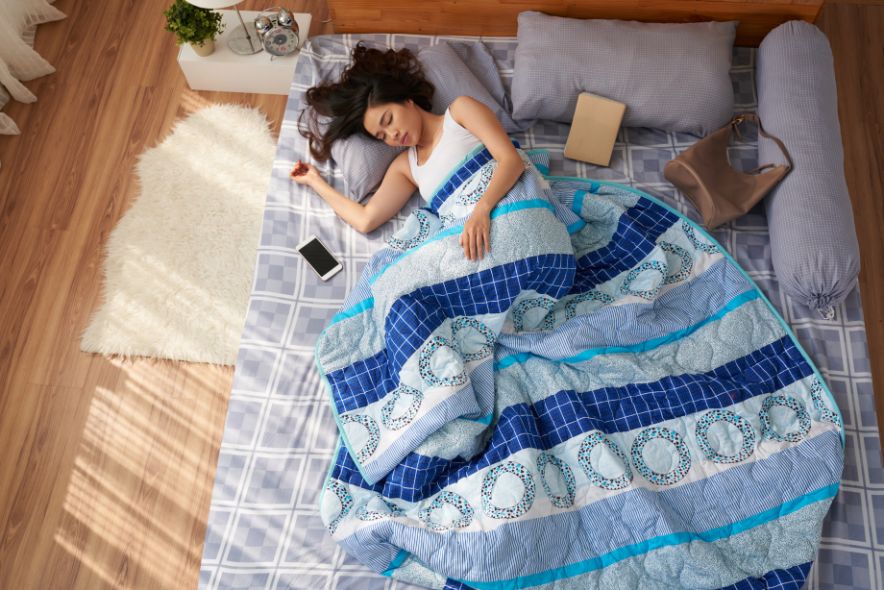 If you're like most side sleepers, you find yourself turning occasionally during the night—either to lie on your back temporarily or to switch between lying on your left and right sides.
Either way, your temptation may be to twist your upper body and let your lower body follow; this can be problematic, putting undue stress on your back and possibly resulting in pain or damage. Instead, make sure you're rotating your full body at once (and are rotating your body slowly).
Use an armrest or sling.
Side sleepers sometimes find discomfort in their shoulders and arms, since one arm is pinned by your body, and the other may not have an intuitively comfortable position to rest.
You can make up for this by sleeping with a custom arm sling that keeps your arm in place while you sleep, or an armrest that functions as an extra pillow for your arm.
Follow other practical sleep advice.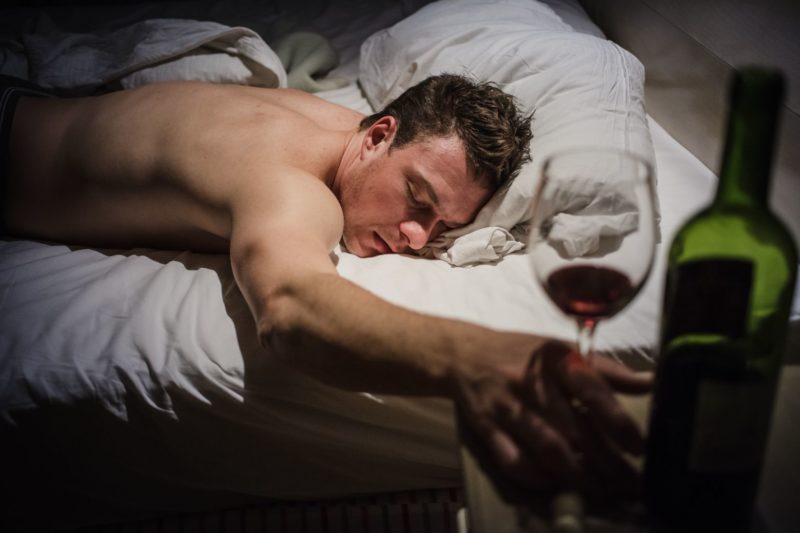 Side sleepers can also benefit from the dozens of strategies, habits, and lifestyle factors that lend themselves to better sleep.
For example, avoid caffeine and alcohol the several hours before bedtime, avoid digital screens before bed, get some physical exercise during the day, eat a balanced diet, drink plenty of water, and keep a consistent sleep schedule. You may also benefit from taking melatonin supplements.
Changing Positions
If you're a side sleeper by nature, you probably have an innate preference for this position. It feels most comfortable to you by default, and it may not be possible to learn to favor another position. Even so, it's advantageous to change up your sleeping positions from time to time.
Try to sleep on your back or on your stomach on an occasional basis. It may not be your favorite position, but with the right sleep hygiene habits, it should be possible to fall asleep this way.
Because each sleeping position has pros and cons, occasionally rotating between them can prevent you from experiencing soreness and pain associated with any single position.