Last Updated on January 24, 2023
Ah! School laboratories – you don't miss the place, do you? Who would miss a giant, dull and dim room filled with chemicals, and endless types of lab apparatus? You would have to be one heck of a Golden boy to miss such a place.
The entire concept of having a school laboratory is to make the subject easier to understand by allowing them to see and participate in practical activities. However, the extremely dull and utterly uninspiring design and layout of such rooms make it impossible for children to be remotely excited to learn something new.
It comes to no one's surprise that children are extremely drawn to fancy or unconventional things. The aesthetic feature of the classroom is one of the key elements to help children focus better and actually love their learning place.
What do you think children will prefer more – walking into the usual one-toned colored room with zero room design elements or a well-thought room with a colorful and fun-themed appearance?
The answer is rather obvious. A meta-analysis on brain functioning suggests that emotion plays a key role in our memory and learning abilities. Positive and fun experiences promote a positive attitude from the students, which in turn enhances their learning capacity.
Another study also shows that effective classroom design can increase the productivity of the students by 25%. Some of the critical elements or environmental changes that affect the learning ability of the students include color, furniture, acoustics, and lighting.
Refurbishing your school laboratory is one of the simplest, yet most effective means of enhancing the student's productivity during their practical classes. Instead of trying too hard to make the students learn, provide them with a suitable learning environment by making the laboratories a little more fun place to be in.
With the correct laboratory refurbishment choices, you not only improve the aesthetic feature of the classroom but also help create a positive learning mentality to help the children learn more efficiently.
Here are some simple and unique laboratory refurbishment ideas to create a more learning-friendly class environment for your students.
1. Lit up the place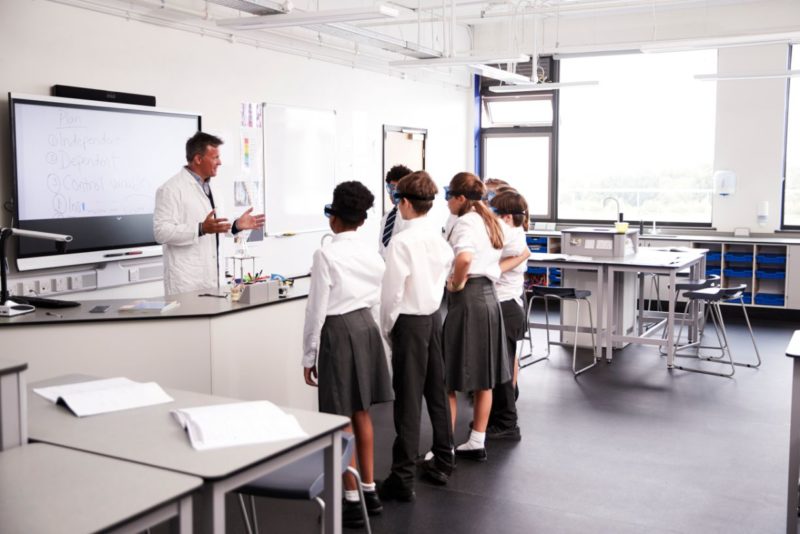 No, we do not mean literally lighting up the place with a matchstick. A good lighting system is one of the key aspects of any type of enclosed environment design. A school laboratory in specific is one of those places where you need ample lighting.
A single LED light does not do justice to the entire purpose of conducting practical tests in the room. Hence, installing enough lighting fixtures in the laboratory is of utmost importance.
However, do not go over-the-top by installing fancy decorating lights or vintage lights such as mercury vapor lamps. These kinds of lighting system sure promote optimum eye-catching aspect, but practically they do not provide acceptable illumination for conducting tests.
The other refurbishment option is to obtain maximum lighting through natural means, aka large windows. Designing large windows can both increase the room's illumination and also make the lab a more spacious and airy place to be in.
2. Brush up the walls
A Periodic table on the lab wall can help students remember more efficiently.
Repainting your laboratory walls is another easy way of promoting a huge make-over vibe. Dark-colored walls make the room feel cluttered and suffocating, and that's certainly not the kind of place where the students can explore their creative part of their cerebrum.
If your laboratory location is not ideal for accommodating large windows, make sure the walls do the job of promoting an airy and clutter-free environment. A case study on colors revealed how students react to different classroom colors and how that affects their attention span.
Avoid any dark color finishing on the walls. Instead, go for bright color options such as solid white, lime green, or something unconventional like Turquoise or electric blue. Apart from just simply repainting it, there are also ample of creative ideas you can do with the walls.
For instance, if you're refurbishing a chemistry lab, you can incorporate a periodic table on the wall. This will be of great help to the students in memorizing the lengthy table without having to scribe through the pages every time.
Similarly, for a physics lab, you can scribe down various key equations and formulae on the walls to help the students remember in an unconventional fashion.
3. Bring life to the furniture
Furniture is, by far the most under-rated aspect of a classroom. People end up focussing too much on other design factors around the room they forget how important a small detail such as a desk or a chair can make a significant impact.
In fact, furniture plays a key role in establishing a positive behavior from the students. A study on the effect of furniture design on a student's learning ability showed that 64% of the participants exhibited a positive response.
Instead of the usual classroom chairs, you can bring in other sitting options such as colorful plastic chairs, foldable chairs, or even some fancy stools. Such small and colorful additions to the lab can greatly increase the aesthetic feature of the room and promote a more positive learning environment for the students.
In addition to just enhancing the way the furniture looks, you also need to take the comfort, flexibility and optimum support of the chair into consideration.
The ideal combination of good comfort and suitable color option go a long way to ensure an improved learning capacity from the students.
4. Re-think the overall lab layout
School laboratories do not necessarily have to be boring if you can draw out the perfect layout of the room. Instead of making the room cluttered a free enough just to squeeze in the other person behind you, create a spacious area.
More importantly, create an ideal lab configuration to encourage optimum interaction between the students.
A study revealed that effective class arrangements, as opposed to the traditional row seating arrangements produced 30% more productive engagements between the students and the teacher-student interaction as well.
Re-design the entire arrangement of your school laboratory if necessary, and create a unique and immersive layout to encourage optimum communication.