Last Updated on January 25, 2022
We have already discussed standard military hairstyles, such as high and tight and induction haircuts. Now, sit back and relax as we show you yet another striking men's hairstyle; the crew cut hairstyle. If you are always busy, but you can take care of your manes by occasional touch-up using hair clippers, then this legendary hairstyle is meant for specifically for you.
So, this hairstyle is classic. It is quite common among the business guys and teenagers alike, as it embraces a significant amount of youthfulness while still giving off a serious vibe — a fantastic combination. Besides, the low maintenance of the crew cut sets it apart from the other men's haircuts such as Mohawk. Here, we will tell you the origin of the crew hairstyle, and how to style it at home.
Continue reading below for more info.
What Is A Crew Cut?
A crew haircut is a men's hairstyle once commonly worn by the American university rowing teams. It mainly incorporates a short faded mane on the sides and the back, and elongated length on the top.
Perhaps, it is because of the scholarly origin that makes it have called after universities (Harvard, Yale, Brown, Ivy League, and Cornell)
If you need to rock a particular cut with your short hair, but you don't need it to be a standard buzz cut, then you should opt for the cut hairstyles. These haircuts don't need a lot of maintenance once it is done. It is ideal for the guys who don't have too much time to spend on styling their manes.
And who does this haircut rocks excellently? The crew haircut rocks any face shape and hair type. However, it looks great on guys with thick hair.
How to Achieve a Crew Haircut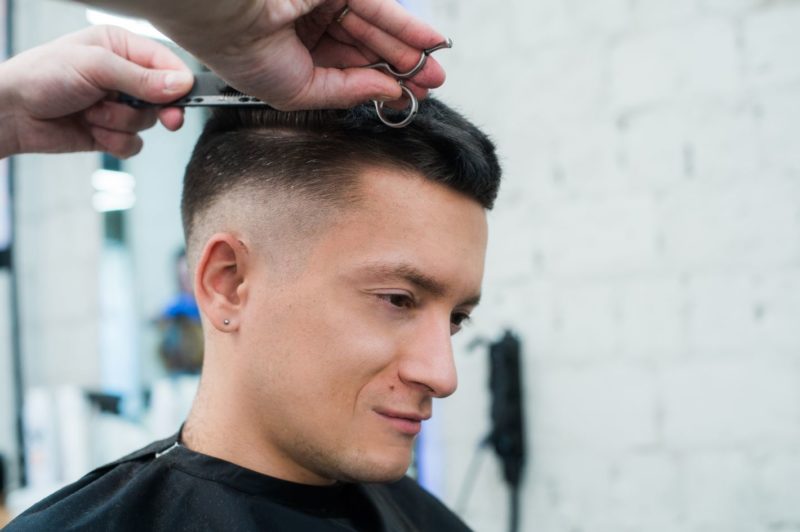 The classic crew cut is created by buzzing the hair on the sides and back using hair clippers and then gradually fading the transition between the sides and the top. This hairstyle is quite flexible, allowing you to style a short or long cut.
If you are not into doing it yourself, you can get it from your barber in the first place. It would be easier to touch it up at home after fourteen days and create a good hold to its shape, just with a little bit longer hair. Perhaps, after this, you would be more confident to style it by yourself.
This hairstyle needs a great deal of crew cut fading, which may be challenging, but not impossible to accomplish it at home. All that you require is a comb, blades, pair of scissors, and multiple guards.
Shave The Back And The Sides
To accomplish a crew cut, you will have to buzz the back and the sides to a short uniform length. You may get a friend to help you or use a second mirror to see your back head.
Starting from the bottom up, from one side of your head and then the other side. Only trim the hair at the back. This will give you an idea of the length of the sides.
You will need to shave your hair in the opposite pattern of your hair growth, especially for guys with fine hair. If you don't know your hair natural growth pattern, you may carefully buzz it in every direction.
Trim The Hair On Top To Shorter Lengths
If the hair on top is too long, you would want to shorten it. You can achieve that using your clippers or large guides that don't use clippers, but you can buy them separately. Alternatively, you can use scissors.
Create A Smooth Fade
Perhaps the hardest step to master. To create a smooth fade, come up with a transition from the bottom to the top of your head, and then taper the hair on the lower part by changing the guard size between the one utilized on the sides and the top.
As you did when you were starting, work one side and then the other side, but focusing on the center, all starting from the bottom. This will aid you in coming up with a uniform crew cut.