Last Updated on January 11, 2022
Do you wish there was an easy way to automate social media tasks that need to be done over and over again? Would you like a tip on how to manage your Instagram followers with a few clicks? Or your latest blog post to be auto-shared to your social media profiles?
The Answer: Automation
Social media is probably the easiest way to waste your time thinking you're doing something to grow your business. You can sift through Facebook posts all day and still not consume half of what's being shared. Try to be a good friend and reply to all the comments, share consistently throughout the day and keep an eye on the mentions and shoutouts. At the end of the day, you've run 10 miles on the treadmill getting nowhere.
For every minute you're doing mundane tasks, you're robbing yourself of precious time that could've been spent on strategic planning, creative thinking and delegation. If you're just getting started with your business, then it's hard to just outsource tasks to other people.
Suddenly you find yourself resenting Facebook, Twitter and Instagram for devouring your time and keeping you from writing that new blog post, replying to a customer's email, updating your e-store, writing a proposal to a new partner you've just met and the list can go on.
But it doesn't have to be like that. You could grow your social media tribe by hundreds every week and still find the time to work on your business, not just in your business.
Automating repetitive tasks frees your hands and mind to focus on what really matters: creating products and services, mapping out strategies and investing time in conversations with your customers, instead of wasting time posting updates on social media.
Zapier is the perfect tool for that. It automates hundreds of repetitive, daunting tasks and gives you the freedom to spend time doing strategic and creative work that impacts your business the most.
How Does Zapier Work?
In a nutshell, Zapier lets you create connections to send data from one app to another using triggers and actions. Each connection, called "zap", is made of one trigger and one action. This tool connects one service to another, so you can automate tasks between them. It's like an IFTTT (If This Then That) program that triggers a specific action based on predetermined rules. For example, you just finished writing your latest blog posts and now you want to share it on Facebook and Twitter. You create a zap that triggers the sharing once the blog post is published on WordPress.
This type of automation can be very powerful, especially when you can link together over 500 apps available in the Zapier database, including Google Docs, Evernote, MailChimp, Aweber, Dropbox, Trello and many more.
Getting Started With Zapier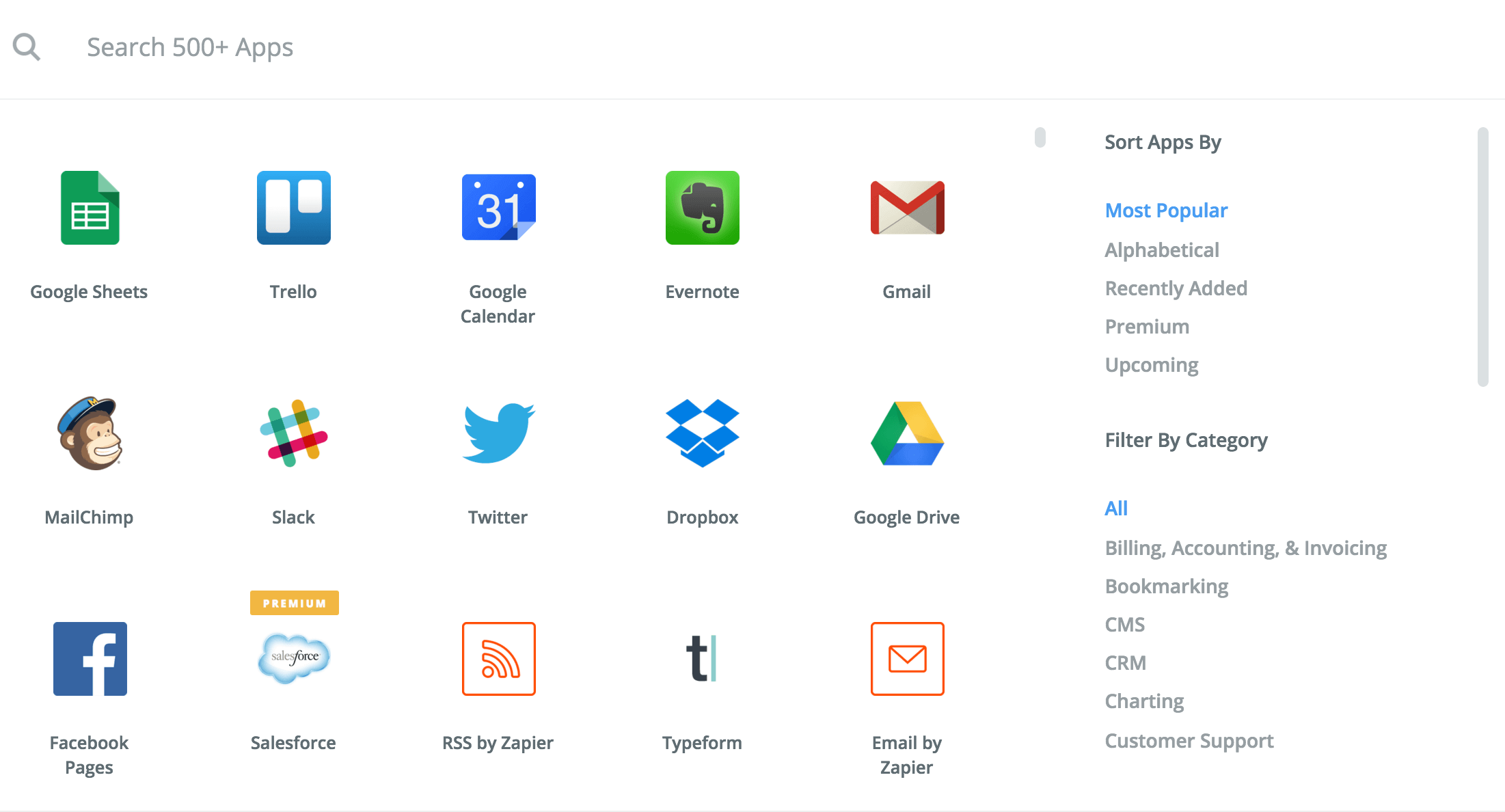 First, you'll need to open an account with Zapier and then connect different apps to your account. These are the apps that you will combine in so-called "zaps". Next, you'll activate some zaps.
You can create your own zaps using the "Make a zap" editor. But, often the zaps you'd like to use have already been created by others, so you can just use those. When you find a zap you'd like to use, turn it on and customize it the way you want it.
Here are some of the most popular zaps for social media:
Facebook
Add your Facebook Page updates to Buffer 
Buffer is a social media management tool that lets you distributes updates across multiple social media channels, including LinkedIn, Facebook, Twitter and Pinterest. This zap will help you share any of your Facebook updates to Buffer and from there on, the tool will distribute your post to other social platforms at your designated time and day. Watch this tutorial on how to integrate Zapier with Buffer and also discover more Facebook integrations here.
Instagram
Auto Share Instagram Photos to Your Facebook Page
Use this zap to automatically share any Instagram photo as an independent post on your Facebook page. Cross-promoting your Instagram content to Facebook also helps to grow your following and engage with more people in your niche.
Add your Instagram posts to Buffer
This zap will let you add your Instagram photos to Buffer and then distribute them to other social media channels. See more Instagram zaps here.
Pinterest
Share Pinterest pins as photos on Facebook
Unlike Instagram, where you share your own photos, Pinterest lets you search for and share other people's images (e.g. an infographic, a neatly designed business card, a workspace image, a picture of someone using your service) by "pinning" them to your Pinterest page.
This zap allows you to automatically share your pins as images to your Facebook age. This way, you can build a following around beautiful visual content on Pinterest and still share great content with the rest of your social tribe. Check out more zaps for Pinterest.
Twitter
Add Tweets to Google Docs
When a user mentions a specific keyword or group of keywords on Twitter, this zap lets you add those tweets to a Google Docs and check them out later. This is also a great way to discover the influencers in your list and build a list based on the tweets shared around specific hashtags or topics.
Youtube
Buffer new YouTube videos
If you're using video in your marketing, then you'll love this zap that lets you to automatically add each new video from Youtube to your Buffer queue. Frm there you can distribute it to your other social outlets.
Post new YouTube videos to Facebook
This zap allows you to automatically share your YouTube videos to your Facebook Page. If you prefer Vimeo, then use this zap.
WordPress Zaps
Share new WordPress posts to your social media channels
Writing the content on your blog is just the first step. Now you need to get it out there and share it with your social media fans. Writing can be fun and creative, but distributing your post once it's finished, is often boring and time-consuming.
Zapier can automate this for you by linking your RSS feed to your favorite social outlets and automatically sharing your WordPress posts with your social followers. You can customize what you want to share on each platform, filter your RSS feed to only share posts on specific topics or send your posts to Buffer and share them later.
Here are some popular WordPress zaps:
Events
Let's say you're hosting a live webinar and you want to share the event on Facebook. You create the event and share it with your fans a week earlier. What Zapier can do for you is remind people about your event as it approaches.
You can use this zap to remind your Facebook fans about your event at specified intervals, like 2-3 days and even hours before going live. So instead of manually posting event reminders on Facebook, let Zapier do it for you automatically.
Networking
With Zapier, you can automatically convert your real-life contacts into online connections. Use this zap to link the FullContact Card Reader app to Google Spreadsheets. The next time you receive a card from someone, simply scan it with the FullContact Card Reader app and Zapier will automatically add your contact to a Google spreadsheet.
Final Thoughts
These are just a few of the many different ways to automate your social media tasks with Zapier. Having more than 500 apps to choose from, the opportunities are endless. Check out Zapier's beginner's guide to zapping to get a more in-depth look at what you can do with it.
The examples mentioned here are just a fraction of what you do with this powerful tool. Check out an interesting example of what can be done by combining Zapier with Trello, Evernote and Google Calendar.
You can use Zapier for free (limited to five zaps and 100 tasks a month) and upgrade to a paid plan if you need to. The other plans start at $20 / month, you gain access to premium apps and receive up to 50k tasks / month higher and 15 zaps / month.
Just remember, automation can become addictive. Once you see how powerful this is, you'd be tempted to automate every single task in our business. However, not everything should be automated. After all, social media is about human experiences and interactions.
A lot of your social media tasks require your presence, especially the comments unique situations. People appreciate thoughtful responses over cookie-cutter replies, so it's best not to use automation in all your marketing. But the examples above should get you started and free some of your time.
Have you used Zapier yet? If so, which zaps have worked best for you? If not, go ahead and try them out and then come back here and share your results.
P.S. Check out this in-depth free course on how to use Zapier in your business.