Last Updated on January 18, 2022
All intelligent brands are quite aware of how valuable monitoring and analyzing competitors can be. To implement a solid business strategy, you need to know what your colleagues and rivals are doing.
Your interest can be in their practices with influencers, social media strategy and the spectrum of how they handle PRs. You could as well decide to check out the details of their methods of handling queries from customers.
Doing this will tell you if your plan is great and whether or not it requires any changes.
It's really no complicated process as long as you start running with enough professional support. Keeping an eye on your competition could last just five minutes daily.
We will now help you with what is needed to put together, a viable plan. Four main steps are involved in learning to take shortcuts from your competition and they are as follows;
1. Identify The Competitors To Analyze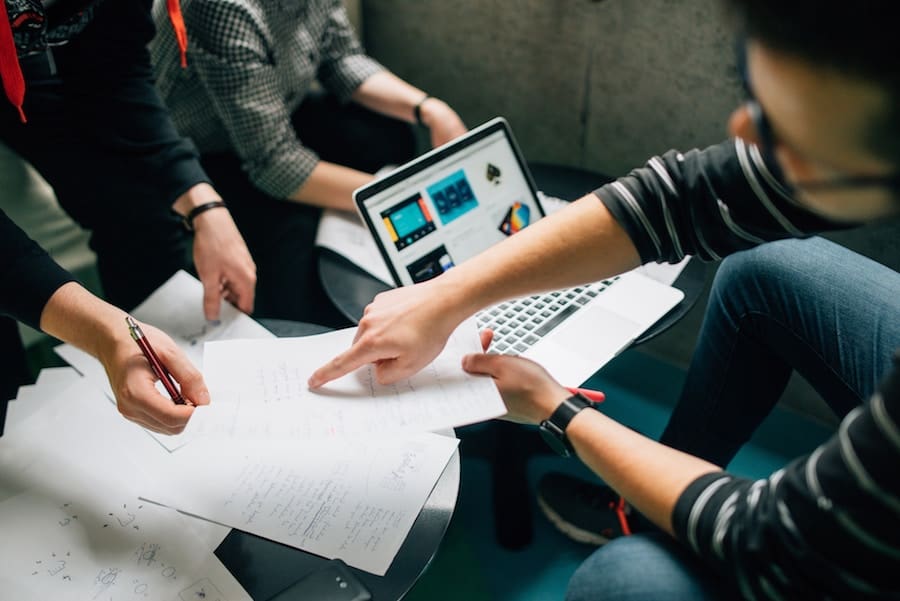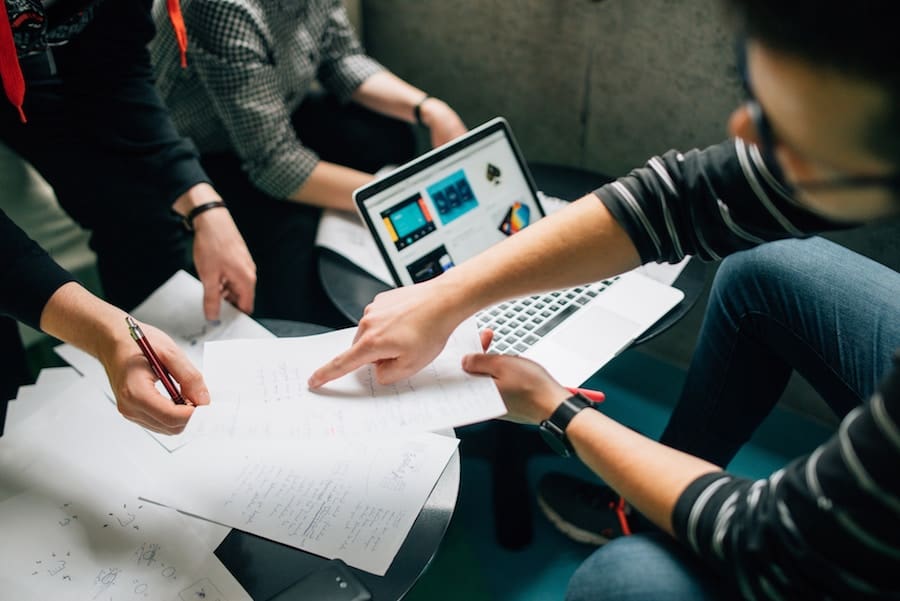 I know your answer already – 'Are our competitors not obvious? The companies providing the same services we offer, producing what we produce. We are Pepsi, they should be Coke or We are Adidas, they should be Nike or Puma.'
It isn't always that obvious, you don't only have to consider direct competitors – brands with very similar products to yours. You have to think about brands following the same market with you.
There exist three major groups of competitors:
I. DIRECT COMPETITORS – Brands with products or services same as yours.
II. INDIRECT COMPETITORS – Brands with different products but with similar need target.
III. REPLACEMENT OR ''AVAILABLE SPEND'' COMPETITORS – Brands that compete with yours for budgeting even with different products.
For instance, competition between a lipstick brand and other lipsticks (DIRECT), producers of lip gloss and lip balm (INDIRECT), and relation between mascara, eyeshadow and eyeliner companies (AVAILABLE SPEND or REPLACEMENT).
You have to keep an eye on all types of competitors to better understand your market. It can clearly be seen that lipstick brands fight each other in the market, but what if consumers suddenly pause and direct interest from lipsticks to their eye related products? Hence, keeping tabs on replacement competitors is also very important.
Your resources directly impact the number of companies you watch. You could come up with an endless list if you give it just little thought. However, nobody has the time to watch all competitors. It's, therefore, necessary to prioritize the most relevant ones. Let's go through the few factors to consider when setting your priorities;
Picking The Competitors You Will Watch
Write down a list comprised of replacement, indirect and direct competition examples. Select a few from every category so that you have a handful of brands to monitor. You will get deep information from close opponents as well as your broader industry.
If you are sure you already have a good mastery of your market, you could direct your focus solely on direct competitors. In this case, you will not get much on your wider industry, but you will be obtaining specific and very relevant information.
What you have to create now is a monitoring schedule that allocates the required attention for every competitor.
Partition it into monthly, weekly and daily schedules: i.e. Watch your direct (top three) competitors daily, monitor indirect competitors weekly and your replacement or 'available spend' competitors monthly in order to maintain a broad view of the market. Such planning can be effectively done with assistance from professionals like SE Ranking, who offer a wide range of top quality tools and support to facilitate and optimize competitor monitoring and analyzing at very low prices.
Make sure your monitoring schedule is adjusted to suit your availability. What's important is that relevant data is collected about your competitors so that you stay current and informed.
What type of data do we refer to as RELEVANT? Let's go to the next step…
2. Select What You Are Interested In Analyzing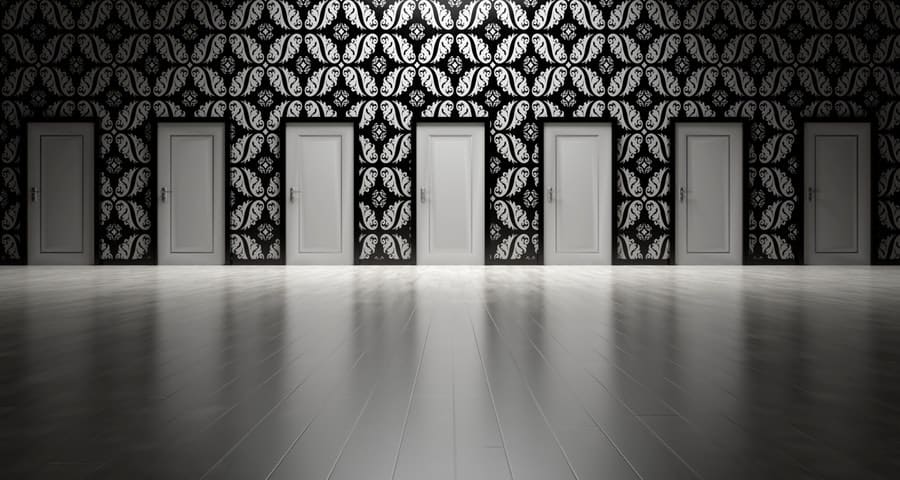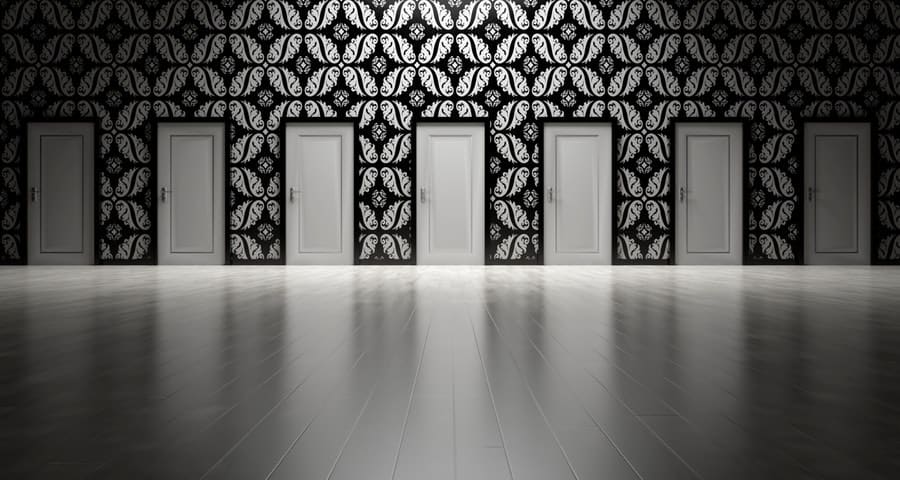 What specific business data interests you? The money competitors spend on office space? This one will be very tricky, though not that relevant. The dental records and tax-returns of their employees? That sounds both creepy and illegal.
Information that is available is their marketing and social media presence data. The point around all these is the fact that they are PUBLIC.
What makes monitoring competitors exceptional is the fact that the gathering of all this information is done without you getting involved in any searching. A cluster of important information is automatically collected by your competitor monitoring tool. The valuable information may carry details on:
I. Marketing Campaigns
This is usually a top priority. A major benefit of analyzing competitors in real-time is knowledge of their planned launch dates of new products and campaigns. It's very obvious that you need to be immediately aware whenever a competitor releases something innovative and exciting.
Your analysis will also give you insights into how successful the campaigns proved to be. Monitoring tools further provide you with information on the reach of the campaign and the number of people who were actively sharing the content on forums and social media.
Also, you will be able to analyze the online reactions to these campaigns. Analyzing sentiments will give you a broad or more detailed and individual view of whether or not people liked the campaign.
II. Presence on Social Media
It's important to know where your competition is most active online, plus what makes up their social media marketing strategy. This implies keeping tabs on their post content and themes, as well as the platforms where the posts are published.
You shouldn't be surprised by some of this. They should definitely be found on Facebook, Twitter, YouTube, etc. Monitor the tone of their messages, their images, and whether or not it's working. You may have to incorporate their approach if they are achieving good engagement.
They could be doing good with social networks you had not considered before. For instance, some are seeing success on Reddit even though most of us don't think of it as a suitable platform for marketing. If your competitor is doing well on Reddit, you should definitely start considering it as well.
III. Customer Service
Let's focus on social media. Thanks to the public nature of these platforms, the customer service of a company can reach and help many other people with a response to an individual. Sharp responses, in particular, have a reputation of going viral.
To ensure that your customer service is up to standard, you need to watch the others closely. Study their message tone, and the feedback they are getting from customers. You should be prepared to keep your customer support staff updated with these details in order to make them better than or at least as good as your competition.
IV. Content
The content on their website, blog, etc can be your competitions client magnet. So, stay alert for significant changes to their websites, e.g. restructure or new design. With the all-important first impression of customers usually coming from the homepage, you have to ensure yours stands out from the rest.
If content marketing is your focus, make sure you invest enough to make your blog your joy and pride. Check out what they are creating and make sure yours trumps it. Watching them will also give you insights on their sharing strategy and platforms.
V. Engaged Influencers
Influencer marketing is proving to bring success to almost every business nowadays. It's possible that your competition has engaged with some substantial influencers to assist them to get the word out. Such arrangements could be based on them just liking the product, favor exchange or paid agreements such as endorsements.
These influential people could be industry bloggers, reviewers or simply fans with considerable and relevant social media following. Identifying these individuals can help you get information about your own offers to them. They could fall in love with the idea of talking about you when you succeed to appear on their radar.
Study all these and choose which are most important to track in relation to your marketing strategy.
3. Select Your Monitoring Tools
Your thoughts may involve doing this monitoring and analysis with your browser window and your intuitive brain. No way!
You will definitely need a lot of assistance to handle the monitoring bulk. Moreover, your time is of more value than that of a computer. So, let's give the computer the difficult part. There are so many different tools from which you can make your selection. Make sure you choose something that gathers the right data and works perfectly for you.
Below are a few examples;
I. Web Tracking Tools:
Don't you want to know what people are saying about your competition on the internet? Sure you do! That explains why you are going through this piece. Web tracking will bring you updates on where they are being talked about from reviews to news and even forums. To achieve this, a Media Monitoring Tool such as Mention will work.
Web sources that should definitely be monitored are main review and news websites. It will give you a detailed view of the PR strategy they are using. Whenever a success about them is on the news, check yourself and do something to get your brand featured as well. If you happen to spot a nice review in a publication of your industry, seek what has to be done to get reviewed as well.
II. Social Listening Tools
If your interest is focused on the social media, a tool for exactly that would be needed. Top tools for media monitoring also work with social, giving you the ability to cover both tasks. HootSuite is a practical choice for social media monitoring. Twitter focus will be great with Tweetreach.
III. SEO Tools
We have all come to terms with the importance of a fitting SEO strategy. SEO is normally a very competitive concept. To be at the top, you must knock others down. And to trump your competitors, you have to make sure you see their targeted keywords and their generated backlinks.
Many tools that can assist you with monitoring the SEO strategy of your competitors exist. The SE Ranking SEO software amongst its many other benefits works perfectly for this as would be seen below. This All-in-One software simplifies the identification of the keywords targeted by your competitors. You just have to enter the URL of the website and all the organic search keywords are displayed plus what is ranked for their top competitors.
The tool will help you see the sources linked to your competitors. Some tools also show you the best-performing pages of your competition and even tells you when they secure new backlinks.
After figuring out the specific data you want to monitor, you can then select the tools that will work best for you. You may want more than one though some like the SE Ranking tool effectively offer a wide range of utilities.
4. Get Started
With all this rich knowledge, what's left is pulling the trigger. You must have got a great plan which now needs implementation.
Select the competitors you will be monitoring or tracking and choose the perfect tools for the job. Create alerts for your competition and observe the feedback.
What you want is information that will be useful in improving your brand. Keeping tabs on the strategies of your competition ensures that you set up your business in the best possible way.
You need to be flexible. You may have to change your plans upon modifying your strategies or as the market receives new competitors. If you lack the ability to adapt, then you can't make it.
Below is more information on the recommended SE Ranking tool which will help you to watch your competition very effectively.
Search engine monitoring of competitors is very much facilitated with SE Ranking. More functions have been incorporated to provide more information from your competition. Your website performance will be boosted and SEO work made easy with a good number of keywords which result in higher SEO rankings.

You will find the following information on the tab that follows;
Main Competitors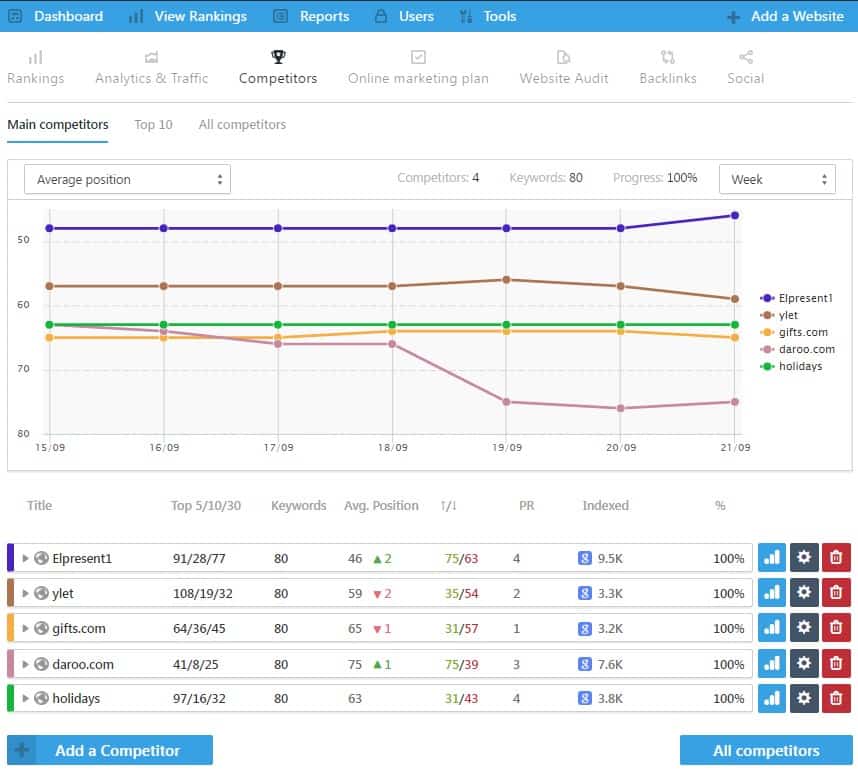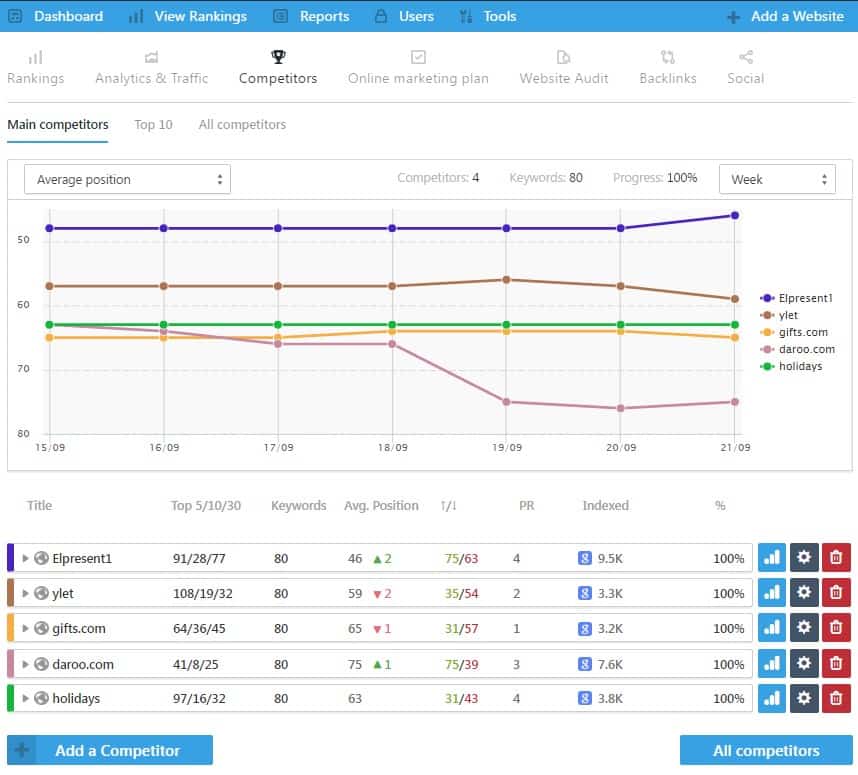 With this section, you are provided with 5 competitor stats from keyword positions you must have added manually. The statistics are gathered based on similar search queries as well as the search engines also used on your website. You can also get information on search visibility and predictions on search engine traffic.
Top 10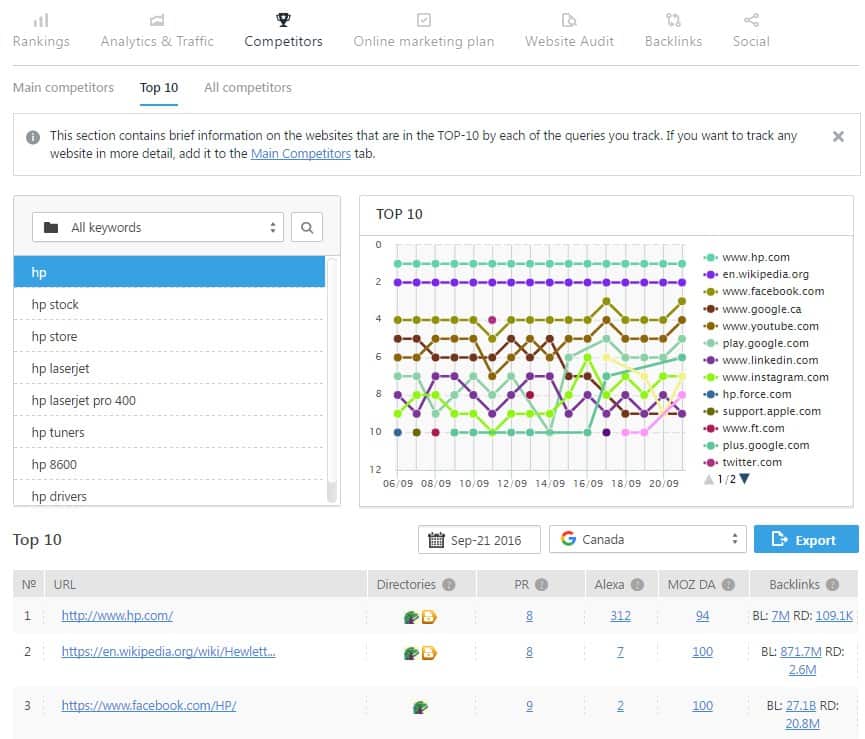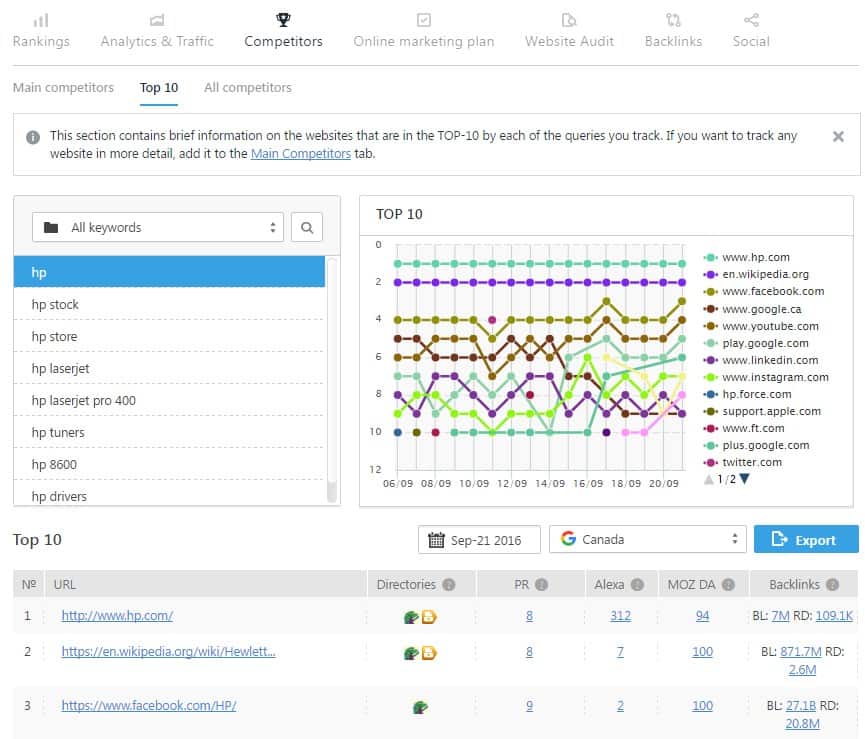 With every keyword you track, TOP 10 search results will be obtained. We have made the decision not to restrict our list to 10 resource. More relevant data has been added: IP address, DMOZ (availability on well-known directories), PR. You can also get website traffic information if the sites have web counters open to external websites.
You are definitely going to get all this information for all the search engines. The data collected is saved for 14 days. This time period will be extended in the near future.
All Competitors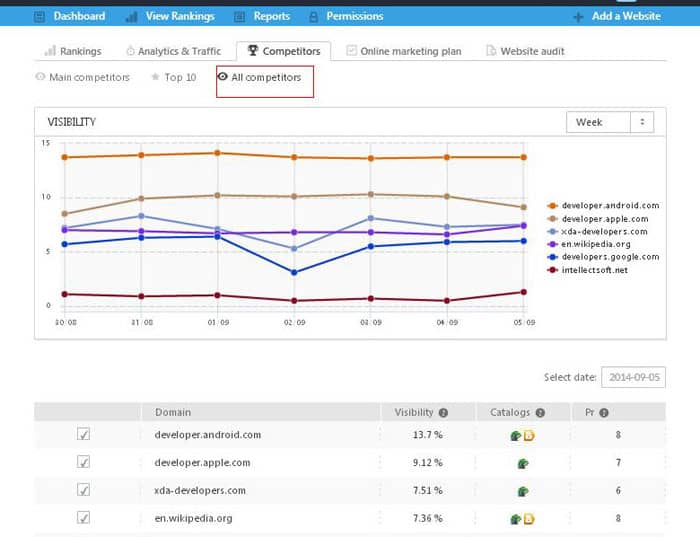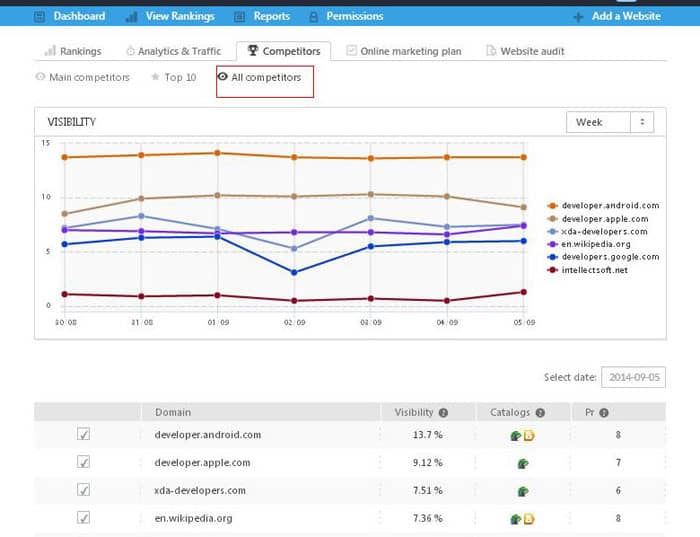 On this page shown above, all the websites with top-ranked results for every keyword in search engines have been collected. These are your major competitor sites. The projects are really many, but make sure you study all the web pages. You will get valuable help in drawing your attention towards a new competitor while keeping you alert on an old competitor's rank improvement.
Working on The Competitors Section
1.) Find the ''ALL COMPETITORS'' tab. Select and explore the websites related to yours. Pick a few interesting ideas like about usability, off and on-page optimization.
2.) Go through all the provided resources on the ''TOP 10'' tab similarly. Using your keywords, select the most suitable resource.
3.) Choose and add 5 major competitors in the ''Main Competitors'' section. Make sure you check frequently to notice any ranking changes to the websites you select. Also, compare their improvements and slumps with your website's changes.
Enjoy our improved ''COMPETITORS'' section. It's easy to try out SE Ranking for free if you are not yet a user.