Last Updated on March 8, 2022
A resume isn't just a summary of your job experience; it's a tool for making a stellar first impression. While the actual content of your resume might be the bread and butter, the formatting and layout of your resume is what catches an employer's eye.
Does it look professional? Is it easily readable? Is it memorable?
When hiring managers look at a resume, two out of every five spend less than a minute looking before forming an opinion, according to Career Builder's study. Some form their impression within just 30 seconds. Your resume doesn't just need to be neat and comprehensive – it needs to be flawless.
Resumonk can help you get there. Whether you're building a resume after 10 years in your industry or crafting your cover letter after graduating college, this product can create the first impression you so desperately need.
Here's how.
Easy-to-use resume templates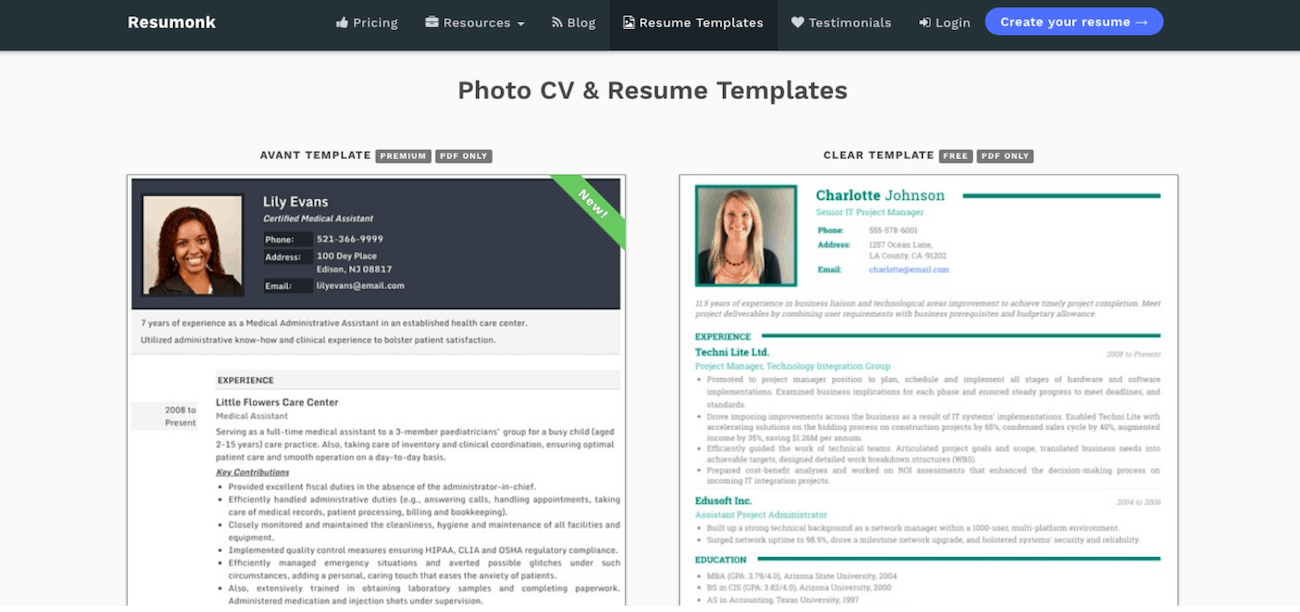 If you've ever messed around on Word, you know that formatting a resume can be a nightmare. Forget spending hours adjusting the ruler and making your bullet points align. With Resumonk's clean-cut, professional templates, you can craft a perfect layout with minimal effort.
Because different applicants prefer to highlight different parts of their experiences, Resumonk offers several pre-formatted resume templates for job-seekers to use. Choose between an elegant layout with traditional aspects to a bolder design that grabs attention instantly. There's one for every applicant, no matter what industry they're in.
There are also templates for cover letters. Did you know one in every ten hiring managers won't even bother to read your resume if it doesn't come with a cover letter? Instead of spending hours tweaking fonts and measurements on your hand-crafted resume and cover letter, dedicate more time to the actual content of your submission after installing one of Resumonk's templates.
Save it now, edit it later 
Don't wait until you're in-between jobs to update your resume. You never know when an opportunity will appear, and having an updated resume on hand makes jumping on these opportunities much easier.
Resumonk makes it simple to create a resume and cover letter, save them, and then update them whenever necessary. You won't even have to keep track of the multiple copies. Just log in and make alterations whenever you switch jobs, earn a new achievement, or receive a promotion.
The benefit of easily including a photo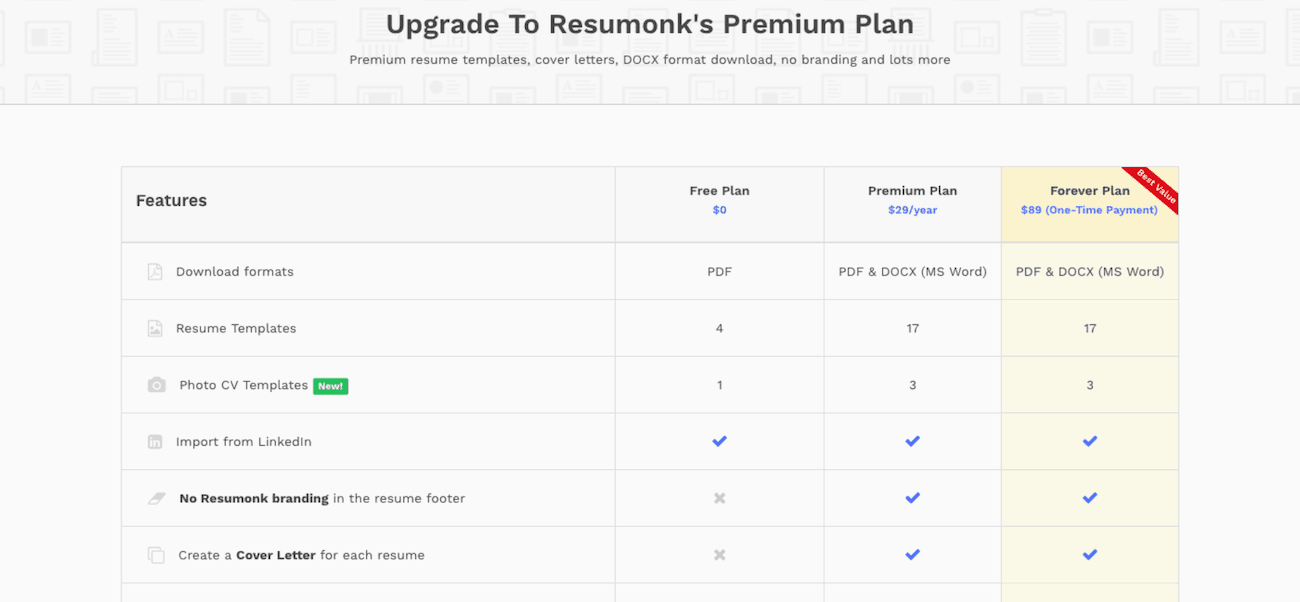 Deciding whether or not to include a headshot of yourself on a resume is a personal choice, and it usually depends on the industry and specific job you're applying for. Certain creative fields require professional photos, and in European countries, including a picture is commonplace.
If you determine that a photo would benefit your application, Resumonk makes it simple to attach a high-quality photo at the top of the page. Just keep in mind that photos are not always considered acceptable, so do your research about including one, especially for American jobs.
There's a plan for everyone 
Resumonk understands that not everyone has the same needs when it comes to creating resumes, photo CV templates, or cover letters. That's why the platform offers three different plans.
The Free Version
 Without paying a dime, users can create a resume in PDF format and access up to four resume templates and one photo CV template. Users can even import their resume information from LinkedIn, making the creation process that much easier. 
The Premium Plan
For $29/year, Resumonk users can download their resumes as both PDFs and Word documents. They can also access up to 14 resume templates and 4 photo CV templates. There won't be any Resumonk branding in the footer of the page, and you can create individualized cover letters for each resume you send out.
This plan is also beneficial in that it lets you create and manage multiple personal resumes. If you're applying to multiple kinds of employment opportunities, this can be a substantial benefit. The premium plan also allows you to monitor who has viewed your resume and reach out to priority support if necessary.
The Forever Plan
This top-tier plan is for users who take their applications VERY seriously. It comes with everything the premium plan does, but instead of paying $29 every year, users can pay a one-time $89 fee and keep all of the benefits for life. If you like to mix it up every few years with your job, the Forever Plan certainly offers the best value.
Why you'll get hired faster
Landing your dream job is a numbers game – the more resumes you send out, the more likely you are to score an interview. You should also do everything you can to land your resume in the consideration pile instead of the trashcan.
The previously mentioned Career Builder study indicates that 18 percent of hiring managers will immediately disregard resumes that have no customization. Additionally, 25 percent of hiring managers won't read your resume if it's an eyesore with long paragraphs and low readability.
Do everything in your power to minimize your chances of winding up in the "no" pile from the beginning. With Resumonk, you can create specific, elegant resumes that quickly grab the attention of recruiters and employers. You can also highlight keywords that catch the right people's eyes and interest.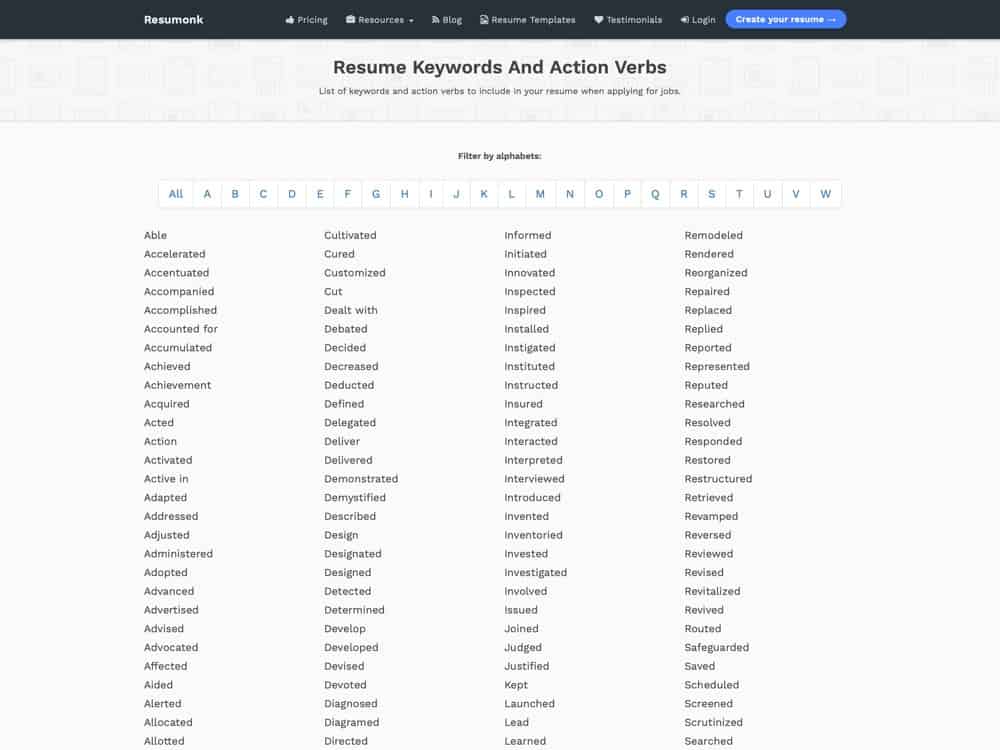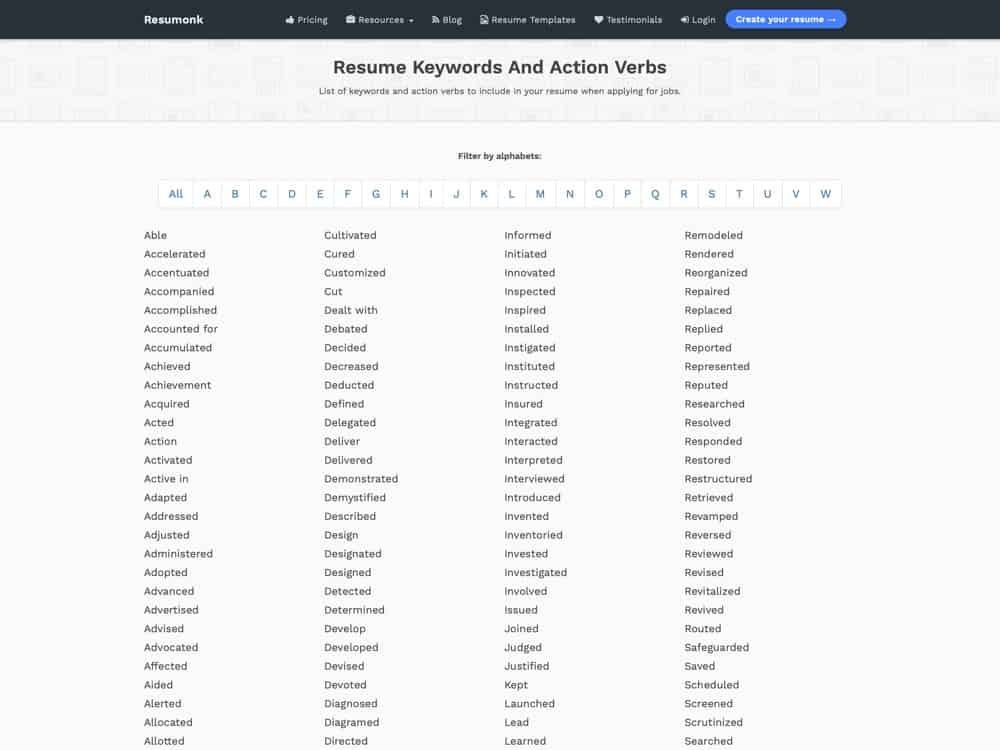 To sum it all up
The process of applying for a new job is challenging, frustrating, and downright stressful. According to the Human Capital Institute, about 75 percent of job seekers don't ever hear back from employers after applying, and 60 percent of applicants quit in the middle of the application because it's so long and complicated.
With Resumonk, you can make the entire process of applying for a new job simpler. Spend less time creating the perfect resume and more time researching positions and preparing for interviews. Increase your chances of making it through the initial qualification rounds and save your resume for the next opportunity that pops up.
Whether you go with the free plan or one of the paid plans, Resumonk platform will ensure that the job application process is as painless and successful as possible.