Last Updated on July 5, 2022
Are you finding it difficult to bypass the FRP lock on your Samsung device? Don't panic because you've just stumbled into the right page.
FRP (Factory Reset Protection) is a security feature supported on the Android version 5.1 and latest that prevents unknown users from easily accessing an Android device just by factory reset. Yes, with this feature activated on your Android phone, nobody can reset your device without the correct login details to your Google account. Thus, making it difficult for anyone to start using it as theirs.
Perhaps you're locked out of your Samsung device and you don't remember the correct login details to the Google account linked to your phone, it'll be quite challenging for you to access your device. So, in such a situation, you'll need to bypass Google account verification process – This article will teach you how to do that in just a few clicks!
What Is Google FRP Lock? 
Google FRP, also known as Google Factory Reset Protection is a built-in security feature on Android phones with versions 5.1 and later, that prevents unauthorized personnel from being able to access a device after a factory reset. Thus, making it impossible for thieves or unknown personnel to easily get vital data from a user's Android device or start using it. 
As long as you have a Google account set up on your Android device, Google will automatically enable this feature to help keep your data safe. So, even if a factory reset operation is executed on your phone, you'll still need to sign in to your Google account to complete any other operation.
Note: If you perform a factory reset via settings on your Samsung phone, you'll not be required to login into your Google account to complete other setup operations.
Best Method to Bypass FRP Lock on Samsung
The best method to Bypass FRP lock on Samsung is by using the professional screen unlocking tool like Dr.Fone Screen Unlock (Android) .This advanced unlock tool employs modern technology to facilitate a faster and easier phone unlock process without requiring pin code or Google accounts.
Unlike many other software tools, Dr.Fone Unlock offers users simplicity in bypassing FRP lock on Samsung. Besides, it supports detailed instruction that guides users on how to employ the advanced features supported on the app. So, it doesn't matter if you're tech-savvy or not, navigating your way around the tool UI will be just like taking a walk in the park.
Key Features
It's compatible with most Android devices, such as Samsung, Huawei, LG, Xiaomi, etc.

Remove all kinds of Android phone lock screens including patterns, passwords, pins, and fingerprints efficiently without compromising phone data.

Bypass Google FRP unlock on Samsung without Google account or PIN. 

It can be used to detect the OS of a Samsung device.
Stepwise Guide to Bypass Google FRP Lock on Samsung Using Dr.Fone Unlock
Follow the steps outlined below to learn how to bypass Google account verification after reset using Dr.Fone Unlock. It's as easy as A, B, C!
Step 1: Firstly, download and install the Dr.Fone unlock on your Mac or Windows Computer.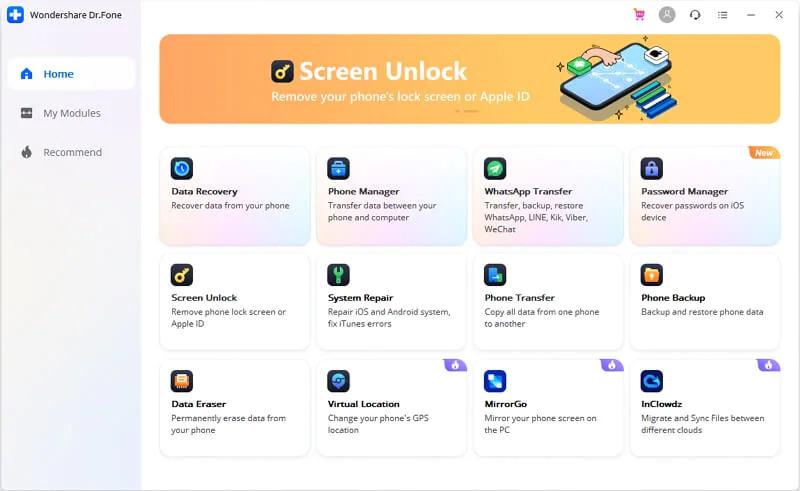 Step 2: Launch Dr.Fone and make sure your Samsung device is connected to a stable WiFi connection. From the home interface of Dr.Fone, click on 'Screen Unlock' and select 'Unlock Android Screen/FRP, then choose 'Remove Google FRP Lock' next.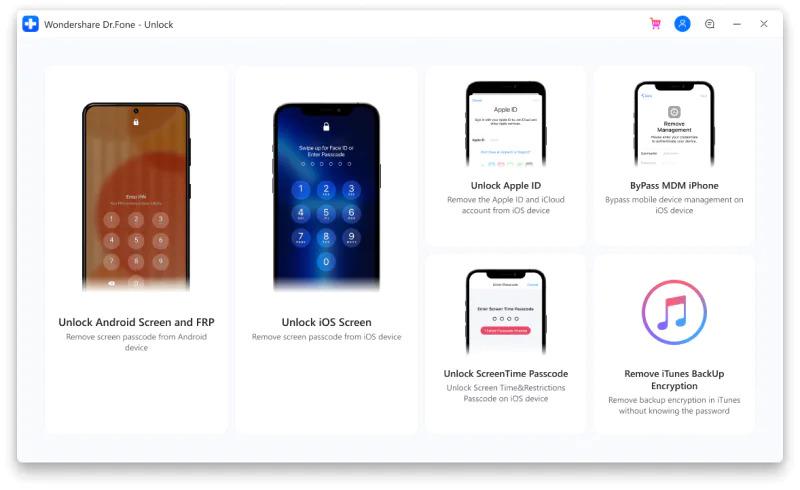 Step 3: Select the OS version of  your Samsung device and click Start. In this guide, we used Android 7/8. However, If you're using Android 6/9/10 or don't know the OS version of your device, follow this FRP Guide. 
Step 4: Now, connect your Samsung device to the PC using its USB cable.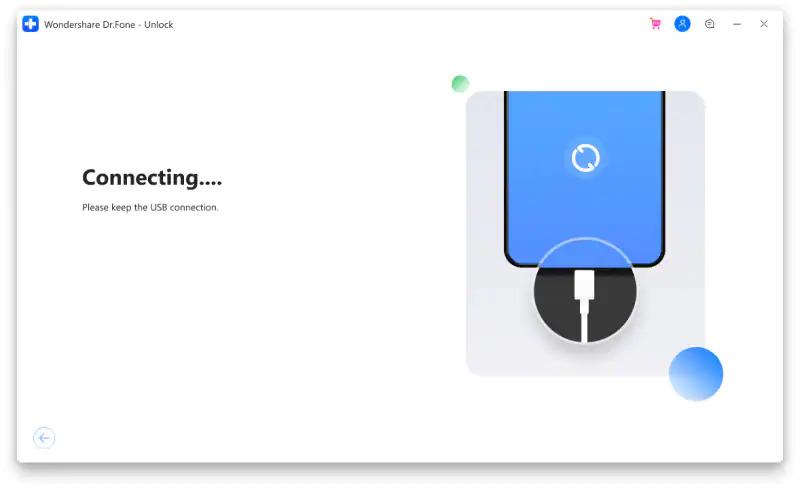 Step 5: By connecting your device to the PC, Dr.Fone unlock will send a notification to your locked phone and instantly display your device information for confirmation. Click 'Confirmed' on your PC screen to proceed.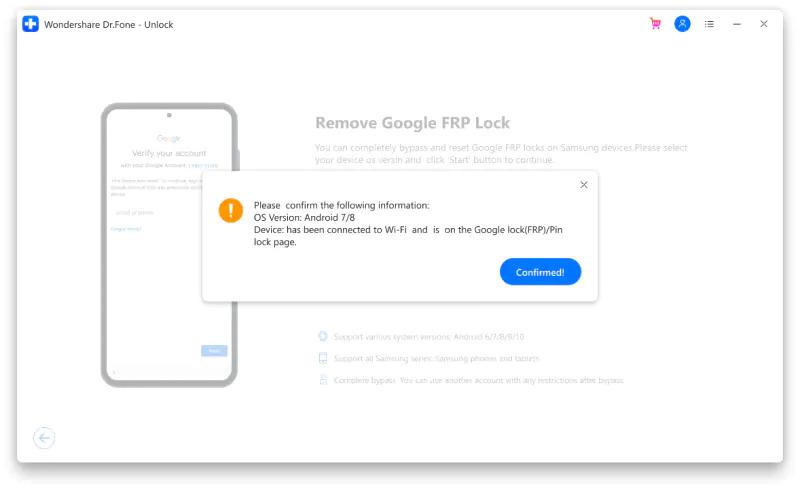 Step 6: Check the notification on your Samsung phone and follow the onscreen steps to be redirected to "drfonetoolkit.com."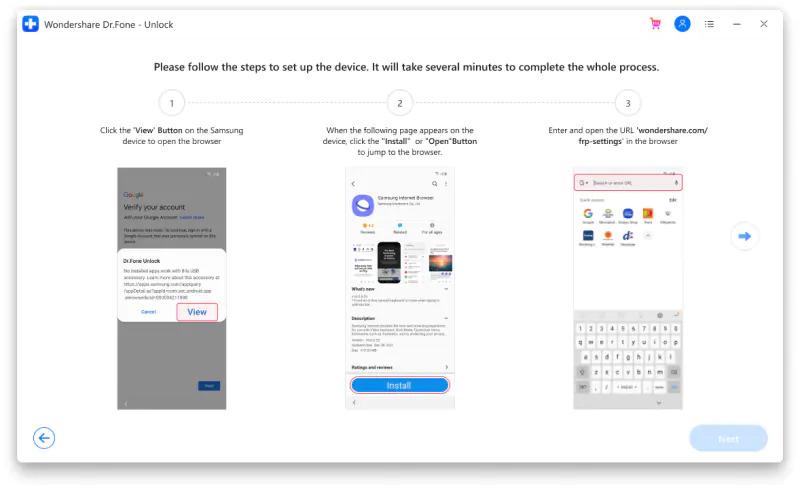 Step 7:  Click 'Download APK', then after the download operation is successful select 'Open' to install the app.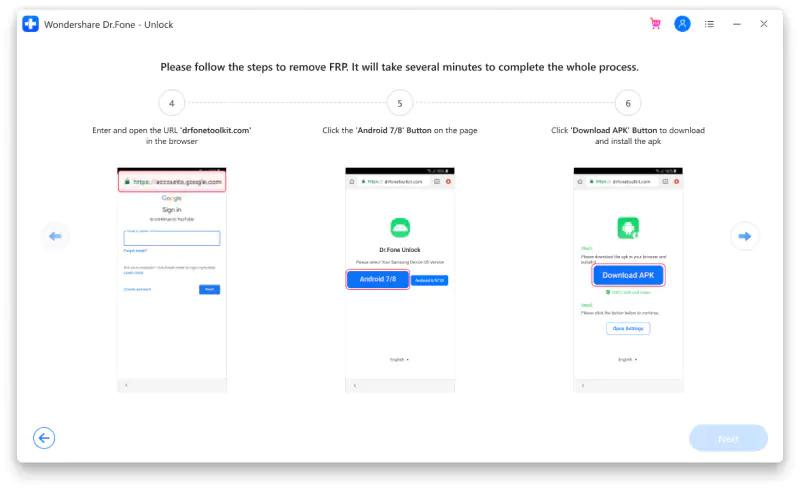 Step 8: Enter the 'Settings' page to allow it when a security pop-up appears. Turn on 'Allow from this source' by tapping the toggle next to it. Then tap '<' to return to the installation page and complete the installation process with the onscreen guide.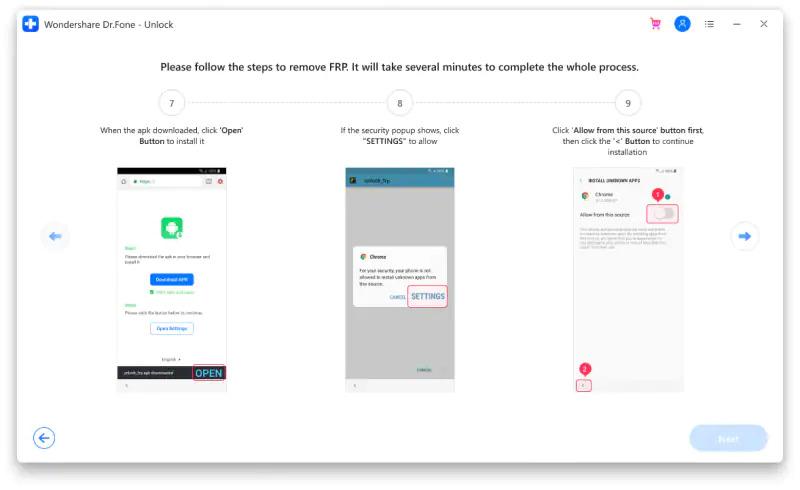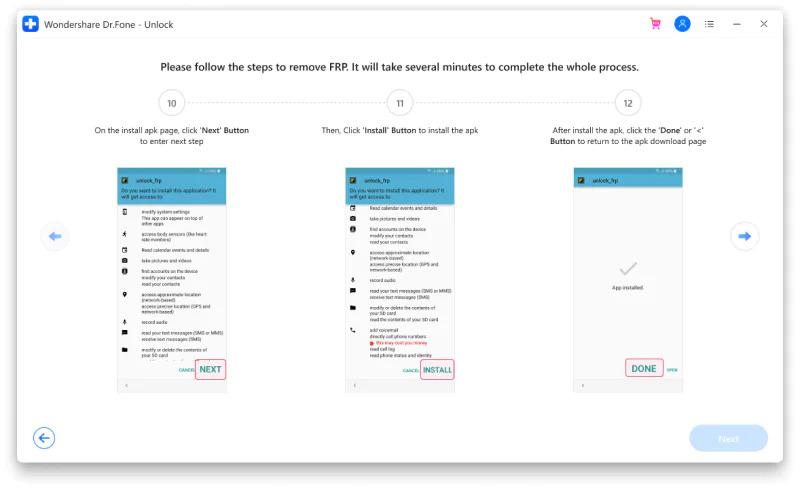 Step 9: Tap on 'Done'. By doing so, you'll be redirected to the APK download page, then you can click 'Open Settings' from there.
Navigate to Lock Screen and Security or Biometrics and Security > Choose Other Security Settings > Click Device Administrators or Device Admin Apps.
Step 10: Disable the' Android Device Manager' and 'Find My Device' options. Then click on Deactivate to verify.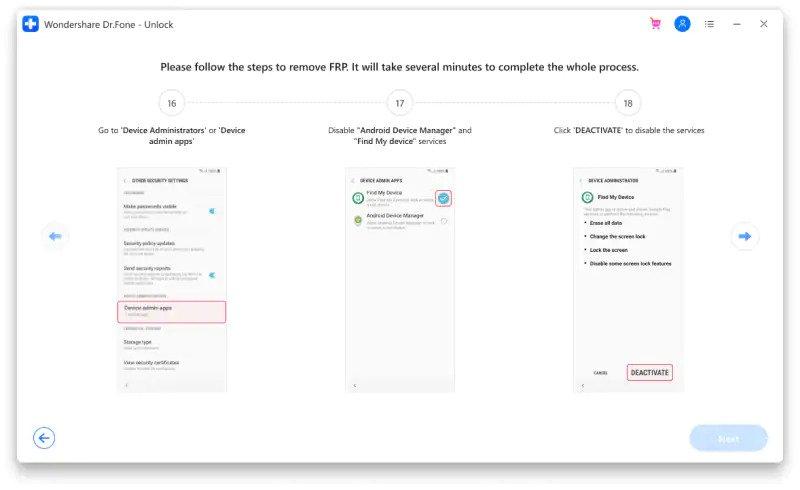 Step 11: You also need to disable the Google Play service and Google Play Store. To do so, just go to Settings and select Apps, then click on Google Play Services and Google Play Store. Choose Disable for both options.
Step 12: You'll be required to navigate back to the APK download page. Then, afterward, tap on Open Settings.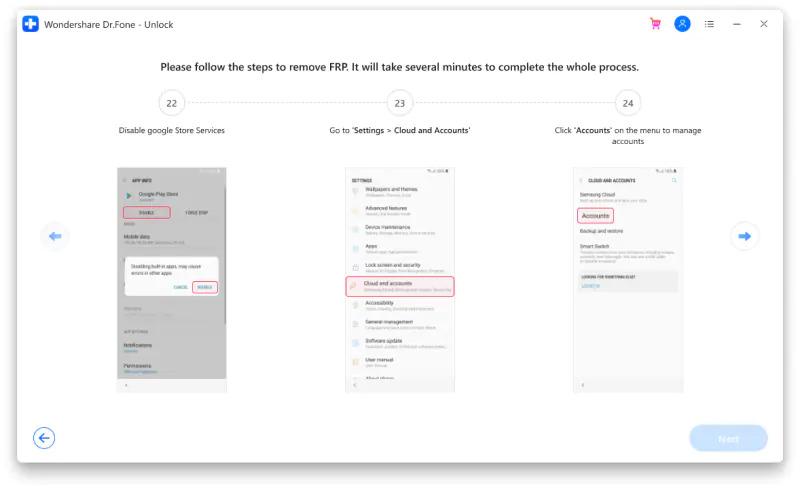 Step 13: Sign in to another Google account or you can create a new one.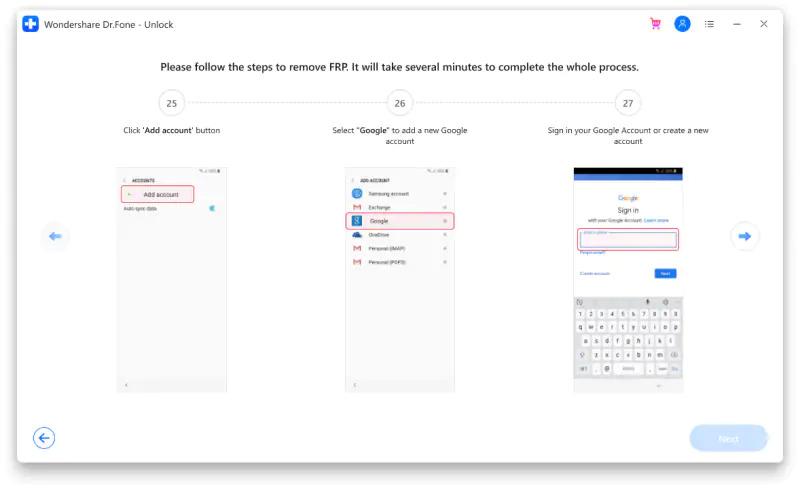 Step 14:  Once you've successfully signed into the Google account, you'll be directed back to the Settings page, but this time, you need to restore Find my device, Android Manager, Google play service, and Google Play Store service.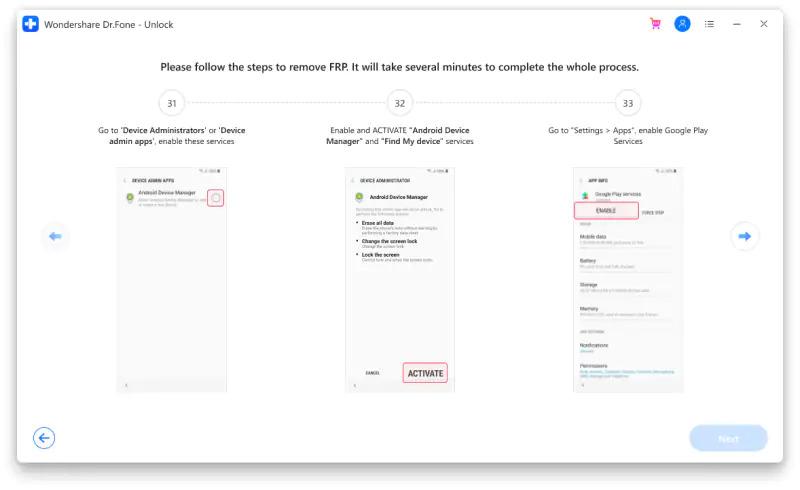 Also, open Settings and locate 'Lock Screen and Security or Biometric and Security > click on Other Security Settings > navigate to Device Administrators/Device Admin apps, then enable 'Android Device Manager' and 'Find My Device' service.
Step 15:  Lastly, Restart your Samsung phone. When it shows on-screen instructions on your page, Google FRP unlock has been bypassed successfully.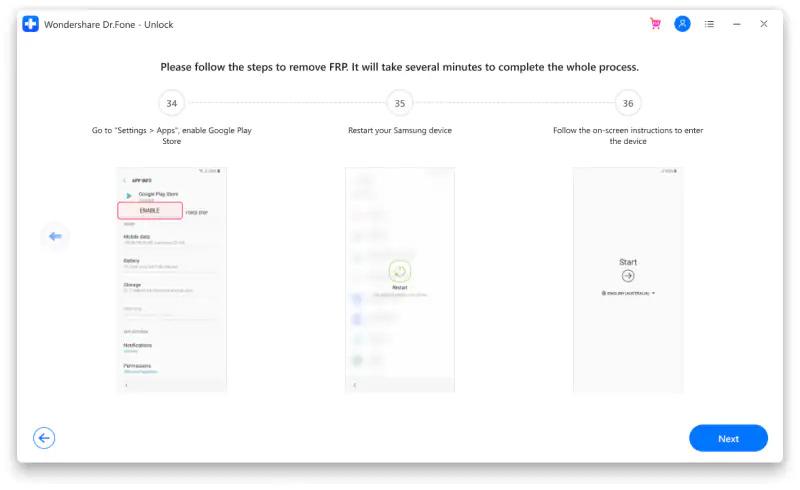 Availability and Plans
Available on Windows and Mac, Dr. Fone Screen Unlock can unlock screens of Android phones, as well as iOS devices. It can easily bypass the iCloud activation lock and Apple ID without data loss.
Dr.Fone Unlock (Android) start with $39.95/ year, supporting 1-5 devices. In addition, you can also go for a perpetual license, at $49.95 for 1-5 devices.
Conclusion
Although Google FRP is a very helpful feature to enhance your phone security, it can be quite challenging in unfortunate situations whereby you forgot the correct password to your Google account or you purchase a second-hand Samsung device with a Samsung FRP lock activated on it. 
That being said, the FRP unlock method explained on this page using Dr.Fone Screen unlock (Android) is the most reliable way to bypass Google account verification on Samsung device. All it takes is just a few clicks and you're good to start using your device again. 
Some FAQs
How Can I Remove Google Account and Turn Off FRP Lock On Samsung Phone?
You can turn off FRP unlock without factory reset by doing the following;
Open the Settings app on your Android phone > Locate Accounts or Account and Backup, then tap on it.

You'll see your Google Accounts on the new page. Select the Google Account, then Tap on 'Remove Account'.

Your Account will be removed from the Samsung device and Google FRP lock will be disabled.