Last Updated on January 20, 2022
Phones are an essential part of any business. These days, with more small and medium enterprises and businesses, the need for business phones has even become more important. Having a business phone gives you an edge amongst others as it cultivates a very professional image compared to using your personal phone.
Since the beginning, companies, small or big, rely on landline phones for business' phone needs. However, there are more options for different types and set up of businesses nowadays. For example, cloud phone for beginners has become popular for many start-up businesses.
Of course, a different phone option might be more suitable for your business' needs. Choosing the best phone option can also depend on your budget. Below are more phone options that you can choose from.
Different Phone Options For Your Business' Needs
Landline System
The landline system is mostly used by big and established companies. The landline system is often supported by your regional or local phone company using the usual copper wiring.
For it to work in your office you would need a private brand exchange (PBX) hardware. This is what is necessary so that you can have multiple phone extensions and more features like transferring calls and call directories.
As previously mentioned, the landline system was the first choice for business setups in the past. However, if you choose this type of phone setup you should also have an IT team that would maintain and repair it. Thus, it is mostly the big companies that choose this set up because it can be costly.
Virtual Phone Systems
This type of phone setup is basically just a call forwarding service wherein calls to your "office number" are forwarded to you or your employee's phone. This is ideal for businesses that had just started or if you are the owner and employee at the same time.
The cost of this phone set up is not that expensive since you won't have to invest or buy any hardware. You do have to pay for services in your app provider and the regular charges on your mobile phone or home phone minutes still apply.
No worries though because the virtual phone systems also have features that are very useful for businesses. It offers voicemail, call forwarding, automated receptionist and online faxing. You can also avail of toll-free numbers and call screening. These features are necessary to maintain a professional image for your company.
VoIP Phone Systems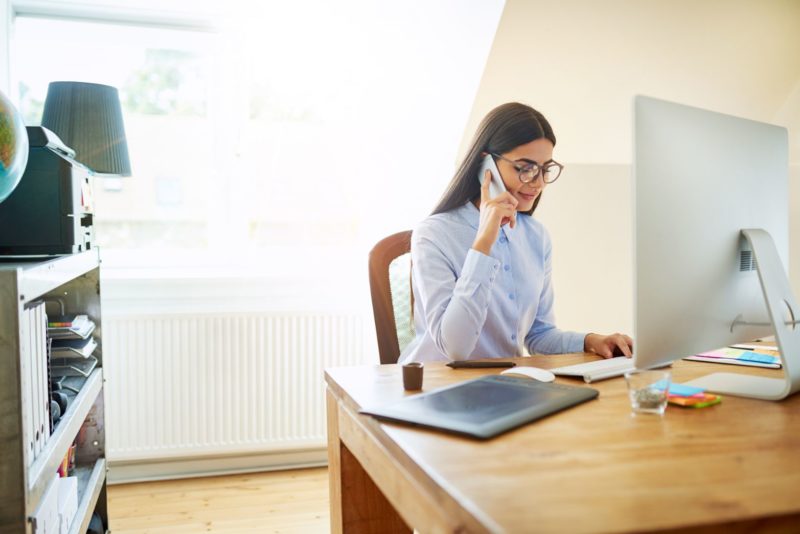 This phone setup is a lot similar to landline systems but it uses the internet instead of relying on your local or regional phone company provider. VoIP or Voice Over Internet Protocol is the easy solution for companies who want the benefits of the landline system but does not have the budget that entails with it.
However, the VoIP phone setup is not advised if your business address is located in a place with spotty internet service since it purely relies on the internet.
There are two types of VoIP hosting and it is up to you which is a better and smarter choice that can provide solutions to your business needs.
Categories of VoIP Hosting
Cloud-Based VoIP System – The cloud-based hosting of VoIP is very convenient since all you will need is a phone and computer to set it all up. There is no need to invest in PBX hardware or whatnot because your provider will take care of everything. They will be the ones in charge of maintaining and upgrading the service. You will only have to pay a monthly fee for the services rendered depending on your plan.
On-Premise VoIP System – This type of hosting would require you to make a one-time purchase of hardware like the PBX and other equipment needed to have the host on your business' premises. And due to self-hosting, you would also need an in-house staff to maintain and upgrade the system to continuously improve and repair the system when needed.
Although the equipment can rack up the cost, remember that these are one-time payment only. After that, you would only need to pay monthly for the Primary Rate Interface (PRI) circuit or Sessions Initiation Protocol (SIP) trunking. These are what is necessary so you can make a call from your phone and take calls as well.
Although the cost seems overwhelming, on-premise hosting will allow you to have total control of the system and its upgrades. You will never feel helpless when the system breaks down since you can do something about it.
Conclusion
Once you have decided what type of phone setup is needed in your type of business, then all that is left to do is choose which provider can offer you the best plan. There are a lot of companies that offer these services and all it takes is a quick search on the internet.
The different phone options for your business setup have different pros and cons so it is worth it to think twice and hard before making the decision. But do make sure to provide a business phone number for your business and do not use your personal phone. It is best to keep business separate from personal after all.