Last Updated on March 8, 2022
Hello there! Let's learn something about converting a .txt file to a .cfg one, shall we?


This is what a .cfg file looks like inside.
Firstly, let us get it straight – a .cfg file is many things at once, yet we are going to focus on just one of them today.
A .cfg file is basically a generic preference file. It is able to store different settings and configuration information. Many programs are using it for its incredible ability to store data in various formats. If you are wondering how to open .cfg files, then we have to tell you that they, unfortunately, should not be opened manually. Yet they can be saved in a text format.
If you want to check whether your program of choice has the capability to generate a default .cfg file then you have to pick and then move the configuration file from the default directory. Make sure that app of yours is not open in the background. After you do that, run the program and check the directory. There, a new .cfg file should have been created.
If you want to open your .cfg in a text editor, then you can use anything that your computer has! And if it has nothing installed on it, then download one! You can also edit the file to whatever state you would like it to be in, and then save it in the same format.
Please note that each file has different personalized settings for a Windows program. You, however, can also open and edit your .cfg without needing to install any third-party software if you don't want to!
Here's how to open and edit .cfg file on your PC: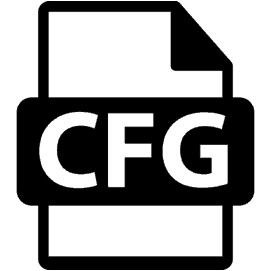 Step 1. Locate the 'Start' button on your PC's desktop and then press it. If you remember the name of your .cfg, then type it into the search field on the 'Start' menu. Click 'Enter'.
Step 2. When your desired file pops up in the results, select it and right-click it. There also should a certain menu appear which you will also have to pay attention to. Click 'Open With'. Once you see the popup list of programs, click 'Notepad'.
Step 3. View the opened .cfg and then get down to business. Edit it! But, seriously, pay close attention to the type of changes you decide to apply. That, in its stead, makes your edited file dependent on the program that you want to use it with in the future.
Step 4. When you think you are done with all that editing, hit the 'Ctrl + S' key combination. That will save your file. The format will be the same, so that your .cfg extension is being kept preserved.
And that is it! We really hope you enjoyed this little step-by-step and will be using the steps in the future! Please make sure to leave comments down below so that we know if you want us to do stuff like that in the future. Have a lovely day and we will see you soon!