WordPress has been the platform of choice for site owners.
The ability to customize it at will is far more potent than some other CMS, and the fact that it's free adds up to its charm.
Additionally, WordPress offers a ton of options you can use to boost your site's performance even without coding experience.
Check out the different ways you can customize your WordPress site below.
Use responsive, low-impact themes
Up to 70% of users use mobile to access the internet, and that number is continuously increasing each year.
The users today expect that web pages load fast and responsive sites that cater to that expectation produce better user experience.
Try to use minimalist and lightweight themes like Generate Press and Astra that doesn't have lots of unnecessary features and load reasonably fast.
Furthermore, Google prefers websites that are optimized to be fully responsive. So, make sure that the WordPress theme you're using adjusts to the screen resolution from the device used by your visitors.
Download only the essential plugins
Plugins are a great addition to your WordPress site as they enhance what your current website can do.
Most of what these free and paid plugins do are extremely useful. However, too many plugins can be the cause of your site's low performance.
A slow website makes the users leave and will affect your site's bounce rate.
Also, these plugins have vulnerabilities that can lead to a potential data breach.
If you are looking for security and caching plugins, here are some recommendations.
You can test your site on Pingdom and GTmetrix to see the changes after installing these plugins.
Add widgets on your sidebar
If your blog's design enables you to showcase things on your sidebar, then take advantage of its visibility and make sure to place the best widgets there.
WordPress allows you to curate the type of content or specific functionality that goes into your sidebar.
You can add in a featured post, a search bar, top categories, or a custom text description of what your site is about.
Widgets are little drag-and-drop blocks that you can control from the Customize section on your WordPress dashboard.
Learn to build pages using the block editor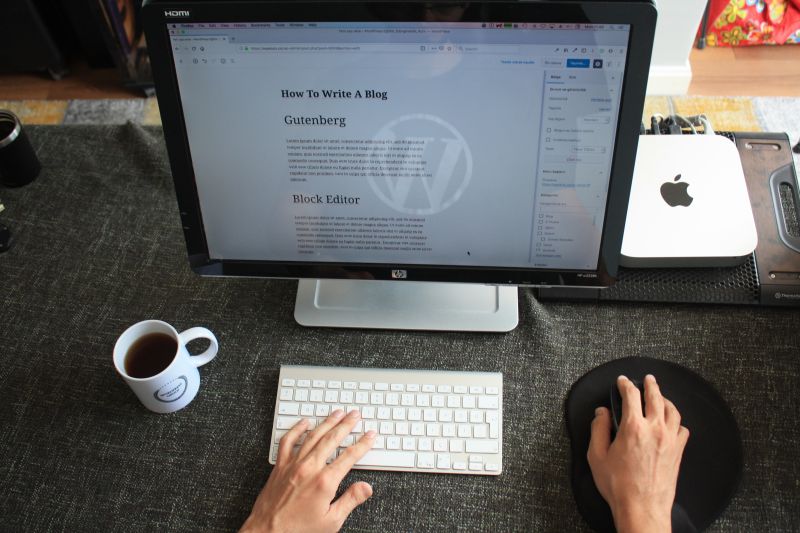 WordPress' blog editor, Gutenberg, is the new and cool kid in town.
Its essential purpose is to cut out unnecessary elements and be a simple and easy solution for writing posts.
Since Gutenberg is here to stay, learn how you can leverage this new WordPress technology to your advantage instead of resisting it.
One of the key differences between the Classic Editor and Gutenberg is the drag and drop system.
Gutenberg enables you to pick up a block which can be a paragraph, heading, or a table in a matter of seconds. This makes creating blog posts seamless and more enjoyable, even for a new WordPress user.
Gutenberg's release lead to new plugins that are compatible with the editor. Here are some plugins you can download to make designing pages much better.
TinyMCE – It includes a hybrid option that combines both the classic and the Gutenberg functionalities.
Qubely – A block toolkit with plenty of custom blocks including testimonial, button, Google Map, and accordion blocks
Elementor Blocks for Gutenberg – It offers you the possibility to add over 100 prebuilt templates and over 300 blocks across your site.
Set up a way for visitors to reach you
Having a way for people to connect with you is a must when you have a website.
Usually, you download a contact form plugin that you can display on your site. This way, people can fill it out so you can reply to them afterwards.
Using a contact form instead of just pasting your email address on a page prevents spambots that crawl the internet for their next victim from sending you spam emails.
Now, chatbots and chat widgets are also available to make reaching out to you faster. These chatbots automatically select an answer that is relevant to the user's query.
If your website is transactional or you have customers to cater to, then using chatbots helps save time for both you and your users.
The main idea of using chatbots is to help you personalize your messages while also saving money, time, and reducing human errors as much as possible.
Conclusion
WordPress keeps you from burning too many resources by being an all-in-one website solution.
It's a good practice to optimize your site regularly and focus on having strong performance and providing excellent user experience.
It's all just a matter of comparing which works and which plugin solves problems best to see how they impact your business.