You finally did it: you brought your GoPro to that dream vacation in Thailand. After lots of diving, partying, and hiking, you're sure you got some amazing videos to share with friends and family. But when you finally got back home, you're stumped about what to do with all those videos.
The wide-angle shots don't seem to match the mood of the landscapes at all. There's also some shakiness in other clips. What's worse, they don't seem compatible with your video player.
Now what?
If you're looking for a lightweight, easy-to-use, powerful 4K video editor that's similar to GoPro Studio, then VideoProc does all that and more. Here are the top reasons to make it your new go-to editing software for 4K videos:
The Problem with GoPro 4K Videos
GoPros are great at adventure shots. Thanks to its outer casing and small size, it's easy to carry around, mount onto anything, and start taking videos of your adventures. Whether it's to see the Niagara Falls up close or to go diving in the Philippines, you can bet that this device will capture every moment without worries.
The problem begins though, once you get home and need to get those videos. Some devices are not compatible for viewing 4K Ultra HD videos. If you try to use most 4K video editing software online, they will also present the same issue. That's because GoPro uses HEVC (h.265) (Tips: Edit 4K HEVC video in Adobe Premiere) to record the video files. Many video editing tools do NOT support this format.
Another common problem is that inasmuch as 4K videos have awesome detail, they can also be heavy. So expect regular 4K editing software to crash or freeze during editing or conversion. This can be a hassle for non-tech savvy folks.
But even if you're quite familiar with 4K video editing, you still don't want to experience this while editing or exporting your GoPro video files. If it's not the app though, it's going to be your PC or Mac. However, that's only because of the editing software.
What you want is an intuitive, user-friendly GoPro Studio for Mac and Windows alternative that's faster, smarter, and flexible. Here's where VideoProc comes in.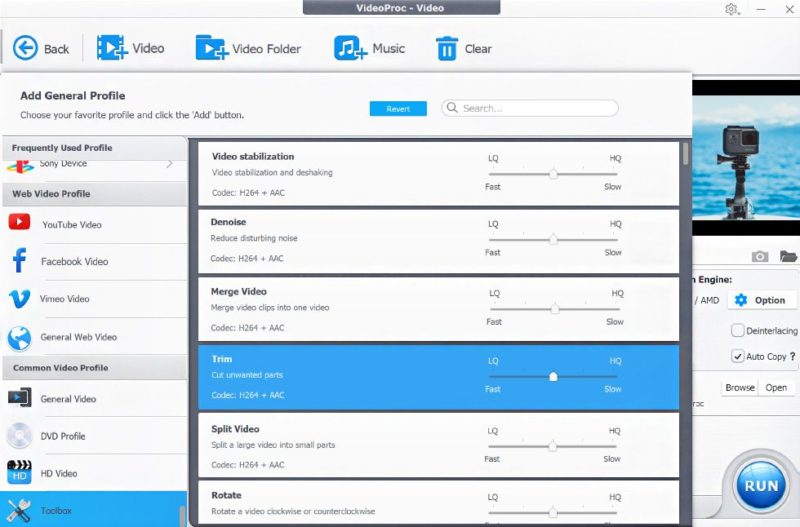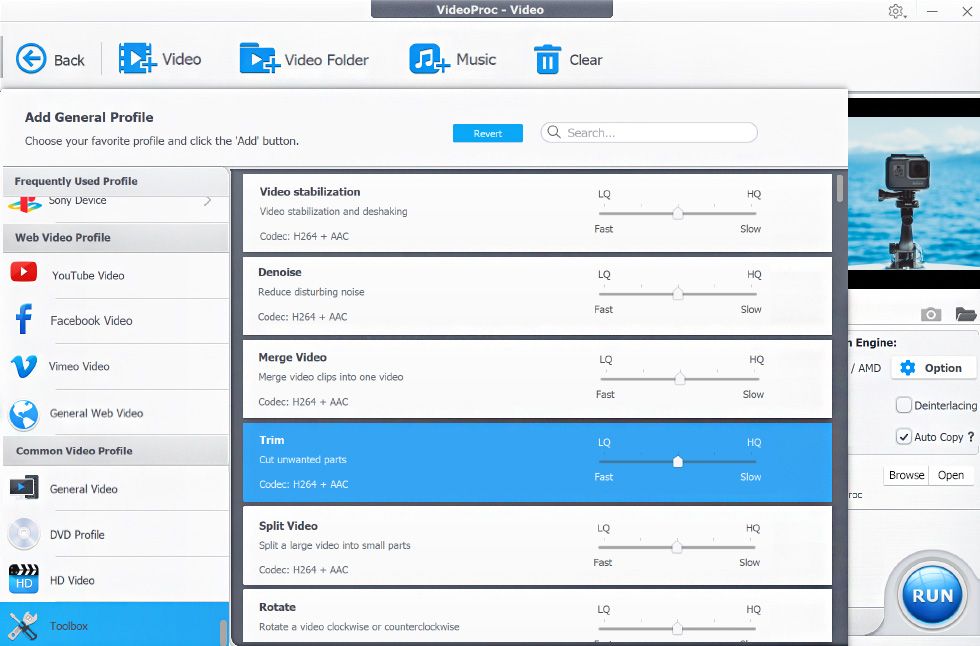 Why Switch to VideoProc
Videos are moving memories. So make sure they are clearly captured in the way that they're supposed to be seen: in brilliant colors, with the perfect sound, and with a fascinating story to tell. Don't just take videos; make them shine with the right editing software.
VideoProc is an easy-to-use video processing software that can edit, convert, resize, and adjust large 4K videos, especially from GoPros. You can also name it the best DJI video editor as it handles DJI 4K videos as good as GoPro videos.
That's because it uses full GPU acceleration that can speed up the processing of your videos up to 47 times faster. Powered by Intel®, AMD®, and NVIDIA® GPUs, it produces seamless results that look absolutely professional. That means NO freezing of the app or of your PC. So even if you're working on a Mac or Windows, you can cut, crop, or merge clips, as well as add music, without issues.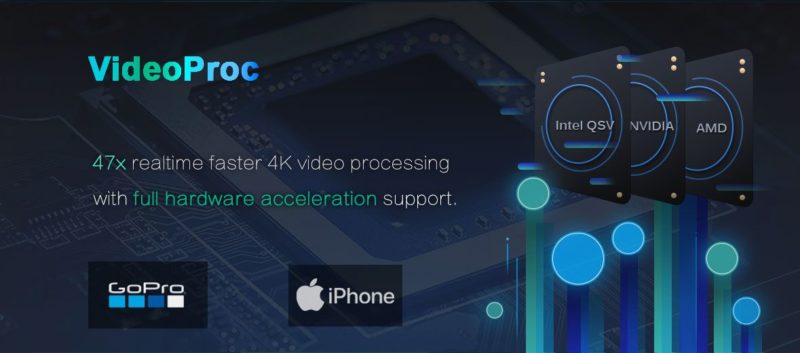 Second, the VideoProc software contains smart features that can transform your videos from basic to incredible. Instantly repair shaky captures, merge clips into one flawless shot, and remove the fisheye lens distortion that's inherent with GoPros. Distracting background or windy noises? Yes, you can remove that, too. Making a video for a client? No problem – quickly add text, logos, or time stamps onto your video.
It also offers other exclusive services not found on regular video editing apps. As an all-in-one video software, its built-in media downloader engine lets you download online videos, music, playlists, and channels from over 1,000 sources, including YouTube, Facebook, Dailymotion, Twitch, and SoundCloud. Record your Windows or iOS screen for presentations or gaming tutorials.
Who says only GoPros can capture remarkable shots? Aside from GoPro videos, this application can also help you edit 4K videos from your iPhone, DSLR camera, or drone device. Do you have heavy 4K HEVC clips on your smartphone or Ultra HD shots from your camcorder?
Then let VideoProc do its magic with its great editing tools, plus a high-speed media converter that can convert and compress those videos into MKV, AVI, FLV, WMV, MOV formats for easy viewing on any device.
After conversion, feel free to turn those files into high-quality homemade DVDs families can watch after Christmas dinner. Dreaming of becoming the next Steven Spielberg or James Cameron? Use the DVD conversion to create your own movie. How cool is that?
Watch the official video to see how VideoProc works with GoPro, DJI, iPhone 4K videos:

Download VideoProc Today!
Are you a gamer who wants to show off fabulous wins from your recent game? Looking to spice up a boring corporate presentation with an upbeat video? Love sports and wish you could preserve all those high jumps? Or maybe you're a teacher who just wants to use videos as a learning aid in the classroom?
Enjoyed using GoPro Studio but are currently looking for a similar (or more powerful) option?
Whatever you're into, VideoProc GoPro 4K video editing software is the best choice. Fast, stable, and lightweight, it's the 4K video editor of choice for many because it's beginner-friendly and can handle the 4K editing jobs most software can't. No time to learn about complex processes in Adobe Premiere Pro or Final Cut X? Then yes, this application is for you. The best part? It's FREE, of course!
Download the FREE trial today on your Mac or Windows to immediately enjoy its cool features. Why pay immediately when you can take it for a free spin, right? And with a 30-day money-back guarantee, you know it's a trusted tool by experts everywhere.
Whether you just need to cut or crop clips, add subtitles and convert videos to other formats, or compress heavy HD videos without fretting over losing quality, VideoProc has your back.
Conclusion
Don't let speed or usability issues get in the way of taking your trusty GoPro with you during your travels.
With VideoProc, you can be confident that you can shoot all the videos you want, and still be able to edit them effortlessly on their software when you get home. No prior tech knowledge necessary, no crashing or freezing – just beautiful, seamless 4K videos for you and your loved ones to enjoy.