Last Updated on January 25, 2022
In an online world inundated with content, cutting through the clutter and getting your website to the top of the search engine results pages is not easy.
Smart marketers and SEO professionals know that successful organic ranking comes down to two things:
Publishing unique, relevant content regularly, and;
Building high-quality backlinks to that content so it ranks higher in the SERPs.
Both of these require time and expertise (and, most often, money) but creating content can often feel easier.
Finding ways to build quality backlinks is a tougher nut to crack.
Most link-building strategies require you to spend a considerable amount of time searching for good backlink opportunities.
But, what if I told you that there's one backlinking strategy that, if executed correctly, brings quality opportunities to your email inbox?
There is, and it's called HARO – Help a Reporter Out.
In this post, I'll share with you the step-by-step process of using HARO to get valuable exposure in international press outlets, as well as quality backlinks that can significantly boost your organic rankings.
What is HARO?
HARO is a service launched by CISION that helps reporters find reliable sources of information for their articles. Often, these reporters will use the info provided to write a more detailed and specific piece, and they will sometimes directly quote their source.
The idea behind it is that the reporter will reward the time and effort put behind each answer that they use by mentioning the source and linking back to a relevant website of their choice.
This provides marketers with an unparalleled opportunity to be featured on industry-specific websites, as well as global news sites such as The Wall Street Journal, The New York Times, and others.
All the reporter "asks" are collected in an email newsletter that goes out to subscribers three times per day – one at 5:35 am, one at 12:35 pm, and 5:35 pm EST.
These reporter "asks" look like this: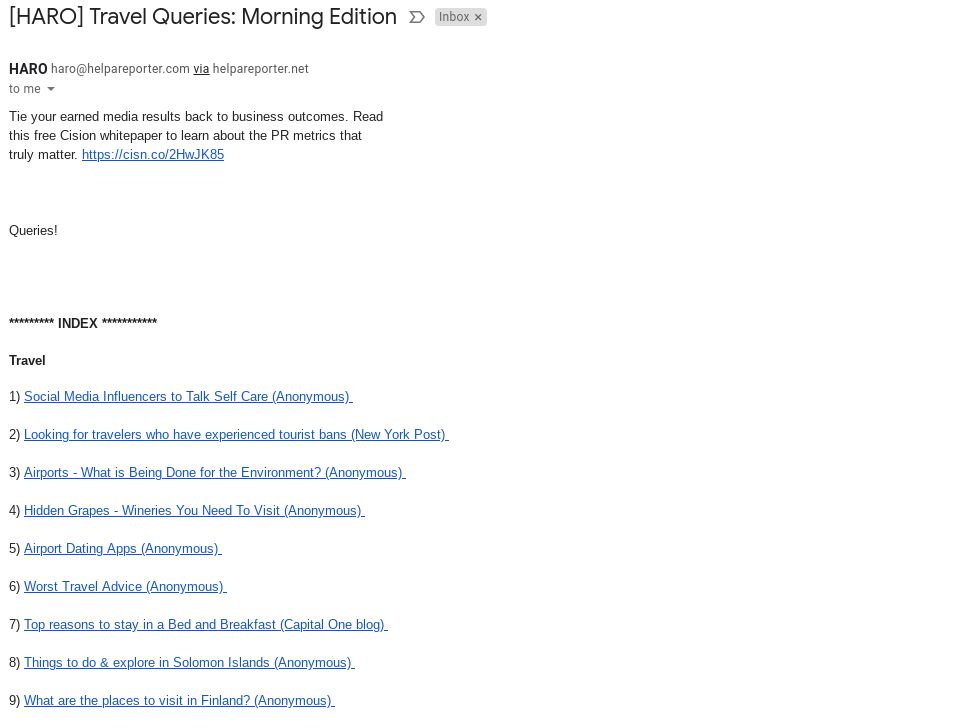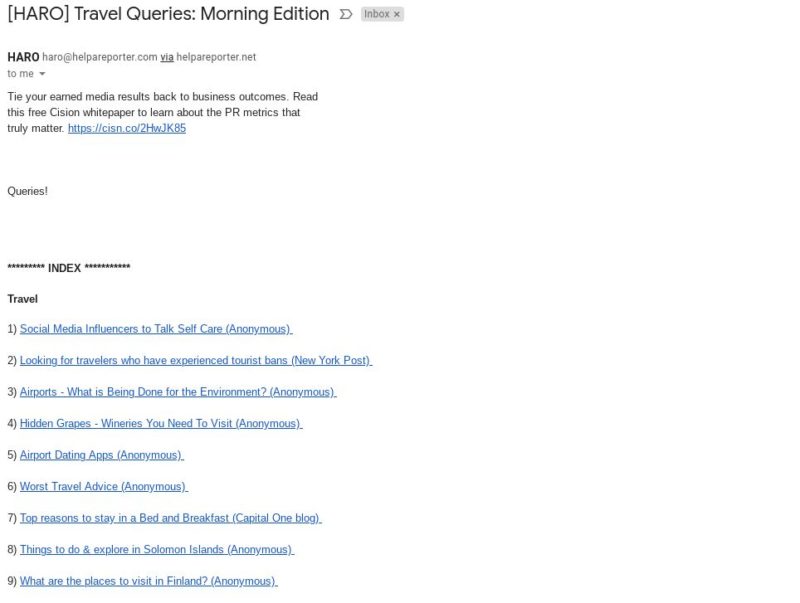 When you scroll down in the email, you will find additional information about the requests – the summary of the request, questions, and credentials needed to be considered.
As you can see, not every "ask" will disclose the media outlet behind it – you often won't know if your answer will be featured in The New York Times or a small, niche blog. While a bit of a drawback, this should not dissuade you from submitting your pitch, especially if the topic is in your industry.
While basic HARO access is free, the premium plans are starting at $19 per month, and they come with certain perks – a pre-populated profile for pitching answers, keyword alerts, and extra lead time.
I usually recommend paid subscriptions to marketing agencies that work with multiple clients and have to build links for more than one website. The advanced subscription makes this a lot easier.
On the other hand, if you're using HARO to build backlinks for your own website (or for the company that you work for), the basic (free) version is most likely enough for you.
How To Start Building SEO Backlinks With HARO?
HARO is the only platform that sends high-quality backlink opportunities straight to your inbox. It takes some time to filter out the ones that are worth your effort but this is still a great time-saver. Plus, you'll get a shot to be featured in publications that don't otherwise accept guest posts or other types of link-building content.
Create Your HARO Account
Signing up for HARO is easy – simply fill out the application form (pictured below) and hit the submit button. You will be asked to confirm your email address before you can access the site. Once you do that, you will be prompted to fill out your account details.
If you're using the paid version, this is the step where you will set up specific profiles and keyword alerts. If you're using the free version, you will put in your personal details, such as name, email, and website.
Sign Up for (Relevant) Newsletters
HARO sends several different newsletters (depending on the industry) each day. You can opt to get topic requests in travel, business, lifestyle, fitness, and other niches. Make sure to choose only those newsletters that are relevant to what you do.
Your goal is to get valuable contextual backlinks from news sites that are in your niche. Also, if you tick every box here, you'll get dozens of emails from HARO every six hours, and going through all of them is a real time-sucker. Pick your battles.
Watch Your Inbox & Pitch Requests That are in Your Niche
HARO link-building is a numbers game – the more qualified pitches you send, the more chances that one of them will get picked up.
That said, you need to know that journalists are usually on a tight deadline – and that they use HARO once they've exhausted all other options. You'll have an hour or so to get your pitch out there once the request is emailed to you so don't put it off.
I've seen great opportunities disappear in smoke just because I was 10 minutes late with my response and the reporter has already submitted their piece to the editor.
5 Tips on How to Respond to HARO Inquiries
To maximize your chances of getting picked by the reporter when answering their request, it pays to keep these 5 tips in mind.
No meandering; introduce yourself and answer the question – keep your writing simple (you're writing to a journalist so no fluff). Give your credentials (name, position, business) in the opening paragraph, and then go straight into your answer. Be detailed but short – scannable bullet points will help you stand out.
Answer ALL the questions – most requests will have more than one question. If you can't answer all of them, there's no point in sending in your pitch. The journalist will select one or two complete sources for their piece so make sure that you tick all the boxes.
Make a part of your answer quotable – if your answer is on the long side, make sure to string together two sentences that summarize it. Remember, the journalist is on a tight deadline, and the easier you make it for them to quote you, the higher the chance that they will.
Add a link to a bio and headshots (specify website for backlink) – while you can include your bio into your answer, I much prefer providing a link to the about section of my website. That way, the journalist has access to a small "about me" text and my headshots, if they need them. If you're reaching out on a client's behalf, link to their website and bio. Also, be clear about the website URL you want them to link to if they decide to use your information.
Answer as quickly as you can – to increase your chances of being picked, make sure to go through HARO emails as soon as they come in. This might feel as if you're camping in your inbox, waiting for them to arrive but it pays off being the first person to answer as it dramatically increases your chances of being featured.
HARO Backlinks Take a Lot of Work But are 100% Worth It
Backlinks are the most important off-page element of SEO that you can engage in to boost your organic rankings. In fact, they still rank as the #1 ranking factor, according to research done by Backlinko.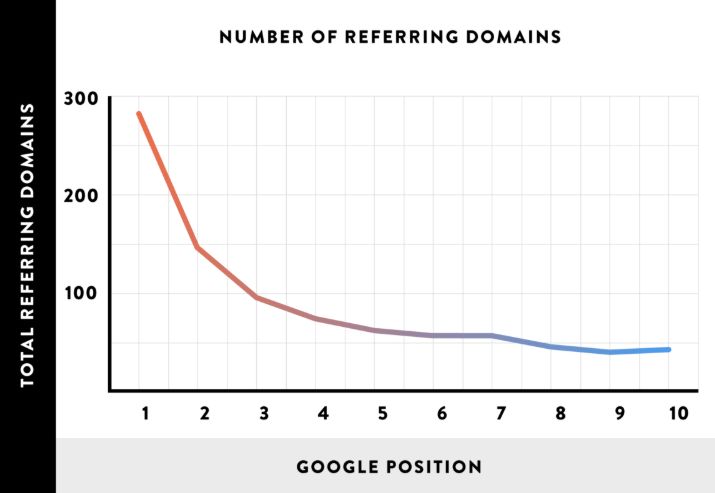 Instead of chasing them around, use HARO so that those quality backlink opportunities come directly to your inbox several times per day. And, while not every HARO request will be worth your time (most are not), if you're diligent and persistent, you can strike gold at least once per month.
This will result in better organic rankings, more traffic, and more revenue!