Last Updated on March 8, 2022
Every fire needs a match. For content that burns with imagination and inspiration, sometimes you have to look outside your comfort zone. Ordinary sources tend to give ordinary ideas. Extraordinary or out-of-the-box sources CAN give you the right spark to light your content so that readers are captivated. And the bonus? Research could actually be fun again. How long has it been since that happened, content marketers?
Whether you're in a rut or you're just getting started, here are some ideas to kick-start your content creation plan. We'll give you a few of the almost-usual suspects, some unlikely places to source ideas and finally, when there are no good ideas to be found, how to create your own. First, the close-but-not-exactly "normal" sources.
Examine Competitor Content – Just Don't Copy
First and foremost, never plagiarize. You know that. It is totally unethical and it's rotten for SEO. However, there's nothing wrong with looking at competitor blogs, social content, webinars and whitepapers for content ideas. There are a few ways to find the right stuff. First, take a look at what's drawing YOUR readers to THEIR content. You can do that through keyword research, your competitor's social following or right on their website. Once you find it, it's up to you to make it your own. Ask yourself: what about the competitor's specific message fits with your brand or product? Then, flip their message on its side and see what makes it tick. Many times, you'll come up with your own, completely different idea from there. If not, you can make a list of key points in the content you're examining and then customize those points to your own brand, expanding organically on each one.
Try Buzzsumo – you can search for terms/phrases and quickly identify content that's performing well in a niche or with an audience. Likewise, you'll love how visually simple and compelling BuzzSumo's data displays.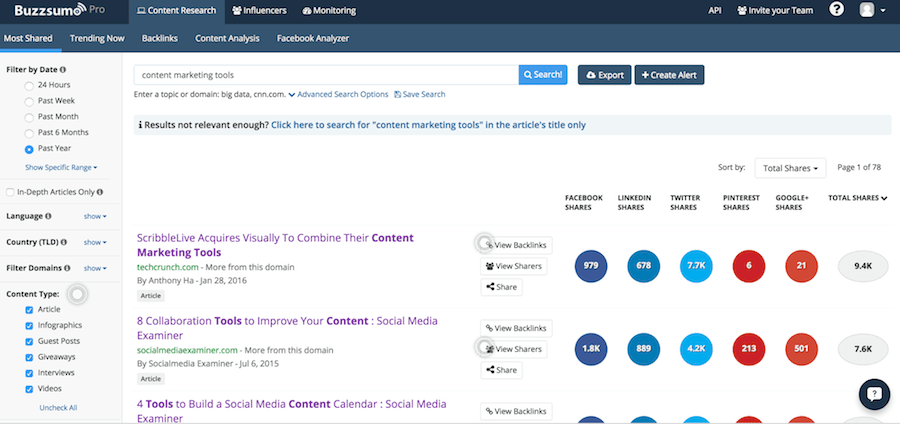 Text-to-Visual and Vice Versa – Start Spinning
This is sort of a thing you use, and partly a thing you create. Say you find a great visual post that has an inspirational quote on it. You're looking to write a blog post. BAM – research who said that wonderful thing and then apply the sentiment to your topic. Conversely, say you find a great quote, or you even think of a wonderful one-liner that says everything you want to communicate. Find a great image, put the words to the image and you've got yourself a nice visual post that will attract likes and followers. We have a cool article about graphic design tools you can use to to create stunning visuals.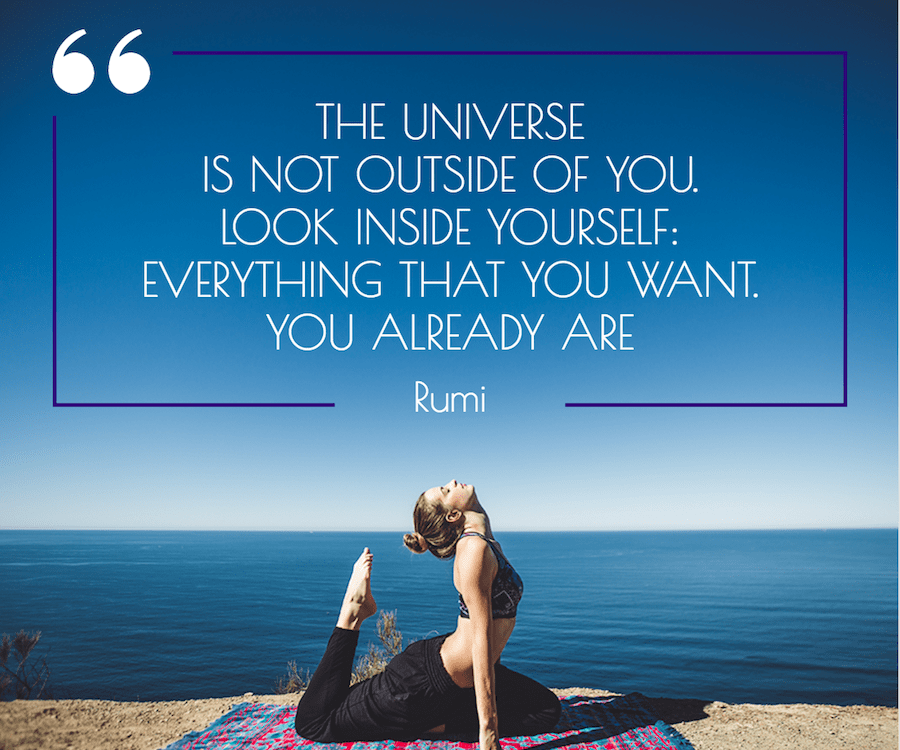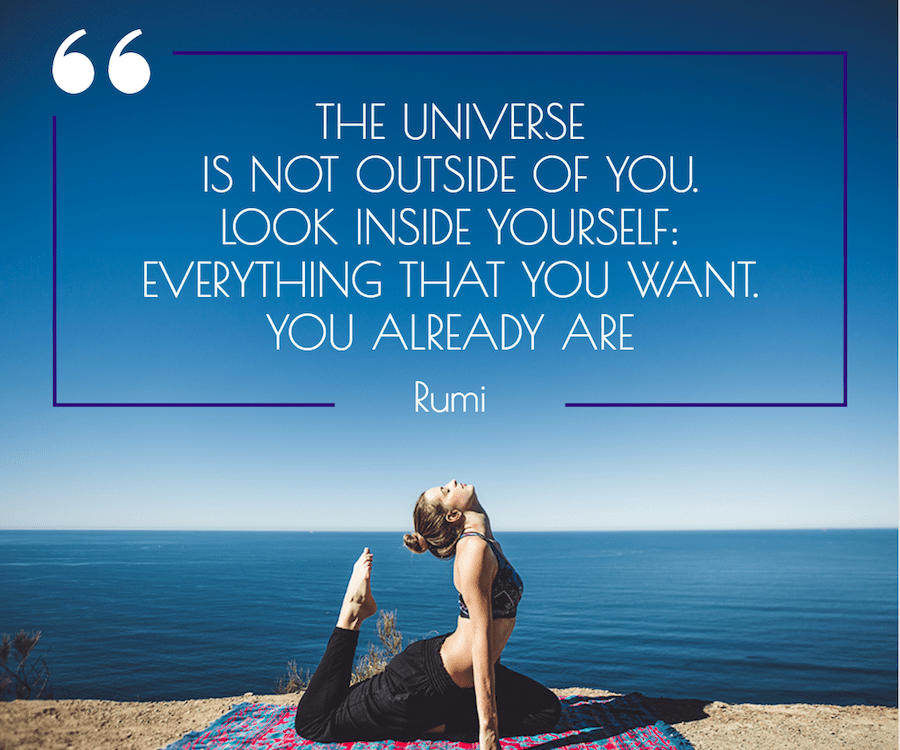 Pay Attention to Comments – But Don't Ignore the Trolls
People love to be part of online communities. And, popular industry blogs often allow comments. This can give you a goldmine of information, straight from a consumer or user's keyboard. Maybe you'll hit a great post with lots of comments by other people in the industry. It'll give you tons of great ideas from people who you want to gain readership from. Other times, you'll hit a post with a bunch of "troll" comments – people there to cause controversy or start a fight. Guess what? That's great. Knowing what your potential audience really thinks of a subject can help you tailor specific content for them, and nothing stirs people into leaving a passionate, opinionated post like a troll. That's not to say you should create sensationalized content to attract those types of readers, but you can learn from them. Just remember to keep your researcher hat on and you'll draw the right information out of a comment thread.
Listen to the Hive Mind – Social Media Can Tell You So Much
Social media platforms can be honey holes of content goodness. Especially if you're clever about which social media users to listen to. There are a couple of ways to approach this sort of idea mining. You could join Facebook groups in your industry and pay close attention to the conversations that crop up there. You can subscribe to industry-related LinkedIn users. People are getting more comfortable sharing their thoughts on LinkedIn and it can be a great place to gather content ideas, or even solicit them from your connections. Additionally, you can take to Twitter. Nearly a quarter of all Tweet contain a link. Follow some people who share the kind of content you want to read and/or write, and you'll likely be pointed to several links per day that can give you great ideas for content. Finally, people really share personal experiences on social media. So, stick around in those Facebook groups for a while and marvel at how much you can learn about a particular topic – and how people respond to it.
At this point, you might be thinking, "Yeah, we KNOW all that. Where are the crazy ideas?" Believe it or not, content ideas can come from some of the following places as well.
Travel Back In Time – You Can Learn From The Past
Let's start this one off with an example. In 2008, the United States real estate bubble burst, resulting in pretty atrocious price drops and credit crises. The market reached new lows in 2012. Finally, in 2016, the U.S. experienced a healthy real estate market to rival the boom of 2006. So, for real estate professionals, marketing messaging needed to change. Rather than creating content for a slow (and in some cases, non-existent) market, real estate marketers have had to change their messaging to communicate low inventory, that Spring 2016 was a seller's market, and other content. One way they could do this would be to look at the type of marketing message that was popular back when the housing market was last booming – 2006. The past can teach us useful things about marketing in the present.
Pay Attention to Controversy – You Could Start a Conversation
A moderate amount of controversial content can start a conversation on social media. Well, there is a point of clarification to be made. A lot of controversy can start a whole lot of conversation, but it might not be the type of interaction you want on a client's social media account. So, following the golden rule – avoid war, politics and religion – there are ways to bring up slightly controversial topics for conversation on a social media account. You could start a conversation about the merits of cold-brewed coffee vs. standard percolated coffee. Or, you could take a current topic and twist the title a bit to pique a reader's interest. Instead of "5 Times Jeff Bezos Made a Lot of Sense" you could write the title "5 Times Jeff Bezos Shocked Shareholders." Which one would you read? Another good strategy is to compare one thing to the other – "Why Social Media is Crushing the Blog World." Don't be afraid to say something that might make people think.
A great example of mild controversy is the toilet paper question. People have used the question of how you hang your toilet paper to spark tiny bits of controversy related to greater topics – like this post.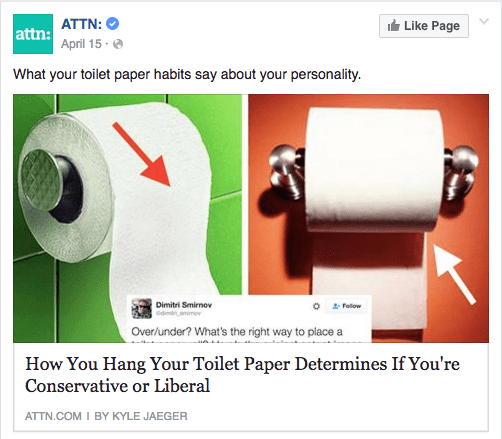 This poster ties the way you hang your toilet paper to whether you're a liberal or conservative, but they aren't the first to use this difference in habit to engage social followers. Gregory Ciotti calls it the "Toilet Paper Strategy" because it's been such a powerful mild controversy tool throughout the years. Ann Landers said that the toilet paper orientation topic was one of the most discussed questions in the history of her advice column.
You don't always have to pick silly topics like this, but make sure, when posting controversial topics, to avoid hurting feelings or making fun of members of your audience.
Search for inspiration in the calendar
Think about holidays, special days, news breaks, movie premieres and more. Use content your audience will be crazy about. Tie your message to something "now," make it visual, and soon you'll see awesome results. Consider using a tool to help you keep track of holidays and trends. One that gives you templates you can customize to deliver your message. PromoRepublic can help you do that, with a huge calendar of actual holidays and "fun" holidays, ready-made templates, and other tools that help you post great content, every day.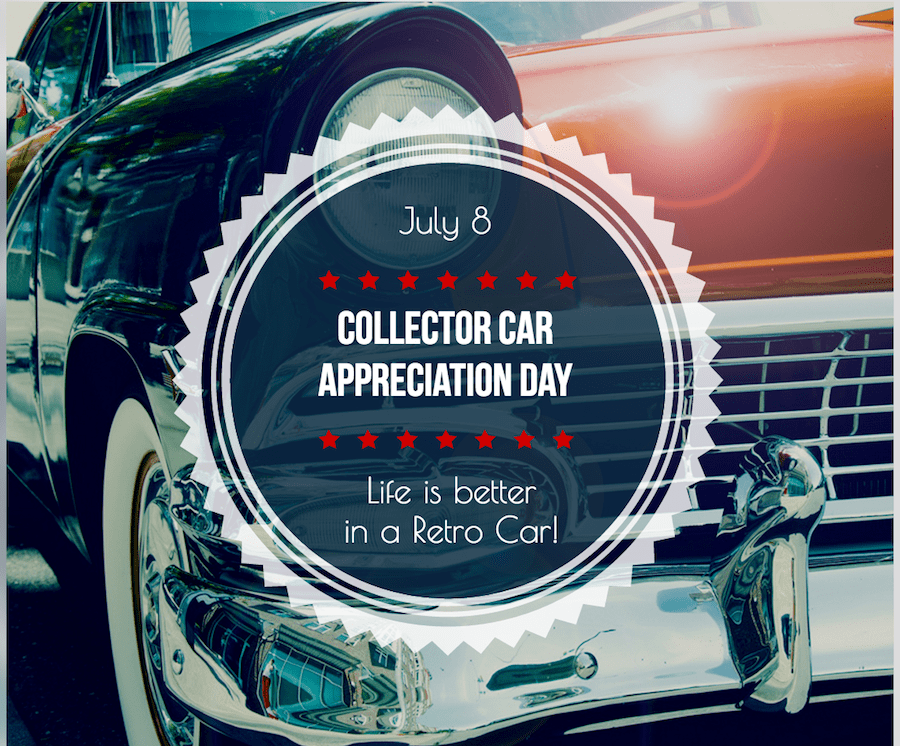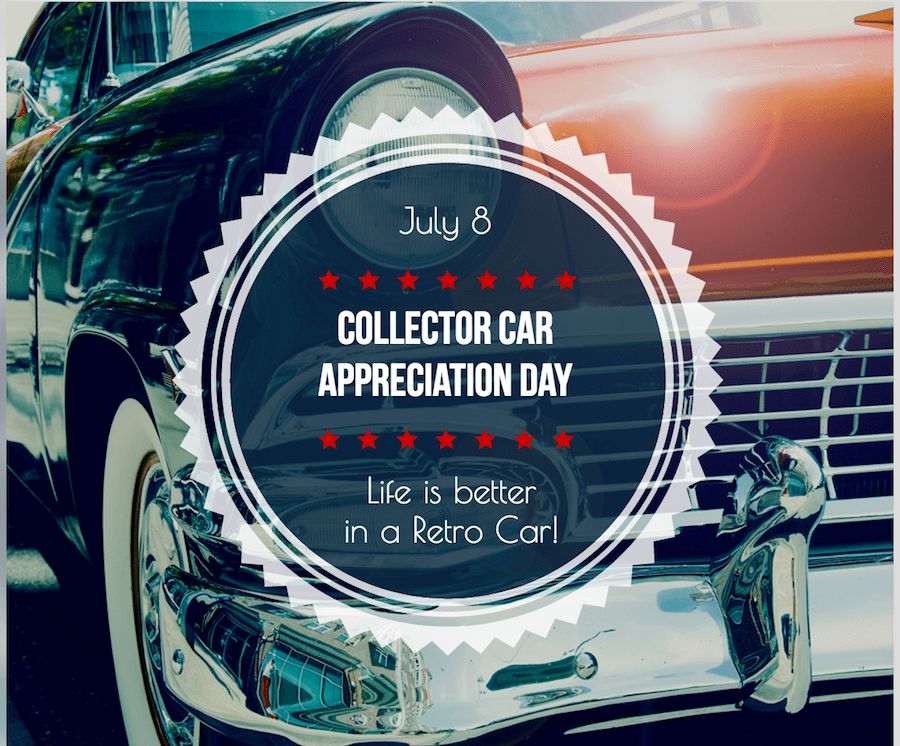 Suck it Up and Read Some Reddit Threads
It's an ugly interface and can be totally overwhelming, but Reddit can be a fabulous place for a content professional to find fresh ideas and perspectives. There are Reddits and Subreddits for every conceivable topic. It might just take you a little while to sift through the truly bizarre (and the truly mundane) to find it. It's worth it, since Redditors are both vocal and prolific. They don't hold back. So whether you're looking for true opinions about a product or service, thoughts about a company's offerings, or even some off-the-wall theories about current events, Reddit's the place. Hacker tip – go ahead and make an account. You'll be coming back here pretty often.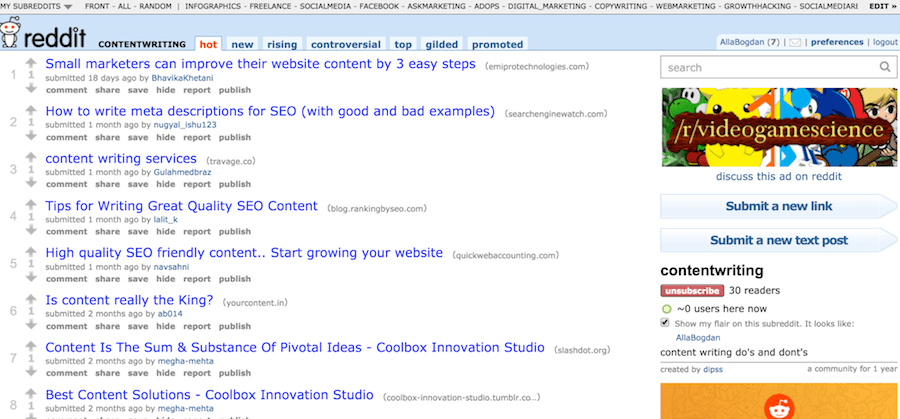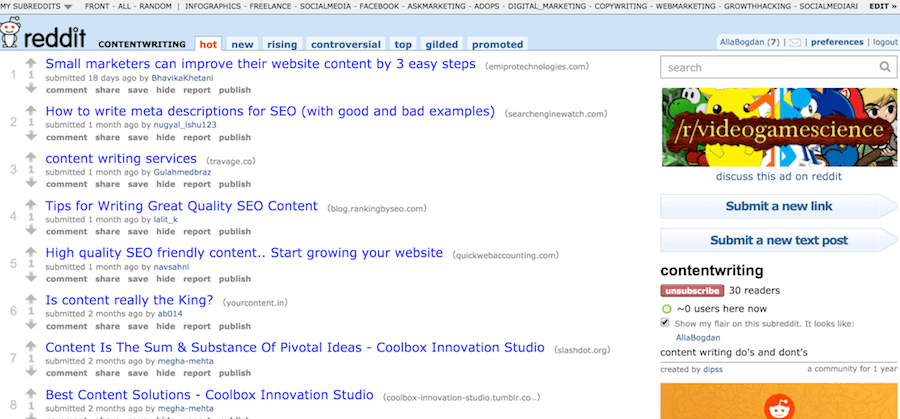 If you haven't found an earth-shattering idea by now, it might be time to take the last step in radical content marketing. Be your own source.
That's right. There are some neat content hacks you can employ to create awesome content. Here are a few ideas:
Interviews – Not Just for Long Form
It's one thing to watch videos or read accounts of interviews. That's usually a great research trick that can yield solid ideas or give clues on other places to look for information. BUT, conducting an interview yourself is one of the most valuable ways to create content and really learn about the topic you're marketing. Coming up with the questions means you're going to have to know enough about the person you're interviewing to really dig deep. This is great for long form content, like blog posts, or a series of short form social media posts where you can include sound bites from your interview in the form of visual social posts.
Curated Content Services – Finally
If none of the above is working for you, or you feel like content creation has gotten way too tough, there are curated content services out there. When you use a service like this, you have access to templates as well as content inspired by holidays, occasions, trends and more. You can just pop in a logo and go. This is a great option for those who manage multiple clients and focus solely on social media marketing.
Why go to the same well every time for content ideas? Mix it up a bit and be original!