Last Updated on January 24, 2023
It's not enough to target just one keyword for each of your articles.
As the saying goes: the more, the merrier!
The more keywords you can organically mention in your content, the more chances you can rank on Google search for those keywords.
That means more traffic and conversions for your site!
At the same time, you can't just use random keywords in your content.
The keywords should be related to each other for your site pages to sustain their high rankings on Google.
Therefore, finding latent semantic indexing (or LSI for short) keywords is of utmost importance.
It's the next step to progressing and improving your site pages.
In this post, we'll take a deeper look at semantic SEO and how to find and use KSI keywords to increase blog conversion.
What are LSI keywords?
LSI keywords are phrases and words related to a site's target keyword. They make pages much easier to understand for search engines as they add context and connect copies to the target keyword.
It's an algorithm that learns the synonyms of keywords based on its context. The way the word(s) are used in the sentence plays a major role in LSI keywords. They function similarly to MS Word's Thesaurus.
However, LSI isn't just about keywords as they revolutionized organic search results. Search engines like Google didn't anymore just look at a web page's keyword as it is.
Instead, it looks at the entire webpage and how the keyword fits into its whole context. LSI keywords are terms or phrases relevant to a web page's content.
Don't focus on "synonyms"
Finding LSI keywords isn't just searching for synonyms as you also look for related phrases and words. An example would be targeting the keyword "best bike parks in Los Angeles."
You wouldn't just focus on synonyms like "best bike resorts in Los Angeles" or "best bike parks in L.A." Instead, create a list of LSI keywords branching out from the concept. Go for "L.A. bike destinations" or "bike trails in Los Angeles."
In other words, diversify your keywords.
Google related searches
Google is a nice place to start if you're new to finding LSI keywords. A good example is to use the related searches found at the search result page's bottom. Search engine results function similarly with semantic keyword tools.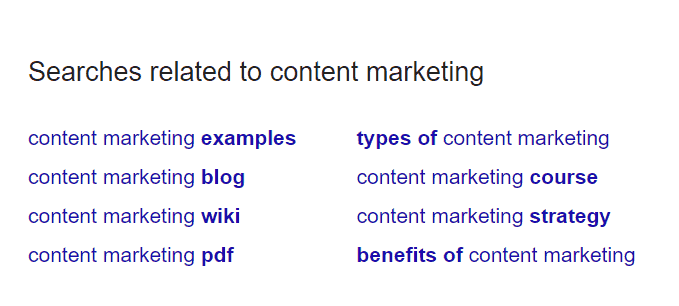 They also find similar queries and show how people look for search phrases. You can even find suggested terms upon typing a target keyword.
Use Google Keyword Planner Tool
Google's Keyword Planner Tool suggests top-rated keywords along with common search phrases and terms. It's an easy-to-use LSI keyword generator. Simply enter your target keyword(s) and see the search numbers and competition of keywords. And best of all, it's free!
This works best especially if you're planning to share your post in social media. This will help make it more discoverable to people who are searching for something specific. It also increases the chances of your webpage appearing in a search querie's first page.
Use LSI Graph
LSI Graph is another free keyword tool that identifies related terms based on your target keyword. Opening their site and entering your keyword generates a list of LSI keywords.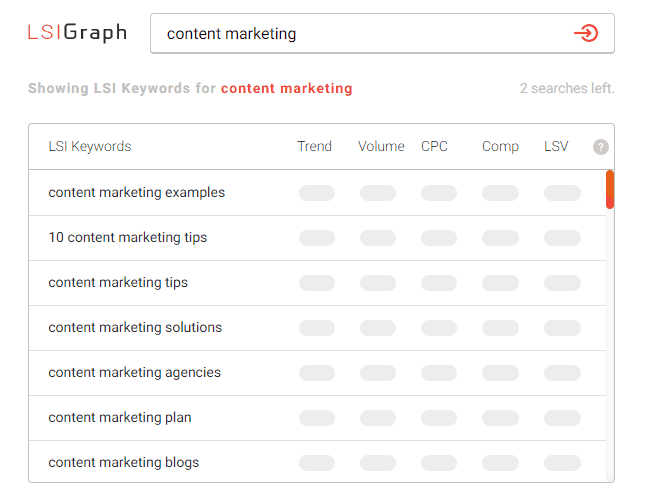 But be careful not to be overwhelmed with the long list as you might use as many keywords as possible. Choose wisely the right keywords to avoid keyword stuffing. Don't use all keywords on one page. Instead, draw inspiration from them to develop ideas for your blog marketing.
Use Blogpatcher for a more complete LSI keyword research (and more!)
Blogpatcher is a useful LSI keyword generator tool to streamline your site optimization process.
It does this by functioning as a search engine in analyzing your site's SEO "health."
Enter the URL of the page and its target keyword to see its SEO score for different factors.
Not only does it provides suggestions on how to optimize your page's technical SEO, but your keywords as well.
The page analysis feature checks the content's LSI keyword usage. Click on "LSI keywords" from the SEO scores.


The tool will show you different LSI keywords that you can use for optimizing your content.
First, it shows the most common keywords used among the top 10 pages ranking for the target keyword.
You need to find a way to incorporate as many LSI keywords as possible in your article to rank as high as those in the first page or organic search.
Next, you'll see related search phrases for the keyword.


In this case, the keyword is "neil patel" and the page is his homepage.
Lastly, you will also see keyword ideas that you may want to include in the post as well. The keyword listed here can help you extract more content ideas for the page.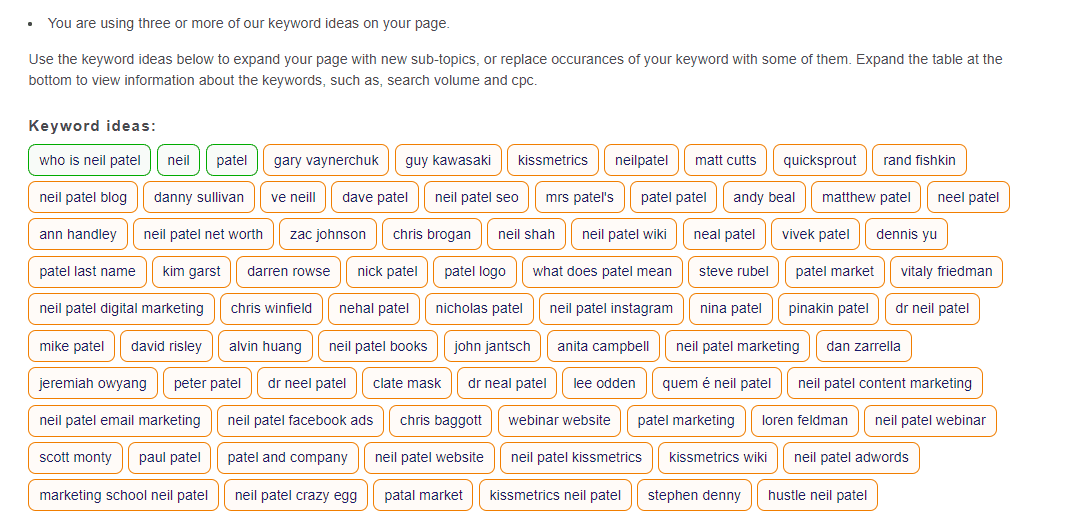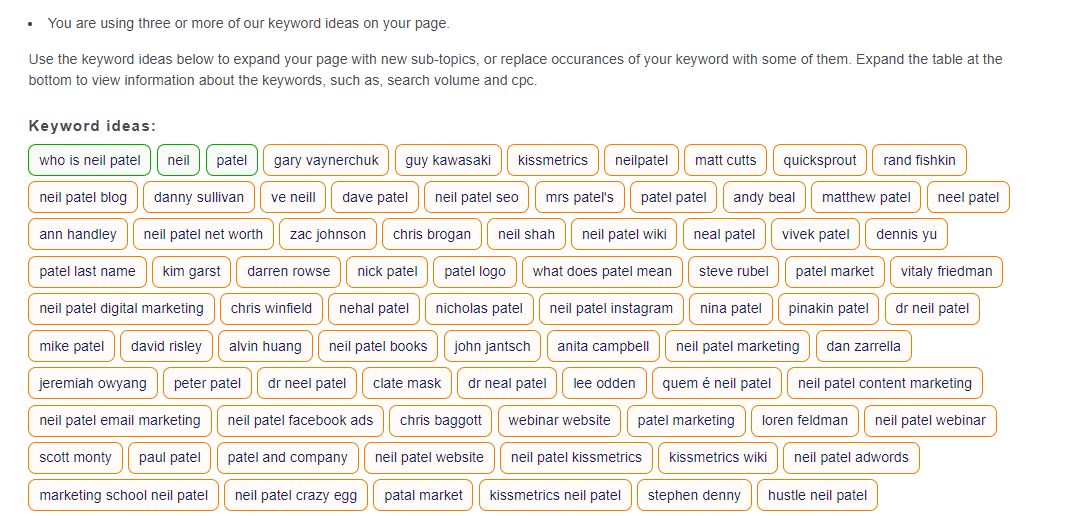 Judging from the screenshots above, there's more than enough LSI keywords for you to choose from and use in your page!
Blogpatcher proves to be an amazing tool for finding LSI keywords to boost the SEO score of your content.
The LSI keyword features are available only for paid plans at $39.95 a month.
Conclusion
If you'd want to improve your SEO writing, then finding LSI keywords and using them on your content (the right way) is necessary. Use the tips and tools above to find the right LSI keywords. Also, learn how to naturally insert them to your content.
Not only will this help your site and page to rank, but this will also increase conversion. After all, don't we all want to rake in higher profits from our blog?