Last Updated on March 6, 2023
This Christmas, you may be feeling a little less jolly and festive than you normally do. When you would typically be looking forward to decorating your house or every party that is scheduled, you just cannot seem to get into the spirit of things.
Perhaps you are quite literally having a blue Christmas. You do not have to fake being happy this Christmas season. In fact, it is proven that if you get out and find ways to help and inspire others, you feel happier and more excited for the season.
Below are just a few ways that you can have a family gathering and help others this holiday season so that everyone enjoys it just a little bit more.
1.) Start baking in the kitchen
If you have kids, then getting in the kitchen and baking cookies may not keep your kitchen incredibly clean, but it will be some of the most fun you will have. Baking cookies or cakes, even casseroles, together with your loved ones will not only involve your kids and teach them how to do things for others, but it will make great memories as well. Once your baking is finished, pack up your treats and take them to your local police or fire station.
Take cookies or casseroles to your local nursing homes or a single mom that you know is struggling. Something as small as Christmas cookies can completely change a person's day and their joy with overflow to you.
2.) Make stocking for the homeless
Go to your local dollar store and get some stockings. You and your family can then spend time together looking for things to fill the stockings with. You can pick out fun things like fuzzy warm socks, slippers, warm gloves, toothpaste and toothbrushes, soap, scarves, etc. Once you have the stockings filled with both fun and practical items, you can keep them in your car and hand them out to homeless people when you see them as you are out on your daily drives.
3.) Go to your local nursing home
Get your family together, or a group of friends, or even your kid's friends, and pick a day to go to your local nursing home. The residents of a nursing home do not care if you show up empty-handed or full of treats. They just want to have visitors, especially during the holidays.
Getting a few people together and going up to the nursing home and singing Christmas carols with them will fill their hearts with joy and will get you in the Christmas spirit faster than almost anything else can. Joy is infectious, and their joy over having visitors come during Christmas will spread to you as well.
4.) Help a family out with presents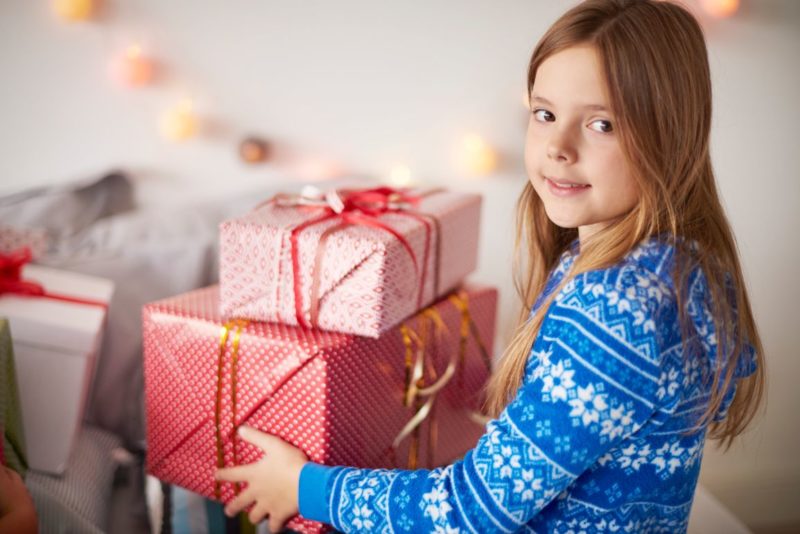 Buying Christmas presents may be easy for you to do. You may not struggle to go to the store and check off everything on everyone's wish list. However, that may not be the case for many people.
There are a lot of parents out there that cannot financially afford to get their children presents for the holidays. Adopting a family or sponsoring them would mean that you get to shop for them and help them fulfill the wishes that their children have for Christmas, thereby taking any added stress that they may have off of their shoulders. This is another great thing to do with your immediate or extended family and get everyone involved in helping out another family in need.
Helping others is the best way to get in the Christmas spirit, and seeing them get excited will make your heart excited at the same time.
5.) Offer to wrap presents for people
People are extremely busy during the holiday season. There are parties, family gatherings, and school events to go to. Wrapping presents is time-consuming and many parents get stressed out when they think about having to wrap presents for everyone on the list.
Offer to wrap presents for people for free and let them know that you will take donations as well which will be used to donate to your favorite charity.
If you are not feeling excited about Christmas and cannot seem to get in the spirit, the best thing to do is remember that it is always better to give than to receive. The more you give to others, the more joy you just might feel in your heart.