Last Updated on January 24, 2023
For past few months the concept of Google rich answers has gathered a lot of steam. Your website might rank first on search engine results yet the "Spot zero" which is occupied by Google rich answers acquires audience which otherwise might have been directed to visit the number one ranked website on search engine results.
In the screenshot below, the article optimized to rank in Google answer box appeals to the online user with precise information and even ranks above the search engine results.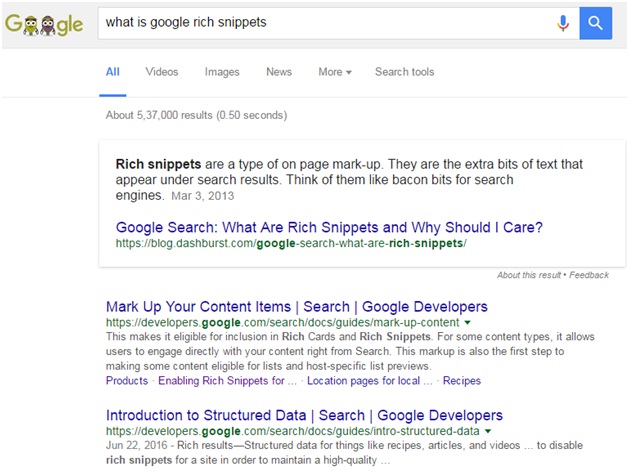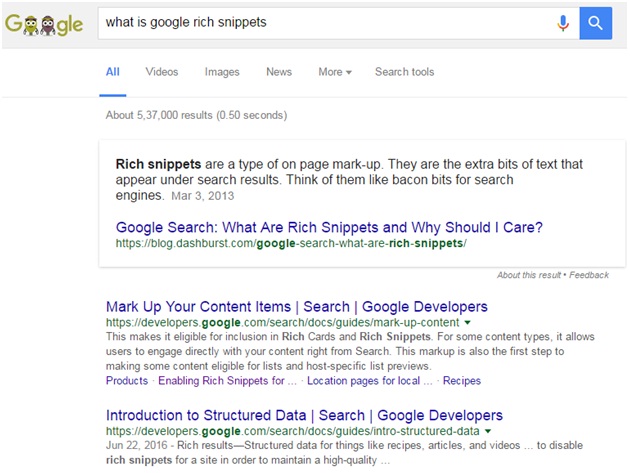 The process works with a simple flow. Users search for information and Search engine identifies the most relevant answer to the query with precise information. In this article we will talk about ways with which you can get your articles ranked on that very "Spot zero" to acquire online audience.
Here are the essential steps which you need to follow in order to optimize your articles for Google rich answers:
1. Identify the Search Query and keyword Phrases
Acquire all the associated keywords usage and phrases which form core questions asked by your audience. By identifying these keywords you can:
Create a list of most common questions which can be asked by an online user.
Create content that specifically revolves around answering those questions.
Use the same keywords in short questions answers format in your content.
Tools to identify keyword phrases:
Log into your Google Adwords Keywords Planner and click on "Search for new keywords using a phrase, website or category" option.
Fill in the information regarding your Product or services along with the website URL.
For consideration we filled "Website Design" as services. Fill in your respective product or services details and click on "Get Ideas".
You will be presented with detailed information which you can see below:
The other half of the results which is shown in the screenshot below provides with specific results regarding keyword phrases. Download the entire list and save it for easy access.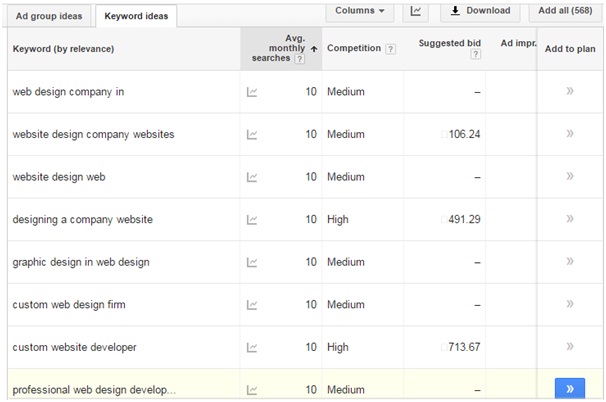 SEMRush utilizes URL strings for the domains which rank for the keyword to find any sort of similarities. The result for the keyword search provides all the tangential aspects of a keyword usage.
Check out the screenshot below to get an understanding of how it works: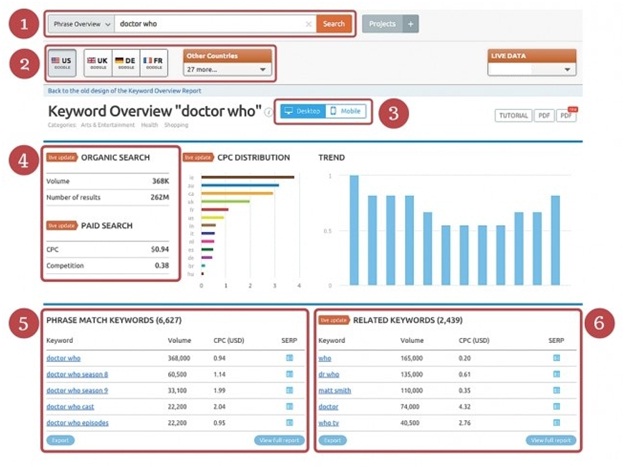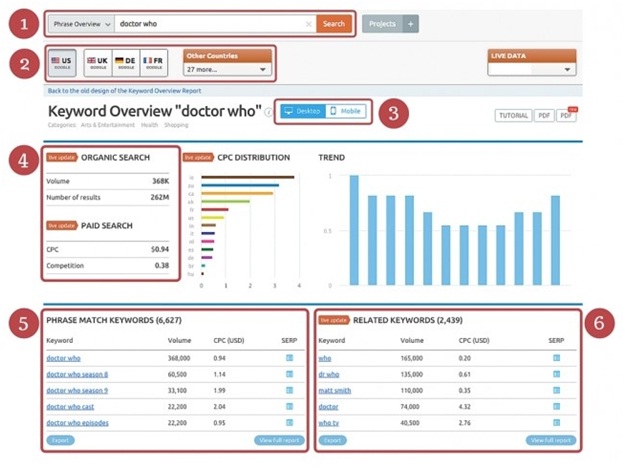 Type the keyword for which you need to find all the associated keywords in the search box at the top. SEMRush provides with a keyword overview report.
While it is easy to use do not miss to check data for:
Organic search
Paid search
CPC Distribution
Trends
Identify how your audience uses the targeted keyword in the present trend with "Phrase match keywords" block. Click on the "View full report" to get hold of the entire list.
To look into your competitors advertising strategies type their domain name in main search box and then proceed to: Domain Analytics > Advertising Research.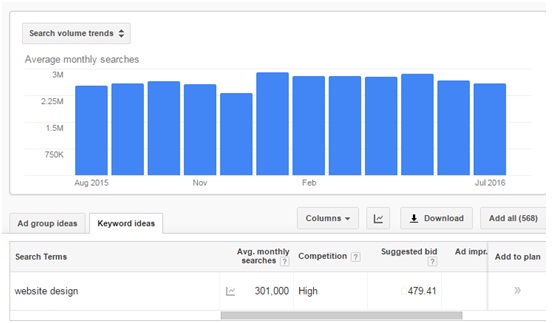 SERPstat is a new keyword search tool on the block which has got lot of potential for keyword and competitor research.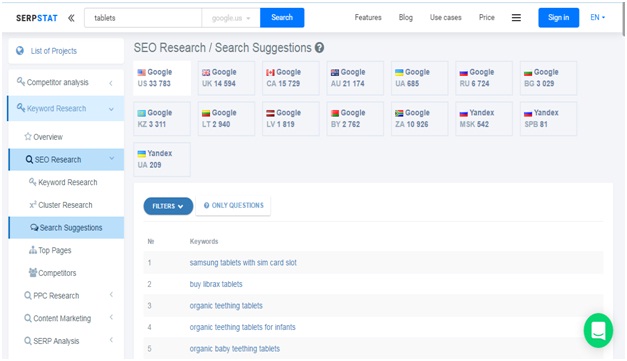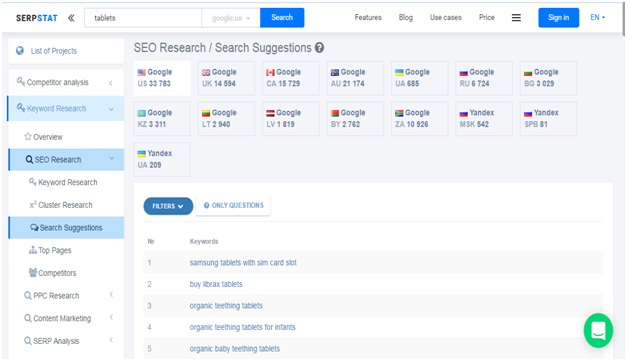 With this highly effective tool you can find:
Paid keywords of your competitors
Search engine suggestion through which leads may find on your website.
Content ideas for driving traffic with topics and ideas.
Efficient keywords of your rivals with low competition and high search volume.
To view "featured snippets" in the SERP use "filters".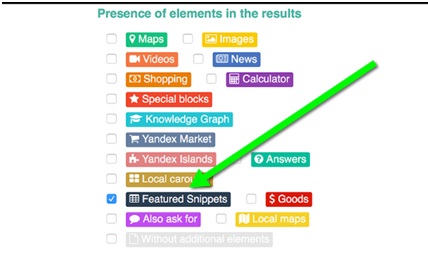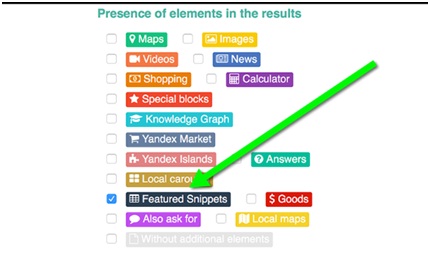 Optimize your content with the keyword phrases ideas you get and also use other strategies to further analyze your keyword research. This way when a user searches with respective keyword phrases your content should be optimized with appropriate keywords. How you do that is by using "schema mark-up" which we will take up later in this article.
2. Add schema mark up for effective micro-formatting
The safe bet to rank in Google rich answers is to make your content appropriate to the query by using schema mark-up. Schema mark up code defines all the associated imprints of a keyword which can be searched with by an online user and should be identified by Google algorithm.
How to add schema mark-up to your articles?
Schema mark up is authenticated set of codes which Google Algorithm monitors to determine the relevancy of content to the search engine query. To add schema mark-up to your articles:
Visit Google Structured Data Mark-up Helper.
From the list of data as shown in the screenshot select your choice of options. As we want to add a schema mark up to articles let's choose "Articles".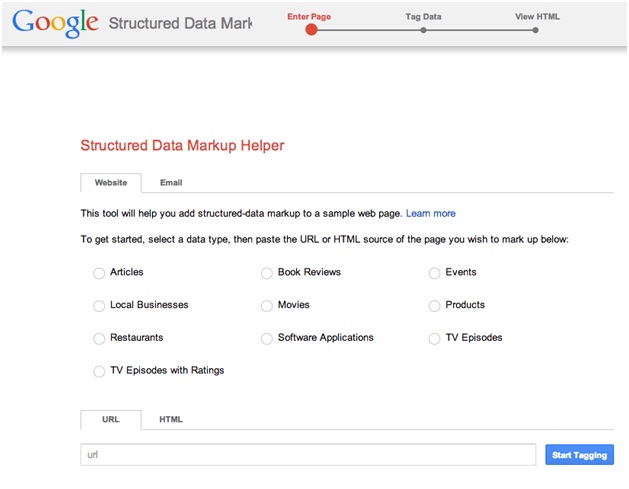 Add the article URL in the bottom section which you want to mark up. For HTML pages you can directly paste and click on "Start Tagging" to get started.
Once you land up on "Tag Data" page you will be directed to a page which will have page you want to add for mark-up in the left pane and on the right pane the "data items" will be displayed.
Add "Name" mark up to highlight the name of the article which you can see on the top of the list as shown below in the screenshot. It gets added to the "data Items" in the right panel.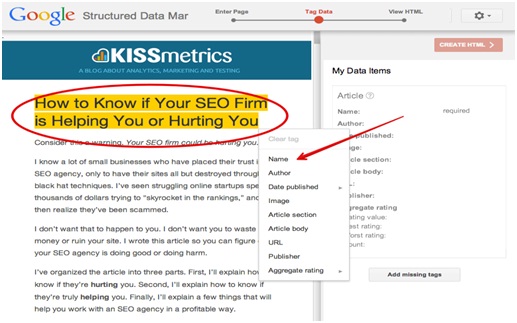 You won't get the liberty to add up as many mark ups as you like. Choose the most effective ones for your benefit.
Once you have added all of relevant mark ups click on "Create HTML".
Add highlighted snippets at relevant spots. Schema mark ups can be viewed in the source code file or CMS as they are highlighted with yellow markers on right side as shown in the screenshot below: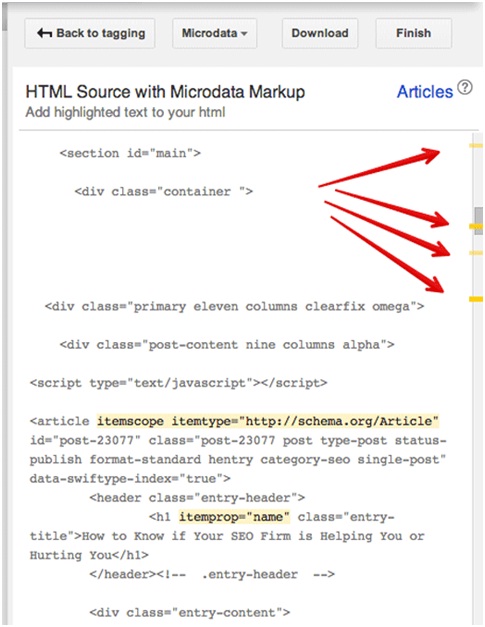 Or else download the automatically generated HTML file and then copy/paste in your CMS or source code.
Click on "Finish" to complete the process which you can find on the right side of "Download" option.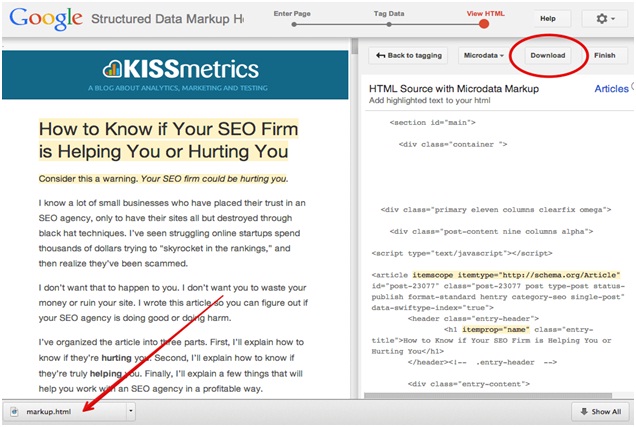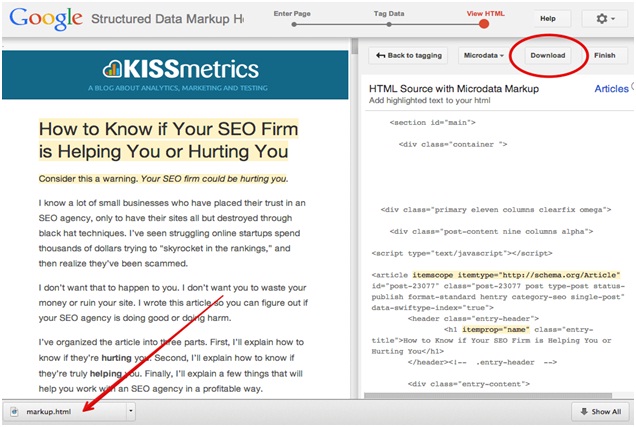 Next time when a user searches for information relevant with your article the schema mark ups will aid the search engine algorithm to decipher the information in better context. With Google rich answers prominently displayed in the search results ranking it might be wise decision to add it up in your existing SEO analysis. Schema mark up helps you get in touch with your prospective clients and should be opted for without fail.
3. Add HTML Tags For Better Visibility
Use HTML tags for effective structuring of your articles. HTML tags such as <h1> tag helps Google algorithm to identify the exact subject of your article. You can add different tags for classifying information in your article.
Structure the content of your article for better user experience. Use heading, sub headings and follow-up points to provide information to the users without any difficulty to read and grasp the main points.
As you can see in the picture below different tags have different effect on the text font. So choose appropriately to structure you article.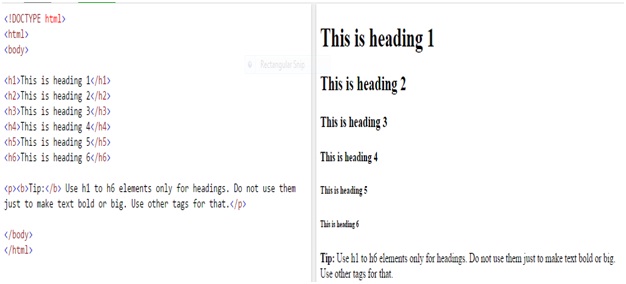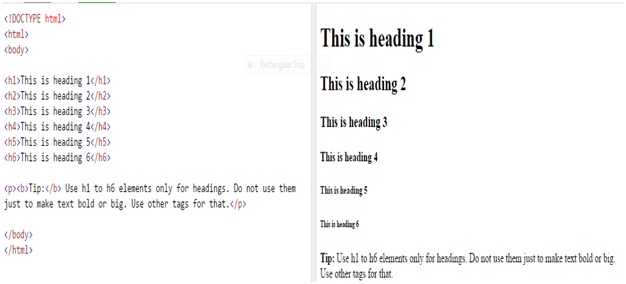 To add <h1> tags use the below mentioned code and accordingly apply in your source code for effective Google rich answers formatting:
"<!DOCTYPE<html<head<title HTML<body<h1"Title_Heading"</h1</body</title</head</html"
This will direct Google to rank the article in Google rich answers whenever a query of "Why is salt water salty" is searched for as shown in the screenshot below: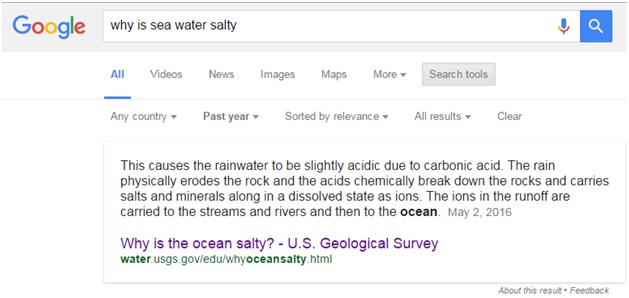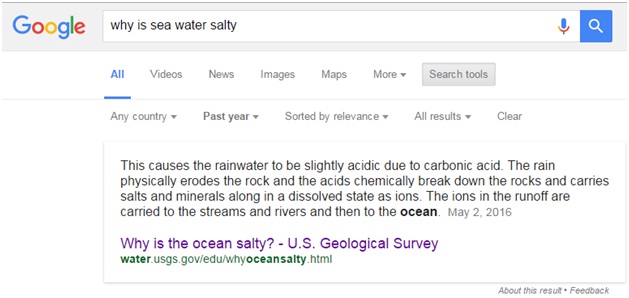 From user point of view, with HTML tagging users are provided with appealing content that makes an article all the way more interesting and easy to read.
4. Answer the Question without Delay
Get straight to the point in first three lines when you write an informative article. Structure your article with HTML tagging as mentioned above in the article. The heading should be in sync to the user query and information provided in first few lines should answer the user query.
Consider the example below: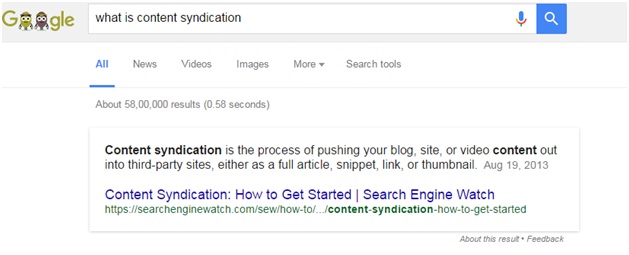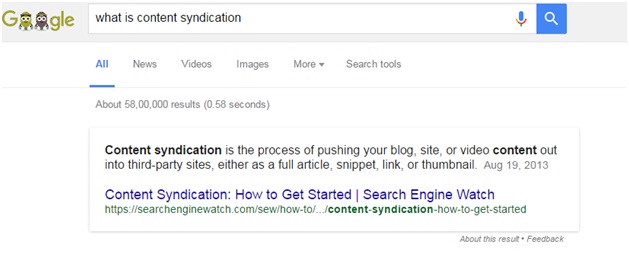 The search query question and the article ranked in Google rank box answer the query straight in first few lines. This article might not even rank among top search results yet will get numerous visitors.
For directly answering the search query:
Be precise with the article content.
Consider all the tangible aspects by which a user can look for respective information.
Add the query/key phrase in your headline.
Answer the query in a complete sentence if possible at the start of an article.
So, no dilly dallying, no trashy content and make sure that you are providing with ample information for the benefit of the users. Google algorithm checks the relevancy and quality of information provided. Rest with appropriate and informative content you are sure to attract new readers to take note of your article.
Google wants to provide with prompt answers to user queries. What Google rich answer does is help users be directed to precise information. Online websites can work on optimizing their articles for Google rich answers following above mentioned information. Conversion rate optimization is a necessity for websites to survive and ranking respective articles at "Spot zero" can bring in new set of audience for the same. If we had to look at statistics to get a hang of how serious Google is about the whole Rich answer formatting check out the screenshot below: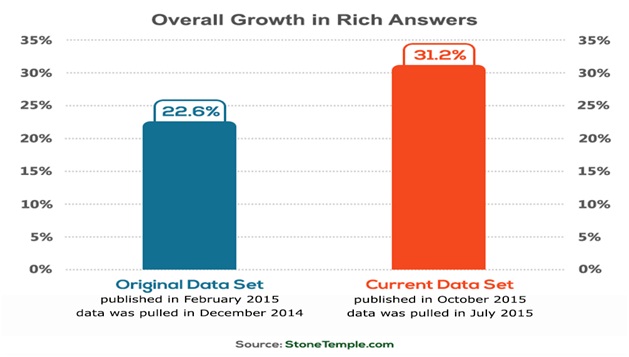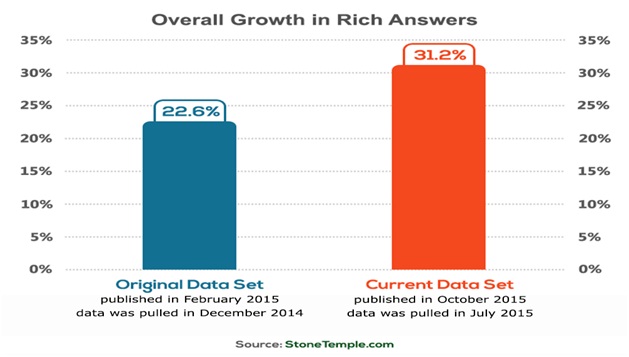 Last year, within a span of 8-9 months the rise in rich answers was significant to create a buzz in SEO circles about prominence of Google rich answers. Needless to say if you are yet to cash in on this advantageous aspect you might be loosing out on more than few prospects clients. So, go ahead and follow the above mentioned steps to get your article featured in Google rank box.