Last Updated on March 8, 2022
There are two things that I'm sure you do all the time. One is browsing the internet, and the other is walking around town. Regardless of what you're searching for or where you're going to, you come across all sorts of things every single day, most of them involving the written word.
Now if you're a graphic designer or someone from a different field who takes design a little bit too seriously, this is where the problem comes in.
As you come across billboards, websites, images and other visual treats, whether online or in the physical world, there are so many fonts that would seem really familiar, causing you to either cringe or smile, depending on the way it is used.
There will also be quite a few fonts that you would probably believe to look great when used on one of your current projects. This becomes a problem if you're not familiar with the font at all.
Knowing how the internet works though, you also know for a fact that almost everything has a corresponding solution if you look at the right sources. And to prove this point further, there are actually quite a few websites that allow you to identify fonts that you like.
Here are some of them: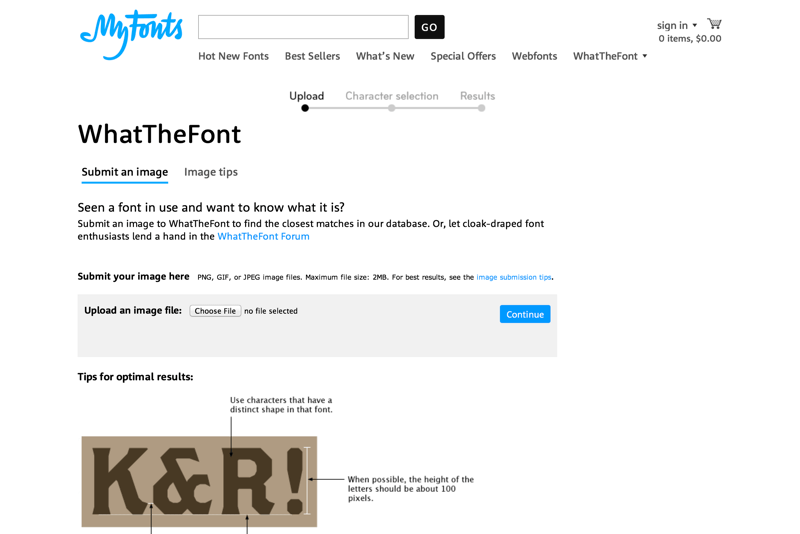 What the Font is super easy to use. The moment you see a font you like, you just have to save an image of it and upload it to the website and it will automatically match it to the hundreds of fonts within their database. It will then give you the closest matches from there.
Should the system be unable to recognize the font, they also have a forum where tons of designers interact. You could go ahead and post the image there and ask who among them has any idea what the specific font is called. Who knows, maybe someone else has done research on this specific font before, allowing you to find out more about it.
Of course, the results of the search would also depend on the quality of the image you send. So make sure that it is clear and that each character is around 100 pixels in size. Also, you may want to send an image of a character that has a very distinct shape so that the system would have more specific reference points to use.
Although What Font Is works the same way as What the Font, this one also gives you the option to give a URL that leads to the image in case you don't have an uploadable file handy.
You can also narrow down the search results. For example, you can ask the system to display only free downloadable fonts and take paid fonts out of the list. You could even pick an option to invert the colors on the image in case the background is darker so that the system has an easier time matching the characters specified on your search.
Identifont works differently than the two preceding websites mentioned. This could actually give you a more accurate match if you remember every bit of detail on the font you are looking for.
It gives you a number of different option. You can search for a font by using part of its name, by looking at fonts that are similar to it, by looking at pictures or symbols that belong to that specific font family, by checking on the works of its designer or publisher, or by answering a few questions about it.
The last option is very detailed, asking you whether the letter Q's tail crosses the circle or not, or whether the letter P's center bar laves a gap before it reaches the vertical line.
Fount works differently than the rest of the options mentioned above as well.
Basically, it asks you to add Fount into your bookmarks bar. Once it's there, you can immediately go to any website, click on the text that you're interested in, and Fount immediately lets you know what font it is, as well as its size and weight.
You can easily turn the feature on and off should you want to have it running only when you need it.
The only downside to this option is the fact it's not exactly something you could use for fonts that you see outside. Using the first two options, you can easily take a picture of any random poster you see in the street and as long as the image is clear, you can find out what font it uses. In this case however, that is not an option.
With these tools and websites, you can finally find out what those fonts you often see and admire are called, download them into your computer, and use them for your next presentation or project. Good luck!