Last Updated on December 11, 2019
You probably won't be surprised to hear that your house design can have a huge influence on your mood.
The right design can give you energy and create a relaxing atmosphere while spending time in dark, gloomy interiors can easily make you feel tired and distracted. But have you ever considered how your workspace affects productivity?
There's no denying that your company's performance relies heavily on how much work your employees get done. That's why it may be a good idea to find out how to provide them with a good work environment.
Open spaces are overrated
Open spaces are popular because they look great. However, there's no proof that they provide any benefits at all when it comes to productivity at work. In many cases, it may just create distractions.
Working will be difficult if you can't keep your focus on the task at hand. Dividing your office space into smaller areas may be exactly what is needed to improve the results.
Let the light in
The amount of sunlight you get in your daily life affects your mood and, even more importantly, your health.
Healthy and happy employees will be much more productive, so you should consider what you can do to improve the lighting in your office. Make sure nothing is obstructing the influx of natural light and, if possible, try to position the desks near the windows.
Make a good first impression
Your office is the face of your company, and it's often the first thing your potential new clients see. You shouldn't ignore this issue as even the most attractive offer may lose its appeal if your business doesn't appear trustworthy.
Every little detail can make a difference. Of course, your possibilities will depend on the size of the available space. If you have a big and multi-story office space, you can try implementing floating stairs to create a unique and modern look.
With smaller spaces, try dividing it into different sections, to keep working and social areas separated.
Be careful with the colors
Implementing colors into your decor is generally a great idea, but you have to be careful. Some colors, like blue and green, can help you focus and, in effect, improve productivity.
But there are also others which can have the opposite effect. For example, shades of red and purple can keep your employees distracted.
While creating your design project, you shouldn't just focus on a visual effect. It's equally important to consider how it's going to impact the whole atmosphere.
Don't let the noise in
If you think about the most distracting things at work, the noise will most likely be at the very top of the list. If your office is situated in the city centre, traffic noises can easily become a big problem, especially in older buildings which don't always have proper insulation.
The most effective solution is to replace the windows. But unfortunately, it can also be quite expensive.
Design a relaxing space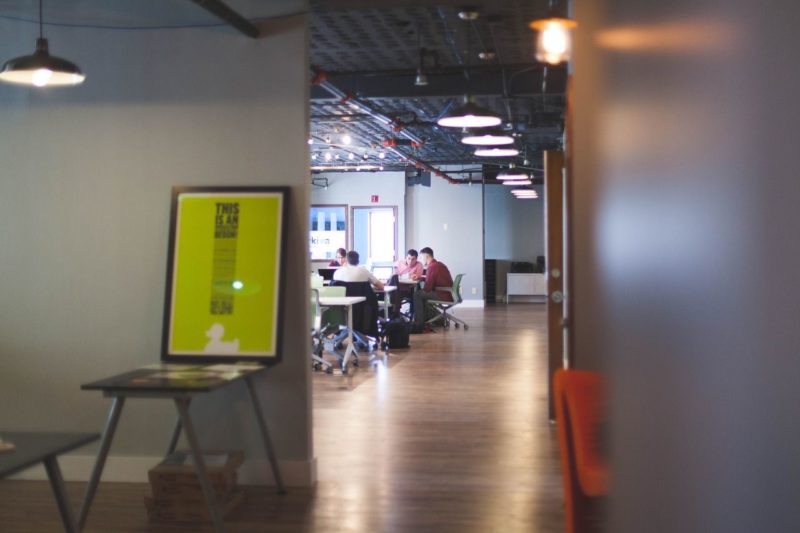 If you think about how many hours your employees spend in the office every day, you'll realise it's a big part of their life. Try to give them a workspace they'll enjoy.
This will not only improve productivity but also make the whole team happy to go to work each day. Providing a relaxing space can help you achieve this goal. If your office has a balcony, it may be a good idea to enable people to rest there during breaks, and breathe some fresh air at the same time.
Just remember to make sure that all balustrades and handrails are secure to avoid any accidents.
The working environment is an incredibly important factor, that can have a huge effect on the overall results of the company. That's why, if you want your business to keep growing and expanding even further, you should make sure your office is a work-friendly place.