Last Updated on January 20, 2022
Having a big and comfortable bathroom makes everyday life easier. However, many houses don't have that luxury. If you are frustrated about your bathroom's size, then these tips will help you create a space that looks bigger.
With just a few changes, the feel of the whole room can be completely different. Whether it's a small change, like the color of the walls, or a bigger one, one thing is for sure – the results will surprise you!
1. Let Natural Light Into the Bathroom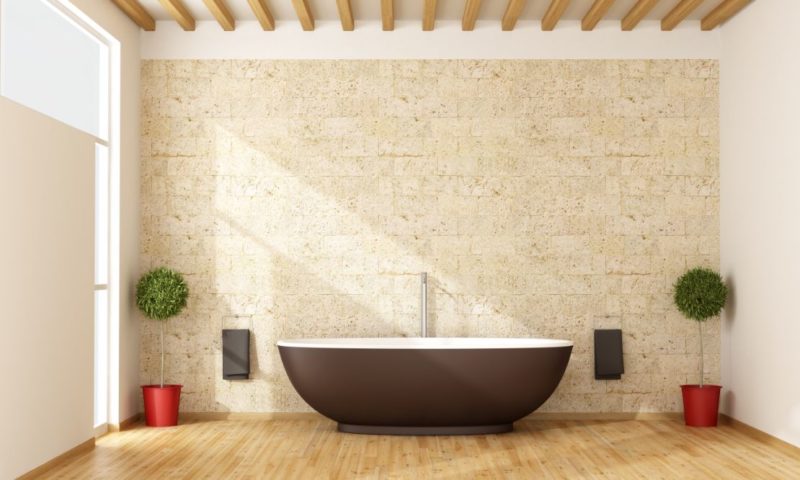 Natural light will brighten up your space and will make it look bigger. However, it is often that bathrooms don't have big windows or access to a space that allows plenty of natural light to come in.
In this case, you can go for a window above the bathroom door, allowing the light to come from the rest of the house. If this can't apply to your apartment, prefer LED lights that will illuminate sufficiently your space.
2. Install Big Mirrors
The best way to add optical space into your bathroom is by installing a big mirror. A rule of thumb is that your mirror should become bigger as the size of the bathroom becomes smaller. This will result in a bathroom that seems almost double its actual size.
3. Choose the Color of the Walls Wisely
When it comes to your walls, choose light colors. White, beige, soft gray, powder blue, are all choices that will brighten your bathroom. And if you want the effect to be more powerful, you should choose one color and have in all of the furnishings as well.
This will create a serene atmosphere that will help relax. No matter the color you choose, make sure that your walls and ceiling are of the same color.
Towel bars and robe hooks shouldn't trouble you, as in Hausera you can find some in the tone you have chosen for the rest of your bathroom.
4. Prefer a Walk-in Shower
A bathtub is an ideal choice for a bathroom. However, if space is limited, a walk-in shower would be a better fit. While choosing a shower, make sure that you prefer a clean glass door without a frame. This will eliminate the transition, making the room feel bigger.
5. Go for a Floating Vanity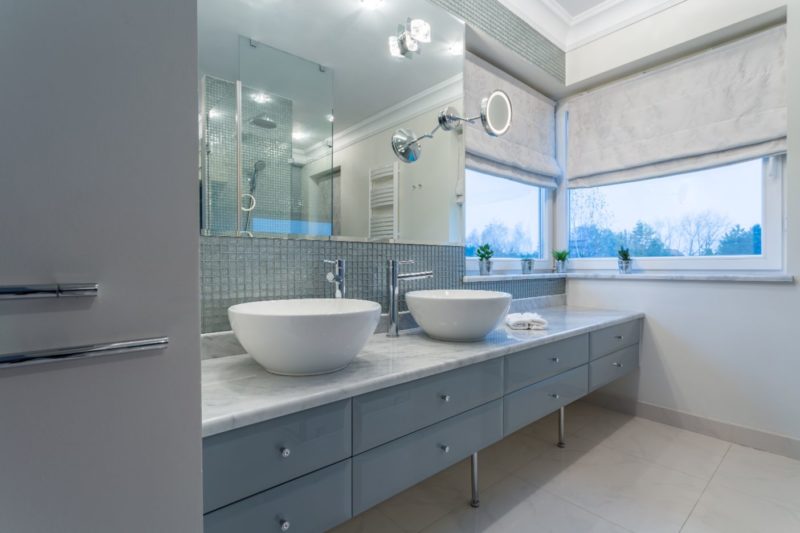 The biggest problem of a small bathroom is the lack of storage. Indeed, it can become quite challenging to find places to store all of the essentials. By choosing a floating vanity, you get a good solution for storing your things.
At the same time, the extra space beneath the vanity gives the feeling that there is more space than there actually is.
Add a modern and stylish faucet and your bathroom will look completely different. Hausera has a great selection of bathroom faucets, so no matter your style, you'll find the perfect fit for you.
6. Change Your Bathroom's Door
A good alternative for creating extra space to a small bathroom is to switch the hinged door with a sliding one. The hinged door, even if you don't realize it at first glance, takes up some space, in order to be able to open.
However, if you can't or are unwilling to go for a sliding door, you can always take advantage of your hinge door. You can install towel racks or hooks and thus gain some extra storage space. Hausera offers a variety of racks and hooks for you to discover and help you create the much needed extra space in your bathroom.