Last Updated on December 17, 2019
Even the most stunning, passionate, and magnificent whirlwind romance can hit a lull over time. So, a long-term relationship can be a little bit dull. However, there are certain ways that can help you combat this boredom.
Follow these tips not to succumb to a life of mediocrity and keep your relationship exciting.
1. Touch each other
Physical touches are very important in a relationship because they act as a means of silent communication. Caress the hand of a loved one, give him a hug, give him a massage, or lay your head on his shoulder. Such touches are priceless as they help express care, love, and tenderness without words.
2. Be romantic
Even the most ordinary evening can be turned into a holiday. One of the best ways to do it is to organize a romantic dinner. Light candles, turn on your favorite music.
It is not necessary to eat gourmet dishes, the most important thing in a romantic dinner is a manifestation of your feelings. In addition, even a regular evening with wine and old movies can bring you closer and reignite that sizzling flame.
3. Kiss each other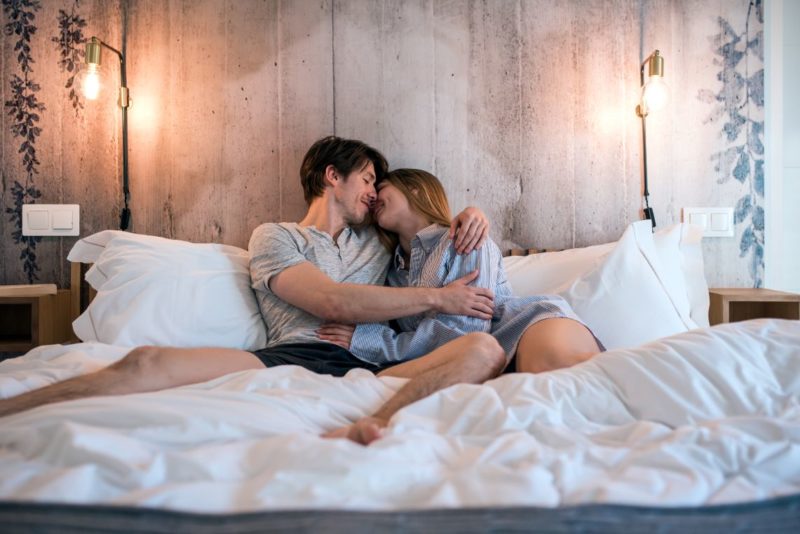 Kissing is how you connect with your partner, reduce stress, and boost trust in a romantic relationship.
Kissing in the morning is a perfect way to express all your passion, love, and admiration. Imagine that you have been waiting all your life to kiss your beloved and put all your passion in this kiss.
This tender touch will launch an emotional firework, improve your mood, and give a boost of positive energy for the whole day.
4. Send sweet text messages
When you are apart, sweet words can be a great means of support, encouragement, and a manifestation of love and care. When you haven't seen your second half for some time, send sexy messages to spice up your relationship. Here are interesting ideas on German – busen-freunde.com
5. Try something new together
Common activities help the partners be on the same wavelength, and they contribute to the emotional reconnection.
Do something new and interesting with pleasure. Take up painting courses, try hiking, sign up for a dance class, buy a gym membership and do sports together. When you try new things, you create new memories that deepen your connection.
6. Do what made you fall in love with each other
According to Terri Orbuch, Ph.D., psychologist, "The main idea is to mimic your relationship when you first met one another."
Just think about the beginning of your relationship and analyze your behavior. Perhaps you need to become more attentive, gentle, caring and understanding, more cheerful and spontaneous in order to return that pleasant sensation of butterflies in the stomach.
7. Diversify your sex life
Sex is one of the ways to get even closer with your soul mate, express your feelings, and improve your chemistry. Loosen up, share your desires with each other, embody your fantasies, and go for experiments together. Be completely open and honest with each other.
8. Spend time apart
In order to be in a happy and harmonious relationship, you do not have to be together around the clock. On the contrary, sometimes it is necessary to spend time separately in order to look at things differently and begin to appreciate what you have even more. On top of that, when you are apart, your feelings only become stronger, and a new meeting will only be sweeter.
9. Plan your dates
Do not take your relationship for granted and never let it turn into a routine that kills affection and romance. Regular dates with your spouse will help reconnect on an emotional level and keep the thrill in your relationship. During a date, make sure both of you are present.
Forget about cell phones, minor distractions, and focus on what is happening between you at the moment.
10. Pay each other compliments
Always put your feelings verbally because it makes your second half feel noticed and appreciated. Besides, it makes the relationship exciting. You can give simple compliments, but the main thing is that they should come from the bottom of your heart.
So, stick to these tips to keep your relationship fresh and stand the test of time.