Last Updated on June 10, 2022
From McDonald's Golden Arches to Nike's swoosh, the world's largest brands take good care of their logos. For many of us, the iconic logos instantly connect our minds to a product or service without the need to check its name.
For instance, the logo of a bitten apple. When you see it, your mind goes straight to Apple (the brand) or an iPhone or a Mac (the products). Another great example is the green twin-tailed mermaid. When you see it, your mind instantly triggers images of Starbucks (the brand) or coffee (the product).
For businesses, this instance of immediate recognition through the company logo is sacred. This is precisely the reason why small-sized to multinational companies set aside a budget for their logos.
But how truly challenging is it for a designer to create a unique logo?
Logo and Its Importance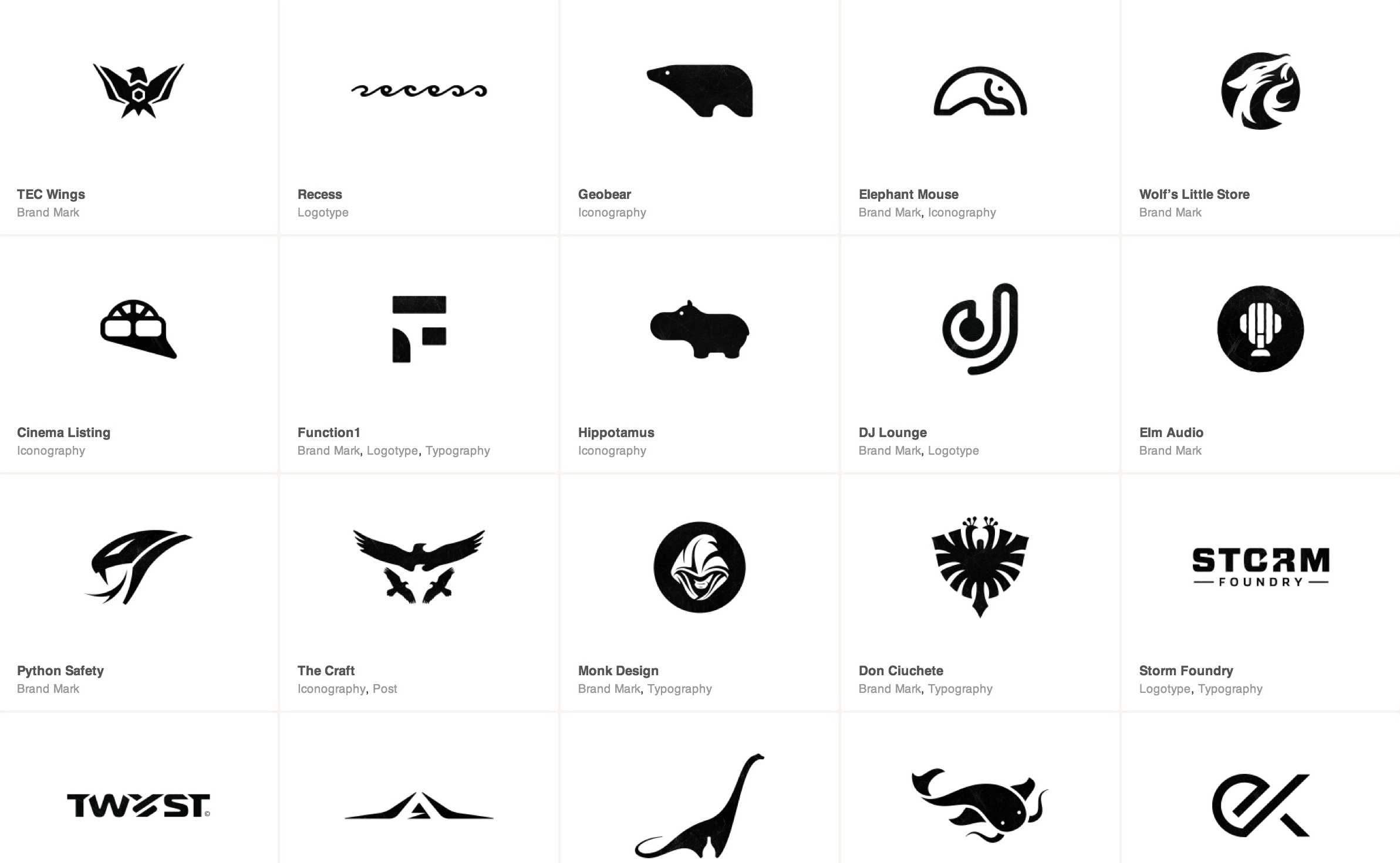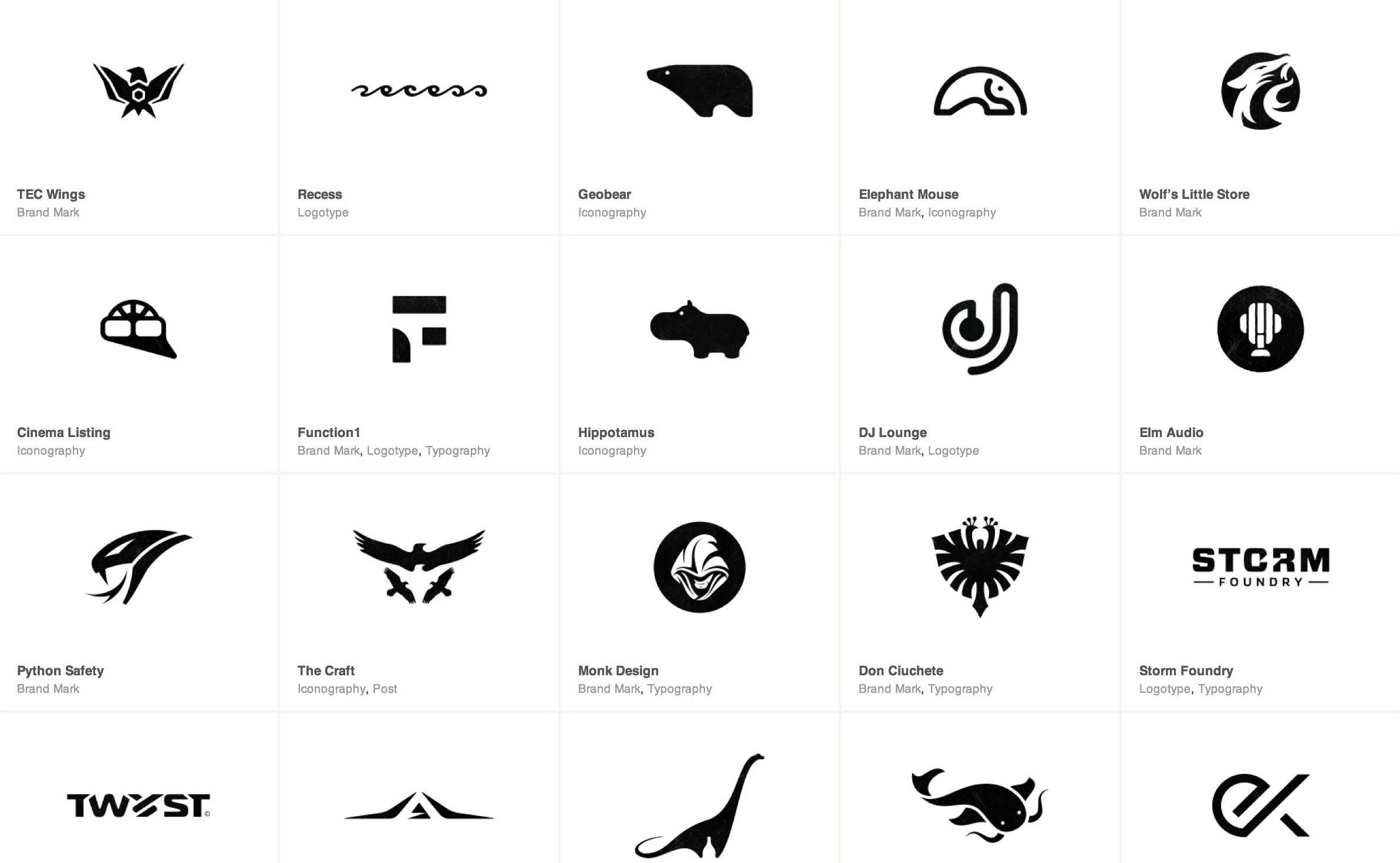 A logo is a design created for the instant recognition of a company, organization, brand or name. It inspires trust, loyalty, and to some extent, admiration. It is an element of the commercial brand of a company or the economic entity of an organization.
A great logo design stands out from the crowd.
Importance
A logo, especially one used in business, is omnipresent in all of the company's properties. It appears on all letterheads and on marketing and communication paraphernalia. In most cases, the business logo is the first thing a reader sees before reading the company letter.
A logo is important because it helps in the formation and solidification of the company's identity. As a rule, it must be memorable, appropriate, timeless, and versatile. It should also evoke the feeling of trust and conjure the desire to associate the image with the brand.
The importance of a good logo design also takes into consideration the credibility of the brand of which it represents and by extension the people who are part of it. More than just for aesthetics, this makes it an enduring tool in expanding your brand's reach by making it a visible part of your company's campaign. By visibly placing your logo on materials such as on custom buttons, not only does this capture your brand's reach, but it also elicits trust from people who choose to wear your logo out for the world to see.
Design
A great logo represents the core message of the company. It should display positivity, professionalism, and stability. It must promote awareness about the company's brand and should stand out against its rivals.
The design should be something striking and unforgettable. When someone sees the logo, it should inspire the appropriate feeling about the brand. For instance, when you see the Disney logo, it should make you think of fond memories, of whimsical and fun events.
Considerations
In reality, designing a logo that is simple, memorable, and strong is a challenging task. The design must be as prominent on a tiny business card as it is on a huge billboard. It is equally tricky to design a logo that is timeless and versatile. The logo must also convey the history of the company or organization throughout the years.
Money is also a big consideration. If a business or organization wants a professionally designed logo, they must be willing to shell out the money and the time needed to invest on a designer who'll learn what the business or group represents.
Logo Design Rules
The world of logo design is vast. For the clients, logos are the point of recognition where the company hangs. For the general public, logos are instant reminders of a company, service, or product. For designers, logos are the challenge to win over.
The importance of logos has propelled more than ever thanks to the worldwide web. Today, practically all businesses and organizations have their respective websites to promote their products and services. This exposure demands for top-notch logo design.
Furthermore, there are thousands of logos out there. With that comes the challenge for designers to come up with something truly unique.
To help you design a worthwhile logo for a personal project or a client, here are the pressure points you need to master to take your design skills to the next level.
I. Pre-Design Rules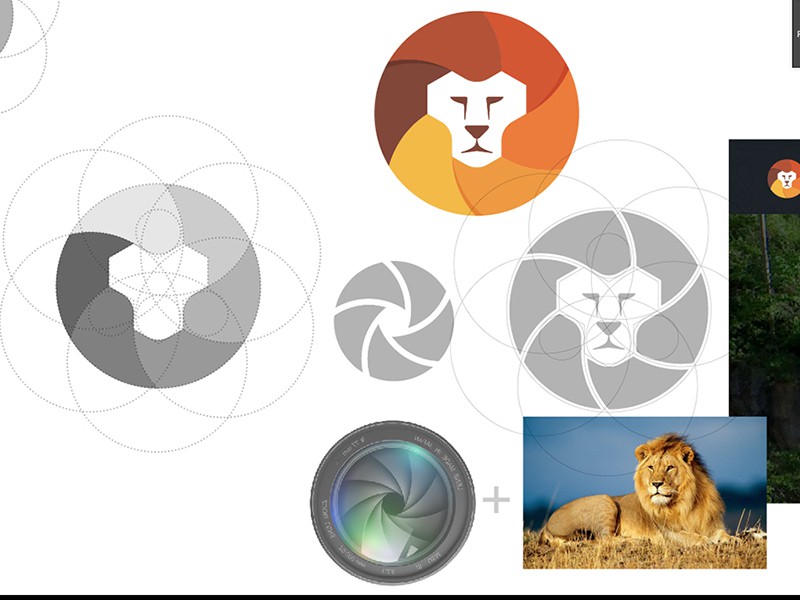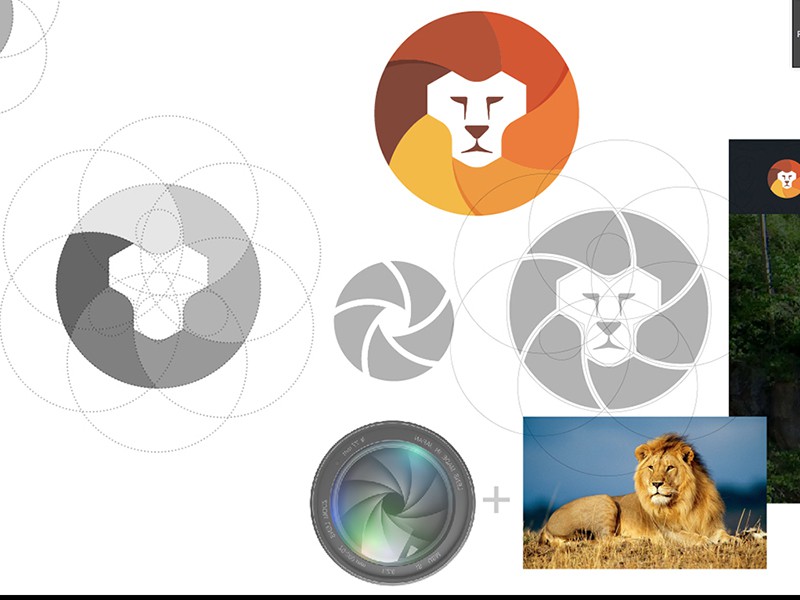 Logo Concept Lenses + Lion by Yoga Perdana
1. Check out multiple design or art websites.
Inspiration comes from anywhere, but most especially from specific resources. Online sites like Logo Gala are great sources of design inspirations. You can also broaden your research and include and check out graphic design and art sites like Deviant Art. Narrow your research to logos from the same industry you (or your client) are part of to check for patterns, similarities, differences, and distinctiveness of designs.
2. Study logo 101.
You can only truly design a great logo when you know its value and importance. A great logo is effective, appropriate, unforgettable, simple, and practical. It conveys the essence of the brand.
Simplicity – a logo must be simple to allow easy recognition by the general public. It should be one-of-a-kind without being overdrawn.
Unforgettable – an effective logo must be memorable to achieve its main goal.
Lasting – a great logo is enduring. The design should be timeless and future-proof which makes it effective for the next couple of decades.
Appropriate – a spot-on logo should convey its intended purpose. It must be a true representation of what the brand and its morals stand for.
3. Make your own design process.
Every designer has a process uniquely his or her own. The process is rarely undeviating, but it almost always has these steps:
Design brief – getting the gist or "the brief" of what the client wants.
Research – conducting an intensive research about the brand – its history, industry, and competition.
Reference – doing an in-depth probe on logo designs from the same industry as well as trends connected to the design brief.
Conceptualization – developing the concept of the logo through sketching or drawing from the results of all the research done.
Reflection – stepping away from the design for a short yet much-needed period of time to refresh the mind and allow the ideas to fuse and mature.
Presentation – delivering a few logo options to the client to get feedback and, if possible, an approval.
Repeat the whole process until the design is finished.
4. Put the right price on your design.
Pricing your logo (and your work) is tricky because one client is different from another. There are several things to consider when pricing your work as well. These include the time, energy, and resources used for research and for the actual designing of the logo. That being said, you need to have a ballpark price list for your work and learn to adjust it based on the project.
5. Learn from others.
Exploring the world of logo design will help you to further enhance your skills. Understanding how other brands designed iconic and timeless logos will give you invaluable insights that can improve your work.
II. Preparation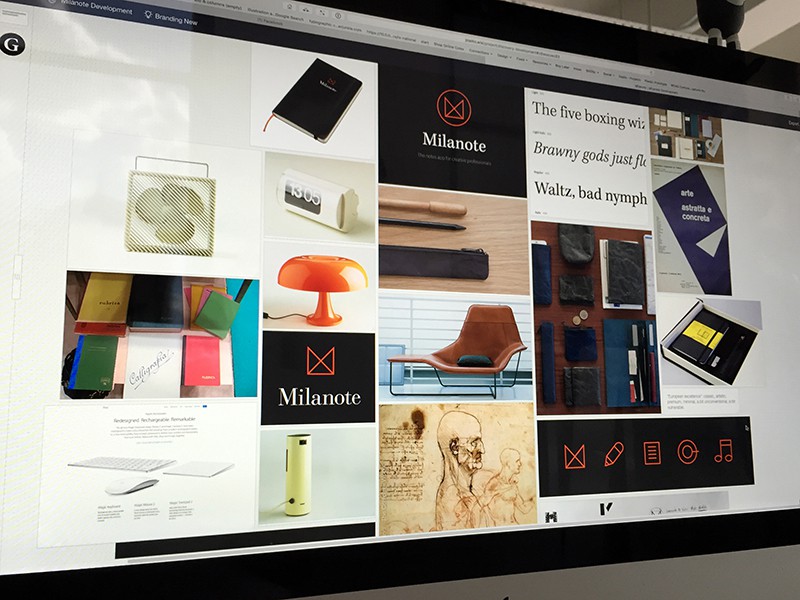 1. Research your target market.
Designing a logo is more than just creating a beautiful and remarkable visual. In essence, you are part of developing the brand and communicating its position. Knowing your target audience will tremendously help in creating the logo. Through research, you can get and study their various interpretations and opinions about the brand. Incorporate your interpretation with them to come up with a logo that will make them feel the instant connection logos ought to have.
2. Get as much detail about the brand as possible.
Before the design process begins, immerse yourself in the brand to produce an appropriate logo. Spend time and resources to compile notes, history, stories and demographics about your client's brand. Get details about the company. Study their previous logo (if there's any) to see what elements didn't work. Make a checklist of do's and don'ts before the creative process starts.
3. Avoid imitating other designs.
There's a big difference between finding inspiration and copying a design. It's normal to have a design hero, every designer has one or two. However, there are times the admiration becomes a source of imitation rather than inspiration. If the imitation is deliberate, that's just plain cheating. And it's unfair to your client and your hero if you do that.
There are moments when the copying is done unconsciously. While this is still not an excuse, it is unintentional. To avoid this from happening, always be vigilant about your design. Step back and assess its uniqueness and originality. And most importantly, be honest with yourself. If you know in your heart you copied nothing, then it'll be easy for you to spot the aspects that would make your design look like a copycat.
4. Ask questions.
The only way for you to design a great logo for your client is if you have all the resources you need to understand and learn about the brand. The most important resource you have is your client himself. Don't hesitate to ask questions. Also, ask them to elaborate when they give you vague answers. Don't let clichés like "I just want it to be iconic" stump you. Let the design brief be informative and enlightening.
On the other hand, don't let your client dictate your work. Remember, you're the designer. If you have a very vocal client, ask him about his own interpretation of the brand's logo. And then manage his expectations. It's important that you verbally tell him about the project's realistic goals.
Keep this in mind: logos become iconic. They're not created that way.
5. Create mind maps and mood boards.
It's safe to say that the majority of designers use mind maps and mood boards to complete a project. These techniques help you organize your thoughts into a more coherent pattern. Creating mind maps and mood boards also make it easier to mix and match various images and ideas. This brainstorming process will make the design process less chaotic.
6. Pick the right color or color combinations.
Colors are one of the key elements in designing a logo. More than the actual design, colors highlight the personality and mood of the brand. Use bright colors if you want to grab the attention of someone easily. On the flip side, bright colors can be too brash. If you choose a muted tone, the color will exude sophistication. But then again, because it's not bright, it can be overlooked.
Every shade has its own symbolism. Don't use colors just because they are your or your client's favorites. The color representations must connect with your brand's core message. To help you discern the moods and personality of colors, here's a quick breakdown from Logo Company's The Science behind Colors.
Red – sexy, bold, exciting, energetic
Yellow – optimistic, sunny, inventive
Green – organic, natural, growing, soothing
Orange – friendly, creative, cheerful
Blue – calm, trustworthy, professional
Pink – whimsical, flirty, fun
Purple – suggestive, spiritual, transcendent
Brown – rustic, historical, sturdy
White – pure, clean, simple
Black – powerful, prominent, credible
III. Design Process
1. Test drive various color, font, and space combinations.
Don't stop on a single logo design alone. Even if you feel that it's THE right one and you've nailed the design, always provide a few more options to your client. Having more than one logo design will give your client the chance to pick what's best. Presenting two or three options also enables your client to pick the best elements of the logos and see if they can be merged into one.
2. Experiment.
This is the stage where you push the envelope on one or two aspects, but not the whole design. The digital age gives you space to actually get out and think outside the box.
3. Keep it easy and interesting.
You want the end product to be quirky, interesting, and unforgettable. However, you definitely wouldn't want someone to awkwardly stare at your design and pick it apart. Your goal should be to design a logo that is easy enough to understand and distinguish. So even if someone just saw the logo once, the design will be retained in his memory.
People should also find the logo interesting. It need not be too intricate or overflowing with trappings, but interesting enough to warrant a second look. Have one or two elements captivating enough to get the attention of the brand's target audience.
At this time and age where everything is practically digital, logos appear multiple times a day on different gadgets and across different social media channels. It's your job to design a logo that transcends paper to reach a wider target. Follow these design rules to create a logo destined for greatness.