Your Facebook cover can be an excellent tool for attracting potential customers to your social network page. But what should the cover look like? What is the best Facebook cover size? What do you need to know about Facebook's recent business-page redesign?
We conducted a study, checked out hundreds of cover designs of world-famous brands, and managed to answer all these questions. In this article, you'll also find over 50 interesting Facebook covers to inspire you, 18 tips from global brands for your business-page design, and a couple of life hacks from our studio.
What's the right size for your Facebook cover?
In the summer of 2016, the design of business pages changed significantly, and so did the requirements. You can read about them in detail on the official help center page. We're here to tell you about the most important things you need to know.

This is what the Facebook page design looks like at the time of writing (July 2017).
The square image on the left, or profile picture, is displayed with a resolution of 170 x 170 pixels on computer screens; 128 x 128 pixels on smartphones; and 36 x 36 pixels on multifunctional phones. You can edit the image directly on Facebook: crop it, scale it up or down, change color contrast and gradation, add stickers, frames, or text.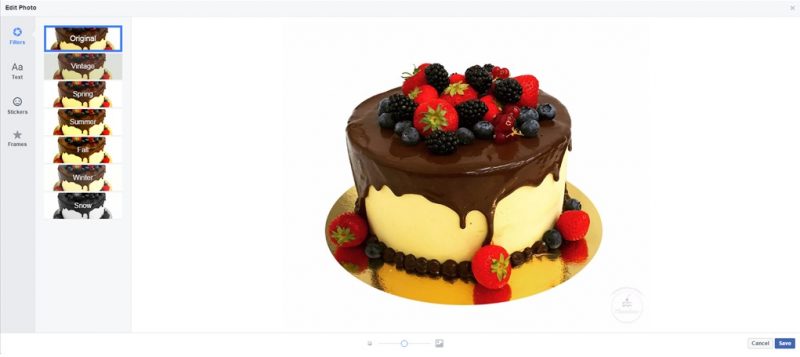 On the left, you can find some tools that will help you edit your profile picture directly on Facebook.
The Facebook cover photo is displayed at a resolution of 820 x 312 pixels on computer screens, and 640 x 360 pixels on smartphones. There is also a minimum requirement for image dimensions (399 x 150 pixels).
If you want all your pictures to look nice, make sure you upload them in a PNG format. You won't be able to edit a cover photo directly on Facebook apart from moving it up or down. Therefore, you'll have to make your own cover design beforehand or ask a professional designer to do it.
Please note that when a user hits the page the buttons are on the top:

They overlap a small area of the cover picture. After the user has scrolled the page, the buttons move down.

Now the upper part of the cover picture is visible.
Useful tip: Do not put any essential information on the top of the picture.
Another feature of the cover design is that if you upload a picture of the specified size (820 x 312 pixels), only the central part of it will be visible on mobile devices.

This is how an 820 x 312 picture looks on a computer screen.
And this is the same picture on a smartphone screen.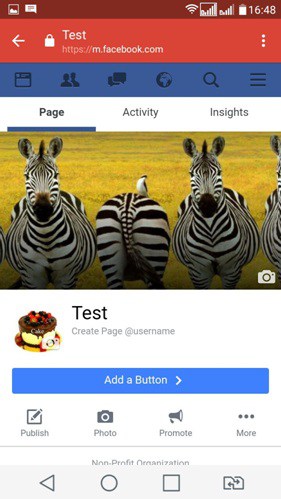 Two zebras remain behind the scenes. Imagine: important news, or your company's website address could have been there!
Useful tip: There are two ways to get out of this situation:
1) Place valuable information in the central part of the cover.
2) Be sure your picture is more than 312 pixels high.
For example, this is the mobile screen view of the same picture at 820 x 475 pixels.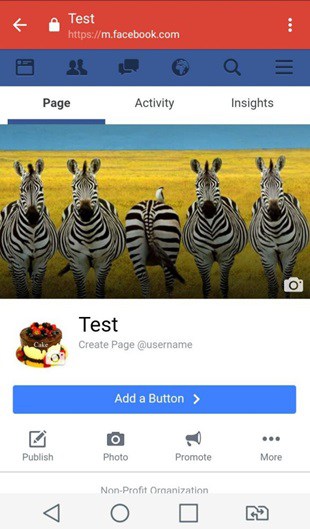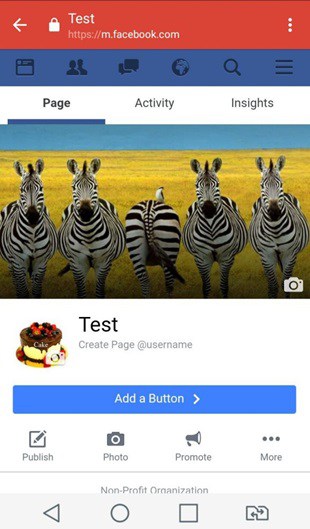 All the zebras are in place, so all the information will be visible on the screen.