Last Updated on April 8, 2016
The mobile industry is heavily growing. Many people don't have a computer while commuting, but what they do have is their smartphone. Now a days you probably heard of the iPhone, Palm Pre, or Android phones. These are all smart phone used by millions of people each day. To give you an idea, the iPhone has over 50 million units. Those are some impressive numbers, don't forget about the iPod touch as well. Although i don't know how many units have been sold, you can probably guess alot. These mobile devices are a huge target market that you should be part of. What I'am trying to say here is that you should make sure your website, or blog is mobile ready. To do this i have listed a few tools below.
[ad code=1 align=center]
Applications
1. MoFuse
MoFuse is the fastest growing network of build-it-yourself mobile sites in the world. Short for Mobile Fusion, MoFuse provides a platform that enables businesses, bloggers and any other web publisher to provide a compelling mobile experience on any mobile device.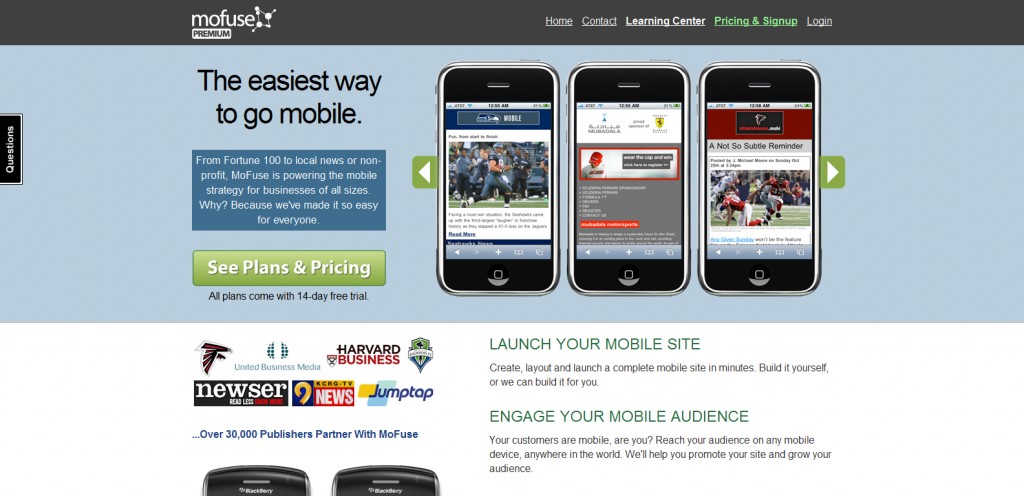 2. Mobify
Mobile web access is growing by 30% every year, but most websites don't work well on a small screen. Mobify is a web service that provides a quick way to optimize a site for mobile access. Publishers, web designers and bloggers use Mobify to design visually engaging and usable mobile layouts for their existing sites.
3. Mowser
Mowser mobilizes the web by taking HTML pages normally viewed on a PC and adapts them so they work on a mobile phone. During this translation process, Mowser converts the page in a predictable, linear manner, details of which can be found on the dev.mobi. In order to ensure that the highest quality and most useful web page is displayed on your mobile phone or device, Mowser may alter images, text formatting and/or certain aspects of web page functionality, or forward to a publisher's mobile version instead.
4. Wirenode
Create a free mobile website using our mobile page editor. Feel free to try all functions, upload your pictures and customize your pages. You can create as many websites as you like, link them between each other and then publish them.
5. Instantmobilizer
Instant Mobilizer, from dotMobi, delivers the mobile Web in seconds! dotMobi now offers a convenient and cost-efficient service to adapt an existing Web site into a mobile-friendly version. Instant Mobilizer resizes images, reformats text and inserts other mobile-friendly features to ensure your Web site works on any phone. Now that more than 60% of consumers have Web-enabled phones, Instant Mobilizer is perfect for small businesses!
6. Mippin
Mippin is an agile and dynamic mobile applications and content company. Mippin is very similar to Mofuse, it allows you to quickly set up a mobile version of your website. Very easy to use and offers Admob for advertising options.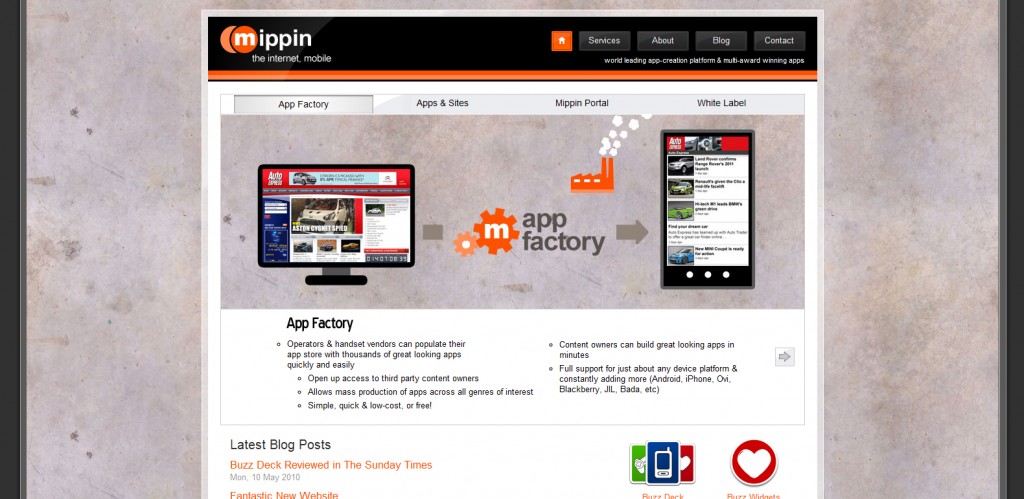 7. Easymobilizer
Provides your current URL as optimized mobile version. Copy & paste one line and it all just works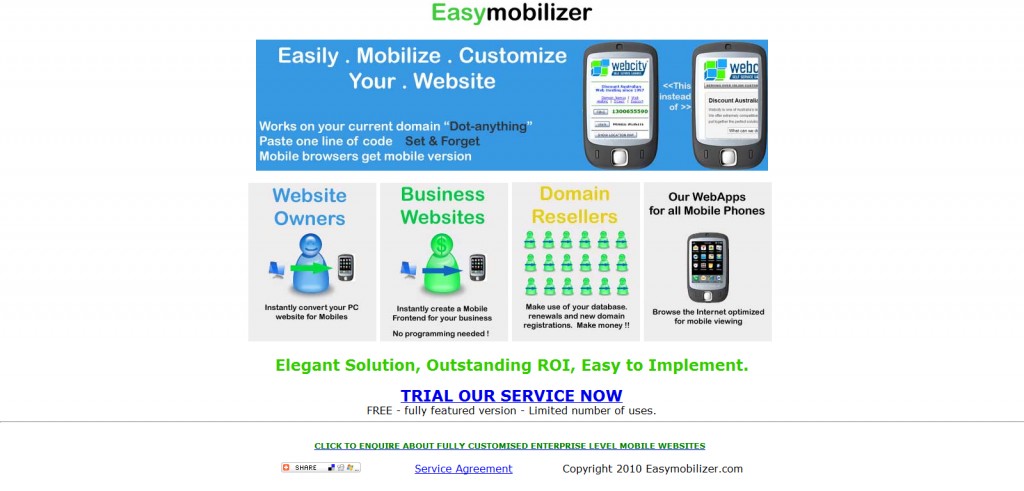 8. Google
If you want a fast, free, and easy way to do it, check out http://www.google.com/gwt/n You can optimize your website into a mobile version. The downside is that the url is really long. For this problem you can use a url shortening service like bit.ly. Another way of doing this wold be setting up a sub-domain that redirects to the google url.
Example: http://m.inspirationfeed.com will redirect to http://www.google.com/gwt/x?u=http://www.inspirationfeed.com&btnGo=Go&source=wax&ie=UTF-8&oe=UTF-8
WordPress Plugins
1. MobilePress
This plugin will render your WordPress blog on mobile handsets, with the ability to use customized themes. Built into MobilePress is the ability to track your mobile sites analytics and serve ads with Aduity.com. Aduity enables you to serve ads from some of the biggest mobile ad networks such as Admob, Quattro Wireless, Buzzcity and InMobi. You can also serve you own managed ads. You will also be able to track your visitors every move with Aduity analytics. The plugin allows WordPress theme developers to create custom mobile themes for MobilePress enabled blogs. Theme designers can create specific iPhone themes or generic mobile themes for other mobile devices. MobilePress is SEO enabled and detects Google, Yahoo and MSN mobile search bots. These mobile search engine bots will see the mobile version of your blog and get your mobile site indexed in the mobile search results.
WordPress Mobile Edition is a plugin that shows an interface designed for a mobile device when visitors come to your site on a mobile device. Mobile browsers are automatically detected, the list of mobile browsers can be customized on the settings page.
This is a complete toolkit to help mobilize your WordPress site and blog. It includes a mobile switcher to select themes based on the type of user that is visiting the site, a selection of mobile themes, extra widgets, device adaptation and a mobile administration panel to allow users to edit the site or write new posts when out and about.
4. Wptouch
More than just a plugin, WPtouch is a mobile theme for your WordPress website. Modelled after Apple's app store design specs, WPtouch loads lightning fast and shows your content beautifully, without interfering with your regular site theme. WPtouch automatically transforms your WordPress blog into a web-application experience when viewed from an iPhone, iPod touch, Android, or BlackBerry Storm touch mobile device.
Wetomo (Web to Mobile) is a service that allows publishers to display their existing web content to users on mobile phones and other handheld devices. This plugin detects when a user is on a mobile phone and automatically redirects them to Wetomo, which acts a a proxy between the mobile phone and the WordPress site and adapts the web site content to the mobile phone capabilities.
Notice:
Did we miss something? Please let us know by commenting below.