Last Updated on March 8, 2022
Not every home has a dining room, but almost every home has a dining table. While eating at the cafeteria or you computer desk might have worked in college, once you've settled down you probably want somewhere nice to eat. If nothing else, eating at a table helps you take a break from the day, and it can be nice to enjoy a sit-down meal, even by yourself. To properly enjoy your dining table, you need the perfect dining table.
Size Does Matter
An important part of picking the perfect dining table is determining the size you need. This is pretty important for all dining room furniture, but the table is the centerpiece, so needs special attention. It might fit, but if it's too big the other pieces won't. There's no point in a dining room set if the table fits and the chairs can't. So make sure to measure very carefully before you commit to a table purchase.
So Does Material Type
Once you've determined the needed size of your table, it's important to consider the material. You have several options, here, and the one you go with can depend on several factors. Besides personal preference and budget, there's also the décor of the dining area and your home overall. You probably want the table to compliment that look without standing out too much. Some contrast might be nice, though.
When it comes to materials, a solid wood dining table is one of the more common options. Reclaimed wood is another good choice. This kind of wood recycled, so it's environmentally friendly and can add a lot of character to a room at lower cost than solid wooden pieces. Laminate wood pieces are a cheaper option still, and can come in all sorts of colors and styles to match your present decoration scheme. Besides wood, glass tables provide a sleek, modern look, though aren't great if you have young kids or rowdy pets.
Stone tables made of granite and the like can be expensive, but they're pretty durable and will look gorgeous. For another modern material metal can offer a minimalist or involved design, depending on the table's design.
Measure Twice, Purchase Once
Once you've determined the size and material, the shape and comfort of the piece need to be considered. The shape of a dining table can depend on the material and the room available, but it also has to account for your needs. A bachelor can make do with a small round or square table, but a larger family will need a larger table. Rectangular tables are common for this, especially if you have a dedicated dining room to place the table within.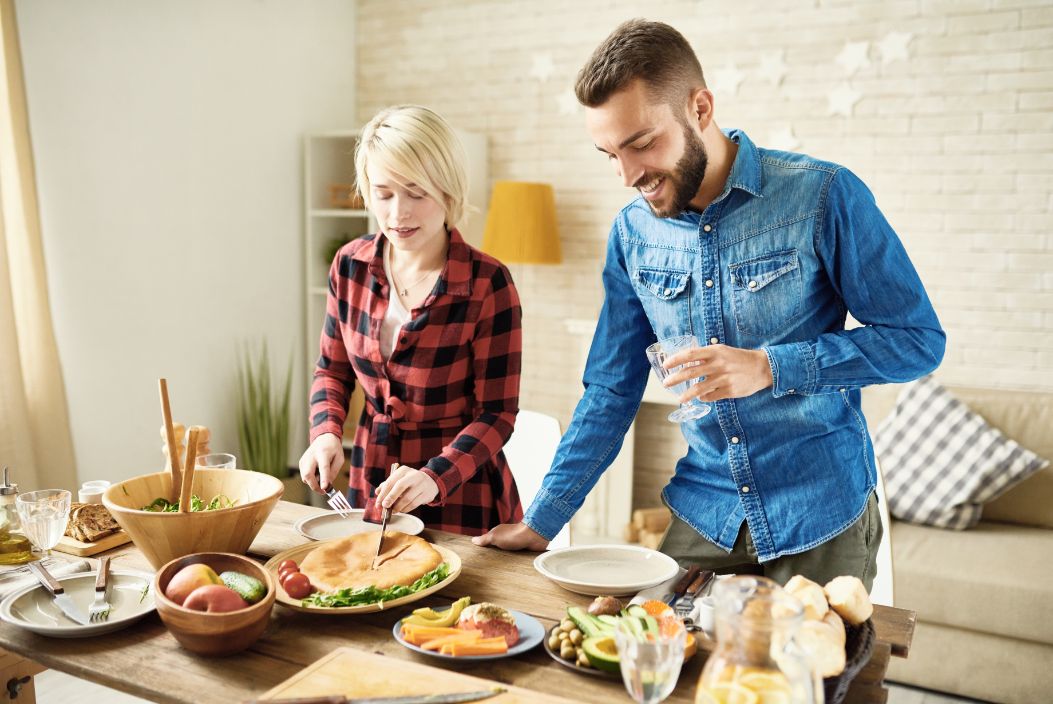 When it comes to size, shape, and material, the biggest issue is cost. A large, rectangular stone table is going to be pretty pricey, not to mention heavy and a pain to move around. It can be hard to find affordable tables in such materials for a reason. Even larger wooden tables, like Amish furniture pieces, can get expensive. Generally, regardless of material, size depends on how many people will use the table and the amount of room you have.
As previously noted, smaller round and square table are good for smaller families, though they can also be used for more intimate space. Some tables can be enlarged with center leaves, usually wooden tables. Such tables can be more expensive than others, but are a good way to effectively buy two tables for the price of one. Just remember that tables with leaves tend to be limited in terms of material and shape.
Of course, the table doesn't come alone. For a dining table to work, you need the chairs that come with it. Granted, you can just buy the table, if you need a new table there's a good chance you need new chairs, too. Buying as a set will maintain a more consistent look, and can save money on bundled deals.
So, when buying a table, you may need to take the chairs and sitting into account as well. Hopefully you remembered to do that when you measured the size of the table, but if not, you definitely want to do it now. The chairs need to be comfortable, obviously, but so does the seating arrangement. 
Elbow room and space to sit comfortable is incredibly important, since no one wants to feel squeezed in place while eating. You also need to take into account how easy it is for people to get up and sit back down. it can be hard to make sure everyone can do so easily, and one side of a table often ends up a little too close to a wall. 
That depends on the room and size of the table, so make sure to choose wisely. If you have to get a smaller table and are concerned about placing all the food during a holiday or the like, consider a smaller side table for less frequently consumed items like salads.
Conclusion
Figuring out the proper measurements and spacing for the dining room table, chairs, and how it all will look once fully occupied can take some work and imagination. Measure twice, purchase once is an excellent idea when it comes to such purchases. Obtaining a dining table and related pieces can be a hefty investment. You want your furniture to last, and you probably don't want to have to return a table because it doesn't fit once you've tried to reorganize your dining area.
Picking the perfect dining room table is a process. You want to make sure to take the time and effort to check where the table will go, what size table you can purchase, the material it's made from, and have to base all of that on your budget. The size, shape, material, and look of the table should work with the room's décor, which will likely be based on your personal preference as well as budget. So make sure to take the time to carefully choose the right dining table, because if you do, it may stay with your family for generations.