Last Updated on January 24, 2023
As per reports, 5+ hours of the sedentary sitting pattern can lead to health hazards that are equivalent to daily smoking. Yes, it's true! Sitting all day long with no movement counts as sedentary living which can be deteriorating for your body.
So, what can you do to change that?
Today, modern offices are equipped with ergonomically created standing desks and office chairs that help add to your healthy days. Pair them with multiple accessories that impart body movement, and you will have your body thanking you in no time.
What does the science say?
According to science, you need to stand up straight after 20 minutes of sitting to ensure that your body receives its share of exercise. You can also benefit from just standing up and moving a bit here and there.
Standing for some time is like pushing the body's reset button that helps avoid any health hazards that can be caused due to prolonged sitting hours. The best way to do this is to use a perfect mix of standing desks with office chairs.
As you stand up, the big muscles inside your legs, as well as the back start, contracting. It leads to a significant increase in the enzymes that are responsible for breaking down the fat in your bloodstream. Eventually, this reduces any risk of you developing heart disease or diabetes in the future.
What can you do to fix your sitting habits?
1. Start Small
When you start changing your life, you do not need to go full scale on the first day itself. The first thing you need to do is get yourself a reliable standing desk. Now, start with small steps.
Set your timer for every 20 minutes interval to remind you that you need to stand and work. You can also use fitness bands to help you tell that you need to stand up. You can also alternate between 2 hours of sitting with 30 minutes of standing.
Remember, do not stress! Let this change in pace come naturally to you. With time, you need to increase your timeline and invest more time in standing.
Though there are countless numbers of brands offering the best standing desks, Autonomous is known for their high-quality smart office furniture.
2. Move your Workstation
Working at the same place every day can be a bit boring. It decreases your productivity and motivation to work. While you cannot move your entire set-up to a different place now and then, you can surely plan a few days in a week to diverse areas of your office.
You can even use your lounge to work. This change of location will help you focus more on the work without getting bored. Plus, standing desks are very portable. So, you can easily carry them to the location of your picking.
3. Be a part of collaborative projects
Collaborative projects help you be a part of projects that require you to move frequently. For instance, your day might start with working at your standing desk, but it might end up with you working at your colleagues' cubicle.
It helps change the pace at which you work. When you work alone, you do not make many moves and keep sitting in one place. With collaborative projects, you would be required to coordinate with your colleagues now and then. It ensures that your body is exposed to ample movement while you coordinate with different departments.
4. Standing desks are more about moving
Standing desks should be paired with multiple office accessories that aid in better body movement. For instance, you can add a portable treadmill below your standing desk. Use it after every 20-30 minutes for a 2-3 minute workout.
You can also add a gel mat below your standing desk to allow your feet to rest a bit. While you are sitting on the office chairs, you can use the feet rollers to get that blood flowing into your feet through the legs.
You do not need to invest in vigorous exercises. All you need to do is get the body to move. Create a pattern for yourself and enhance the blood flow through your legs.
Moving can happen even when you are sitting. You can shift your legs from one position to another; move your legs in cycling patterns when sitting, and so on.
What are the best ways to implement a standing desk in your office scenario?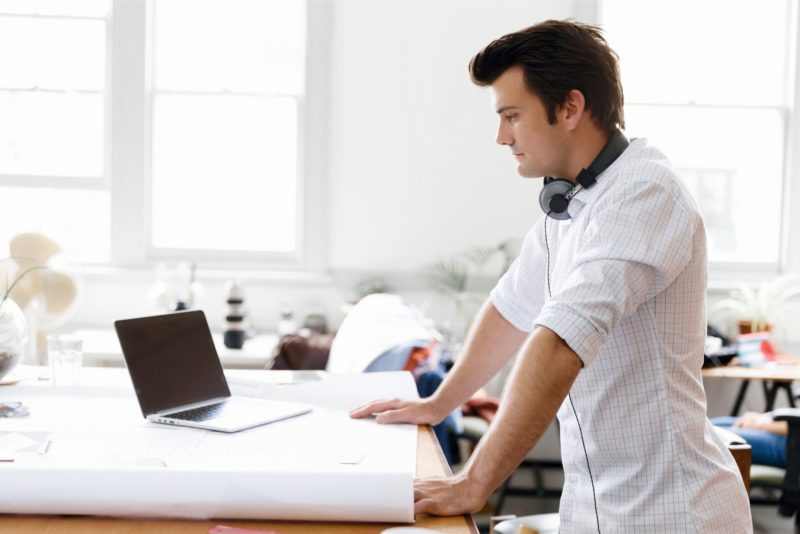 If you have recently bought yourself a standing desk, it is crucial to start slow and small. You wouldn't want to invest in a standing desk that is too pricey and end up not using it anyway.
Make sure you keep it affordable at the beginning. Once you get the hang of it, you can switch to a better version.
The essential thing when it comes to standing desks is to find your best posture regardless of the desk being used. Here are some more features you should take care of when adding a standing desk to your office space:
The monitor needs to be 20 to 28 inches apart from your eyes with its screen tilted at an angle of 20 degrees.
The height of the table needs to be a bit below or at par with your elbow's height.
Your elbows need to be at an angle of 90 degrees to the laptop or monitor keyboard.
Eyes should be aligned slightly down into the monitor.
Adjustable Standing Desks
Adjustable standing desk variants can be the go-to furniture that helps you adjust it according to your height. Not everyone is the same height. Adjustable standing desks give you a choice to adapt it in accordance with the user.
It can be used by any of your colleagues given the flexibility. You can adjust it to a height that is comfortable for your body. It is designed to attain heights that are perfect for any average human being.
Bottom line
Of course, you need daily exercise to compliment your health. However, opting for standing desks and ergonomic office chairs can add on to your health without making you a couch potato.
Before you go ahead, make sure you know your needs and decide your budget. Not only it will narrow down the list of options but also help you in making an informed decision.
So, what are you waiting for? Get on Autonomous website and order yourself a standing chair instantly and add years to your life. You can explore a wide range of Autonomous standing desks and ergonomic office chairs on the official website.