Last Updated on January 24, 2023
Videos are great ways to grab people's attention but those distracting watermarks and texts can reduce its visual appeal. And these texts often appear after using a video editor. But luckily there is some life-saving software for text remover from video which can help you get rid of unwanted watermarks quite smoothly and give you your high-quality video in just the way you want. And to save you from the hassle, we have tested all of them, including paid and unpaid. Check them out and decide which one would best work for you.
Part 1: The Best Text Remover from Videos for Windows and Mac
Removing watermark from videos can be a hassle if you don't have the right software and that's where HitPaw Watermark Remover comes to the rescue. This software lets you remove the unwanted elements from your photos and videos quite easily. Whether it is a text, logo, watermark, or photo stamp, HitPaw Watermark Remover will alter your videos completely and make them appealing to the eyes, as if those elements were never a part of it. Some of its features are: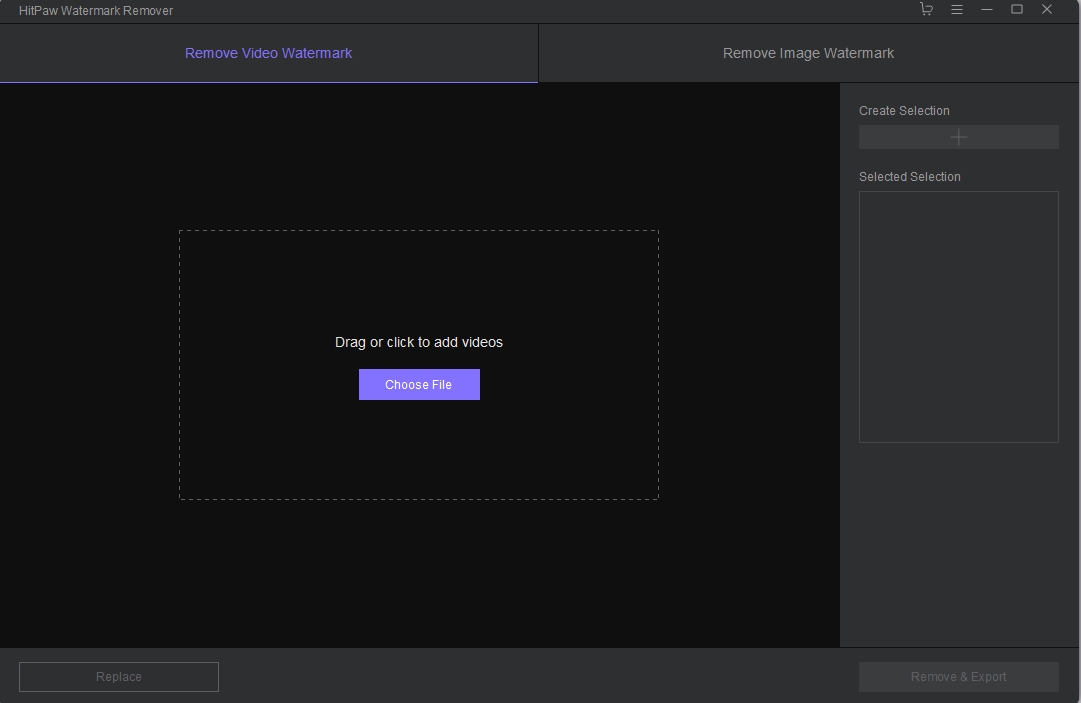 Beginner-friendly User Interface
HitPaw Watermark Remover is designed for every user. No matter if you're an experienced video editor or just a beginner, you won't have to struggle to try to understand its features. 
The reason why people have been using HitPaw Watermark Remover and loving is that it is completely risk-free. And while you're working on your video, no ad will pop up and disrupt your work. 
No need to right purchase the software right away. You can use and try the effects for free in the trial period. 
Unlike other watermark removers, HitPaw Watermark Remover can help you get rid of unwanted text and other elements in just a single click. Features like redo, undo, move, and zoom makes the entire process convenient for the users and allow them to precisely select and remove the watermark. 
Why It is the Best Text Remover from Video for Windows and Mac?
Comparison between HitPaw, Apowersoft, and SoftOrbit Watermark Remover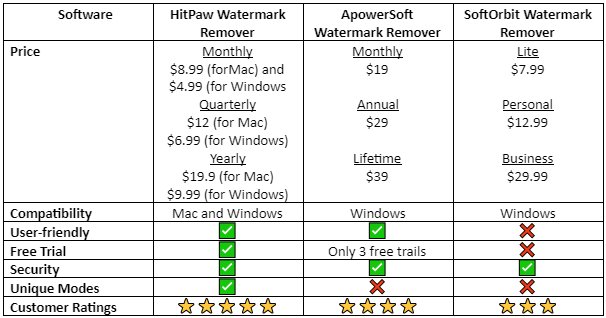 So, while talking about the best text remover for video, it is hard to beat HitPaw Watermark Remover. It is pocket-friendly, risk-free, and compatible with both Mac and Windows. Not only this, but the users find it extremely helpful and easy to use. Here is what they have to say about it:
Customer Reviews
Libario Geremia says, "I've just got a video with a watermark. It made the video look a little ugly. Then I put the video into Watermark Remover App and I was really impressed with its fast removing watermark. A helpful and friendly App, very nice. I like it. "

Sirvard Krikar says, "This is the only watermark remover I use to remove watermark from images downloaded from websites. What I like most is that you can remove all logos, text, marks very cleanly. If the effect does not satisfy me, I can redo it, then, try other methods provided by this watermark remover. That is a great feature. "
Part 2. The Best Text Remover Online (Completely Free)
If you're looking for a reliable online video text remover then HitPaw Online Watermark Remover has to be the best option. It is a web-based tool which means you do not have to download any software or tool to access its features. It helps in removing all the unwanted elements, be it a watermark, text, or logo, in just a matter of seconds. Here are some of its best features.
Remove text, logo, and watermarks completely free and give you stunning pieces to attract all your followers. 
More Than Just a Watermark Remover
HitPaw Online Watermark Remover doesn't only help you in removing unwanted text but also allows you to perform simple and advanced editing to enhance the quality of your videos. 
Remove as many watermarks as you want because HitPaw Online Watermark Remover can be used without any limit. Also, you can work on this software without any disruption because no ad will pop up. 
Compatible with all Devices
HitPaw Online Watermark Remover can be used on any system, whether it is Windows PC, Mac, Android, or iOS devices, it will perform smoothly. 
No professional experience is required to operate HitPaw Online Watermark Remover. The functions are pretty easy to understand and can be performed in only a few seconds. 
Only you will have access to your downloaded file and no one else can view or edit it anyway. 
Why it is the Best Text Remover from Video Online?
Comparison between HitPaw Online, ApowerSoft Online, and Watermarkremover.net

As HitPaw Online Watermark Remover is much beyond just a watermark remover, hence, according to users, it is the best tool for text remover from video online. People find its advanced editing features very valuable as it helps them in not just getting rid of texts but also editing their videos to make them attractive and presentable. Here is what the users have to say about HitPaw Online Watermark Remover. 
Customer Reviews
Ashley Jacob says, "I was in search of a good

online text remover from videos

and have much researched finally have found one. This is hands down the best software I've tried so far."

Mary Ann says, "For me, HitPaw Online Watermark Remover is not just a watermark remover, but I find it extremely useful in editing my videos as well." 
Part 3: The Best iPhone/Android App to Remove Text from Video
When talking about a text remover for iOS/Android devices, Video Eraser cannot be overlooked. It a free software in which the users can remove as well as add text, watermark and logo in their videos and images conveniently. However, if you want to block the pop-up ads and unlock the editing features you would need to pay. 

Its simple and intuitive interface lets you erase unwanted text, icon, and watermark easily. 
Besides removing the elements, you can also use Video Erase to add your own unique text and watermark 
Most of the features in this tool are generally free and accessible to all users, making it a perfect alternative to other paid watermark apps. 
Why is it the Best Video Text Remover app for iPhone and Android?
Comparison between Video Eraser, Fotogenic, and TouchRetouch
If you're an iPhone and Android user and are looking for the cheapest way to remove text from your videos then go for Video Eraser. This app won't even take much space in your phone and you will be able to enjoy its benefits completely free. 
Final Thoughts 
There's no doubt that there are dozens of watermark remover available but there are many problems associated with most of them. But for us, the above-mentioned software are tough to best. Hence, if you're looking to create incredible and breath-taking content for your audience and don't want distracting text and watermark to make it unappealing then HitPaw Watermark Remover and HitPaw Online Watermark Remover should be your go-to option. Both of them are surely one of the finest tools for text remover from video and have numerous other editing features all under one roof. 
FAQs
How can I remove text from video?
Download and install HitPaw Watermark Remover in your Windows or Mac device, choose the file, then select the watermark shape (triangle, square, or brush), after that select the mode (Smooth filling, edge filling, or texture repair, choose the watermark are, and finally click on "Remove now". You can also export a copy of your video and save it without any watermark. 
How can I remove a watermark from a video for free?
With HitPaw Online Watermark Remover you can get rid of all the unnecessary elements on your video in just 3 simple steps. Just choose a file, select the desired area from which you want to remove the watermark, and then click "remove now".  And your video without watermark will be right there on your screen 
Is video watermark remover online safe?
HitPaw online water remover is completely safe because it has a 256-bit SSL certificate guarantee. This platform does not even disturb its users with unnecessary ads and pop-up links that can lead to harmful viruses.