Last Updated on January 20, 2022
You can make sure that your next virtual meeting is a success by taking steps beforehand to ensure that all participants are on the same page. Remote collaboration is now the norm, but you may have trouble hosting productive meetings with geographically disparate team members.
With planning, however, you can conduct stellar video conferences time after time. The following are five tips to help you do just that.
1. Establish an Agenda
By developing an agenda beforehand, you can set the tone for a productive meeting. More importantly, you'll save 15 to 20 minutes in time that you'd usually spend expressing what it is you're trying to accomplish had you not developed one. Also, establish time limits for each talking point to keep your meeting on schedule.
2. Provide Materials in Advance
Distribute the meeting agenda along with other essential visual aids ahead of time. Make sure that all intended participants can access the information and have reviewed it a few days before the meeting takes place. If some of your teammates travel during the workweek, you may want to distribute the agenda a week or two ahead of time.
3. Allow for Instant Videos and Screen Sharing
More than half of all communication involves body language, and nearly half involves verbal communication. For a productive meeting, participants must clearly understand these communication cues.
Professional video conferencing tools enable participants to pick up on the same signals as they would if they were in a face-to-face meeting. For example, enterprise-grade video conferencing such as 8×8 enables your remote team members to collaborate in real-time and understand the nuances of verbal and nonverbal communication.
4. Establish Etiquette for the Meeting
By establishing rules of engagement, you can ensure a positive and productive experience for all meeting participants. For instance, you can instruct participants that you expect them to act just as if they were in a face-to-face meeting and that they aren't to interrupt each other. When the meeting starts, review the rules of etiquette and make sure that everyone introduces themselves.
5. Coordinate the Date and Time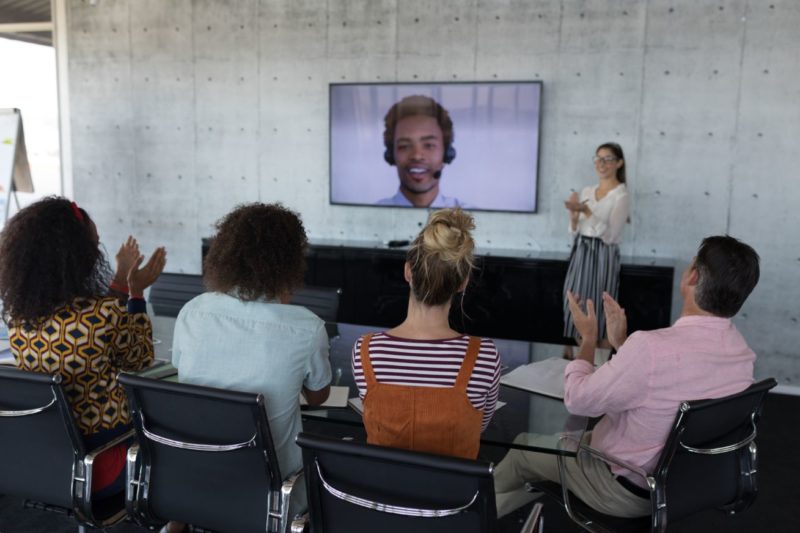 It's common for many participants to have conflicting schedules when working with remote team members. Accordingly, you must do your homework and pick a meeting schedule that's most viable for all invited participants. If your team members live in different countries, for instance, you'll also want to think about cultural events that may conflict with your meeting schedule. You can use online tools such as Every Time Zone, The World Clock or Worldtimebuddy to research time zone information.
Bonus Tip
Whether you host a-face-to-face-meeting or a video conference, preparation is the key to success. Make sure that you understand the technology that you plan to use for the meeting and how to troubleshoot it if things go wrong. If you have an IT department, it's a good idea to consult with them and keep them on call in case there's a technical problem during the meeting.
Everyone's been to at least one meeting where the host uses up valuable time setting up equipment or explaining the purpose of the gathering without sufficient preparation. If you prepare remote team members for meetings ahead of time, you can accomplish a phenomenal amount of tasks in a short amount of time.